Last updated on November 27th, 2023
Are you wondering what Montalcino offers? Should you include it in your next trip to Tuscany?
I have been traveling in and around Montalcino for over ten years now and am lucky enough to come here several times a year for work.
Throughout my time, I have developed insider-knowledge on the absolute best things to do in Montalcino, including activities for the whole family.
If you thought Montalcino was just for wine lovers, think again! This idyllic Tuscan village is small but with several different things to do in Montalcino to keep you plenty busy from anywhere to an hour to a whole day, depending on your interests and agenda!
This page contains affiliate links. If you purchase from the links, I may earn a small commission, at no extra cost to you. Please see my Disclaimer for more information.
Montalcino Wine Tours
Going on a pre-organized Montalcino wine tour is one of the best things to do in Montalcino if you are traveling with adults.
It's also easy to organize your own visits to individual wineries but signing up for a group tour is a great way to meet like-minded wine-lovers. You can also opt for private tours, which will be exclusively tailored to any specific requests.
This private tour, grants you access to the private cellar, including a wine tasting at Paradiso di Cacuci complete with five different wines, including Brunello di Montalcino, local cheeses and charcuterie and time to relax on their private estate.
For a group tour, look into this Montalcino wine tour, including a full three course lunch, wine tasting and tour with sommelier.
Consider this tour if you are based in Siena and would like to participate in a Montalcino wine tour. This tour includes transportation to and from the vineyard and includes a Brunello di Montalcino wine tasting and tour, including a visit to the village and an exclusive lunch.  
Travelers Tip: Interested in when and how best to go wine tasting while you're here? Read my Tips for Wine Tasting in Tuscany.
Explore The Fortezza & Climb The Walls
Visiting the Montalcino Fortezza, located on the south side of the town, is a must when visiting Montalcino, especially with kids. The inside is flat and safe with an enoteca to sit down and sample local Montalcino wines.
You can also opt to climb the walls of the Fortezza for sweeping views of the surrounding Montalcino wineries.
Good To Know: The Fortezza walls are only open on calm days. When it's windy, they won't let you up (which is what happened to me and the last time we were there).
Visit The Civic Museum
The Museo Civico is Montalcino's small museum, home to remarkable religious paintings and other sculptures.
Tip: Once inside, be sure to stop in at the enoteca within the cloister, offering a wide selection of Montalcino wines in a unique setting within the Cloister. In theory, you need a museum ticket to drink at the enoteca but if you really have no interest in the museum, they will grant you access.
Visit The Duomo of Montalcino
Montalcino's Duomo is located above the main drag of the small village, built between 1818 and 1832. There is a small grass area in front of it with a couple benches to rest on.
Visit The Churches
Apart from the main Duomo in Montalcino, there are several other churches scattered throughout the village walls of Montalcino:
Sant'Egidio
San Francesco
Sant'Agostino (next to civic museum)
Hang Out In Piazza Del Popolo
Marked by its large clock tower, Piazza del Popolo is Montalcino's heart, where kids come out to play in the evenings and adults enjoy glasses of wine and aperitivi at the Fiaschetteria.
Visit A Winery On Your Own
Montalcino's countryside is made up of hundreds of independent wineries which can either be visited on a Montalcino wine tour or on your own.
Private tours are more intimate and they can tailor your experience to your needs and requests.
These are my top five best wineries in Montalcino briefly described. If you would like more details about visiting Montalcino wineries and the best Brunello di Montalcino wineries to visit, read My Top 5 Montalcino Wineries to Visit.
Go Wine Tasting In Town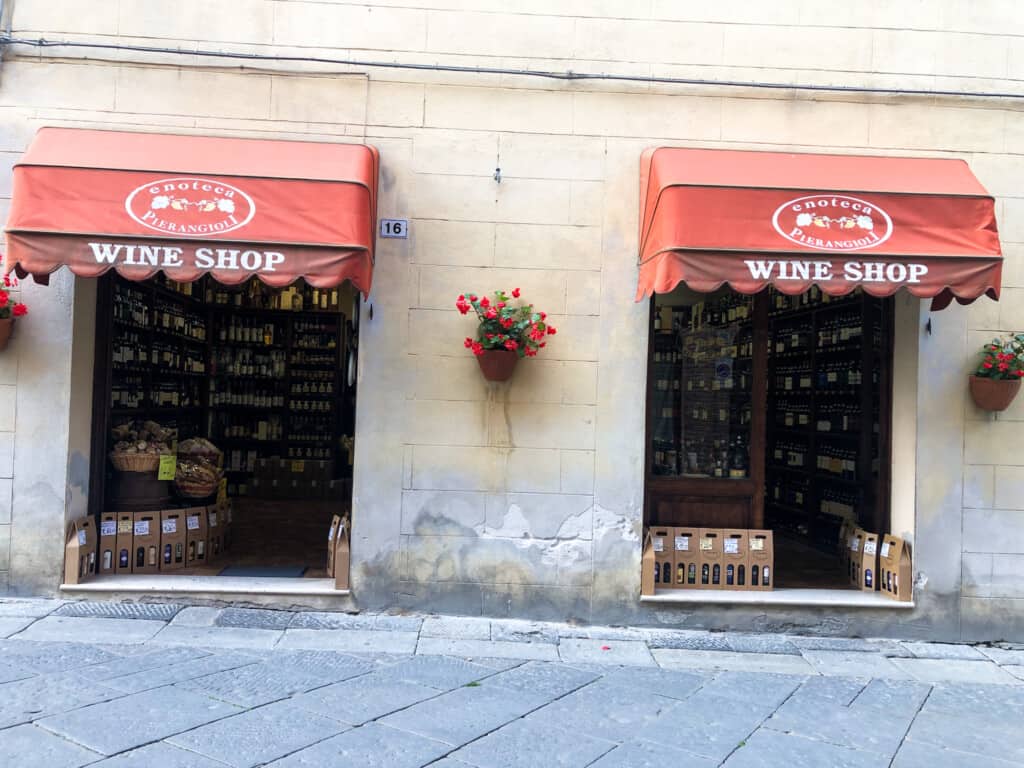 Wine tasting in town at one of the many enoteche or wine bars is one of Montalcino's best activities. It's easy to go wine tasting, even if you are traveling with children. I recommend choosing one of the many enoteche located in the limited traffic zone or in the main squares.
Here are a few of my favorite Montalcino wine bars:
Grotta di Brunello
Enoteca La Fortezza
Wine Bar Bistro
Enoteca Pierangioli
Read more about my top Montalcino enoteche choices and where to drink wine in Italy.
Cool Off In Giardino Delle Favole
The Giardino delle Favole is a small garden on the North side of Montalcino, beautifully decorated with various plants and extremely well-kept. There is a large city map, several benches and it makes for a good play area for kids. Note that it is not fenced!
Get Off The Beaten Track
One of the best parts of Montalcino are the small, hilly side streets. This isn't going to be your top activity if you have a stroller but if you don't, be sure to hit the side streets.
All the shops, restaurants, wine rooms, etc. are going to be on the main drag but you will discover small gems and idyllic Tuscan streets, often fully shaded and great for photography lovers!
Glass Museum (Located Outside Center of Montalcino)
The Museo del Vetro is located outside the town of Montalcino in the Castello di Poggio alle Mura, also called Castello Banfi.
The museum highlights centuries of glass making, bottles and artifacts from the world of glass making, dating back to the 5th century BCE, including unique Egyption glassware and an extensive collection of Roman glass.
Neighboring Villages To Visit
If you are planning a trip to Montalcino and wondering how to fill the rest of your time, consider these day trips to fill your day:
Pienza
Bagno Vignoni
Chiusi
La Foce (Chianciano Terme)