Last updated on November 27th, 2023
Every year around springtime we see a huge influx of tourism here in Tuscany – in part because of the beautiful landscape, monumental architecture, incredible art and rich history – but also because of the Tuscan food!
I have been in Tuscany for years, and I feel incredibly lucky from a culinary point of view. Tuscany is one of Italy's richest regions in regards to food and wine.
So much of what makes Tuscan food unique is the simplicity and the use of local ingredients. I still remember coming to Tuscany and finally tasting carrots that actually tasted like carrots, broccoli that actually tasted like broccoli, and flavorful salads. Because Tuscans cook seasonally with locally grown produce, the food doesn't need to be complicated to be outrageously delicious.
Are you looking for the best food in Tuscany? Andiamo – let's go and discover the most traditional Tuscan food!
Love Wine?: Read about Wine Tasting in Tuscany.
Tuscan Food vs Italian Food
Food in Tuscany is based on peasant dishes or la cucina povera. Historically, locals couldn't afford to eat what they couldn't grow or forage for so many nutrient-rich dishes were created using what the land had to offer. Cured meats, cheeses, bread, wild game and local fruits and vegetables are the base for Tuscan food.
In Italy, each region's cuisine takes advantage of the Mediterranean climate differently. Northern Italy grows more rice whereas central Italy's land is better for wheat. Southern regions, however, eat much more seafood and handmade pasta.
Central Italy (and Tuscany) has the ideal climate for year-round agriculture – winters are mild, and summers aren't too hot. The growing season is 12 months a year, providing for a well-balanced diet full of various foods. Fennel, kale, chard, cabbages, chicory, broccoli and cauliflower are winter staples, while tomatoes, cucumbers, salad, beans, zucchini, eggplant and peppers are just some of the classic vegetables you will see on a summer menu. Spring and fall boast their bountiful produce as well.
Perhaps one of the most interesting aspects of regional cooking and food in Tuscany is that not one scrap of food goes to waste. As you will see, many dishes were invented to use leftovers or parts of the animal that were typically thrown out.
Today, Tuscan food and cuisine is very meat heavy. Pigs and cows are everywhere. Noteworthy are the cinta senese pig and the chianina cow. Head to Italy's coast for luxurious seafood freshly caught in the local waters.
Trippa
Many regions in Italy have their version of trippa (tripe) and Tuscany's really does stand out. The cow stomach (the rumen and omasum parts of the stomach) is tenderized and then slow-cooked in a soffritto and tomato for hours. It is served hot with a sprinkling of parmesan cheese and a crusty piece of pane toscano.
Try It: It is actually quite tasty if prepared correctly.
Prosciutto e Melone
Although you will find prosciutto e melone throughout Italy, it is especially popular in Tuscany because of the salty and sweet combination of prosciutto toscano and melon. What makes prosciutto toscano different from others is that it is cured with a lot of salt and sliced very thickly when served. The extra salty bite from the prosciutto with the sweet melon is a match made in heaven.
Lampredotto
Lampredotto is another traditional dish made from the cow stomach, but this time with the abomasum or the last stomach of the cow. This common street food is tenderized by boiling it for hours in a broth and then served with salsa verde, a green sauce made from capers, anchovies, parsley, lemon, oil, garlic and onion. When you order, they will ask if you want the bun dipped in the cooking liquid. Your answer should be 'yes,' as it helps soften up the hard bread rolls they use.
Try It: Check out Sergio Pollini – via de' Macci, ang. Borgo la Croce, Firenze – for an authentic Lampredotto panino. You can also buy a small takeaway container of lampredotto (use it to make meatballs!).
Cook It: Lampredotto isn't my personal favorite so I don't make it at home but I use salsa verde all the time which can be used for any number of foods. Get the full recipe to Salsa Verde Toscana Recipe – Tuscan Green Sauce + What To Eat It With
Pappardelle al Cinghiale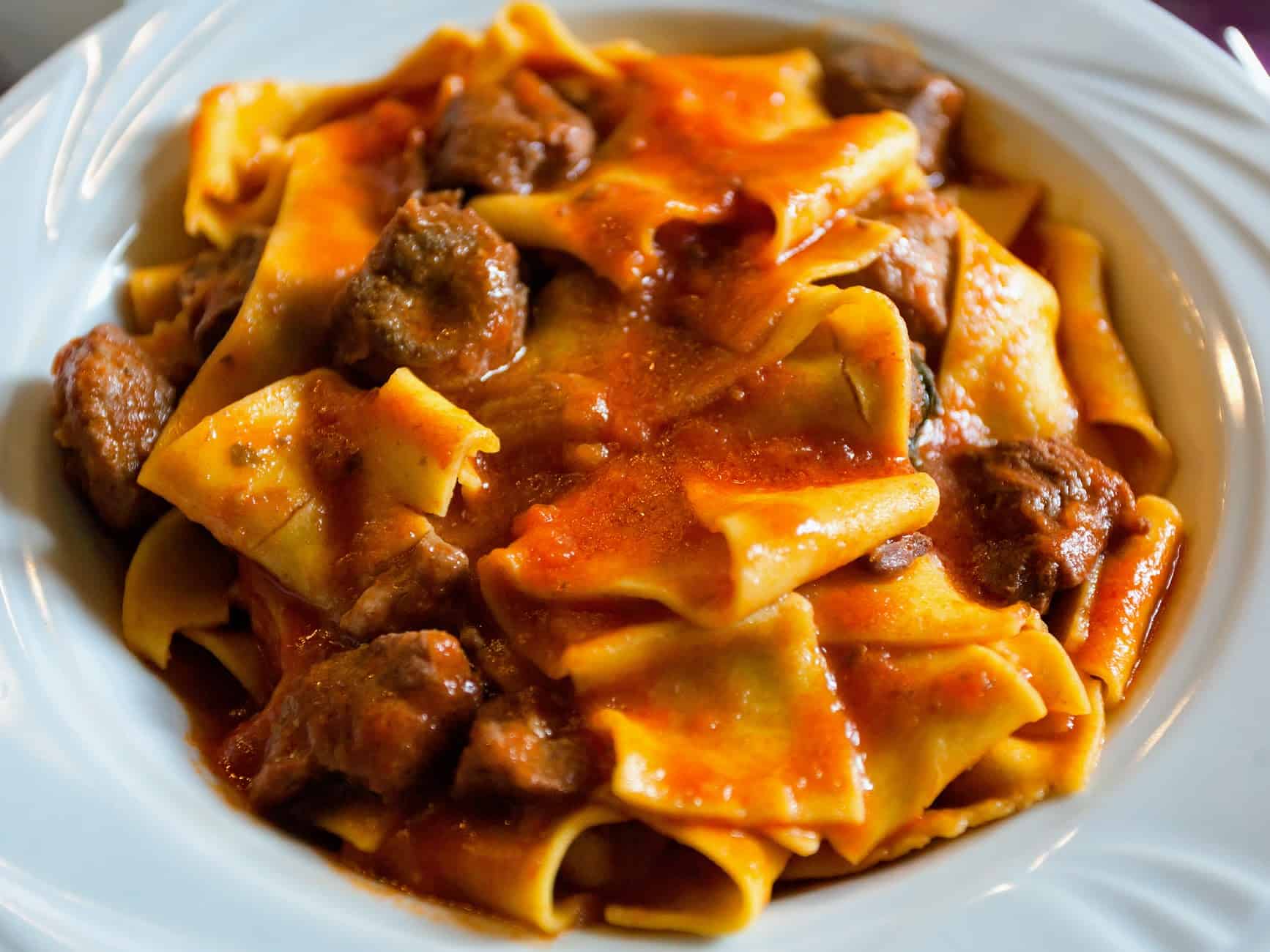 Pappardelle al cinghiale is a traditional pasta dish made from handmade egg ribbon noodles dressed in a rich wild boar ragù that is stewed for hours. These very large beasts roam freely throughout Tuscany. During hunting season (fall and winter), it is not uncommon to see an increase of cinghiale available at local butcher shops and in restaurants. If you want to try cinghiale while visiting, be sure to try this, as it is certainly one of the best ways to showcase this rich and flavorful meat.
Top 5 restaurants in Florence serving up the best of Tuscany:
Trattoria Casalinga – Via dei Michelozzi, 9/R
Trattoria del Carmine – Piazza del Carmine, 18
Pandemonio di Casa Brogi – Via del Leone, 50
Trattoria Sostanza – Via della Porcellana 25
Trattoria Cammillo – Borgo S. Jacopo, 57/r
Foodie Experience: Taking a pasta making class in Tuscany is one of our top foodie experiences while visiting Italy. Read more in Italy Foodie Bucket List – 17 Amazing Italian Culinary Experiences by Region
Learn More: Read about the Different Types of Italian Eateries – From Trattorie to Osterie and more!
Peposo
Peposo is a truly cucina povera; it uses next to nothing and takes no expertise. It is an ancient dish said to have been cooked in terracotta pots in the corner of a brick oven. This peppery stew is a real crock pot type of dish. Just throw it all in the pot, leave it, and ecco fatto – it's done! You don't even need to brown the beef or make a sofrito before putting it into your crockpot or oven.
Cook It: This stew is so easy to make at home. Get our recipe to Brunelleschi's Peposo: The Easiest Italian Stew to Learn to Make at Home and bring a little of Tuscany to your home abroad!
Pecorino di Pienza
Pecorino di Pienza is a sheep's milk cheese that is available either fresh or aged for over 18 months.
The fresh version is commonly eaten with raw fava beans or other bitter vegetables in the spring. Sharp-aged versions are much harder and are enjoyed as appetizers, on crostini or sampled in taglieri (cheese boards) with sweet jams and honey.
Although Pienza is an absolute joy to visit and a great place to sample pecorino, you can find this cheese at any supermarket or small shop as it is so popular with Tuscans throughout the region.
Tartufi
The dark and damp Tuscan woods in fall and early winter are ideal for truffles (tartufi). Both white and black truffles are found throughout Tuscany, so it's no surprise you see them in many dishes, including pasta, eggs, crostini, and risotto.
We Recommend:
Osteria delle Tre Panche – Vicolo Marzio, 1, Florence – for everything tartufo. A bit out of the city center but well worth the 30-minute walk, bus trip or taxi ride. Almost everything has truffles shaved on top.
Olive Oil
Tuscany is known worldwide for its extra virgin olive oil, now exported worldwide.
The olive harvest usually takes place at the beginning of November, depending on the season and lasts a few weeks. It is a glorious time for those of us who participate in the harvest. Long days outdoors are rewarded with an evening at the frantoio (olive mill) where you can watch your olives being pressed while enjoying samples of this year's oil and a glass of wine.
It's common to see olive trees growing in Tuscany and even those with only a tiny outdoor space plant olive trees for decoration.
Foodie Experience: Get involved in the olive harvest while in Tuscany. Read more in Italy Foodie Bucket List – 17 Amazing Italian Culinary Experiences by Region
Fettunta
Fettunta is grilled pane toscano drizzled with freshly-pressed olive oil (olio nuovo) and sprinkled with sea salt.
Around the olive harvest in November you will see this on many menus.
Notice the color of the oil. It's green (and spicy!), not yellow. This is a sign that the oil was just pressed, because that cloudy green color only lasts for a couple of days.
Read More: All about Fettunta – Italy's Oily Slice, when and where to eat it and how to make it.
Schiacciata
Schiacciata is Tuscan-style focaccia. It is a leavened bread (either sourdough or with fresh yeast) made with white flour, oil and water and cooked in a very hot oven with lots of extra oil, rock salt and sometimes rosemary.
Schiacciata is a favorite snack for kids and very commonly found in bread baskets. Perhaps the best way it is used is as a panino or sandwich filled with whatever you like. A Tuscan favorite is with prosciutto crudo, stracchino (a soft cow's milk cheese) and arugula.
Foodie Tip: Our top bakery recommendation is Forno Ghibellina – Via Ghibellina, 41r, Firenze – for all bakery items including take-away pizza by the slice, sandwiches, coffee and baked goods, including schiacciata!
Schiacciata all'Uva
Leave it to wine country to find a way to use up extra grapes during the vendemmia (grape harvest).
This sweet treat is eaten in September and October when the grape harvest is underway and you will see it in every bakery and restaurant. Originally made from canaiolo grapes it's now often made from a common but similar variety called uva fragola.
Tip: The window for eating this delicious sweet focaccia bread filled with grapes is so short so don't miss it!
Pane Toscano
Pane toscano is a very simple white flour and water bread – with no salt!
Why no salt? Back in the day, the pope imposed a tax on salt as a way to get those who were not paying their taxes to pay up. In this way, people got used to cooking without salt.
Although most Italians outside of Tuscany don't like this bread it, it pairs well with salty Tuscan meats and cheeses.
Read More: about bread in Bread in Italy – Types of Italian Breads & Where to Eat Them
Prosciutto Toscano
This type of prosciutto is defined by the amount of salt that is used to preserve it as well as the spices such as juniper, rosemary and black pepper that are added to the curing process (at least 12 months).
The meat is deep-red with large white strips of fat marbling the inside. It is often cut thicker than other types of prosciutto and enjoyed by the locals with the unsalted pane toscano. You can also sample prosciutto toscano on any tagliere or charcuterie board and in sandwiches throughout the region.
Fact: Prosciutto crudo da "cinta senese DOP" is a similar prosciutto but made from the highly prized breed of pig, the cinta senese, from the province of Siena.
Fagioli All'Uccelletto
A very traditional contorno or side dish made from white cannellini beans stewed in garlic, tomato and oil. This is a great way to bulk up a meal if you are a vegetarian in Tuscany.
Vegetarian Tip: If you are vegetarian, or vegan for that matter, try ordering from the contorni (vegetable sides) on the menu. They are listed after the secondi and are often things like beans, grilled vegetables, potatoes and salads.
Make It: Fagioli all'uccelleto is an easy side dish for any meal, particularly grilled meats. Get our recipe for Tuscan Cannellini Beans with Tomatoes and Garlic (Fagioli All'Uccelletto)
Piselli Alla Fiorentina
These peas are a very simple way to dress up either frozen or fresh peas with – no surprise – bacon! Bacon and onion are sautéed lightly until crisp, then the peas are added and cooked for about thirty minutes.
Fact: Italians, especially Tuscans love their vegetables over-cooked. They are often boiled and then cooked again in olive oil and garlic. To foreigners they may seem to be cooked to death, but for Italians they are just right!
Make It: Piselli alla fiorentina is one of my favorite ways to serve peas. Follow our step-by-step instructions for Italian Peas With Bacon Recipe – Florence's Favorite 15 Minute Side Dish.
Fegatelli di Maiale
This ancient dish, dating back to the 14th century, is served in the winter months when pigs are slaughtered in Tuscany. This dish is made from pig liver cooked with fennel, bay leaves and breadcrumbs and served with, of course, pane toscano.
I don't love this dish but it is popular throughout the region. Each family has its own version using preferred spices and seasonings.
Travelers Tip: If you are eager to try some of these non-traditional dishes for foreigners such as fegatelli or trippa, check out the local sagras or food festivals which will always be cooking up these rustic dishes.
Crostone con Salsiccia e Stracchino
A crostone is a very large piece of grilled or toasted bread topped with some kind of meat, cheese, vegetables and/or sauce. Salsiccia and stracchino is a mixture of sausage and soft cheese that is used and cooked quickly under the broiler. This is served 'open-faced' and cut into slices, with a glass of wine.
In many modern Italian homes, however, it is commonly served whole with a side salad as your main meal on a lazy day when no one feels much like cooking.
Our Favorite: Check out Enoteca Fuori Porta – Via del Monte alle Croci, 10, Florence – for all types of crostoni and a great selection of wine.
Make it: Get our full recipe for My Favorite Tuscan Appetizer – Cheese and Sausage Crostini
Crostini Neri
Also known as crostini toscani, these are small pieces of grilled bread topped with chicken liver patè. They are often served in the antipasti misti or mixed appetizer plate which will include various crostini, locally cured meats and cheeses.
Panzanella
Panzanella is a dish that was created early on as a way to use leftover, stale bread. Essentially stale bread is dipped in water, ripped into small pieces and mixed with onions, cucumber, tomatoes, herbs, a splash of vinegar, salt and plenty of good olive oil. This is a great way to stay cool on extremely hot summer days in Tuscany when it's too hot to turn the oven on or get anywhere near a stovetop.
Don't Miss: The Sant'Ambrogio market in Florence is a beautiful and authentic open air market with a covered section. Head indoors to Trattoria di Rocco Mercato di Sant'Ambrogio for some of Tuscany's best and most seasonal dishes around. It's kind of a quick lunch, expect to be done in 20 minutes. Great for kids!
Pappa al Pomodoro
Pappa al pomodoro is a dish created as a way to use stale bread. It's a thick soup generally eaten in the winter, or at room temperature in warmer weather.
Onions, garlic cloves and basil are lightly sauteed in plenty of oil before adding canned tomatoes and water. Slices of stale bread are submerged in the brothy tomato liquid which then breaks down into a pappa or mush. It should be served with a very healthy drizzle of olive oil or it isn't done right.
It actually doesn't look very appealing but it's one of my favorite Tuscan dishes because I hate throwing away leftovers, and also because of its simplicity.
Nice to Know: Pappa al pomodoro is vegan and its super easy to replicate at home. Follow our full guide and step-by-step instructions to Pappa al Pomodoro Recipe – Tuscan Tomato Soup (with Bread)
Ribollita
Ribollita is my absolute favorite primo from Tuscany. This recipe was developed as a means to use up stale bread. Hearty winter vegetables like carrots, celery, onion, cabbage, kale, swiss chard and cannellini beans are stewed together until tender. Water (or broth) and slices of stale bread are added. The stale bread plumps up with all the savory vegetables and thickens into a sort of bready stew. Served with a lot of olive oil, this rustic vegan soup will satisfy any soul looking to warm up on a winter day!
Make It: Ribollita is a fun dish to try at home after you get back from your travels. Read our full recipe for Authentic Tuscan Ribollita Recipe – Straight from Italy!
Farinata con Cavolo Nero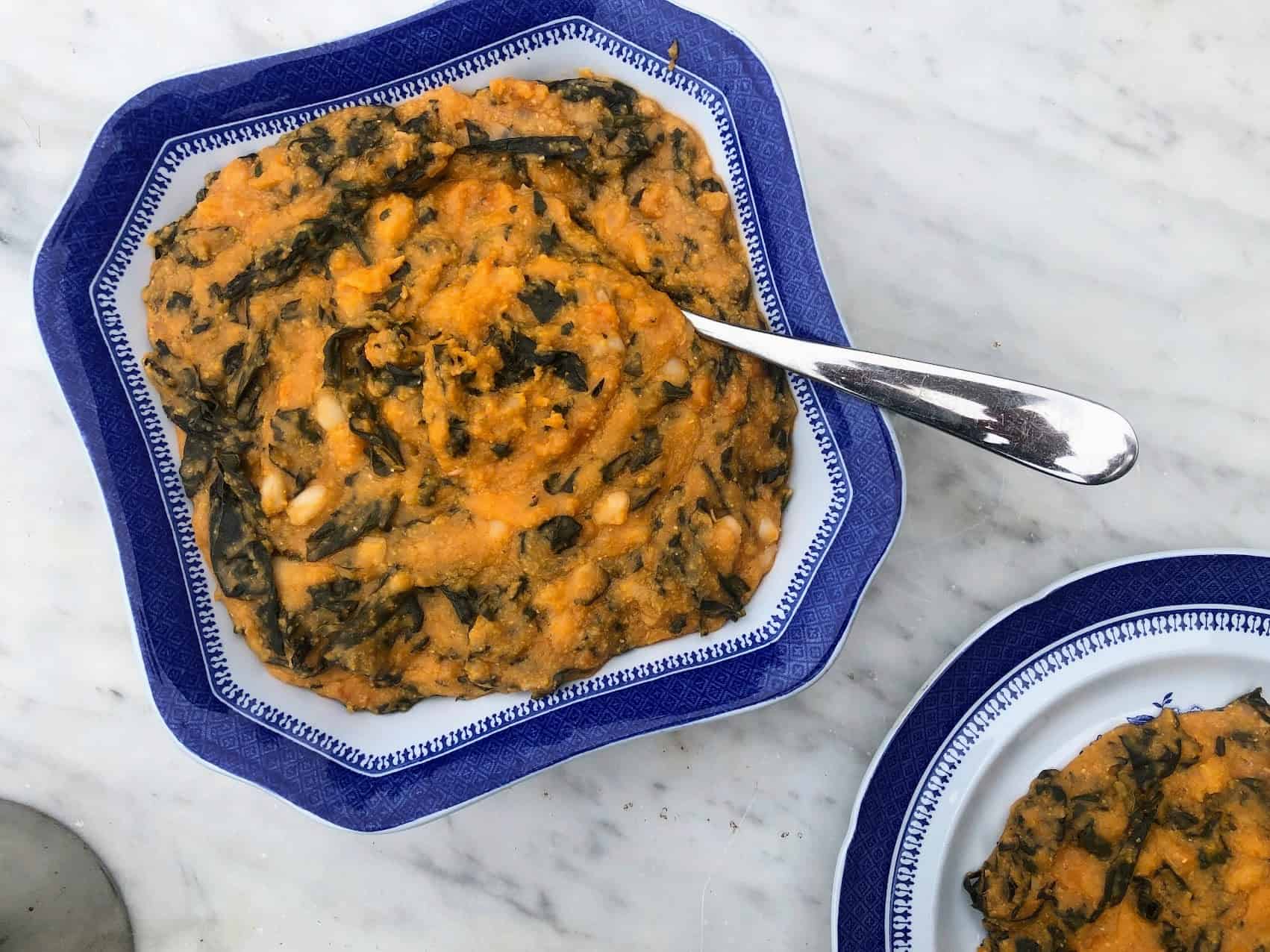 Perhaps not the most interesting of dishes but another classic food from the cucina povera. This is a soft polenta dish cooked with kale and other vegetables, served with lots of olive oil. Another great example of vegan cooking in an authentic Tuscan dish. You will see it under primi on menus.
Make It: Farinata con cavolo nero is super easy to recreate at home with out full recipe Polenta With Cannellini Beans And Kale Recipe (Farinata Con Cavolo Nero) – Vegan & Gluten-Free
Acquacotta
Yet another rustic soup from the area of Maremma that is much simpler than ribollita. This soup uses stale bread but has a base of onions, celery, tomato and broth (or water historically) and is dressed up with eggs that are poached directly in the soup. Although not for vegans this is a great vegetarian option.
Torta della Nonna
This classic custard filled tart is found throughout bakeries in Florence and on almost every menu around. Although a bit labor intensive, this cake is well worth the effort. The cream custard is cooked in a pie shell and sprinkled with local pine nuts. Rustic and simple, this is a great dessert to bring if you are invited to somebody's house (it is Italian custom to arrive with a gift for your host).
Cantuccini e Vin Santo
Also known as cantucci, these small, twice-baked, crunchy almond cookies originated in Prato, just north of Florence. They are traditionally served for dessert with vin santo, a sweet dessert wine made from white grapes such as Trebbiano or Malvasia. These little cookies are meant to be dipped into the vin santo to soften them up and prevent you from breaking your teeth!
Make Them: Cantuccini are easy to make at home. Check out our recipe for Authentic Cantuccini Recipe (Italian Biscotti)
Ricciarelli
These oval-shaped cookies are a kind of macaroon from Siena dating back to the 14th-century. They are a simple cookie made with almond paste, sugar, honey and egg whites, traditionally eaten during Christmas and served with sweet wine.
Buy Them: I love bringing these home for the holiday season. They hold up well but don't expect them to last long!
Antica Drogheria Manganelli 1879 – via di Città, 71/73, Siena
Pasticceria Le Campane – Via caduti di Vicobello, 37, Siena
Make Them: Ricciarelli are gluten-free cookies. Check out our recipe for Ricciarelli – Italian Almond Cookies from Siena (Naturally Gluten-free).
Panforte
This chewy, dense dessert is made from a variety of ingredients including dried fruits, nuts and honey. It's eaten at Christmas time. You can buy this little round cake easily throughout the region but it is best known in Siena where it is said that it must be made with at least 17 different ingredients – representing the 17 contrade (little neighborhoods) within the city.
Bring It Home: Panforte makes a great souvenir because it travels well. Read all our suggestions in Best Food Souvenirs from Italy – Handpicked by Someone Who Lives Here!
Castagnaccio
Castagnaccio is a dense chestnut cake that is readily available throughout the fall when chestnuts come into season in Tuscany. The thin cake is dotted with pine nuts, raisins and rosemary.
Cenci
Another dish that is made throughout Italy and has many names. In Tuscany, they are called cenci (pronounced chen-chee in Italian). They are thin slices of sometimes lemon or orange scented dough that's fried until golden and sprinkled with powdered sugar. They are eaten in January and February during Carnival.
Travelers Tip: For the most authentic cenci, head to a bakery. We recommend S.forno – Via Santa Monaca, 3r, Florence – for cenci and in general for breads and other baked goods. They also have a small artisan grocery section, great for all you foodies!
Schiacciata alla fiorentina
Schiacciata alla fiorentina is a dessert eaten for Carnival throughout Tuscany but originally from Florence. It is a light, airy cake topped with powdered sugar and served as a sheet cake. The best way to eat it is with chantilly cream inside!
Eat Like an Italian: Stop by a bar, order a coffee at the standing counter space and a slice of schiacciata alla fiorentina in January or February and you will blend right in!
Gelato Buontalenti
This gelato is a Florentine favorite made simply with a cream base. It has no added flavors so you have to be a purist to appreciate this flavor. It's named after Bernardo Buontalenti, a Florentine architect, engineer, plumber and urban planner of the 16th-century – and probably the inventor of gelato.
Best Buontalenti: Our pick for the best Buontalenti gelato is at Gelateria Badiani Pasticceria – Viale dei Mille, 20/r, Florence. A bit outside the city walls, but well-worth the trip! Check out our complete Guide to the Best Gelato in Florence!
Pici
This is a specialty of Celle sul Rigo, just down the road from our home, so we are lucky enough to eat this pasta on a weekly basis. Pici is hand-rolled, thick spaghetti from the Val d'Orcia area of Tuscany. Originally made with flour and water, but today often made with eggs, pici is served either with a traditional beef ragù or all'aglione, a very garlicky tomato sauce (which is my preference).
Our Pick: Our number one pick for pici is in Celle sul Rigo in southern Tuscany at Trattoria La Pace – Via del Teatro, 3, Celle sul Rigo, San Casciano dei Bagni – where it will be hard to get out of there without trying both pici all'aglione and pici al ragù. They also make a one-of-a-kind homemade pasta with butter and nettle sauce.
Soppressata
Soppressata Toscana is perhaps the best example of how the local cuisine is based on the idea of using everything you have available to you.
This uncured sausage is made with all the leftover parts of the pig, including the head which is boiled all day, and combined with a variety of spices. It is then tightly-packed into a natural pig casing.
Soppressata Toscana is still fatto in casa (homemade) by many in rural areas of Tuscany. In fact, it is common where we live and a year doesn't pass that we are not invited to take part in the butchering of a pig. It is one of my favorite experiences thus far living in Tuscany. Although not for the faint of heart, if you want to try something really Tuscan this is the one for you!
Finocchiona
Dating back to the Renaissance, this typical salame is made using fennel instead of black pepper, and aged for a minimum of five months. Sbriciolona is a variant which falls apart when you cut into it. It is served either in a sandwich or eaten with a knife and fork as it is so crumbly.
Fact: Wild fennel grows everywhere in Tuscany, even on the side of the road, so it's only natural people wanted to replace what they could with it and incorporate it as much as possible into their cooking.
Bistecca alla fiorentina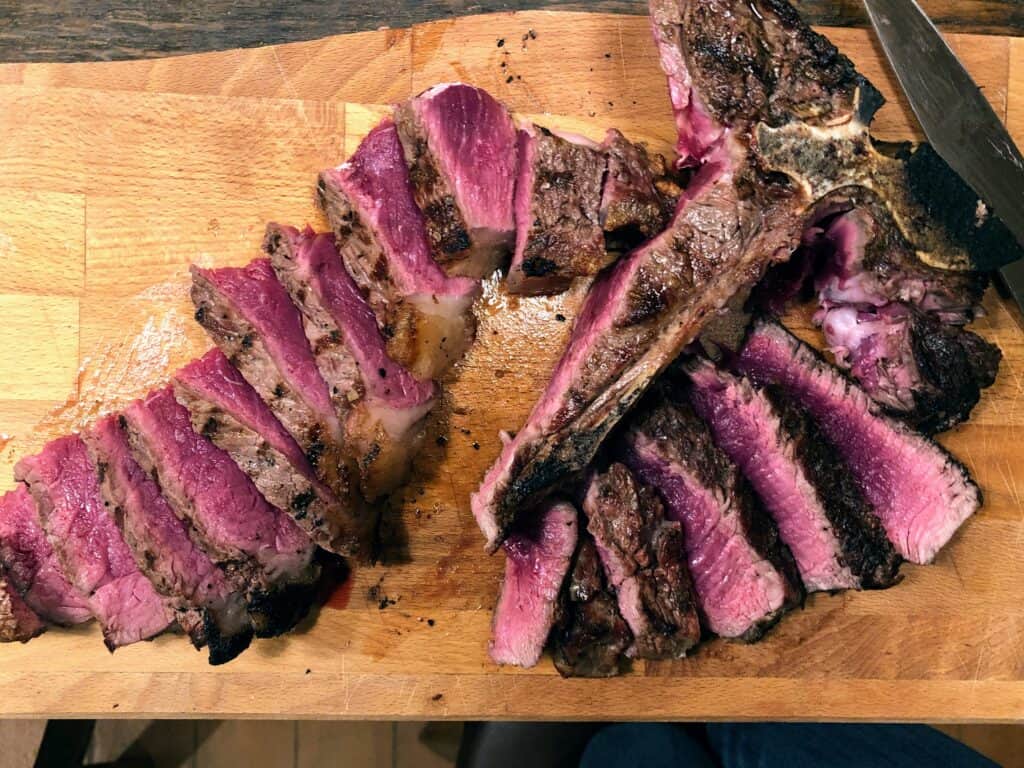 Definitely the most iconic Tuscan food around is the bistecca alla fiorentina and for good reason: it is a show-stopper. Traditionally, this steak is from the Chianina cattle, a Tuscan white breed that you often see in the countryside. It's very lean and doesn't need much to dress it up – just salt and pepper.
Traditionally cooked over coals and eaten with sides such as white beans, potatoes, various greens and salad, you will always see it priced by weight in restaurants and please don't make the mistake of ordering it anything but rare!
Cecina
Cecina is a very thin bread made from chickpea flour, oil and water and cooked in a brick oven. It is served like a pizza, a large pie cut into slices and eaten commonly as street food.
Island Hopping: Check out Isola dell'Elba and other coastal towns in Tuscany for great cecina.
Make It: Cecina is a very easy recipe to recreate at home. Follow our full instructions for Tuscany's Best Street Food is Vegan: Cecina (Chickpea Flatbread) Recipe from Italy
Cacciucco
This is a traditional fish stew served on the coast of Tuscany and especially in Livorno and Viareggio. Story has it that it should be served with five different kinds of fish, for each one of the "c's" in its name. I don't know about that but I have eaten it many times with a variety of fish and more than five. Clams, muscles, shrimp, white fish, red snapper, calamari, octopus are just some of the seafood you might see.
Traditional Tuscan Food FAQ
What are traditional Tuscan breakfast foods?
Tuscans eat what most other Italians eat when it comes to breakfast: something small and sweet with strong espresso or a cappuccino. If they are at a bar they will order a brioche – an Italian pastry – either plain or filled with chocolate, pastry cream, hazelnut cream, nutella, or various jams. In addition, the festive favorites such as schiacciata all'uva or schiacciata fiorentina are served for breakfast during the right season. If Italians are at home they stick to the same formula: something small and sweet with coffee. It's unusual to see Italians eating savory foods for breakfast. 
What are traditional Tuscan lunch foods?
Typical Tuscan lunches depend greatly on the season but in the winter it will be a warm plate of pasta, ribollita or pappa al pomodoro while in the summer it is common to eat room temperature foods such as a rice salad, panzanella, a simple caprese salad, prosciutto e melone or a lighter pasta dressed with fresh tomatoes and mozzarella or pesto. 
Do people in Tuscany eat pasta every day?
Like many Italians, Tuscans eat pasta almost everyday. It is a misconception that Italians always eat a primo and secondo (first and second course) in one sitting but rather, they will have one at lunch and the other at dinner, most commonly a pasta dish or other first course dish for lunch and meat for supper. 
What do locals eat for a snack?
As a general principle, Italians don't snack and Tuscans are no different in this. If they do eat something, it will be a piece of fruit or a small panino that is often served at a bar. Children, however, are seen crowded together after school enjoying schiacciata or bomboloni (Italian donuts that are prepared around 3:30 pm in bakeries for mothers to pick up for their hungry kids as a warm after-school snack).