Last updated on November 27th, 2023
Have you ever heard that Italians don't ever snack? Well then how could possibly make it to dinner time at 8:00 pm without fainting?
May I present the Italian Aperitivo, a pre-dinner drink and snack that is meant to tie you over supper. But what makes it so special?
Whether you are coming to Italy for the first time, are well traveled in Italy, or looking to host an Italian-themed dinner party, you are going to want to know exactly how Italians do cocktails or pre-dinner drinks.
In this article I will cover exactly what an aperitivo is in Italy, how the Italians do it and what you can expect. I will provide you with step-by-step instructions on how and what to order and what are some big no-nos along the way.
What is an Aperitivo In Italy?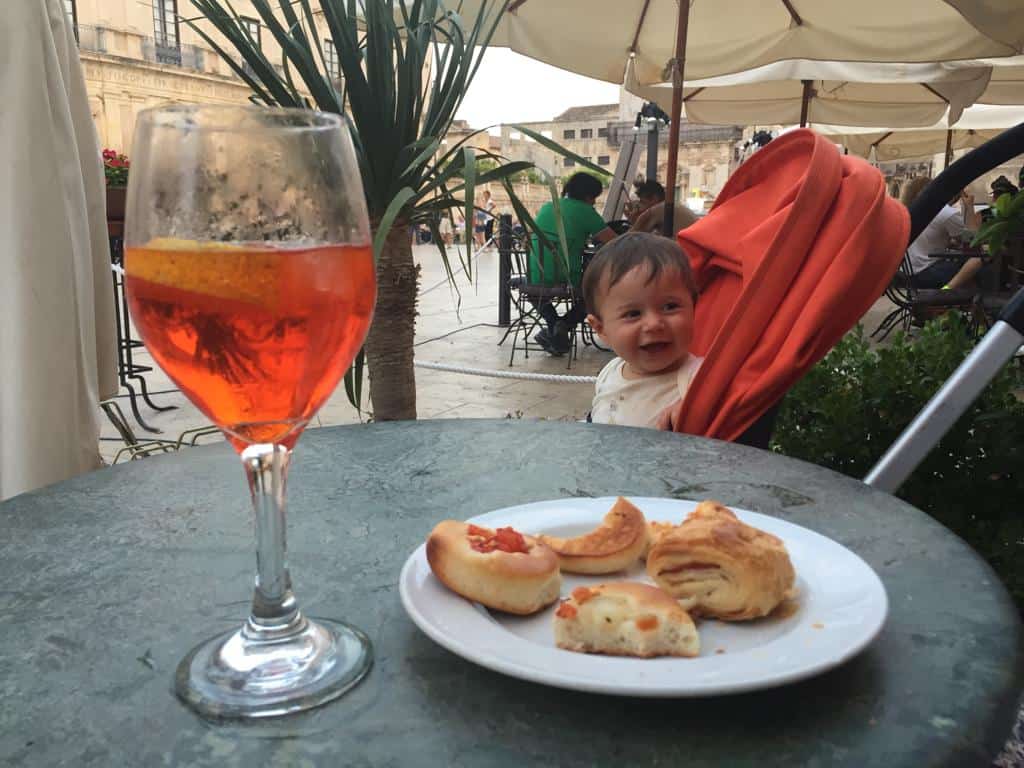 An aperitivo is a pre-meal drink that often involves a small nibble of something salty to wet your pallet before eating a proper meal. Drinks can include cocktails, wine, prosecco, beer or non-alcoholic drinks. 
The aperitivo is a cultural ritual in Italy – a time where people get together to wind down after a long day and tie them over until dinner time.
What Aperitivo Isn't In Italy
The most comparable thing to an aperitivo is happy hour but the Italian aperitivo is far from that.
In fact, don't mistake the two things. A happy hour is associated with some kind of bargain or reduced price but in Italy, an aperitivo may actually cost more than just a glass of wine or cocktail because of all the food you are served with it.
The First Aperitivo In Italy
The concept of the aperitivo dates back to ancient times when Romans used to indulge in what was called a gustatio or an appetizer with a glass of sweet wine before a large meal. From these initial accounts, the concept has changed over time but it wasn't until 1786 that the tradition really took off.
The idea of the aperitivo as a cultural and social event first originated in Turin in 1786 when a man by the name of Antonio Benedetto Carpano developed what we now know today as vermouth. Carpano would sell vermouth at a very reasonable price to patrons and before you could blink, people from all social classes were able to afford a small drink before dinner. This soon led to the tradition of social drinking after a long day and soon evolved into what we call the aperitivo (although today's list of drinks goes far beyond vermouth!).
What Does Aperitivo Mean?
Aperitivo comes from the latin word aperitivus meaning "to open", referring to the stomach that needs to be opened up a bit in preparation for a large meal.
How To Pronounce Aperitivo In Italian
Aperitivo is pronounced ah-peree-tee-voh in Italian. The plural is aperitivi, pronounced ah-peree-tee-vee and refers to more than one.
Listen to the pronunciation of aperitivo:
What Time Is Aperitivo In Italy
Aperitivo in Italy is typically served between 6:00 pm and 8:00 pm but you will see it served as late as 9:00 pm.
This is because Italians don't typically eat dinner until around 8:30 or so. Lunch hour isn't until around 1:00 pm so the aperitivo is the most natural way to ensure you don't arrive at the table ravenous.
Where Is Aperitivo In Italy
You will find aperitivi throughout the entire Italian peninsula although longer aperitivi is most popular in northern Italy, where the tradition originated.
Places like Venice (in the form of cicchetti) and Padua are some of the most famous destinations for enjoying aperitivo because that is where the Aperol Spritz is said to have been invented.
Milan has also become very famous over the years for its innovation in cocktails, trendy bars and modern food.
Seafronts are also known for grand aperitivi. I mean, what is better than enjoying a great cocktail, great snacks and a fantastic Italian sea view? Sardinia is known for their lavish cheese and charcuterie boards and long aperitivo hours.
What To Drink For An Aperitivo In Italy
An aperitivo in Italy can be anything from a glass of wine, vermouth or prosecco to a tall glass or beer or a traditional or modern cocktail (known as a drink in Italian, pronounced dreenk).
Beer is more common in northern Italy while spritz or Aperol and Campari based cocktails are more famous throughout the entire country.
White wine and prosecco is common on the seaside while complex, modern cocktails are trendy in the cities such as Milan and Florence.
Most Famous Cocktails For An Aperitivo
Read More: Best Italian Cocktails – 15 Popular Aperitifs We Actually Drink In Italy.
Non-Alcoholic Aperitivo In Italy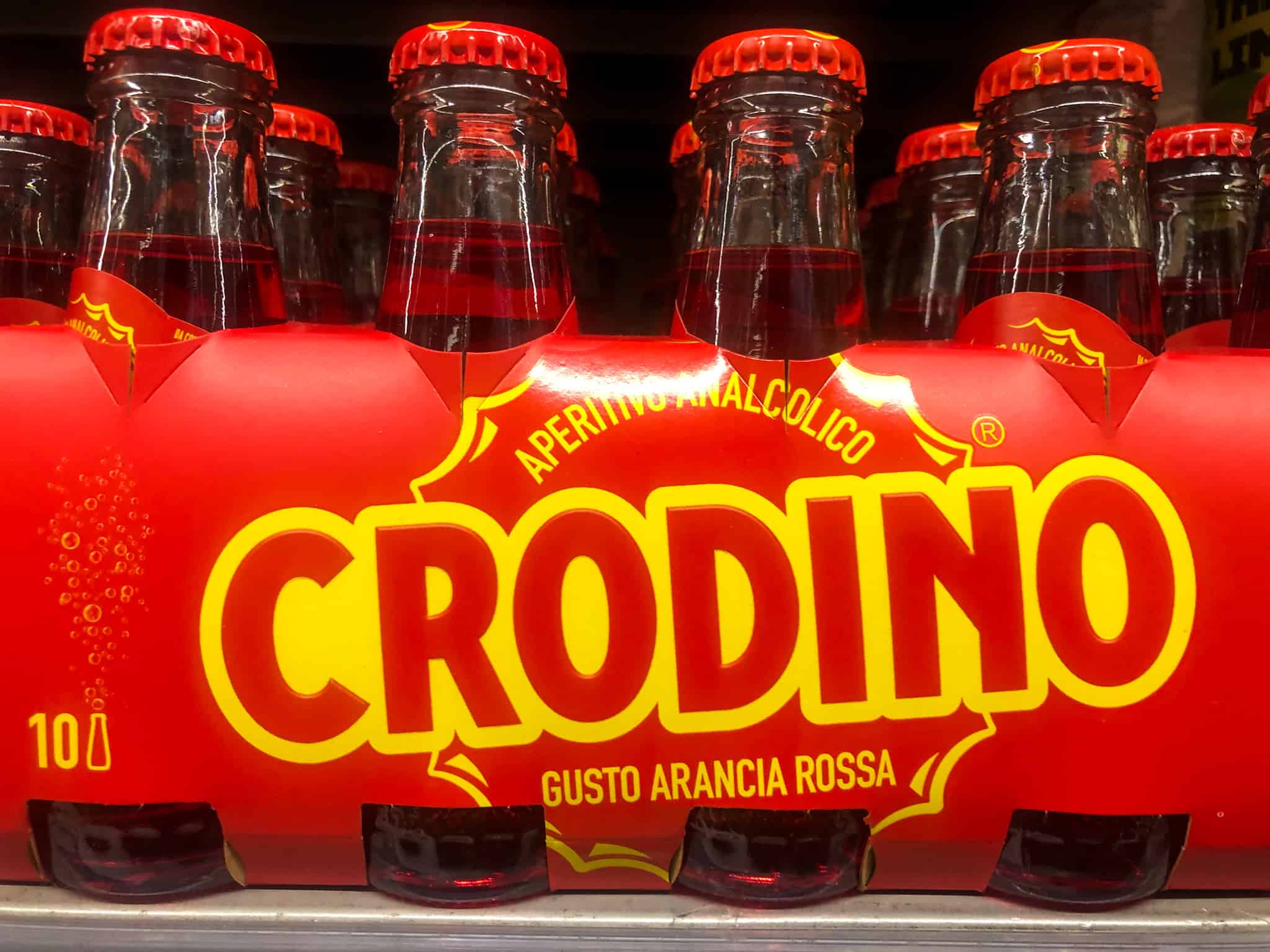 You can absolutely order a non-alcoholic aperitivo in Italy (analcolico in Italian).
Crodino is a popular choice. It's a non-alcoholic bitter that is woody and citrusy in flavor.
You can also look for cocktail anacoholico on the menu where you will find a list of mocktails made with juice, sparkling sodas and other flavors and syrups. If you don't see this option on the menu, just ask and they will be able to make you something without any hesitation!
Differences In Italian Aperitivos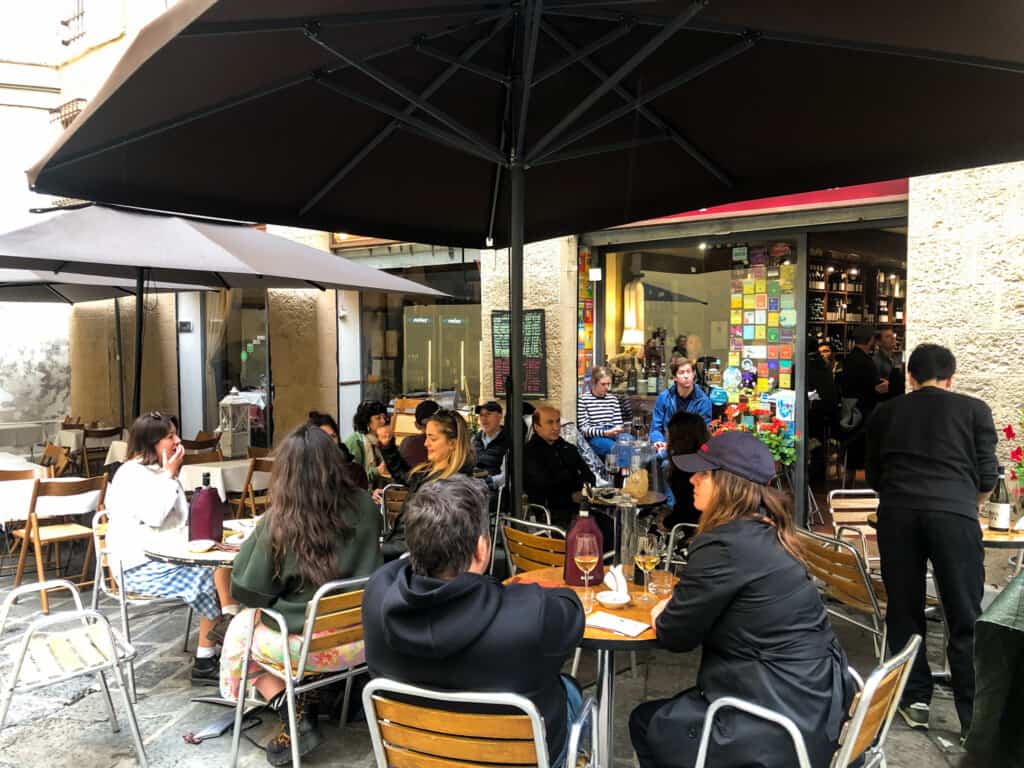 Different bars and cafes will have different formulas for how aperitivi are served. Generally speaking, the aperitivo scene can be divided into three different formulas as followed:
Apericena – Buffet Style Aperitivo In Italy
Many places will have buffet style aperitivi in which you are given an empty plate with your cocktail which you are meant to fill up with whatever you want from the buffet. This is also known as apericena because they tend to be more substantial than your typical aperitivo, often including primi or first course dishes.
Students and youngsters often use this formula as a way to get dinner out of the deal. This really isn't what it's meant for but for students on a dime, it has become a trend. They will order a drink and then eat plate after plate of hearty appetizers so they don't have to have dinner afterwards.
I don't recommend gorging yourself as a tourist because it's not very elegant and not exactly what the aperitivo was meant to accomplish.
One Aperitivo, One Price
The popular formula for aperitivo is the 1 drink price formula, ranging from €10-15 but even more if you are in a fancy place.
Essentially, the bar will have a fixed price for the aperitivo hour in which you can choose almost any drink for the same price which will also include a plate of food (some better than others) including cheeses, salamis, olives, chopped vegetables and chips, for example.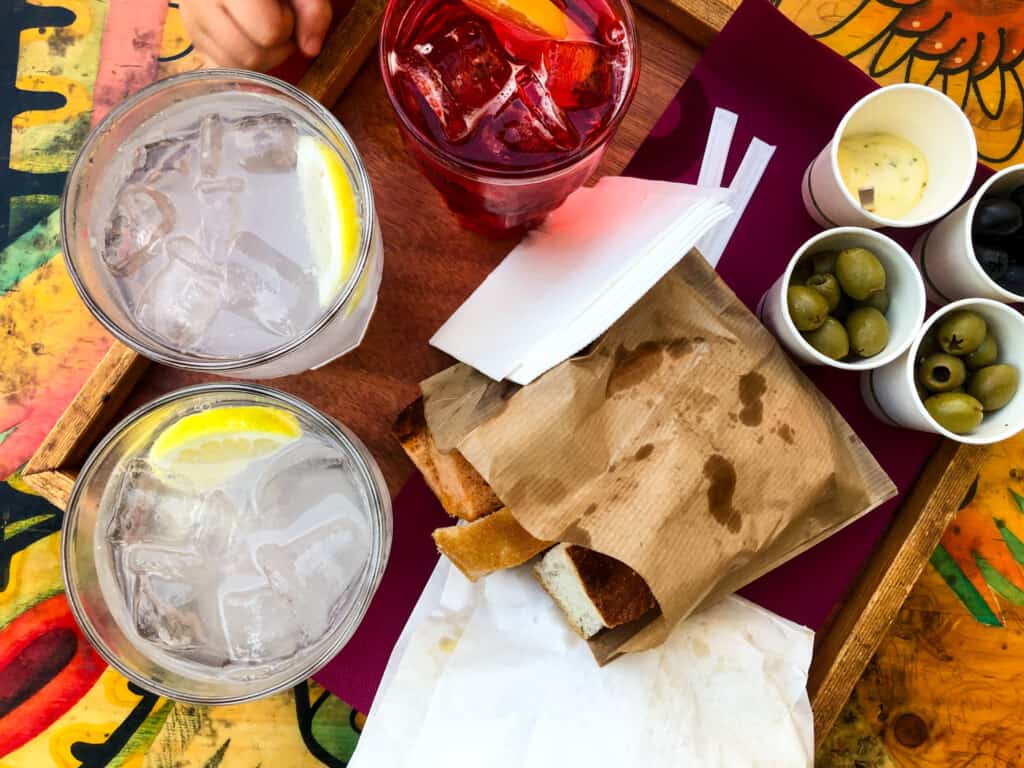 If you order a beer, it will be one size, you won't be able to choose (beer typically comes in two sizes: medium (media) or large (grande)). Wine is typically a 6 oz glass.
This formula might also be used but at a lower price point and with less substantial nibbles. You might get simply a basket or chips, a bowl of nuts and a small package of crackers.
Various Priced Aperitivo
This is also a very popular formula for Italian aperitivo in which you can order any drink and the price will depend on the drink.
In this formula the food will greatly depend on the bar. Like in the single price option, you may get a nice board with some salami, crackers, olives and focaccia but at other places it may just be a few bowls of chips, nuts, etc.
Good To Know: the price of the aperitivo is indicative of what you get. Like most things, you get what you pay for!
How Much Does An Aperitivo Cost?
The price of your aperitivo will depend greatly on where you are, what you are ordering and what formula that particular bar follows for aperitivo hour.
Generally speaking, cocktails and other drinks during the aperitivo hour will cost between €10-15. It might be more if you are at a fancy bar or if the aperitivo is going to be very good, including a charcuterie board or cheese platter (as you might find in Sardinia).
Sometimes, bars will add on a euro or two for cocktails but there is no hard rule for this.
If you plan on having a second drink, you may or may not be charged the full price of the aperitivo charge. It depends on the bar so just ask if you want to know.
Fact: You can even order an aperitivo for as low as €5 if you are just ordering a small glass of wine with a small bowl or chips. This is often the case if you have a drink standing at a bar or in a very casual, off the beaten track.
How To Order Aperitivo in Italy
Ordering an aperitivo is pretty straightforward in Italy. Most typically, you can just sit down at any empty table, even if it hasn't been cleared yet, and a waiter will come over and either ask what they can bring you or bring you a menu.
Decide whether you are having wine, beer, a cocktail or non-alcoholic beverage
Ask to see the wine menu or drink menu. If you don't see what you are looking for, don't be afraid to ask because the bartender can most likely make what you are hoping for.
Order what you would like by saying,
"Vorrei un aperitivo per favore. Prendo un bicchiere di vino bianco/un negroni/una birra chiara media."
(I would please like an aperitivo. I will have a glass of white wine/negroni/medium light beer).
If you are given an empty plate, fill it up with what you like from the buffet. If you are not given a plate, the waiter will bring a tray of nibbles for you.
Paying For Your Aperitivo
If you sit down, the waiter will bring the bill to the table where you can either pay him or her or pay at the counter when you have finished.
Other places prefer that you pay right away to reduce the risk of confusion later on.
At casual bars, pubs or very crowded spots, you may be asked to pay at the counter first, bring your receipt to the bar and then order your drink, fill up your plate at the buffet and then go choose a table.
Tips For Enjoying Your Aperitivo
Sip Slowly
Travelers stick out like a sore thumb when they down their cocktail in 2 minutes and promptly ask for a second. The Italian aperitivo culture involves enjoying your drink and socializing, not getting drunk and arriving sloppy to the dinner table.
Always Use The Serving Utensils
If you are serving yourself at a buffet, use the serving utensils! Don't use your hands to pick up the focaccia and pizzette.
Don't Overfill Your Plate
It's one thing if you are a starving student and you are trying to get a light dinner out of your buffet apericena but it's another if you are a grown adult on vacation. Don't overfill your small plate at the buffet. If you need more, you can always go back but ask if you can use the same plate or if they prefer you use a fresh one.
Aperitivo With Kids
Unlike American bars, you can bring your underage children to have an aperitivo with you in Italy. If you have small children, you might want to choose a bar in a square so they can run around, preferably in a no-car zone. If your kids are older and can sit at a table, then consider any bar in the city center.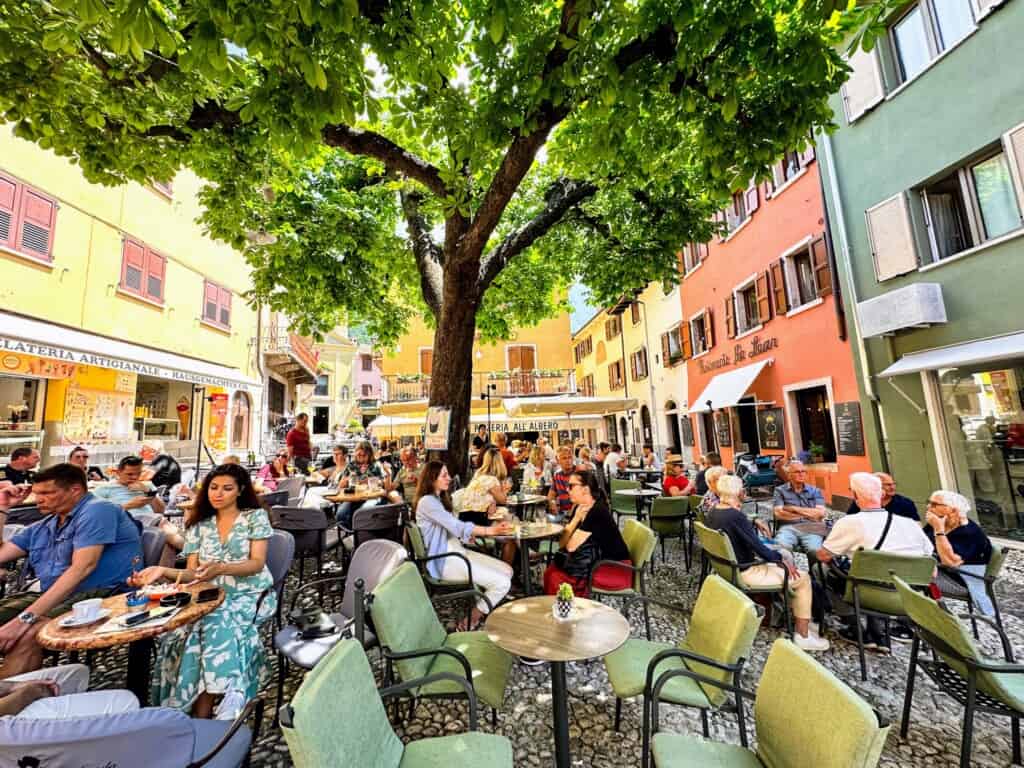 If your kids are ordering an aperitivo, there may be a reduced price for small children, especially if there is a buffet style apericena. If, however, they are just bringing a platter of nibbles for the table then you will most likely just charge the table service price for whatever your child is drinking (juice, coca cola, etc.), which is usually about 2-3 euros more than the standing price of these items.
Good To Know: If you've got teens with you, read about the Drinking Age in Italy.
Aperitivo At Home
Hosting an aperitivo at home with friends and family is a common social event in Italy. Instead of going out, friends will invite others over for an aperitivo as a way to visit and hang out without the commitment to feeding a crowd dinner.
This is also popular with students and families with young children. An aperitivo at home keeps the cost down and frees families with small children up to have dinner at home on the earlier side.
Aperitivo at home may be more casual but the combination of a glass of wine or beer or a cocktail plus something small to eat will be the same. 
Here is a list of common things to buy to recreate an authentic aperitivo at home:
Cracker or breadstick crackers
Potato chips
Focaccia cut into bite size squares (try making potato pizza!)
Carrot sticks
Focaccia art is a fun addition to any at-home aperitivo. Learn How to Make Your Own Focaccia Art! Or, stick to classic Ligurian focaccia.
The Difference Between Aperitivo And Digestivo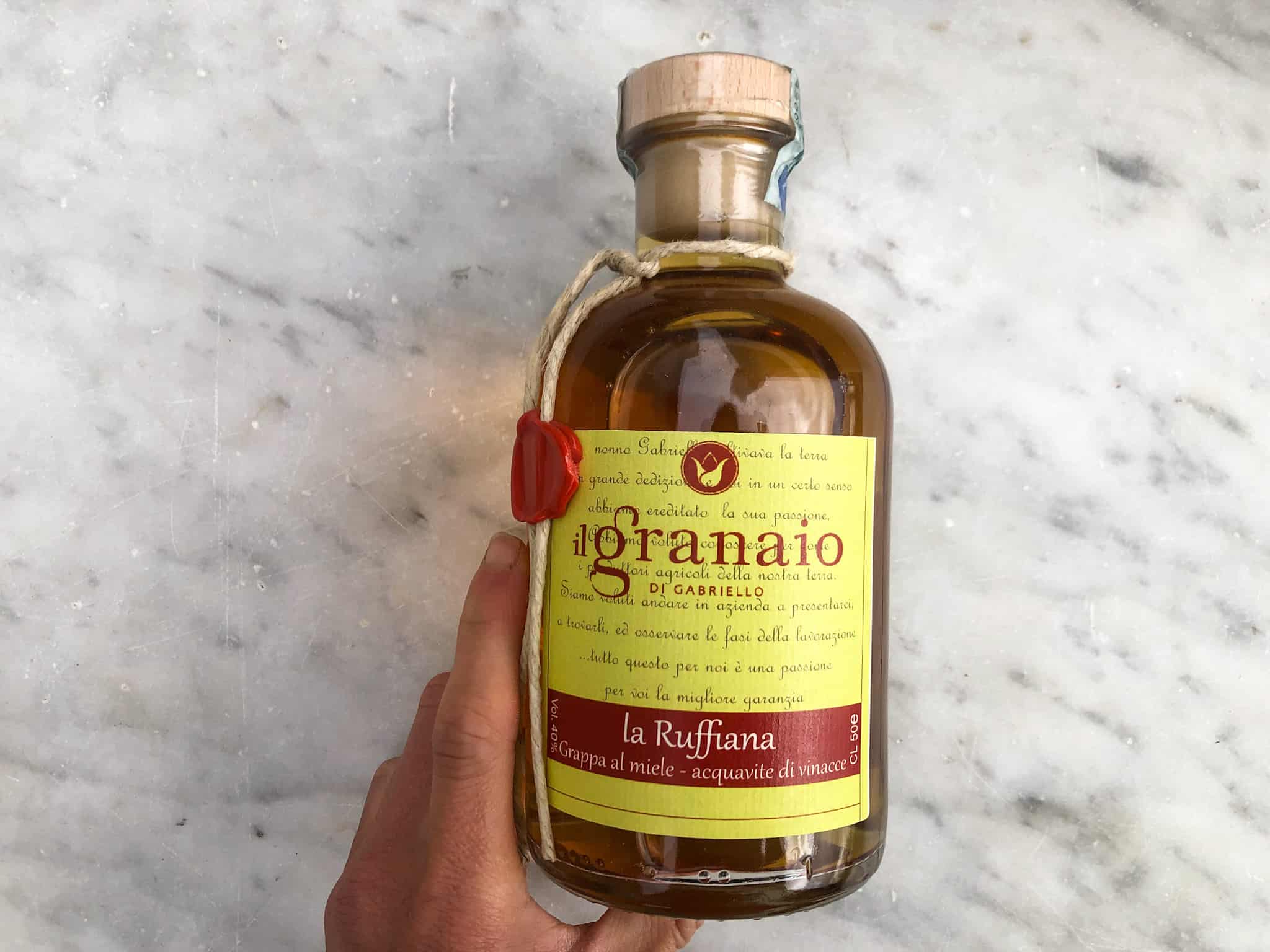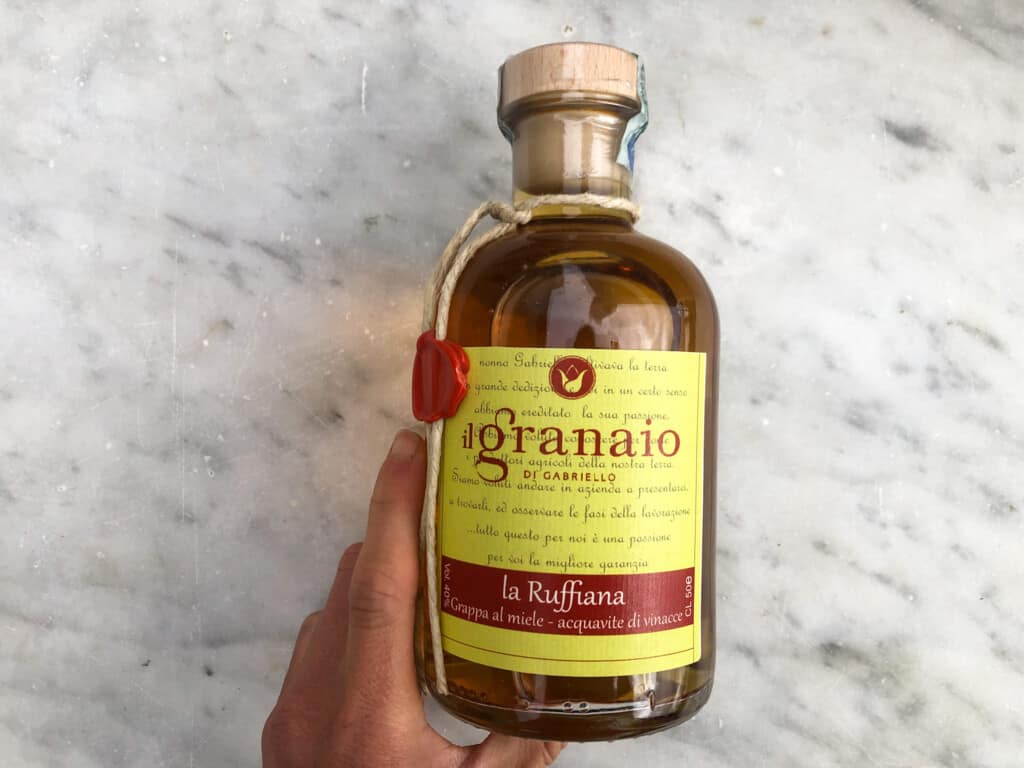 While an aperitivo is meant to open your stomach and prepare you for the big meal you are about to enjoy, the digestivo is an after-dinner drink meant to help you digest your meal.
A digestivo or digestive is most typically an herb-infused liqueur but you will also find whisky and brandy on menus. Amari are the most popular type of digestives in Italy.
The concept of moonshine is big in Italy. Many people still distill their own in-house liquor, infusing it with the most popular locally produced flavors such as elderflower or dark berries in the mountains or bitter herbs in central Italy and along the coast. Limoncello, as we all know, is popular in southern Italy, especially on the Almalfi coast.
Here are some of the most popular digestives to try:
Amaro Del Capo (amaro)
Montenegro (amaro)
Braulio (a herbal liqueur from the Valtellina region in Italy).
Grappa (made from grape skins. I like al miele, made with honey)
Mirto (made from the myrtle plant)
Limoncello (lemon infused)
Learn More: Read Italian Digestivo – Italy's Top 5 Classic After-Dinner Drinks.
Most Famous Aperitivo Spots In Italy
While I am a big advocate for just going with the flow while traveling and keeping an eye out for spots that look like they are flooded with locals, here are a few of the most iconic and historic spots for aperitivo in Italy.
These recommendations are based on my travels:
Venice
Bar All'Arco (S. Polo, 436, 30125 Venezia VE)
You might have to push your way to the front of the crowds outside but it's well worth it. This is an affordable place that is bustling with tourists. There is no better way to fit in than to order a spritz and a plate of cicchetti, stand side-by-side with Venetians and lose yourself in the aperitivo culture. Don't expect to sit down, however, you will never find a table!
Turin (Torino)
Caffè Torino (Piazza San Carlo 204, 10121 Turin, TO)
You can't miss this centrally located bar with the iconic neon sign "Martini & Rossi" hanging under the portico outside the bar. Beautiful and elegant, this is a great place for people watching under the rain if you can nab a table outdoors under the portico. I wouldn't recommend this for food but it's perfect for a cocktail.
Florence
Caffè Lietta (Piazza della Libertà, 6/7/8 Rosso, 50129 Florence, FI)
Newly renovated with a new yet timeless look, caffè Lietta in Piazza della Liberta is where the original negroni was created in 1919. The caffè was designed by Roberto Cavalli and named after his sister. Although a bit outside the city center, it is well-worth the 20 minute walk to enjoy great pastry and coffee or an aperitivo in a luxurious setting.
Milan
Bar Basso (Via Plinio, 39, 20133 Milan MI)
It was here that Mirko Stocchetto accidentally made a negroni with prosecco and the negroni sbagliato was born. Still popular today, this bar is always packed!
Padua (Padova)
Caffè Diemme Italian Attitude Padova (Prato della Valle, 2, 35123 Padova PD)
The disputed home of the spritz, this is where Aperol first debuted in 1919. This is where you want to be to fit in with the locals and drink your spritz with a great view.
Foodie Experience: Drinking an Aperol Spitz is one of our top foodie experiences in Italy.
Aperitivo Vocabulary
| | |
| --- | --- |
| Italian Word | English Translation |
| Aperitivo | aperitif |
| Vorrei…per favore. | I would like…please. |
| Dove posso pagare? | Where can I pay? |
| È incluso? | Is it included? |
| Drink | Cocktail |
| Vino | Wine |
| Birra | Beer |
| Analcolico | non-alcoholic |
| Cocktail analcolico (alla frutta) | Non-alcoholic cocktail (fruit based) |
| Patatine | Chips |
| Nocciole | Nuts |
| Piatto | Plate |
| Bicchiere | Bicchiere |
| Ghiaccio | Ice |
| Tovagliolo | Napkin |
| Tutto compreso | All-inclusive |
| Prezzo unico | One price |
Aperitivo In Italy FAQ
Do I need to tip for an aperitivo?
Generally speaking, you do not need to tip in Italy. If you have a couple of spare coins in your pocket and you would like to leave them it's certainly a nice thing but not expected at all.
Is aperitivo only in big cities?
No, aperitivo is an Italian social event that takes place throughout the peninsula although it's most popular in northern Italy where the tradition began.
Can I order non-alcoholic drinks at aperitivo?
Yes, you can order non-alcoholic drinks for an aperitivo such as juice, sodas, syrup-based drinks or mocktails.
Is food free at an aperitivo?
The food is included in the price of your drink. You will not be charged for the food. 
What is included in an aperitivo?
With the aperitivo price your drink and the food is included, no matter how the food is served (buffet or brought to the table). 
What is an aperitivo in Italy?
Aperitivo in Italy is a pre-dinner drink served with something small to eat such as chips, bites of focaccia, cut up veggies and nuts. If it's more complex and elaborate to include first course dishes, it's called an apericena.
Do Italians have aperitivo everyday?
This completely depends on the region and person. Some people always have a small aperitivo such as in Venice where the drinking and cicchetti culture is huge or in Sardinia where large cheese and charcuterie boards are a point of social gatherings, even on the weekdays. In other areas, an aperitivo is something that Italians indulge in on weekends. 
What time is aperitivo in Italy?
Aperitivo in Italy is traditionally between 6:00 pm and 8:00 pm but can go as late as 9:00 pm. 
Is aperitivo before or after dinner?
Aperitivo is before dinner. After dinner drinks are called digestivi or drink (pronounced dreenk in Italian) and do not include food. 
Can I bring my kids for an aperitivo with me?
Yes, underage children are welcome at bars in Italy, no matter the hour. They can order a soda or juice instead of a cocktail.