If you are looking to use all the Tuscan kale around or hoping to eat more greens this year, then read on for my full list of the most popular Tuscan kale recipes we eat in Italy. With these delicious and popular Tuscan kale recipes, it's easy to add more Tuscan kale into your diet and make healthy meals for the whole family.
My family has been based in Tuscany for years now and we are lucky enough to grow Tuscan Kale in our garden year-round. After years of an overabundance of kale in our refrigerator, I finally came up with a solid list of my favorite ways to use Tuscan kale in the kitchen.
In this article, I am going to go over all the different ways to use kale, including my family's favorite Italian Tuscan kale recipes. We typically make these recipes in the winter but they can be enjoyed year-round, as long as the kale looks fresh and good!
Learn More: Interested to know more about kale? Read Cavolo Nero – What it Is and How My Italian Family Eats It for specifics on varieties, pronunciation and how to cook and use it.
Farinata Con Cavolo Nero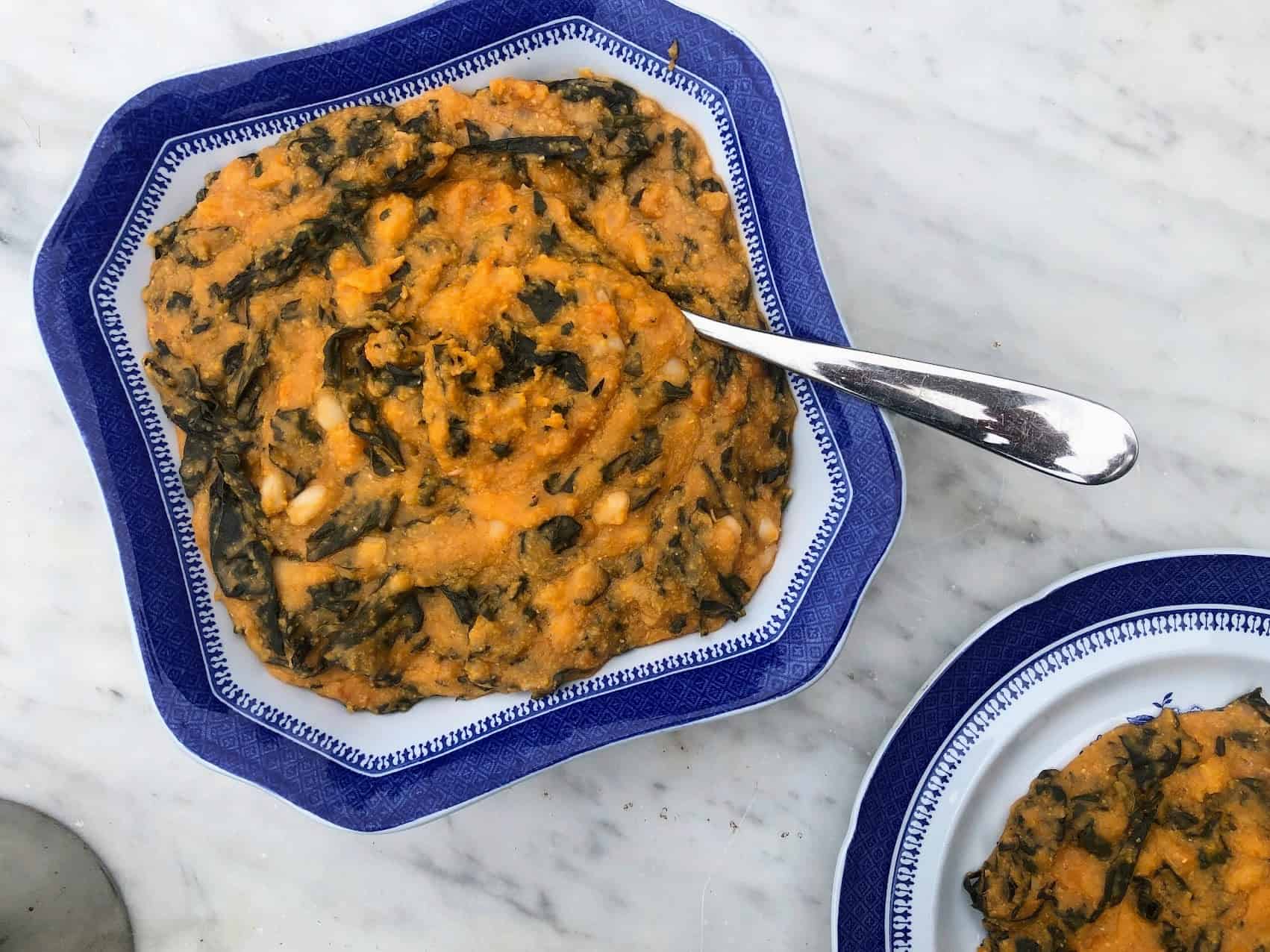 Pronounced far-ee-nah-tah cohn cah-voh-loh neh-roh in Italian.
Farinata con cavolo nero is a hot, savory polenta dish served typically in the winter in Tuscany enriched with Tuscan kale and cannellini beans.
Polenta is slow cooked with Tuscan kale, vegetable stock and a soffritto until creamy and thick. I make my farinata with both pureed and whole cannellini beans, adding a ton of protein and fiber.
Make It: Get my recipe for Polenta With Cannellini Beans And Kale Recipe (Farinata Con Cavolo Nero) – Vegan & Gluten-Free for a healthy vegan Italian meal.
Ribollita
Pronounced ree-bohl-lee-tah in Italian, literally meaning "reboiled".
Ribollita is an ancient Tuscan vegetable soup thickened with stale bread and bulked up with cannellini beans dating back to Medieval times.
Fact: Ribollita is a vegan recipe. Learn more about Eating Vegan in Italy.
Ribollita was created as a way to use up stale bread, similar to pappa al pomodoro and panzanella, incorporating the local vegetables that grow well in Tuscany, such as Tuscan kale, swiss chard, cabbage and cannellini beans.
Make It: Ribollita is easy to make at home with my step-by-step instructions in Authentic Tuscan Ribollita Recipe – Straight from Italy!
Minestrone
Pronounced mee-neh-STROH-neh in Italian.
Italian minestrone is a chunky vegetable soup made with fresh, seasonal produce including Tuscan kale, fennel, swiss chard and carrots, plenty of olive oil and a parmesan rind. It's served all year round, even in the hottest of summer months.
Italian minestrone can be bulked up in any number of ways including with small pasta such as orzo, rice, potatoes, or with bread and a cheese or charcuterie board.
Make It: Minestrone takes a bit of chopping at the beginning but with our minestrone recipe, you will have a healthy, hearty Tuscan dinner ready in under an hour.
Cavolo Nero Crostini
Pronounced cah-voh-loh neh-roh croh-stee-nee in Italian.
Cavolo nero crostini are a Tuscan appetizer made from slices of toasted bread, preferably a day old, topped with boiled and sauteed kale seasoned with garlic and lemon.
Many people I know don't like Tuscan kale because it's touch and fibrous but by boiling the kale first, you magically turn the kale into a soft, succulent topping for toasted bread. With a bit of garlic, you have one of the healthiest and heartiest Tuscan kale recipes ready to eat!
This is a common lunch for me in the winter when I don't really want to cook. It doesn't take much effort and is really satisfying.
Make It: Get our recipe for Cavolo Nero Crostini and try this Tuscan kale recipe at your next dinner party! 
Tuscan Kale Salad
Insalata di cavolo nero in Italian, pronounced een-sah-lah-tah dee cah-voh-loh neh-roh.
Tuscan kale salad is a raw kale salad flavored with the addition of lemon juice, garlic, toasted bread crumbs and parmesan cheese.
After being in Tuscany for over a decade, I have found that Tuscans actually don't really like to eat kale raw. They prefer it boiled and then flavored with things like garlic to help tenderize it. However, I have recently seen a newfound appreciation for macerating chopped kale with some form of acid to tenderize it, such as in Tuscan kale salad, making it appealing even to the most Italian traditionalists.
Creamy Kale Soup
Vellutata al cavolo nero in Italian, pronounced vehl-loo-tah-tah ahl cah-voh-loh neh-roh.
A vellutata in Italian is a creamy soup, typically vegetable based that may or may not contain butter or cream. In a vellutata al cavolo nero, potatoes and kale are the base, which are flavored with garlic and onion. The whole soup is gently simmered until tender and pureed until smooth.
This simple soup can be dressed up with the addition of cream at the end, creating a more rich and elegant result. Most Italians in Tuscany do not add cream to their Tuscan kale vellutata but don't let that stop you!
From my experience, I have found that you really only need a bit of cream, maybe ⅓ cup, to really enhance the flavor and texture. Remember, a soup like this is serving 4 or 5 people as a meal so it actually isn't very much cream in the end.
Make It: Get our recipe for creamy kale soup.
Tuscan Kale Quiche
Torta salata con cavolo nero in Italian, pronounced tohr-tah sah-lah-tah cohn cah-voh-loh neh-roh.
A quiche in Italian is known as a torta salata, which can be flavored with really any seasonal vegetable such as Tuscan kale, swiss chard or spinach.
Like in many Italian quiches, this Tuscan kale quiche is no different in that it's bulked up with the addition of cheese. My kids like it with potatoes as well.
Make It: You can easily make this delicious Easter Quiche, Italian Easter Pie Recipe – Our Family's Torta Pasqualina substituting Tuscan kale if you want.
Tuscan Kale Pesto
Pesto di cavolo nero in Italian, pronounced peh-stoh dee cah-voh-loh neh-roh.
Italians are purists at heart and very loyal to the traditional pesto with basil from Liguria but in Tuscany, Italians are also die-hard fans of their cavolo nero and are always looking for new ways to use it.
Tuscan kale pesto is made with walnuts instead of pine nuts and flavored just as a regular pesto with parmesan cheese and garlic. I suggest serving Tuscan Kale pesto on any pasta shape, including spaghetti or short pasta.
Tuscan Kale Pasta
Pasta con cavolo nero in Italian, pronounced pah-stah cohn cah-voh-loh neh-roh.
Pasta made with Tuscan kale is the essential example of how Italians will make a whole, nutrient rich meal out of a couple of leafy greens and a bag of pasta. Many of my Italian friends will boil the kale directly in the water with the pasta and then sautee the al dente pasta with the kale, garlic, olive oil, cheese and a bit of chili pepper for an extra kick. With the addition of some extra starchy pasta water, this Tuscan kale pasta becomes creamy and rich.
I make this recipe when I literally have 20 minutes and need to get something on the table. It's not quite a one pot dish but it comes close.