Last updated on August 1st, 2023
Some consider Italy to be the motherland of coffee, and it's home to the absolute best cappuccino you will ever drink.
But did you ever wonder how and if you can bring back some of this Italian spirit? Are you overwhelmed by the choices? And can you find some of these once you are back home? If so, will it work with your coffee machine?
Let's look at Italian coffee brands – to enjoy here in Italy and at home.
Types of Italian Coffee
Whether you prefer pre-ground, whole beans, or capsules, Italy has a coffee for you!
Ground beans are the most common in Italy. Most Italians make their coffee using a moka pot or espresso machine at home. The coffee is finely-ground and vacuum-packed to seal in the fresh aromas immediately following the grinding process.
Fact: Some Italian bars will grind their coffee, and others prefer pre-ground varieties. It's a choice each bar makes based on its clientele, what its volume of business is like and what it can afford.
Whole beans are not as popular but do have il suo perchè (meaning having their time and place in Italian). When you buy whole beans, you can grind them at home for an aromatic cup of coffee or a shot of espresso. You can also be in control of how fine or coarse you would like the grind and thus use it for all types of coffee makers including the moka pot, espresso machines, drips or pour-overs. Whole beans are not as common so if you don't find the brand you are looking for in a large supermarket check out specialty gourmet shops or a torrefazione (specialty coffee shop) for the largest selection.
Most recently, capsules have entered the Italian market (although the moka is still the most used 'coffee machine') and are easily purchased at supermarkets and company stores.
Fact: Even Italian grocery stores have come out with their capsule coffee makers and pods at great prices.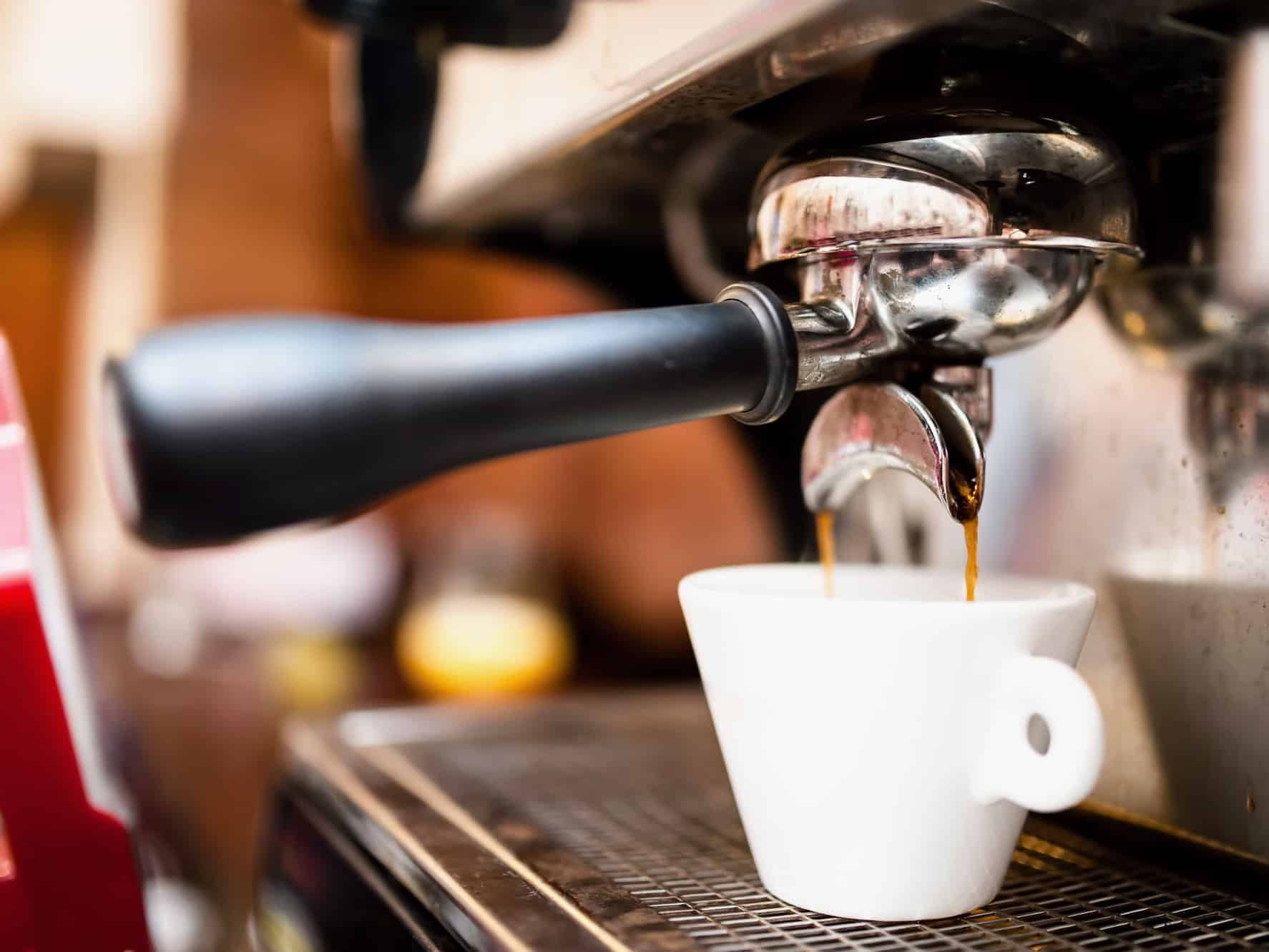 10 Best Italian Coffee Brands
It is difficult to rank the Italian coffee brands since they are top quality. So, this is a list of the best – in no particular order – unless specified otherwise.
| | | | |
| --- | --- | --- | --- |
| Name | Where From | Type | Availability on Amazon |
| Illy | Friuli Venezia Giulia | capsules, ground, beans | Yes |
| Lavazza | Torino | capsules, ground, beans | Yes |
| Caffè Borbone | Naples | capsules, ground, beans | No |
| Caffè Vergnano | Piemont | capsules, ground, beans | Yes |
| Kimbo | Naples | capsules, ground, beans | Yes |
| Pellini | Verona | capsules, ground, beans | Yes |
| Segafredo | Bologna | capsules, ground, beans | Yes |
| Caffè Motta | Salerno | capsules, ground, beans | Yes, but extremely limited |
| Musetti | Piacenza | capsules, ground, beans | Yes |
| Bialetti | Piedmont | capsules, ground, beans | Yes |
Illy
Perhaps Italy's most well-known brand of coffee abroad, Illy was first founded in 1934 by Francesco Illy in Friuli Venezia Giulia when he discovered a way to process coffee beans so they would last a long time without going bad. Illy soon became well-known and exported to other parts of Europe for commercial use and by the 1950's it was available for anyone to purchase to make coffee at home.
Illy was the first company to produce coffee capsules, monetizing on the idea that the perfect cup of coffee could be made anytime, anywhere.
Today, Illy produces several different coffee blends, each to suit a different taste pallet, but all made with Arabica beans, which are considered to be the best quality around.
Illy coffee is mostly sold pre-ground finely in tin cans (great packaging if you are gift-giving). The fine grind is best for espresso machines and moka pots. They also make one of the best capsules on the market, again, offering several blends as well as whole bean varieties.
I would have to put Illy at the top of the list for quality and packaging!
Lavazza
Lavazza is one of Italy's most popular in-home coffee brands. It's affordable, top-quality and readily available, offering various blends and strengths, making it a top pick even abroad and online.
Lavazza was founded in 1895 by Luigi Lavazza in Torino to create blends with coffee from various origins, creating one-of-a-kind coffee. Today, their blends are in fact made from both Arabica and Robusta beans from 6 different origins and are still managed by 3rd and 4th generations of the Lavazza family.
Their coffee is primarily sold pre-ground in vacuum-packed "bricks" or blocks which helps preserve the quality and makes for easy packing (if you want to bring coffee back). The grind, like Illy, is fine, making it an ideal choice for both moka pots and espresso machines. Lavazza has also come out with their own capsules to fit their machine which, again, is a lower price point but still great quality.
If you check out the grocery store, you will notice Lavazza has the most options inducing their most popular:
Lavazza Rossa: blended with Arabica beans from Brazil and Robusta from Africa.
Lavazza Crema e Gusto: with Arabic from Brazil and Robusta from South East Asia.
Qualità Oro: the highest quality made with six Arabica varieties from central and South to America.
Today, Lavazza is readily available overseas and online, making it one of our top picks for gifts and souvenirs! For more information, read Best Food Souvenirs from Italy – Handpicked by Someone Who Lives Here!, Handpicked Gifts for Italian Food Lovers in 2023 and Best Italian Food Gifts to Bring Back From Italy 2023 – For Cooks, Non-Foodies and Kids Alike!
Caffè Borbone
Originating in Naples, this is one of the newer brands that has come to light in Italy. True to Naples, this coffee focuses on quality and tradition, offering several blends made from South American beans.
Although much more popular in Southern Italy, this is still one of the best-quality coffees on the market
Top Borbone varieties:
Blue blend: smooth mix of Arabica and Robusta
Red blend: blend of more Robusta to Arabica beans
Black blend: primarily Robusta beans
Oro blend: This "gold" blend is primarily Arabica.
Caffè Vergnano
Another well-established coffee company from Italy's Northern region of Piedmont. This coffee was first sold at Domenico Vergnano's coffee shop in Chieti in the late 1800s and by the 1930s, the company had grown enough, allowing them the opportunity to buy their own coffee plantation in Kenya, giving them direct control over their beans.
The star blend of Vergnano coffee is the 1882 Vergnano which comes as Original, Strong and very strong, blending high-quality Arabica and Robusta beans.
Kimbo
The Rubini family developed Kimbo coffee after having established themselves as making one of the best espressos in Naples. Kimbo coffee prides itself on quality control, closely following the process from when the first bean is harvested (mostly in Central and South America) to the final grind.
Since, they have developed into one of Italy's most loved coffee brands, especially for in-home use with a moka pot.
We can best describe this coffee as having bold and strong flavors, packing an extra punch perfect for those early mornings at home.
Pellini
Originally from Verona, Pellini is loved throughout Italy, especially in the Northern regions. They have several varieties on the market, best used for moka pots and espresso machines, slow roasted and finely ground. Today, the company, although much bigger now, is still family-run in its 3rd generation. How is that for dedication? You can also buy whole beans.
Their top varieties include:
Bio Arabica – 100% organic Arabica coffee
Pellini Top – 100% Arabica
Espresso bar – mostly Arabica with a small amount of Robusta
Segafredo
Right up there with Lavazza, Segafredo is loved throughout Italy, as you will be able to see from its shelf space at the supermarkets. This company was founded in Bologna in the 1960s but later bought by the Zanetti family, who added their name to the label: Segafredo Zanetti.
Segafredo has expanded tremendously over the past two decades, exporting its coffee to over 100 countries and expanding its production plant in Brazil, where most of its beans are processed.
Widely used by both professions and at home, Segafredo makes several blends, including:
Supremo (100% Arabica)
Massimo (Arabica and Robusta mix)
Crema Ricca (Arabica e Robusta mix)
Caffè Motta
Another recent company, Motta was founded in 2001 in Salerno by Nicola Mastromarino. It has found its place in the professional industry serving many bars and restaurants.
What makes this brand particular is that they have developed capsules compatible with other company coffee pod machines, so you can enjoy Motta no matter what kind of capsule coffee maker you have.
Musetti
Although only ten years old, this coffee company has made a name for itself both abroad and in Italy. Used commercially and privately, Musetti offers over 10 blends, so you are sure to find your favorite. Check out supermarkets for Musetti's wide selection of finely ground coffee, capsules and whole beans.
Bialetti
Mostly known for their moka pots, we can't omit Bialetti which has revolutionized Italian coffee culture, making it easy to brew strong, high-quality espresso at home. Bialetti also makes a fine-quality pre-ground coffee worth getting your hands on. Not always available in all supermarkets, Bialetti is sold online and also in capsules.
Other Coffee Brands
Caffè Milano
Caffè Toraldo
Caffè Passalacqua
Caffè Corsini
Caffè Splendid
Quarta Caffè
Aromistico
Delicitaly
Filicori Zecchini
Where to Buy Coffee in Italy
Since coffee is so important to Italy, it is no wonder you can buy coffee literally everywhere! I am not kidding – even at electronics stores!
Grocery stores: be it a larger supermarket or small mom-and-pop store, they will stock a selection of coffee and smoke pots.
Torrefazione: a specialty coffee shop also selling chocolates and candies. Great place to find whole beans.
Gastronomia: Specialty high-end grocery stores/delis: they will stock both name-brand and artisan varieties
Bars: some bars will stock their coffee or artisan brands that are worth trying
Electronic stores: Trony and Euronics, to name a few, have one of the best coffee pods and machines selections.
Brand stores: head directly to the company stores such as Nespresso or Bialetti to get the best selection possible.
Travelers Tip: La Ditta Artigianale (Florence) is one of the best coffee shops in Florence. It now roasts, grinds and packages its own specialty blends that you can bring home. Makes for a great souvenir if you are looking for something locally made by which to remember the city. 
Learn More: Read about the 40+ Ways to Drink Coffee in Italy and Coffee in Italy – Types and How to Order!
Where to Buy Italian Coffee Outside of Italy
Because Italian coffee companies have invested so much in branding and exporting overseas, it is quite easy to find some of the top brands online or in specialty grocery stores worldwide.
Italian grocery stores or specialty food stores: our top pick for real coffee lovers! Although slightly more expensive than purchasing online, specialty stores orItalian supermarkets will have a wider selection of artisan brands and also be able to recommend which Italian coffee is right for you depending on your likings. I also find it so much fun to explore stores like this because I always discover new things that I don't know how I lived without.
Amazon.com: today you can find just about anything on Amazon and Italian coffee is no different. The prices are reasonable and the selection is great.
From Italy: if you are traveling it makes perfect sense to bring back coffee as there are no restrictions but we would advise against ordering directly from EU sites because you will have to pay an extraordinary amount for shipping and you might run into customs delays.
How to Make Italian Coffee at Home
Decide what kind of coffee you are making and gather either your moka pot or espresso machine.
Get your hands on some Italian coffee. Finely grind it if you are using whole beans.
Gather up any other ingredients that you may need such as milk, sugar, cocoa powder.
If you are using an espresso machine, fill the coffee basket full, mounded, but do not press down and follow the manufacturer's instructions.
If you are using a moka pot, fill the bottom half halfway up to the little screw you will see on the inside with cold water.
Fill the coffee basket full, mounded at the top but do not press down. Insert into the Boston of the Moka where you have put the water.
Screw the top portion of the moka onto the bottom and place over medium heat. The moment you hear a percolating sound, turn off the heat. It's ready!
Tip: Sometimes the water gets stuck in the bottom portion of the Moka pot and won't come up. Run the bottom part of the pot under cold running water for a couple of seconds being careful not to accidentally dump out the coffee on the top half that has come through. Put it back over medium heat and it should finish up.
Italian Coffee Brands FAQ
Can I bring Italian coffee home as a souvenir?
Yes, and you should! It packs well, won't break or spill and there are no restrictions. Coffee in Italy is also a bargain. The price is more than reasonable for the quality you are getting. 
Can I make coffee in my regular drip American coffee maker with Italian coffee?
If you have purchased the pre-ground brick coffee you should not as the grind will be much too fine for the American filters. I would suggest buying whole beans and grinding them to your liking if you want to make American coffee.
Are Italian coffee capsules compatible with my machine at home? 
They certainly are if you are getting the correct brand comparability. For example, the Nespresso pods will fit your Nespresso machine at home but a Lavazza pod will not fit your Nespresso machine. Keep in mind some companies have, however, invested in making their coffee pods in various shapes to fit the different coffee makers. Just be sure to read the box for compatibility with the brand you have at home.
How much does Italian coffee cost?
The cost is really going to depend on the brand but it can be as low as 11 euro per kilo to about 25 euro per kilo for Illy. Artisan brands will cost more. 
How do I store my moka pot?
Gently twist the top and bottom halves together but not tightly. Keep the small compartment that you add coffee to turned upside down on the spout where the coffee pushes through on the top half of the moka pot so that the top doesn't close all the way shut (see picture above)