Are you looking to bring back some food souvenirs from Italy and are unsure of what to get?
Well Italy is THE place to buy food souvenirs because it's a country best remembered through its food. In this article I will walk you through the absolute best food souvenirs from Italy, based on my experience living here and traveling extensively throughout Italy.
Food souvenirs are perfect mementos for your Italian trip because they're something you can actually consume and enjoy. Food items are an evergreen souvenir and are appreciated by everyone, including kids who love the chocolate and regional cookies.
Let's take a look at this curated list of food souvenirs from Italy!
Please note that I am writing this article for many readers who may live in different parts of the world. I will specifically indicate if you cannot bring an item into the US but please double check with customs for updated regulations.
Tips for Bringing Food Souvenirs Home from Italy
Before you buy a souvenir, make sure you can bring the food product into your country by visiting your country's customs website:
Package goods accordingly.

Use bubble wrap and zip lock bags for items that can break such as bottles of wine (be prepared to unwrap items for inspection).
Some countries request items to be shrink-wrapped and commercially labeled.

Pack your souvenirs in the right place: Make sure no liquids (including any semi-liquid items such as jams) are in your carry-on but rather, checked.
Declare your souvenirs if necessary. For example, some countries have limitations on alcohol and over a certain amount you must declare it.
Plan according to the final destination. Don't pack foods that need to be refrigerated if you can't keep them cold. For example, if you are traveling to a very warm climate in the summer, don't bring cheese back as it might go bad on long flights.
Where to Buy Food Souvenirs in Italy
Another reason to consider Italian food souvenirs is that they are extremely accessible so if you are looking for a last minute item they won't be hard to track down.
Here are the most common places to purchase food souvenirs:
Pizzicheria – delis have many locally-made food items
Gastronomia – this small grocery store/specialty store is my favorite place to get food souvenirs because the products are hand selected by the owner and thus, of high quality
Ristoranti – restaurants often have wines and sometimes their own homemade sauces, jams, preserves, etc.
Bar – higher end bars such as Rivoire in Florence will package their cookies and holiday chocolates
Supermercati – grocery stores
Enoteche – wine bars will sell wines and local food items
Fattorie – farms will sell their own cheese, jams, and sauces
Dried Pasta
Pasta weighs nothing so it's great to pop into huge bags that are already overweight. My personal favorite is tagliatelle because I live in Tuscany and always like to bring a little bit of my corner of Italy..
Bigoli: whole wheat spaghetti (Veneto, specifically Venice)
Orecchiette: pasta shaped like little ears (Puglia)
Trofie: small handmade corkscrews (Liguria)
Cavatelli: meaning "little hollows", small twisted shell shaped (southern Italy)
Tagliatelle/Pappardelle: egg ribbon pasta (Emilia-Romagna, Tuscany)
Lasagne: pick up dried lasagna sheets at supermarkets
Please Note: You cannot bring fresh pasta into many countries, including the US!
Check out our Favorite Italian Pasta Brands.
Italian Olive Oil
Almost every region in Italy makes their own olive oil from the local variety of olives.
Stick to tins/cans instead of bottles to avoid spills and breakage in luggage. Don't miss 15 Best Italian Olive Oils – To Enjoy in Italy & Bring Home as a Souvenir for our top picks!
Balsamic Vinegar
Balsamic Vinegar from Modena is one of my favorites because a little bit goes a long way in salads and other fresh vegetable dishes. You just need a small bottle and it will last a long time!
Italian Mayonnaise
Mayonnaise is seemingly a very strange item but I mention it because the Italian version is very different from the American one – much richer and silkier. For people who love mayo this is a must try!
Calvé is Italy's favorite!
Cured Meats from Italy
Cured meats and dried sausages are one of Italy's finer and most beloved food items so if your country permits it, share it with your friends and family.
It's best to get them vacuum-packed by the vender.
Most popular cured meats to bring home:
Salsiccia secca
Speck
Bresaola
Mortadella
Guanciale
'Njuda
Please Note: Cured meats are not allowed in the US.
Learn More: You may want to read Is Prosciutto Raw?
Risotto Rice
To make authentic Italian risotto you need certain types of rice that are readily available in most supermarkets and food stores.
Taralli
The reason I like these little ring shaped taralli crackers made with lots of olive oil and often flavored with herbs or spices, is because the authentic ones are not often exported and I have never seen them in the USA (only mass-produced ones).
I suggest you seek out the artisan or small production houses.
Regional Italian Cheeses
Italian cheese makes a great souvenir because let's be real, who doesn't like cheese? If you are worried about extended time without refrigeration, consider a duty free shop in the airport.
These are a couple of my favorites:
Pecorino – sheep's milk cheese, all kinds
Parmigiano Reggiano – parmesan
Scamorza – smoked cow's milk cheese
Fontina – a creamy cow's milk cheese
Good To Know: Fresh cheese such as ricotta and mozzarella are not allowed into the US.
Learn More: Study up on formaggio with our Complete Guide to Italian Cheese!
Italian Canned Goods
It's no surprise that Italians make great canned sauces. They also preserve veggies that are sold commercially. Here are some of my favorites to bring home:
Aglione – garlic tomato sauce
Sugo di cinghiale – wild boar sauce
Sugo di anatra – duck sauce
Sugo di carne/Bolognese – meat sauce
Pesto genovese
Salsa di noci – walnut sauce
Pâté di carciofi – artichoke spread
Pâté di olive – olive spread
Giardiniera – various pickled vegetables
Carciofi sott'olio – artichokes packed in oil
Capperi sotto sale – salt preserved capers
Please Note: Generally speaking you can bring canned meat sauces into the US from Italy but it's contingent case by case. Please check the most recent custom regulations (or just avoid meat sauces).
Italian Spices and Seasonings
These are souvenirs I love because they take up such little space, allowing me to bring many back as small gifts for people.
Pop a couple of these items in your bag so you always have extra items to share when you get home:
Zafferano: saffron grown in Sardinia, Tuscany and Umbria. If you see it at a market, grab it but if not, check out any supermarket where it's sold in small packets with all the other spices.
Nero di seppia: squid ink sold in small packets at supermarkets and small grocery shops that can be kept in the fridge for several months to make pasta and risotto.
Colatura di alici: fish sauce from Calabria (specifically good from Cetara).
Seasoned salt: with herbs such as sage, rosemary and thyme and garlic. Many Italians use this to season meat and fish. Check out butchers for their hand mixed salts.
Bottarga
Bottarga is made from the roe of locally caught tuna that is salted and dried. It's used like parmesan cheese, grated over pasta, beans, and rice.
Good To Know: Be sure you buy it vacuum packed in small stores or supermarkets or it will not be allowed into the US!
Dried Porcini Mushrooms
Porcini mushrooms grow in much of the country, especially in the central regions but only for a short period. To enjoy them all year round, Italians have developed a long-standing tradition of drying them. They are then easily rehydrated and added to many dishes (my favorite way to use them is in risotto).
Pick up a package at supermarkets, open air markets or specialty grocery stores for a very light souvenir that will add tons of flavor to your cooking back home.
Packing Tip: Dried porcini weigh next to nothing so if you are tight on your bag limit, this is a great item!
Peperoni Cruschi Secchi
Peperoni Cruschi, also known as "red gold" by the locals, these long, red sweet peppers that you often see hanging from balconies or windows are a staple in much of Basilicata.
You can either buy them whole or already crushed and packaged in a jar. Either way, they add great flavor to your cooking as well as weighing next to nothing for those of you with heavy bags!
Sun Dried Tomatoes from Italy
You can find sun dried tomatoes throughout Italy but the best ones are found in southern regions where the tomatoes are the freshest and the sweetest.
The small pachino variety is my favorite and I request them vacuum packed so they last longer (always ask if this is a possibility as it keeps food fresher longer). Simply rehydrate them in a little warm water and add them to salads, sandwiches and stews.
Truffles / Tartufi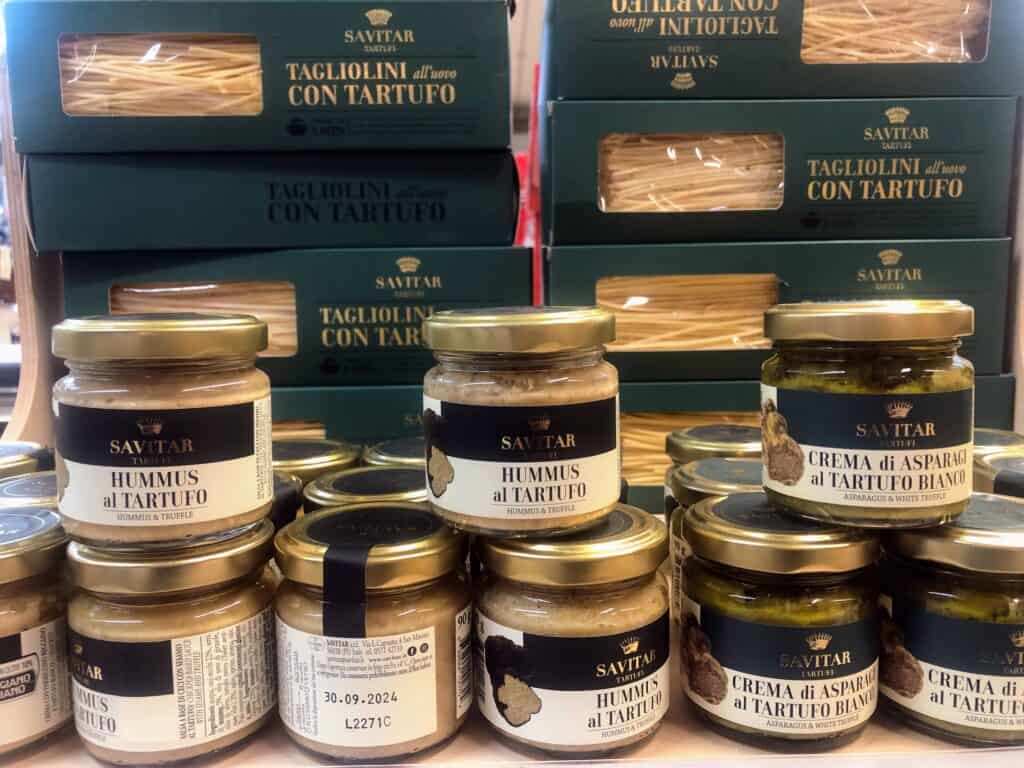 Whether white or black, truffles are an Italian delicacy and make one of the best souvenirs to bring back with you because they are even more expensive overseas!
Note that you cannot bring fresh truffles to many countries, including the USA. Get them preserved in one of the following ways:
jarred/canned: either by themselves or mixed, chopped and conserved with other ingredients.
preserved in oil: for more luxurious cooking adventures such as a rich risotto.
in a pâté or spread: great for making crostini
as truffle oil: can be used to drizzle on top of rice, pasta and with bread.
Regional Italian Cookies
These are some of the best cookies that Italy has to offer but you can really bring any kind you want home!
If you can, put them in a tin or hard container they travel better than in a traditional plastic bag as they often come packaged.
Baci di Dama: two light hazelnut cookies glued together with chocolate-hazelnut cream (Piedmont)
Savoiardi: Italian lady fingers are great to bring to home to make authentic tiramisù upon your return. You can find them at any supermarket (Piedmont)
Canestrelli Biellesi: cookies are made with a thin layer of chocolate-hazelnut spread sandwiched between two, thin, chocolate wafer cookies (Piedmont)
Cantuccini: small, hard almond cookies meant to be eaten with Vin Santo to soften them up (Tuscany, specifically Prato)
BuranellI: small butter cookies made on the small island in the Venetian Lagoon, Burano, are typically shaped into the letter "S" (Venice, Veneto)
Ricciarelli: a kind of macaroon from Siena made with almond paste, sugar, honey, and egg whites (Siena, Tuscany)
Amaretti di Saronno: a crispy, light, bittersweet cookie made from almonds, egg whites, and sugar (Lombardy)
Ferratelle: also known as pizzelle, these thin cookies look similar to waffles but they are actually thin aniseed wafer cookies cooked in a very hot iron mold (Abruzzo)
Mostaccioli: chocolate and almond cookies flavored with various spices, depending on the region, and covered in chocolate (southern Italy)
We Recommend:
Antica Drogheria Manganelli 1879 – via di Città, 71/73, Siena for ricciarelli
Pasticceria Le Campane – Via caduti di Vicobello, 37, Siena for ricciarelli
D.Lazzaroni & C. Antica Pasteria – Corso Europa, 9, 20020 Lainate, Lombardy for Amaretti di Saronno
Antonio Mattei – Via Bettino Ricasoli, 20/22, Prato for cantuccini (Florence has also opened a store).
Torrone
If you are on the Island of Sardinia then you will notice the mounds of locally made nougat at open air markets for sale. Made from honey and nuts (walnuts, hazelnuts and almonds), the best kind is the artisan made variety available at markets. You can also get it at supermarkets but it's not the same as small-batch varieties.
Panforte
Panforte is a Christmas specialty from Siena made from various dried fruits, nuts and honey. It's similar to a flat cake in shape but it's dense and chewy.
The best ones are artisan made so head to a small gastronomia for a handpicked selection.
Italian Chocolate
Modica: made by processing the cocoa beans by hand in a stone bowl called a metate, resulting in a rich chocolate with a gritty texture. Look for various flavors, my favorite being arancia, orange chocolate (Sicily, specifically Modica).
Perugina Chocolates: if you have a chance to visit the factory in Perugia it's quite fun for kids but it's also available commercially at all supermarkets. Their most popular chocolate, Baci, is a bite-size hazelnut chocolate covered in dark chocolate.
Gianduia: hazelnut spread. The most common is Nutella but I suggest you try an artisan brand, or Novi, found at supermarkets.
Gianduiotto: silky smooth chocolate made from cocoa, sugar, and hazelnut paste. Many commercial brands make their own versions of these chocolates that you can purchase at supermarkets but the artisan ones are the best.
Pocket Coffee: these are small, commercially produced chocolates filled with a sugary shot of espresso. They are quite interesting – I have never had anything like them before. I used to use them as a student when I was in the library because you can't bring coffee in Italian libraries!
Kinder: definitely not high quality but this is THE chocolate in Italy for kids and foreign children will enjoy them just as much. There are a ton of different kinds including individual chocolates, small bars, regular sized bars and odd-shaped treats, all of which you can purchase in supermarkets.
Chocolate Lovers: Don't miss our comprehensive guide to The Most Popular Italian Chocolate – (Our Favorite Brands & Products).
We Recommend: Baratti & Milano in Turin sells some of the best artisan gianduiotto in the city.
Italian Coffee
Read our full guide to Italian coffee brands but here are a few of my favorites:
Lavazza Qualità Oro – 100% arabica coffee for espresso
Illy Classico – 100% arabica coffee for espresso
Vermouth
Vermouth originated in Piedmont and today it remains a popular Italian aperitif and addition to several cocktails such as the negroni and negroni sbagliato. This Senera vermouth is one of my favorites. It's Tuscan made and comes in two versions: rosso and rosé, a lighter alternative to the classic fortified wine.
Regional Italian Liquors and Spirits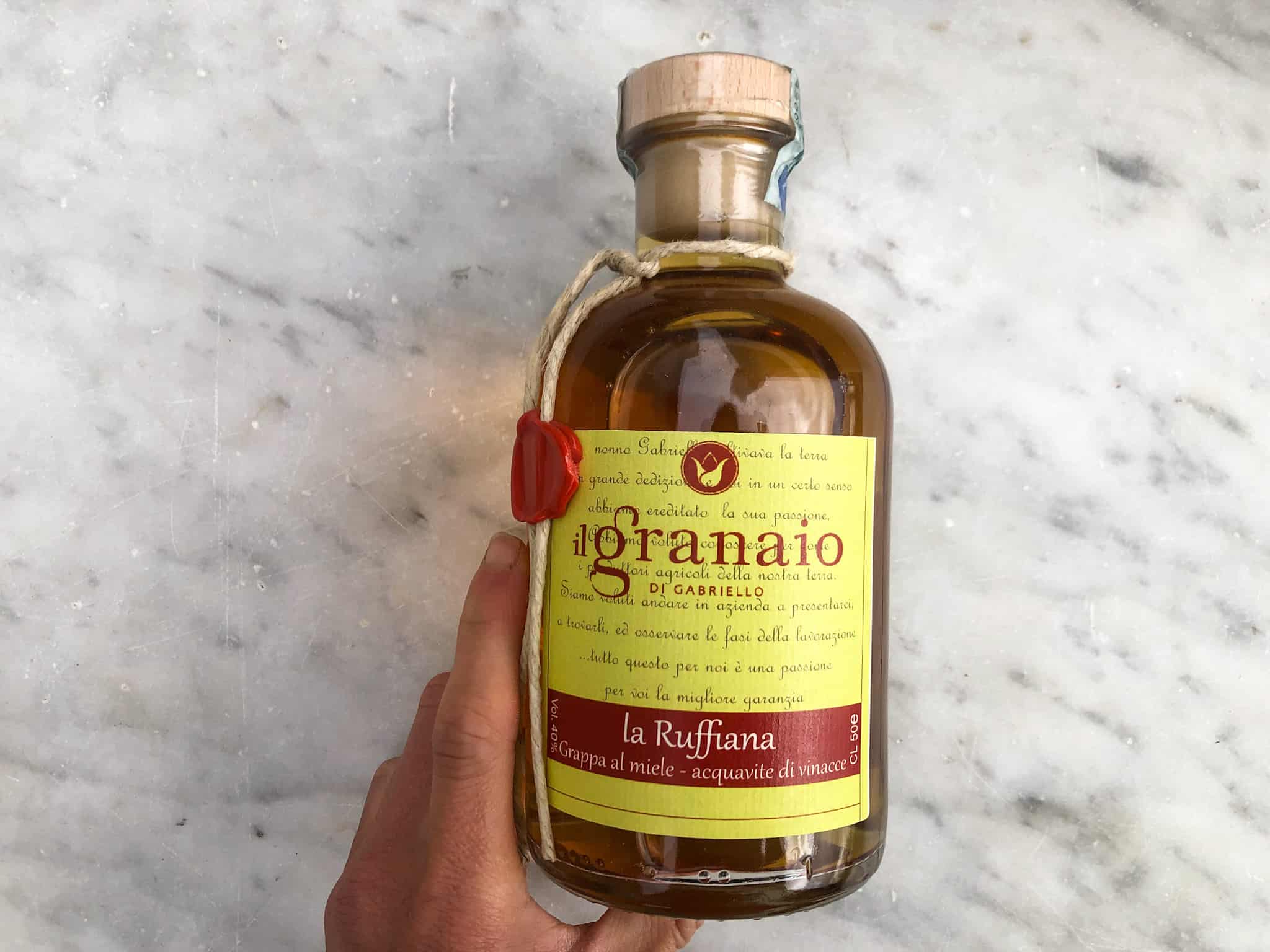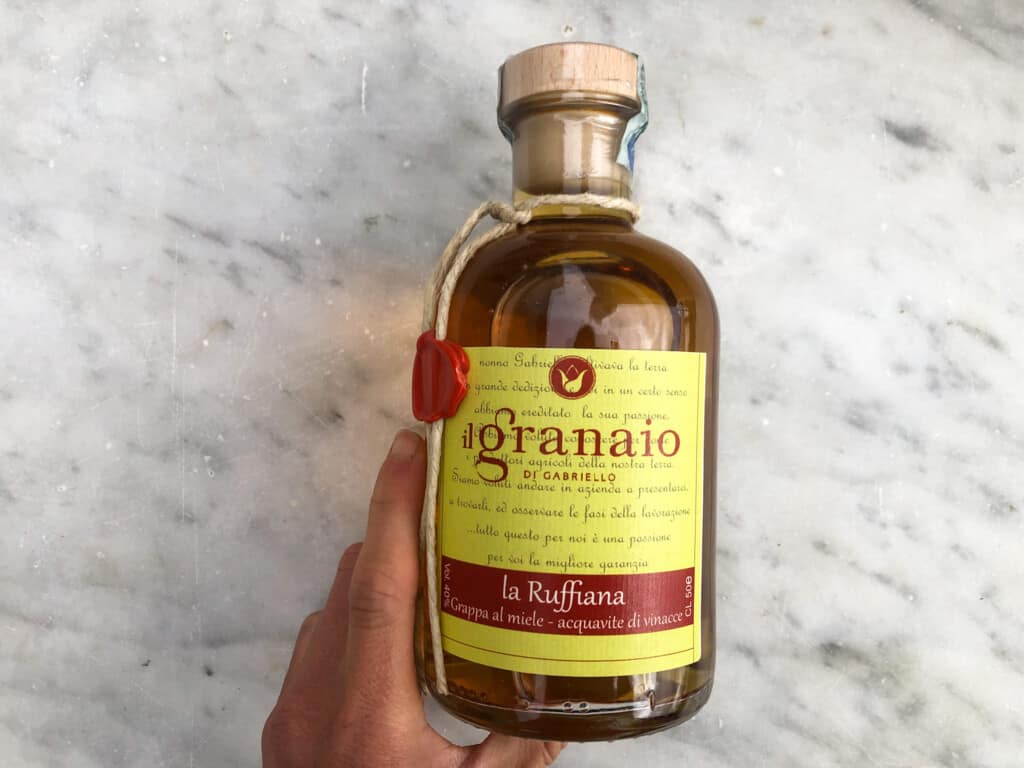 Mirto: Myrtle-based herbal liquor said to help in digestion (Sardinia)
Vin Santo: a sweet dessert wine served with cookies (Tuscany)
Strega: a very popular herbal digestive (Campania)
Grappa: a northern specialty but enjoyed throughout Italy. My favorite is grappa di miele, honey grappa, which is slightly sweeter.
Sambuca: anise-based liquor (southern Italy)
Limoncello: a very sweet lemon liquor (southern Italy, specifically the Amalfi Coast); use it to make a limoncello spritz!
Amaro: all slightly different, depending on the region. This is my personal favorite to have after dinner.
Regional Italian Wine
Of course you can get all of these wines abroad but I like to scout out smaller producers of some of the most famous varieties as a special treat.
Here are some of the most famous varieties listed by region to consider on your next trip:
Veneto: Amarone della Valpolicella
Trentino–Alto Adige: Trento, Trentino, Traminer
Piedmont: Barolo, Barbaresco
Lombardy: Francacorta
Emilia-Romagna: Lambrusco
Tuscany: Chianti, Brunello, Vino Nobile di Montepulciano
Puglia: Primitivo
Sardinia: Vermentino di Gallura
Sicily: Marsala
Italy Food Souvenirs FAQ
Can I bring Italian cheese into the US?
Yes, but it cannot be fresh cheese such as mozzarella or ricotta. Get it vacuum packed for a longer shelf life and better travel into warmer climates.
Can I bring fruits and vegetables to the US?
No, you are not permitted to bring any fresh produce into the US.
Can I bring cured meats into the US?
No, not even if they are vacuum packed.
Can I bring fresh pasta into the US?
No, you can not bring anything with raw eggs back, including fresh pasta.