Last updated on November 6th, 2023
Italian food and cooking is very simple and this is in part because Italians use so many good herbs and spices to bump up the flavor of simple, seasonal produce, meats and fish.
Read on to learn all about the top Italian herbs and spices that we use in Italy on a daily basis and how to incorporate them into your daily cooking. Check out our favorite recipes and tips to better understand each one and don't miss our advice for substituting dried Italian herbs for fresh herbs, how to store Italian herbs and spices, and which Italian herbs and spices are best to grow at home!
Basilico
Pronunciation: bah-zee-lee-koh
Translation: Basil
Commonly Used In: insalata caprese

A Favorite Recipe of Mine: having become a true Tuscan local at this point, I must admit we eat caprese salad at least four times a week during the summer months at our house. It's a snap to put together, and with a couple slices of prosciutto di Parma, some sweet melon and crusty bread, we have a crowd-pleasing meal, even for the pickiest of eaters.
Tip: If you are using fresh basil, I recommend you add it at the end of your cooking as it's a delicate flavor that can get lost in the mix of things. Adding it at the end helps preserve the freshness.
Tip: Learn How to Freeze Fresh Basil so you can have it at your fingertips year round!
Finocchio
Pronunciation: fee-nohk-kee-oh
Also known as: finocchio selvatico/semi di finocchio
Translation: fennel seeds
Commonly Used In: various cured meats such as finocchiona or soups and roasts
A Favorite Recipe of Mine: We eat a lot of roasted meat in our household (we do live in Tuscany after all) and one of the best ones I make is with various herbs, including fennel. This recipe is similar to how I prepare mine but I never measure anything, per Italian cooking law. I just dump things in, more or less depending on the size of the roast.
Tip: Crushing the fennel seeds with the back of your knife before cooking with them releases their flavor and will greatly improve the flavor of the dish!
Origano
Pronunciation: or-ee-gah-noh
Translation: oregano
Commonly Used In: roast meats, stews and in cooked vegetable dishes. A classic flavor for pizza in Italy!
A Favorite Recipe of Mine: I love using oregano when cooking vegetables in any way but I also use it in my Authentic Italian Pizza Sauce Recipe – Straight From Italy!
Tip: Both dried and fresh oregano are very good so don't worry if you can only find dried. If a recipe calls for fresh, however, use only about ⅓ the amount called for as dried oregano is much more aromatic!
Prezzemolo
Pronunciation: prehz-zeh-moh-loh
Translation: parsley
Commonly Used In: as a garnish for many meats and fish dishes, including pastas.
A Favorite Recipe of Mine: Salsa verde is a classic Tuscan sauce that you can really put on anything. It really increases the flavor of just about anything which is why we always have some in the fridge.
Tip: In Italy, the flat italian leaf parsley is most commonly used. Curly parsley is harder to come by and for good reason: it's way less flavorful!
Learn More: Italians also use frozen parsley in recipes. Learn the three methods for Freezing Parsley.
Salvia
Pronunciation: sahl-vee-ah
Translation: sage
Commonly Used In: fried foods, roasted potatoes and roasted meats.
A Favorite Recipe of Mine: I used sage on a daily basis and lucky for me I have a HUGE sage bush right outside my front door. I suggest using it with roasted potatoes but if you are looking for something really luxurious, try salvia fritta, you won't be sorry!
Tip: Sage is great both dried and fresh. Carefully tear fresh sage leaves to release their aroma before using them. This herb is one of the best ways to add great flavor to butter. Simply lightly brown butter over low heat with plenty of torn sage leaves for a simple and easy sauce for ravioli.
Alloro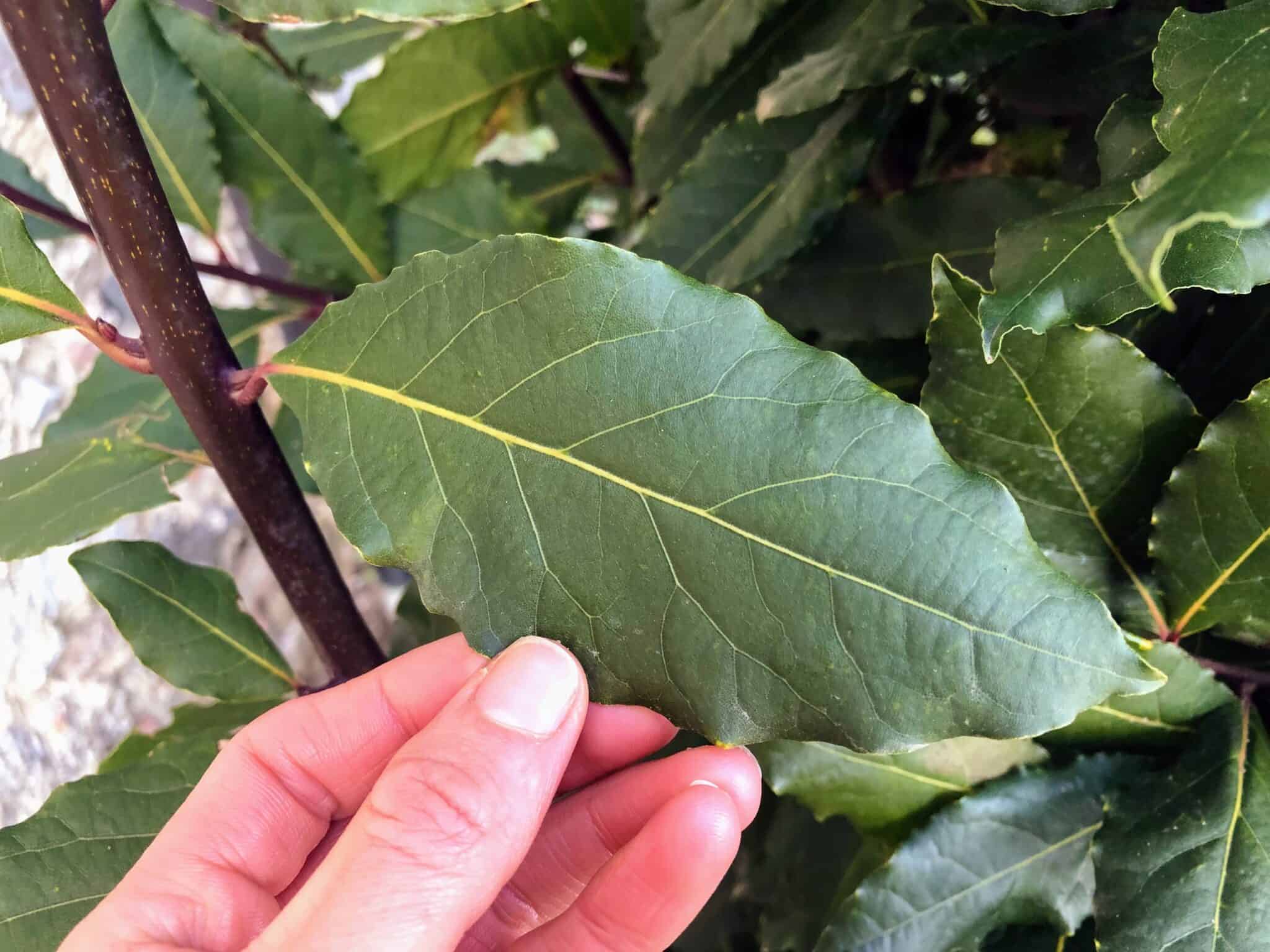 Pronunciation: ahl-loh-roh
Translation: bay leaf
Commonly Used In: soups and stews, seafood and legumes
A Favorite Recipe of Mine: Insalata di polpo e patate is a great way to use bay leaves, although you will only use one when boiling the octopus. It adds a subtle non lo so (I just don't know what that is) to the recipe.
Tip: Use either fresh or dried bay leaf but be careful – it's very strong so don't ever use more than two unless a recipe specifically mentions to use a lot!
Timo
Pronunciation: tee-moh
Translation: thyme
Commonly Used In: roasted meats and vegetables
A Favorite Recipe of Mine: I often add thyme to about anything I am going to roast or stew. Not surprisingly, patate arroste or roasted potatoes are a favorite with kids so I make them a lot. The addition of thyme and rosemary really adds a ton of depth to the potatoes.
Tip: Fresh and dried thyme are equally good but if a recipe calls for fresh, use only about ⅓ the amount called for as the dried stuff is much stronger!
Rosemarino
Pronunciation: rohs-mah-ree-noh
Translation: rosemary
Commonly Used In: roasted meats and stews
A Favorite Recipe of Mine: A winter classic that I love to make is pasta e ceci, pasta and beans. It uses few ingredients, it's cheap and easy to put together. Try adding rosemary sprigs to the chickpeas when cooking them. I also make a pureed chickpea soup and drizzle rosemary infused olive oil on top right before serving.
Tip: Fresh rosemary can be frozen in a sealed bag for up to 3 months for fresh rosemary anytime! You can also use it to make rosemary infused olive oil.
Maggiorana
Pronunciation: mahj-johr-ah-nah
Translation: marjoram
Similar to: oregano but milder and slightly sweeter
Commonly Used In: various hearty meat and mushroom dishes as well as roasted vegetables
A Favorite Recipe of Mine: Italian Easter Pie Recipe – Our Family's Torta Pasqualina is a great way to use marjoram in cooking if you never have before. It's a fun and festive savory pie that is easier to make than it looks!
Tip: Marjoram leaves are best used fresh and added in the middle of your cooking, if possible.
Aglio
Pronunciation: ahl-yee-oh
Translation: garlic
Commonly Used In: pasta sauces including spaghetti aglio, olio e peperoncino, pici all'aglione or pomorola
A Favorite Recipe of Mine: Since I live in Tuscany I can't really write about garlic and not underline how delicious pici all'aglione are. Pici are a hand rolled spaghetti served in a rich garlic tomato sauce that is heavenly yet won't weigh you down. You will need quite a lot of elephant garlic to make this (but red garlic will do well too if you can't find aglione).
Tip: When choosing garlic, look for firm, tight heads. You know they will be fresh and flavorful. Heads that give to the touch in any way or that are falling apart are older and thus, have less flavor.
Try It: How To Peel Garlic – Best Easy & Fast Ways + How To Chop And Store It and Aglione Sauce – The Star of Pici all'Aglione.
Pepe
Pronunciation: peh-peh
Translation: black pepper
Commonly Used In: cacio e pepe and carbonara
A Favorite Recipe of Mine: My family adores Roman pasta dishes for two main reasons: they are really very simple to make and they are so rich and satisfying. Cacio e pepe is a bit trickier to master but it's one of the best ways to enjoy really good fresh black pepper, in my opinion. If you aren't confident, try a beef stew such as Brunelleschi's Peposo: The Easiest Italian Stew to Learn to Make at Home, an easy beef stew with only 5 ingredients!
Tip: Always freshly grind your black pepper. The moment you grind an herb, it starts to immediately lose its aroma and flavor.
Peperoncino
Pronunciation: peh-pehr-ohn-chee-noh
Translation: red chili flakes
Commonly Used In: many southern Italian dishes including penne all'arrabbiata
A Favorite Recipe of Mine: penne all'arrabbiata is a go-to weeknight meal for me. It's easy to make and if someone likes more or less spice, they can simply add additional red pepper flakes after I have served the pasta.
Tip: Buy whole dried red chili peppers and remove the seeds yourself from the pods. They will stay fresher longer and have better flavor.
More Italian Herbs & Spices
Zafferano
Pronunciation: zahf-fehr-ah-noh
Translation: saffron
Commonly Used In: rice dishes
A Favorite Recipe of Mine: Risotto alla Milanese is a classic Italian risotto dish that I love to make at home. Although not traditional, I sometimes add frozen peas and dinner is served!
Tip: Italy is well known for their saffron from San Gimignano, Città della Pieve , Aquila and Sardegna so be sure to pick some up locally and you will save big (the price can get quite high with additional exportation costs!).
Pestèda
Pronunciation: peh-steh-dah
Translation: pestèda
Commonly Used In: chicken, red meat, fish and mild cheeses
What it is: This is a spice blend made from various herbs and spices such as garlic, salt, pepper, dwarf alpine yarrow or musk yarrow, thyme, juniper berries and/or cinnamon. The spices are pounded together and used in many different dishes throughout the Valtellina region in Northern Italy.
Calaminta
Pronunciation: cah-lah-meen-tah
Translation: calamintha
Commonly used with: shrimp, artichokes, white beans, lamb, wild mushrooms and risottos.
What it is: This aromatic herb, native to Italy, is similar to oregano but with a slight hint of mint and sage. Both the flowers and leaves are used for cooking and to make tea.
Dried vs Fresh Herbs in Italy
If Italians can, they typically will use fresh herbs. This is partly because so many of them grow the basics (parsley, basil, rosemary and sage) on their balcony, in their garden, or in pots during the summer.
There are some exceptions: dried oregano is always used for pizza, for example. Saffron is always used dry.
The best herbs to use fresh are basil and parsley, while all the rest are great both dried and fresh.
When converting fresh herbs to dried herbs in a recipe, use a 1:3 ratio. Fo example, if the recipe calls for 3 Tablespoons of freshly chopped oregano, use only 1 Tablespoon dried.
Where to Get Italian Herbs in Italy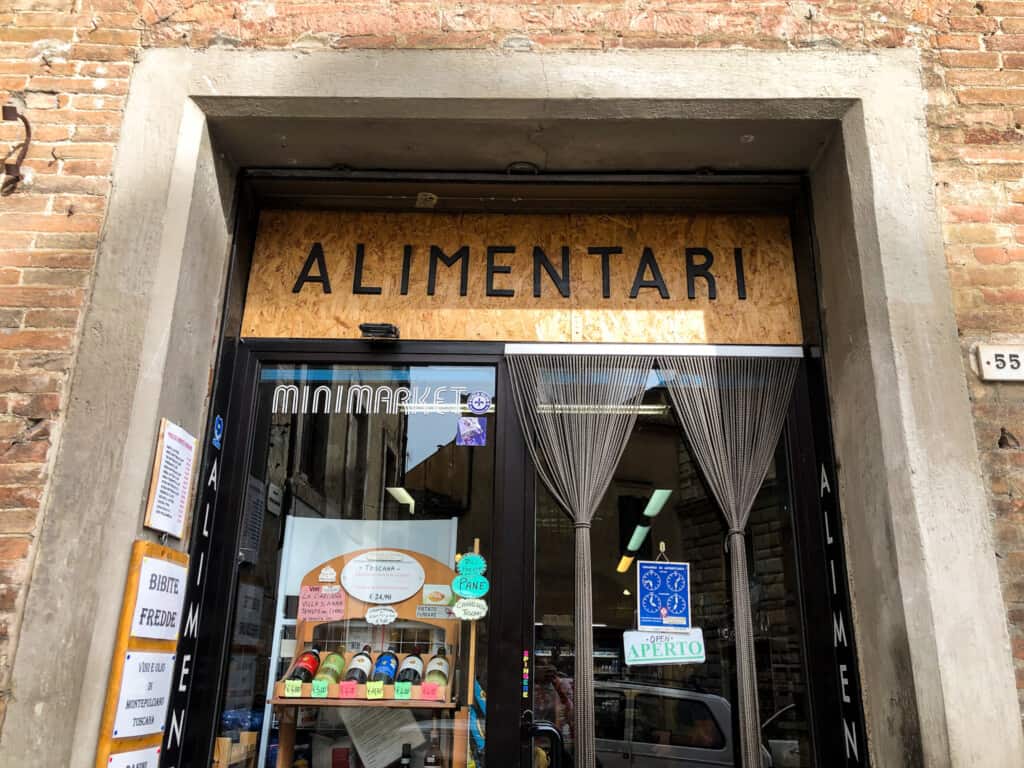 You can get both fresh and dried herbs almost anywhere in Italy. If you are a repeat customer at the same fruit and vegetable vendor they will often ask if you would like freshly cut herbs, free of charge, with your purchase.
You can find fresh herbs at:
Large supermarkets
Alimentari – small grocery stores
Open-air markets
Fruttivendolo – Italian fruit and vegetable store
The most common herbs to grow at home are basil, oregano, parsley, sage, thyme and rosemary. Italians will typically buy dried fennel seeds and bay leaves. Marjoram isn't always the easiest to find and grows well wild so many Italians will stop on the side of the road and pick some up, if they can. If not, dried will do.
Italian Herbs & Spices FAQ
How should dried Italian herbs and spices be stored?
All dried herbs and spices should be stored in an airtight container after they have been opened to help maintain their aroma. Throw out dried herbs after one year and replace them. 
How should fresh Italian herbs be stored?
Fresh Italian herbs should be cut and put in a glass of water in the refrigerator for best results (except sage and bay leaves). If you are using your fresh herbs within 3-4 days or so, don't bother. 
Can I freeze Italian herbs?
Yes, simply close them in a zip lock bag, being sure to remove the air and store in the freezer for up to 3 months for fresh herbs anytime! 
Can I grow fresh Italian herbs year-round indoors?
Yes, you can. Just be sure they are getting enough warmth and sunlight. A windowsill with full light is optimal. 
Do Italians use Italian seasoning?
Italian seasoning blends don't actually exist in Italy. Italians might add several herbs and flavors together but they will never buy a package of Italian seasoning that has been pre-mixed. You can buy seasoned salt, however, that is salt that has been flavored with sage, rosemary, garlic, black pepper and oregano which can be used to season meat, vegetables and fish. You can find this at a butcher and it's actually a great gift to bring back with you.