Last updated on November 27th, 2023
Are you planning a food-related trip to Italy?
Or maybe you just want to fill your Italian vacation only with cibo delizioso (delicious food).
While you can find amazing anywhere in Italy, there are cities that are known (by Italians and visitors) for their culinary delights.
Let's take a look at the top cities in Italy for food – including what to eat, where to get it, and what else you should do while you are there. This guide is based on my personal travels with fellow students, friends, and my Italian family.
Where to Go for Italy's Best Food
Parma
Why Visit Parma?
Parma is home to some of Italy's most famous charcuterie board ingredients – prosciutto di Parma and Parmigiano Reggiano. It's also a great base for exploring Emilia-Romagna (I used for weeks while I was checking out the area's food museums).
What to Eat in Parma
Prosciutto di Parma DOP – local prosciutto
Culatello di Zibello DOP – local cured meat
Parmigiano Reggiano
Anolini in brodo – small stuffed pasta served in broth
Tortelli – large stuffed pasta with various fillings such as cheese and spinach
Gnocco fritto – fried bread served with various cured meats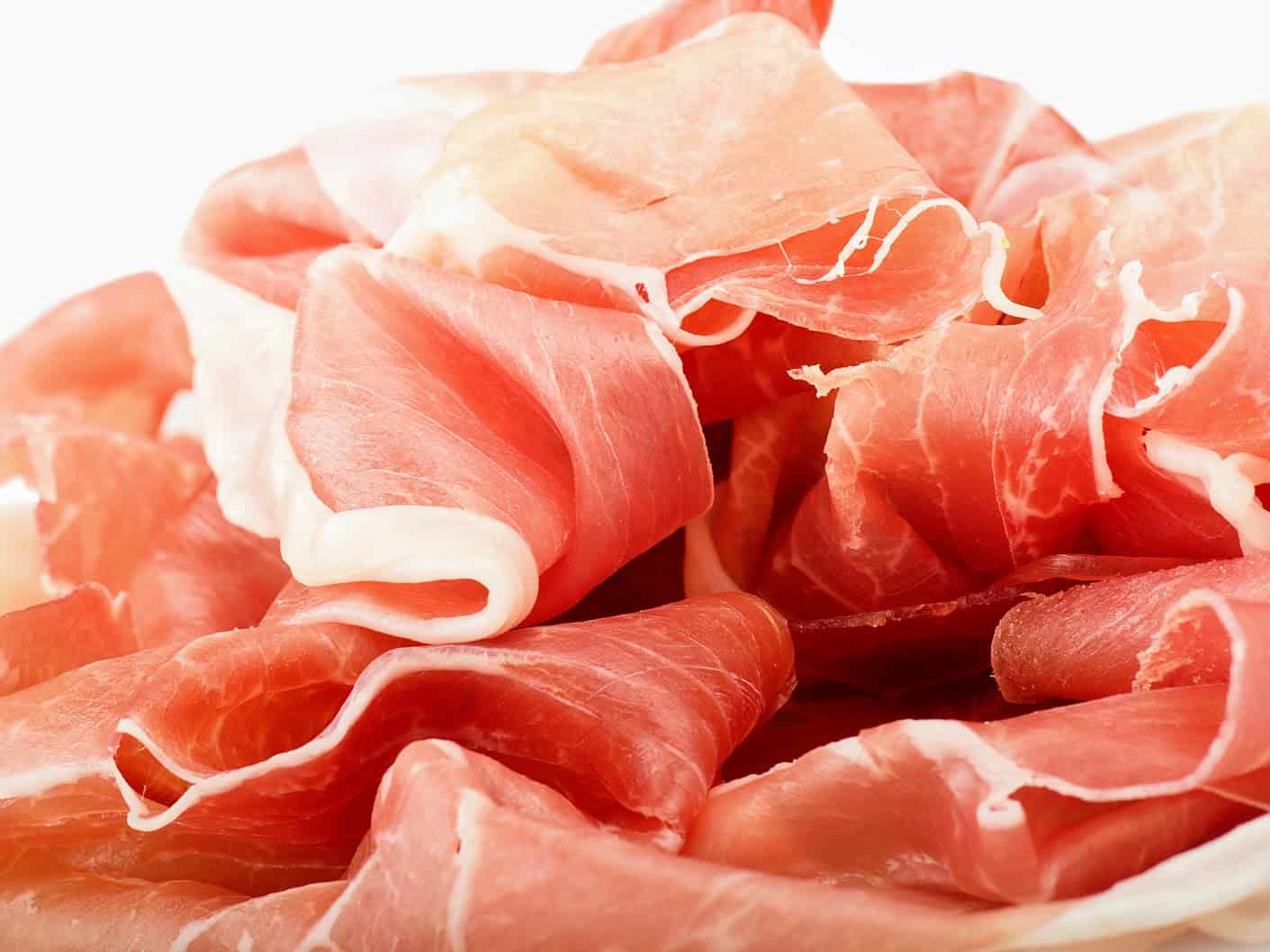 Learn More: You may want to read Is Prosciutto Raw?
Where to Eat in Parma
Ristorante Cocchi – a historic institution for locals and tourists alike
Osteria del 36 – one of the oldest places around serving up local specialities
Osteria Virgilio – a hole in the wall so be sure to book in advance!
While You're in Parma…
Visit a Parmigiano-reggiano factory and see exactly how this world famous cheese is produced
Take part in the town's lively evening aperitivo scene
Visit the city's cathedral and see some of Caravaggio's masterpieces
Visit the Museum of Parmigiano Reggiano just outside of Parma
Visit the Museum of Prosciutto di Parma, also just outside the city
Tip: Read our full food guide here to Traditional Food of Emilia-Romanga.
Learn More: Study up on formaggio with our Complete Guide to Italian Cheese!
Modena
Why Visit Modena?
The charming cobblestone center is home to aceto balsamico di Modena and has great Parmigiano-Reggiano which you can watch being made just outside of the city center.
What to Eat in Modena
Lambrusco – sparkling red wine
Aceto balsamico di Modena DOP – balsamic vinegar
Parmigiano Reggiano
Tortelloni e prosciutto – large filled pasta with prosciutto
Passatelli – a handmade small dumpling pasta served in broth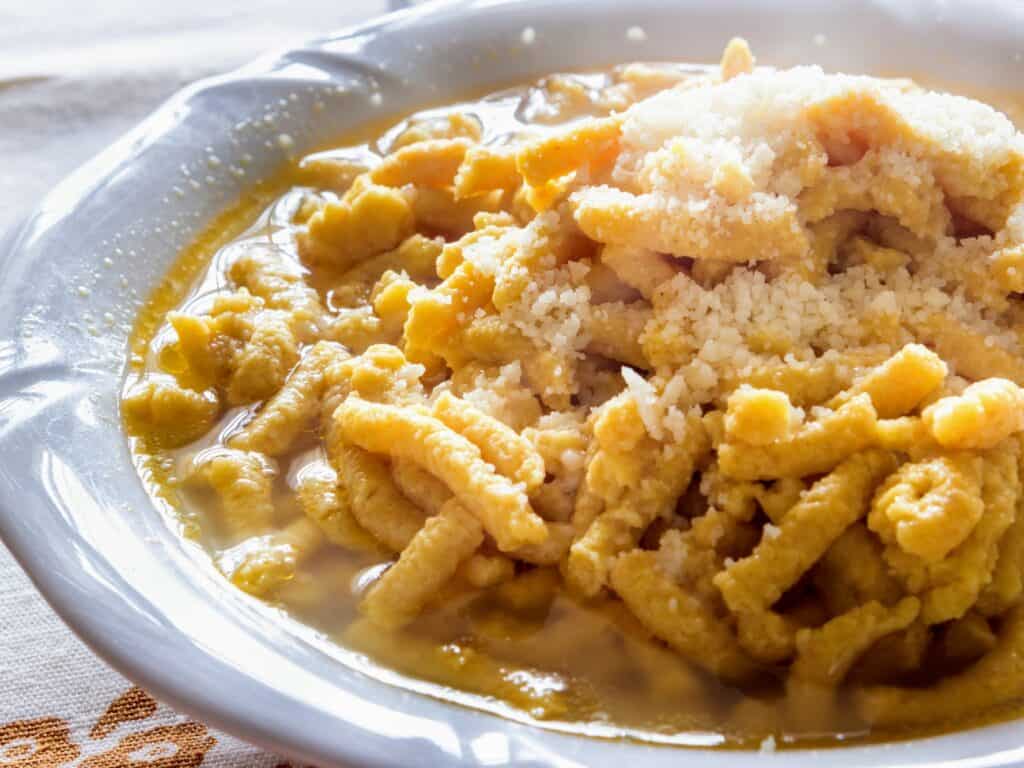 Where to Eat in Modena
Osteria Francescana – Massimo Bottura's famed Michelin-star restaurant
Osteria Ermes – a favorite among locals
Restaurante de Danilo – no frills yet total satisfaction
Hosteria Giusti – serving up classic and traditional dishes of the region
While You're in Modena…
Visit the Enzo Ferrari Museum in town
Luciano Pavarotti House Museum to learn all about the famous opera singer
Mercato Albinelli is the best food market in Modena and totally worth the visit and sometimes long lines at stalls
Palermo
Why Visit Palermo?
Palermo is a melting pot of cultures from Africa, all over Europe and beyond so it truly is paradise as there is something for everyone. The markets are amazing, the street food is fun and exciting and the cannoli are to die for!
I have visited Palermo numerous times over the years as both a student, a mom, and with friends, each time with a different budget and food frame of mind. Here are my top picks!
What to Eat in Palermo
Cannoli
Granita con brioche – shaved ice with pastry
Arancini – fried rice balls
Pasta alla norma – pasta with tomatoes and eggplant
Stigghiola – grilled lamb intestines/inerds
Cous Cous (kus kus) – couscous originally from Trapani but very popular in Palermo
Where to Eat in Palermo
Franco U Vastiddaru – the best street food
Pasticceria Cappello – some of the best cannoli
Trattoria da Salvo – great fish and easy going dishes
I Pupi – a Michelin must-try if your budget is a bit higher
Zia Pina – great lunch experience with locals (skip this spot for dinner)
Osteria Ballarò – best for slightly more complex dishes
Trattoria da Mafone – best fish specialties outside the Mercato il Capo
While You're in Palermo…
Visit the three best open air markets for food but not only: Vucciria, Ballarò and Mercato il Capo
Don't bother sitting down for meals one day and get lost in the street food, particularly in Vucciria (check out our street food guide in Sicily for more info)
Visit Palazzo dei Normanni, the royal palace – it will take your breath away!
Tip: Read our full food guide here to Traditional Sicilian Food
Milan
Why Visit Milan?
I make my way to Milan to visit friends, sightsee with family, or work and I never miss a chance to dig into their regional goodies.
Milan is known for several things including fashion, art, design and innovation. Well, this also includes food. Not only should you visit Milan for great timeless classics but also it's probably the best city for food innovation and creativity in the kitchen!
What to Eat in Milan
Risotto alla Milanese – rice flavored with saffron
Cotoletta alla Milanese – fried pork chop
Ossobuco alla Milanese – Milanese-style oxtail
Panettone – a classic Christmas brioche bread
Zafferano – saffron
Where to Eat in Milan
Trattoria del Nuovo Macello – for traditional Milanese dishes
Antica Trattoria della Pesa – for great, reliable classics
Ratanà – for timeless classics
Horto – three star Michelin restaurant with a view
Latteria San Marco – family-run hole in the wall
Bar Luce – cafe and bar best for drinks
Il Mercato del Duomo – best for grab-and-go in a central location
Il Luogo di Aimo e Nadia – two star Michelin restaurant
While You're in Milan…
Head to the Navigli District for great bars and nightlife
Book a viewing of Leonardo Da Vinci's 'The Last Supper'
Visit the Pinacoteca di Brera for some of Milan's best artwork
Spend time gawking at the Cathedral in Piazza Duomo
Tip: Read our full food guide here to Traditional Food of Lombardy.
Forte dei Marmi
Why Visit Forte dei Marmi?
Even if you have a lower budget or are traveling with lots of kids, this can be a great place to just walk around, grab a sandwich and enjoy a kid-friendly sea-side town (this is how I do it now with four kids). If you have money to burn, you're also in the right place!
While Forte dei Marmi not be for everyone (it's very pricey), it has amazing seafood, it's easy to navigate with kids and there is a high-concentration of Michelin-star restaurants.
What to Eat in Forte dei Marmi
Spaghetti alle vongole – with clam sauce
Spaghetti alla trabaccolara – with razor clams
Pesce di giorno – catch of the day
Insalata di polpo e patate – octopus and potato salad
Scarpaccio – savory vegetables cake
Cacciucco – seafood soup
Where to Eat in Forte dei Marmi
Gilda – a great choice for families
Pesce Baracca – best for informal, easy going food, including street food
Lorenzo – well known for its elegant seafood dishes
Filippo Forte dei Marmi – after opening his successful restaurant in Pietrasanta, Filippo opened a local version serving up classic flavors of Versilia + pizza
Bistro – an elegant Michelin star restaurant overlooking the water
La Magnolia – a Michelin recommended must try. Be sure to book in advance
While You're in Forte dei Marmi…
Head to the absolutely amazing street market every Wednesday in Piazza Marconi for real deals on cashmere, leather and household items
Take a walk along the pier anytime but particularly at dusk
Rent a bike (it's super easy and safe) and ride the bike path along the boulevard
Tip: Read our full food guide to Traditional Tuscan Foods.
Bologna
Why Visit?
The main reason I always tell people to stop off in Bologna if they can is because it's small enough to enjoy in a day without feeling rushed – and the food is divine.
Some of Italy's best food is from Bologna. There are so many amazing restaurants it's honestly hard to choose them all so we will list our favorites. But don't worry, you can't go wrong at most places.
What to Eat in Bologna
Parmigiano Reggiano
Mortadella – bologna
Lasagna alla bolognese
Tortellini in brodo – stuffed pasta served in broth
Tortellini – small stuffed pasta dressed often in meat or cream sauce
Cotoletta alla bolognese – fried veal cutlets
Taglieri – charcuterie and cheese boards
Where to Eat in Bologna
Forno Brisa – best bakery
Pasta Fresca Naldi – only take-away but some of the best homemade pasta in the city
Panini di Miro – hands down best panini in Bologna
Salumeria Simoni – best cheese and charcuterie boards
Sfoglia Rine – handwritten menu changes daily. A great joint
Da Cesari – our top pick for fine dining in Bologna
Drogheria delle Rose – serving up amazing classics
While You're in Bologna…
Food lovers rejoice at Mercato delle Erbe where food stalls couldn't be more stunning
Stroll Bologna's porticos, night and day, for great street life, shopping and people watching
Take a food tour to really explore how some of the best regional products are made
Take a museum or factory tour of Ferrari, Lamborghini, Ducati, Pagani, and Maserati, all just outside of Bologna!
Tip: Read our full food guide here to Traditional Food of Emilia-Romanga
Rome
Why Visit?
My husband loves Rome (although he is Florentine) so he is always looking for a reason to go and luckily he knows a ton of people with all the ins and outs so we have learned where and what to eat without getting trapped into scammy or cheap places.
So many of Italy's most classic dishes are Roman so be sure to spend extra time eating between visits to some of Italy's most important monuments. Whether it be breakfast, lunch or pizza, Roma has it all!
What to Eat in Rome
Carbonara – pasta with egg and bacon
Pasta alla gricia – with bacon and pecorino cheese
Cacio e pepe – pasta with pecorino cheese and black pepper
Trippa alla romana – Roman style tripe
Carciofi alla giudia – fried artichokes
Puntarelle alla romana – Chicory salad
Pizza alla pala – Roman pizza by the slice
Suppli – fried rice balls
Maritozzi – brioche bun filled with whipped cream
Trapizzino – Roman pizza sandwich street food
Pinsa – light and airy pizza
Where to Eat in Rome
Pasticceria Regoli or Roscioli Caffe – best maritozzi
Panificio bonci" or Casa manco – best pizza alla pala
La Pergola – the only three star Michelin restaurant in Rome
Suppli – best for suppli
Forno campo dei fiori – good and quick sandwich in central area
Da Enzo – best carbonara and other classics
Roscioli Salumeria con cucina – best classics. You must book ahead
Latteria Trastevere – best for wine and charcuterie and cheese boards
Tavernaccia da Bruno – best suckling pig and for lasagna (prepared only for Sunday lunch)
Trapizzino for trapizzino
Armando al Pantheon – best location and backdrop
While You're in Rome…
Check out Testaccio Mercato for great quick food finds, especially if you are renting a place with a kitchen and want to do some cooking. The produce is top quality and the local vendors sell some of the best bites around.
Enjoy an aperitivo in Campo dei Fiori for great people watching
Spend time in Testaccio, the heart of Rome for locals
Enjoy street food such as trapizzino, pizza alla pala and suppli for a quick recharge between tours and visits.
Tip: Read our full food guide here to Traditional Food of Lazio.
Venice
Why Visit?
You will probably never visit a city just like it – literally built on water. Explore Venezia in a water taxi or vaperato instead of a street taxi and be sure to ease into the tradition of Italian piacere or pleasure and unwind with plenty of good wine, people watching and cicchetti (Italian-style tapas).
While I haven't brought my kids here yet, I have luxuriously enjoyed the food scene solo with my Italian husband and friends. It has taken quite some time to come down to pick my faves but here they are!
What to Eat in Venice
Cicchetti – small bites of food similar to Spanish tapas
Baccalà mantecato – whipped salted cod on toast
Sarde in soar – sweet and savory sardines
Bigoli in salsa- local handmade spaghetti with anchovies
Risi bisi – risotto-like soup with peas
Risotto primavera – risotto with peas, asparagus, broad beans and spring onions (only made in the spring)
Fegato alla Veneziana – Venetian-style liver
Moeche – small fried crabs (only fall and spring)
Buranelli – butter cookies made on the small island in the Venetian Lagoon, Burano
Frìtole – small fried donuts
Where to Eat in Venice
El Sbarlefo – best wine list and great cicchetti
All'Arco, Cantina do Spade and Osteria Bancogiro – all good for cicchetti
La Zucca – best for vegetarians
Osteria alla Frasca – for classic Venetian cuisine
Al Covo – a cute and traditional osteria
Cà D'Oro alla Vedova – a fantastic restaurant serving up classic Venetian dishes
Trattoria da'a Marisa – one of only a handful of authentic restaurants left in the city.
Trattoria al Gatto Nero – an institution for locals on Burano
Tonolo – best bakery, especially for frìtole.
Osteria alla Testerie – for best local seafood
Caffè Florian – best for coffee and people watching in Piazza Marco, a central location
Osteria al merca – a favorite among locals. Book ahead!
While You're in Venice…
head over to the small island of Burano and pick up some of their famous cookies, Buranelli, to bring home
Splurge on a gondola (Venetian boat) ride and see the city by boat
Leisurely enjoy a glass of wine (or two) with a plate of cicchetti
Tip: Read our full food guide here to Traditional Food of Veneto
Bolzano (The Dolomites)
Why Visit?
Italy meets Austria in this beautiful northern town with mountains towering over the bustling city of Bolzano.
What to Eat in Bolzano
Strudel – puff pastry filled with apples
Pretzel – large, soft prezel
Mezzelune – stuffed pasta similar to ravioli
Formaggi vari – local cheese such as Alta badia, Lagrein, Stelvio and Bela badia
Speck – locally produced cured ham or prosciutto
Canederli – bread dumplings flavored with various ingredients
Regional beer
Where to Eat in Bolzano
Osteria dai Carretti – for quick and easy lunches and snacks
Vögele – a Michelin guide restaurant meaning great food at terrific value
Grandi Bakery – best bakery for things like pretzel
Hopfen & co. – best for classic such as polenta and apple strudel
Laurin – wonderful local cuisine with modern touches (you do not need to be a guest at the hotel to eat at the restaurant)
While You're in Bolzano…
Enjoy the more Austrian tradition of beer: find a local pub and ask for a regional beer (there are plenty of options!)
Ride the Renon Cable car for sweeping mountain views
Head just outside the city center to Roncolo Castle to see some truly amazing frescos that are unmatched!
Spend time in Piazza Walther (Waltherplatz) where many local markets and festivals take place, most famously the December Christmas market
Tip: Read our full food guide here to Traditional Food of Trentino Alto-Adige
Turin (Torino)
Why Visit Turin?
Turin is home of Eataly, the Slow Food movement and is the absolute best city for Italy's most beloved chocolate and hazelnut invention – Gianduia. Some of the best coffee companies were founded in Turin and Piedmont boasts excellent innovation in wine making – it's no wonder Turin is fast becoming one of Italy's top international cities for tourism!
I was lucky enough to spend a whole month studying the Slow Food Movement after graduating from college in Turin back in my school days. I love returning to see that my favorites are as good as I remember!
What to Eat in Turin
Tartufo bianco d'Alba – considered Italy's most prized truffle
Nocciola di Piedmonte IGP – local hazelnuts
Grissini – traditional long, thin breadsticks
Gianduia – hazelnut spread (also try the gianduia flavored gelato)
Gianduiotto – hazelnut chocolates
Tajarin – extremely thin egg pasta dressed most commonly in a butter truffle sauce
Agnolotti di Plin – very small stuffed pasta with various fillings either served in broth or a sauce
Panna cotta – a pudding-like dessert made from cooked cream
Where to Eat in Turin
Baratti & Milano – beautiful bar with some of the best gianduiotto in town
Tre Galline – best for regional classics
Eataly – everyone orders what they want at a different restaurant but you all can sit together. Great food shopping as well
Piola da Celso – tradition at its finest
Da Cianci Piola Caffé – best value for what you get + seasonal menu
Trattoria Valenza – a local favorite
Trattoria Piemontese – another favorite among locals. Ask for a recommendations from an Italian patron
Porto di Savona – one of the cities oldest and most classic dining options
Osteria di Pierantonio – best for fixed price lunch special
While You're in Turin…
Head to the first ever Eataly, a short walk or tram ride outside the city center. You can even dine there
Check out the National Museum of Cinema – Il Mole – for a visual ride through history
The recently renovated Egyption Museum is one of the best in Europe!
Tip: Read our full food guide here to Traditional Food of Piedmont,
Naples
Why Visit Naples?
Home to the absolute best pizza in the whole of Italy, it's a whirlwind of great people watching, amazing street life and some of the best Italian treats.
What to Eat in Naples
Pizza
Babà – liquor soaked cake
Caprese – tomato and mozzarella salad
Lasagna napoletana – local Neapolitan style lasagna
Mozzarella in carrozza – fried mozzarella sandwich
Sfogliatella – a puff pastry
Where to Eat in Naples
L'Antica Pizzeria da Michele – best pizza
Gino e Toto Sorbillo – best pizza
Sfogliatella Mary – best sfogliatella
Trattoria da Nennella – locals eating local food
Pintauro – historic bakery
Cibbi Cotti – great family run find in the Torretta market
While You're in Naples…
Check out the Torretta open air market to pick up the best local produce and products
Head just outside of Naples to Pompeii to visit the world famous ruins
Visit the amazing Cappella Sansevero for one of a kind artworks
Get lost in the side streets of San Gregorio Armeno for a one-of-a-kind street shopping experience
Tip: Read our full food guide here to Traditional Food of Campania.
Florence
Why Visit Florence?
Not only is this one of Italy's most beautiful cities but it's so small you can see it all in just a couple of days and also have plenty of time for eating your heart out with great Florentine steak, plenty of schiacciata (focaccia) and Chianti Classico red wine.
If I know one place it's Florence. I have lived here for over 10 years and I know Tuscan cooking like the back of my hand. Although I love eating out, I also love cooking regional dishes at home too. You won't be disappointed if you follow my tips below!
What to Eat in Florence
Pappardelle al cinghiale – pasta with wild boar
Bistecca alla Fiorentina – Florentine steak
Pecorino e prosciutto toscano – local sheep's milk cheese and local prosciutto
Olio d'oliva – olive oil
Crostini neri – crostini with liver patè
Ribollita – vegetable bread soup
Pappa al pomodoro – tomato and bread soup
Where to Eat in Florence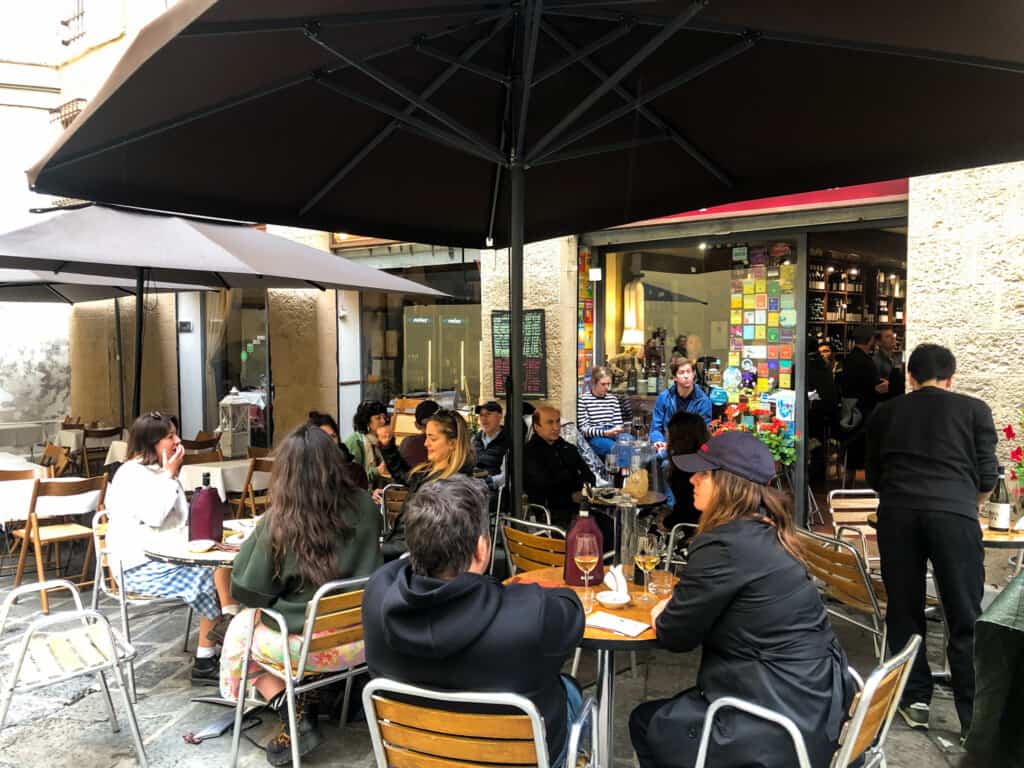 Sforno – best bakery
Fuori Porta – for best crostoni (large crostini) + great wine
Santo Bevitore – best modern spin on Tuscan classics
Le volpe e l'uva – best wine bar and for charcuterie and cheese boards
Trattoria Pandemonio – best Tuscan food
Trattoria del Carmine – some of the best Tuscan classics
13 Gobbi – best bistecca fiorentina
Try one of our Favorite Pizzerie in Florence!
While You're in Florence…
Climb Ghiotto's bell tower which will have a much shorter line than the Duomo (more time for chowing down!)
Spend a morning at Sant'Ambrogio, the local open air food market
Go wine tasting next door in Chianti
Try trippa (tripe) or lampredotto (tripe sandwich) at one of the many local street food stalls
Tip: Read our full food guide here to Traditional Tuscan Foods.
Polignano a Mare
Why Visit Polignano a Mare?
White pebbled beaches, picturesque backgrounds and sweeping seaside views coupled with some of the best seafood, mozzarella, fresh produce and of course, olive oil in all of Italy. If you like the heat and seafood is your jam, this is your place!
What to Eat in Polignano a Mare
Pesce crudo – raw fish such as prawns, scampi, sea urchins and muscles
La Tiella Barese – a dish of potatoes, rice and mussels
Orecchiette con cime di rape – handmade pasta with turnip greens
Fava e cicoria – cooked fava bean puree with cooked greens
Parmigiana di melanzane – eggplant parmesan
Focaccia
Olio d'oliva extra vergine – extra virgin olive oil
Where to Eat in Polignano a Mare
Donna Gina – beautiful setting and excellent seafood
Trattoria della Nonna – a favorite among locals and tourists. Be sure to book ahead!
Pescaria – new to the food scene but has quickly become very iconic. The best sandwiches but also serves salads and seafood
La Focacceria delle Noci – best for focaccia (perfect for a seaside snack or picnic)
Gusto Caruso – best gelato
Fly – scenic restaurant with great local cuisine and creative cocktails
Mint – best for vegetarians
Le Foccace Ignoranti – best street food
While You're in Polignano a Mare…
Take a picnic lunch to one of the amazing beaches such as Lama Monachile Beach, Cala Paura, Cala Incina and San Vito
Visit the sea caves by boat. Choose a company that allows you to swim directly off the side of the boat for extra fun!
Order the caffè speciale (the special coffee made with coffee, sugar, lemon zest, cream and amaretto liqueur) invented by Mario Campanella. Go to Il Super Mago del Gelo Mario Campanella in piazza Garibaldi n.22
Visit Monopoli (just 25 minutes away) for a breath of fresh air and beat the tourist crowds
Tip: Read our full food guide here to Traditional Food of Puglia.
Genoa
Why Visit Genoa?
This is such a fun cit to visit with kids and plus, the food is great (especially for seafood lovers like me). And if you have kids like mine, don't worry, they will be happy too as many of their dishes are made with pesto and what kid doesn't love pesto?
Pesto and focaccia (called fugassa by the locals) lover's paradise. What better reason than that?
What to Eat in Genova
Trofie al pesto – handmade corkscrew-like pasta with pesto
Lasagna al pesto e patate – with pesto and potatoes
Riso alla Genovese – baked rice with vegetables and sausage
Frittelle di Baccalà – cod fish fritters
Focaccia alla Genovese
Salsa di noci – a walnut pesto
Where to Eat in Genova
Il Genovese – best local dishes such as pesto
Trattoria da Maria – good home style Italian cooking
La Strambata – great for aperitivo
Antico forno della Casana – best bakery
Antica Friggitoria Carega – best fried seafood
Panificio e Grissineria Claretta – best fccaccia
While You're in Genoa…
Visit the local aquarium. It's great fun for both adults and kids
Get out of town and head to Boccadasse for the most picturesque town with beautiful restaurants (check out Antica Trattoria Osvaldo) and classic Italian riviera postcard views
Hike up to Campo Pisano to enjoy sweeping views below
Check out Palazzo Ducale for traveling art exhibits
Tip: Read our full food guide here to Traditional Food of Liguria
Best Cities in Italy for Food FAQ
Where can I find the best pizza in Italy?
Naples for thick, puffy, chewy pizza. Rome for thin crust pizza and pizza by the slice. Florence has a great pizza scene and you can find both Neapolitan-style pizza and Roman-style pizza.
Where is the best pasta in Italy?
Emilia-Romagna has the best handmade pasta in Italy. They make egg pasta (both ribbon and filled) so it's very rich and filling. 
Which Italian city has the best food?
Rome has the best classics while Bologna has some of the richest and most high-valued products that Italy makes such as prosciutto, parmigiano and balsamic vinegar.