Last updated on June 15th, 2023
Do you have a sweet tooth and are on the hunt for the absolute best candies and chocolates to get your hands on while in Italy?
If so, you're in the right place. Even if you aren't a sweets type of person, it's worth knowing the most popular Italian candies because they make great gifts to bring back to friends and family.
Whether you will be hoarding this candy for yourself or bringing it back to share, you're going to need insider advice.
Italy has an overwhelming amount of choice in the candy department and everyone seems to have their own opinion.
So here I am to tell you what we have found to be the most popular and beloved candy among Italians and foreigners alike. These are the candies that my family actually enjoys eating and that we love recommending to our guests and gifting to our American family.
Let's take a look at the best candy in Italy!
You may also want to read about The Most Popular Italian Chocolate – (Our Favorite Brands & Products).
How to Pronounced Candy in Italian
Candy in Italian is caramelle (pronounced car-ah-mehl-leh in Italian).
Caramella (singular form) is rooted in the latin canna mellis, meaning sugar cane.
Fun Fact: The Italian verb accaramellare means for something to get twisted upon itself, colloquially. For example, le lenzuola si sono accaramellate (the sheets got all twisted).
Candy in Italy
Italian products, including candy, are some of the best because of the dedication to quality "Made in Italy" standards of both ingredients and production. Generally, Italian candy is still made in Italy – it's not outsourced, produced in various locations and with an extensive list of ingredients coming from who knows where.
Instead, Italian candies are made domestically with native ingredients and flavors, when possible. If nothing else, this may make you feel any better about indulging!
Main Categories of Italian Candy
Italian candies can be grouped into four broad categories based primarily on their texture but also on what they are made from:
Hard candies: either fruit flavored, herbal or licorice flavored candies
Milk candies: candies made from milk and sugar
Toffee/Taffy: either toffee or fruit flavored toffee which have the same consistency of a classic chewy coffee but made with fruit flavors.
Gelatine: jelly candies, often covered in sugar.
Fallani Candies
This is my favorite of all Italian candy companies because it's from my home city of Florence (founded in 1926). Today, it's still family owned, run by Lorenzo's great grand-daughter who is committed to tradition.
All the candies are still made in the original ways and cooked over a "direct fire", as they like to make known. This makes for the best candies possible.
Today, the company makes a variety of candy, including organic varieties. Basically, whatever your preference is, they will have something to suit you.
Favorites include their barley hard candy, gelées, lollipops and drops (small, round, sugar-coated bites in various colors that are actually more beautiful than anything else). Stick classic candy comes in a tube, containing ten candies that you can pop in your pocket!
Best For: The Florentine traveler as they make a great souvenir or gift by which to remember the city (although you can find them throughout Italy in negozi di dolciumi or sweet shops)
Pastiglie Leone
Pastiglie Leone is a confection company from Alba (Piedmont) founded in 1857. Soon after, the company relocated to Turin. It produces these small, dried out candies, originally meant to be consumed after a large meal, flavored with strong essential oils and extracts. The texture is similar to an Altoid, a bit chalky.
They come in so many flavors and the company is always experimenting with new ones such as spritz flavored candies. Other flavors include fruits such as strawberry, raspberry, mandarin, red current, and lemon. Violet and carnation are two floral flavors they make which I think are quite fun to give to adults. They also make classics such as cinnamon, vanilla and balsamic flavors (strong herbal characteristics similar to what you experience with a cough drop).
And the best part about these Italian candies? The packaging. It's beautiful. You know what they say: you eat with your eyes first. Sometimes they are sold in tins that you can keep, other times, in small boxes.
Look for them at negozi di dolciumi (sweet/confection shops), tabbachi (little marts selling various items such as cigarettes, candies and bus tickets), and specialty food stores such as pizzicherie.
Best For: The flavors are endless so this is a great candy to try for the whole family.
Fun Fact: Many of the same bitter plants used in digestives are also in these sweet treats such as ginger, lemon, licorice, anise, chamomile, and mint.
Sperlari Club
This is one of the largest candy companies in Italy and makes everything under the sun from jelly and hard candies to toffee/taffy and even sugar free.
Their classic Galatine milk-based toffee is the most popular in Italy, followed by the chocolate variety.
My kids, however, prefer the mou toffee (as Italians call it) which is really just taffy or fruit flavored candy that has a chewy consistency like soft toffee. These candies are also derived from milk and sugar with added flavor like pesca (peach), lampone (raspberry), fragola (strawberry), limone (lemon), and arancia (orange). They are similar to a starburst but are much harder at first until they soften up in your mouth.
Whatever your preference, there is a candy for you! You can find them anywhere, including grocery stores.
Best For: Kids because of the wide variety of fun flavors and textures!
Ambrosoli
This company first established itself in the 1930's selling honey hard candies that were also good for a sore throat. With this great marketing campaign under their belt, the company took off and today, it's one of Italy's best selling candies around.
Their most popular honey hard candy is still used by many Italians as a remedy for a sore throat. Although there is no medicine, it does seem to have a soothing effect. This is something my mother-in-law pulls out when my kids complain of a sore throat.
The company now makes several flavors such as alpine herbs, liquorice, orzo, lemon and rhubarb.
Most recently, they have launched Ambrosoli Mielness candies, said to have health benefits from the newly added, natural ingredients including pomegranate, ginger, aloe, turmeric and gogi berry. I personally haven't tried these yet but it's on my 'to-do' list!
Check out supermarkets or even better, small confection shops known as negozi di dolciumi.
Best For: Honey lovers or people who like to stick to natural products.
Golia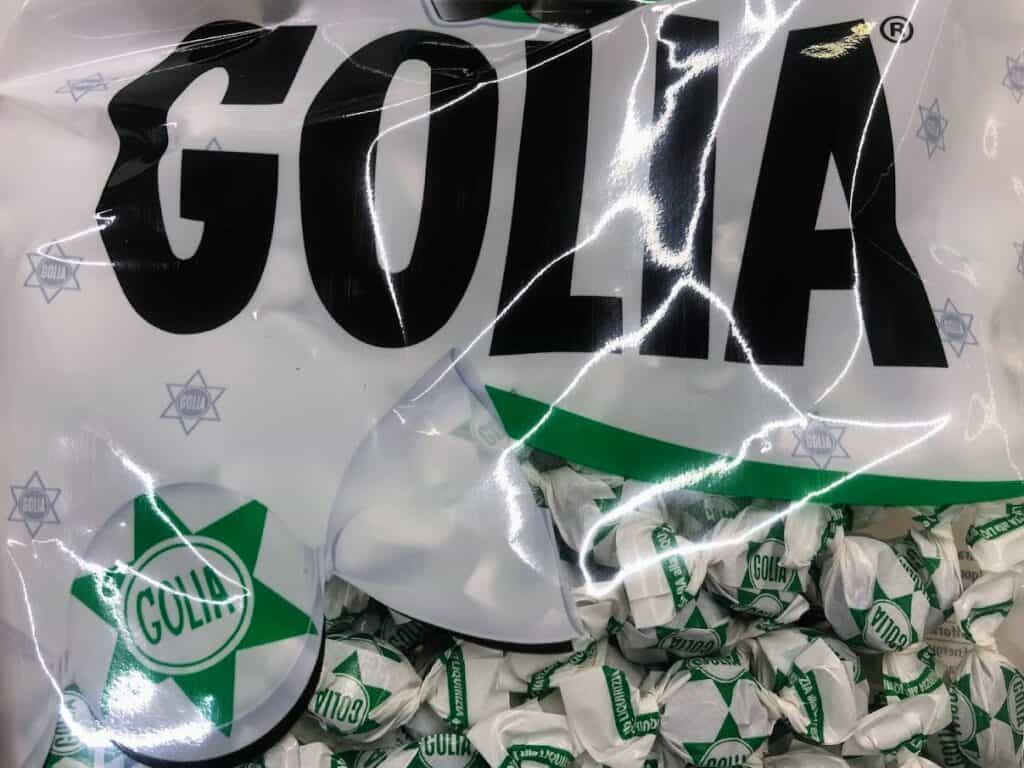 Italians love liquorice flavored things, similar to how Americans love peppermint. Golia is Italy's most famous company for liquorice candy but it also makes a ton of other varieties, including fruit flavored hard candies.
Golia's famous liquorice candy is a small, round, seemingly hard candy that becomes soft upon being put into your mouth (wrapped in a white paper). After becoming so popular, Golia has come out with other varieties such as mint, fruit and balsamic varieties, packaged in the same manner.
Look for them in the candy aisle of the supermarket but also at checkout. Candies will be sold either in bags or in small, square boxes that are designed for your pocket for easy access at any moment!
Best For: Those who like liquorice or strong, herbal flavors.
Bonus: Perugina Rossana
I add this as a bonus because it's not a favorite of our family but it's so popular among Italians that I couldn't not include it! For many Italians, it evokes a sense of nostalgia.
The name of these iconic candies comes from the famous character Roxanna in the play Cyrano de Bergerac and the red candy wrapping is meant to be her dress, which is then removed!
This candy has a solid exterior derived from milk and a creamy, almond filling. There is also a chocolate variety.
Other Popular Italian Candy Brands
Fida: founded in 1973 in Piedmont
Elah: one of the oldest companies from Genoa founded in 1909
Serre: founded in 1947 in Piedmont
Herbamelle: founded in Milan
Cedrinca: founded in 1910 in northern Italy
Dietorelle: famed for its sugar-free candies
Best Italian Candy FAQ
What is the most popular candy in Italy?
Galatine milk candies are Italy's most popular candy because it evokes a sense of nostalgia, especially among older generations. 
Do kids in Italy eat a lot of candy?
When compared to American children, Italian children do not eat a lot of candy. They do, however, eat a lot of chocolate such as Kinder and Nutella.
Which Italian cities are famous for candy production?
Turin and Genoa are historically the most important and longest standing candy capitals of Italy. 
What are balsamic candies?
Candies with the addition of strong herbal characteristics similar to what you experience with a cough drop.