Last updated on November 18th, 2023
Have you ever wondered what the difference is between pandoro and panettone?
In short, pandoro is a sweet, light, airy Italian Christmas cake doused in a heavy dusting of powdered sugar. Panettone is a more dense, Italian Christmas cake flavored with candied fruit and raisins. Over the years, I have eaten coutless panettoni and pandori, both artisan-made and commercially produced and despite the extra Christmas pounds we all seem to put on, I can't seem to get enough of them!
So which one is better – pandoro or panettone? Which is more traditional? Can I buy these Italian cakes in the US?
Read on to get all the answers to your questions about pandoro vs panettone. I will go over a bit of history, their origins, where to buy them, and differences and similarities between pandoro and panettone.
Pandoro Vs Panettone Overview
| | | |
| --- | --- | --- |
| | Pandoro | Panettone |
| Meaning Of Name | Golden Bread | Big Bread |
| Origin | Verona (Lombardy) | Milan (Lombardy) |
| Main Ingredients | flour, sugar, eggs, butter, yeast (or sourdough starter), vanilla, salt | flour, sugar, eggs, yeast (or sourdough starter), butter, raisins, and various candied fruit |
| Shape | Eight-pointed star | Cylindrical dome shape |
| How To Cut It | Cut in slices vertically or, for a more stunning presentation, horizontally and fanned out | Sliced vertically into large wedges |
| When It's Served | Christmas Holiday | Christmas Holiday |
| How To Eat it | Warm for breakfast, dessert, snack | Breakfast, dessert, snack |
| What To Drink With It | Sweet Wine (Vin Santo, Marsala, etc) and Prosecco | Sweet Wine (Vin Santo, Marsala, etc) and Prosecco |
Pandoro Vs Panettone: Which One Is More Popular in Italy?
This is a never ending debate in Italy and every family has its own preference. The question "Is pandoro or panettone better?" is a hot topic and it's hard to say because it's really a personal preference.
Many children prefer pandoro because it's simpler and not as heavy when compared to panettone.
My family splits on this debate. Everyone in my family prefers pandoro but I love panettone without canditi. So I am not even a true lover of panettone. I like the taste of the panettone dough better but the candied orange and citron take away from the Italian Christmas cake itself. I always opt for the panettone senza canditi (without candied fruit).
When You Can Find Pandoro And Panettone In Italy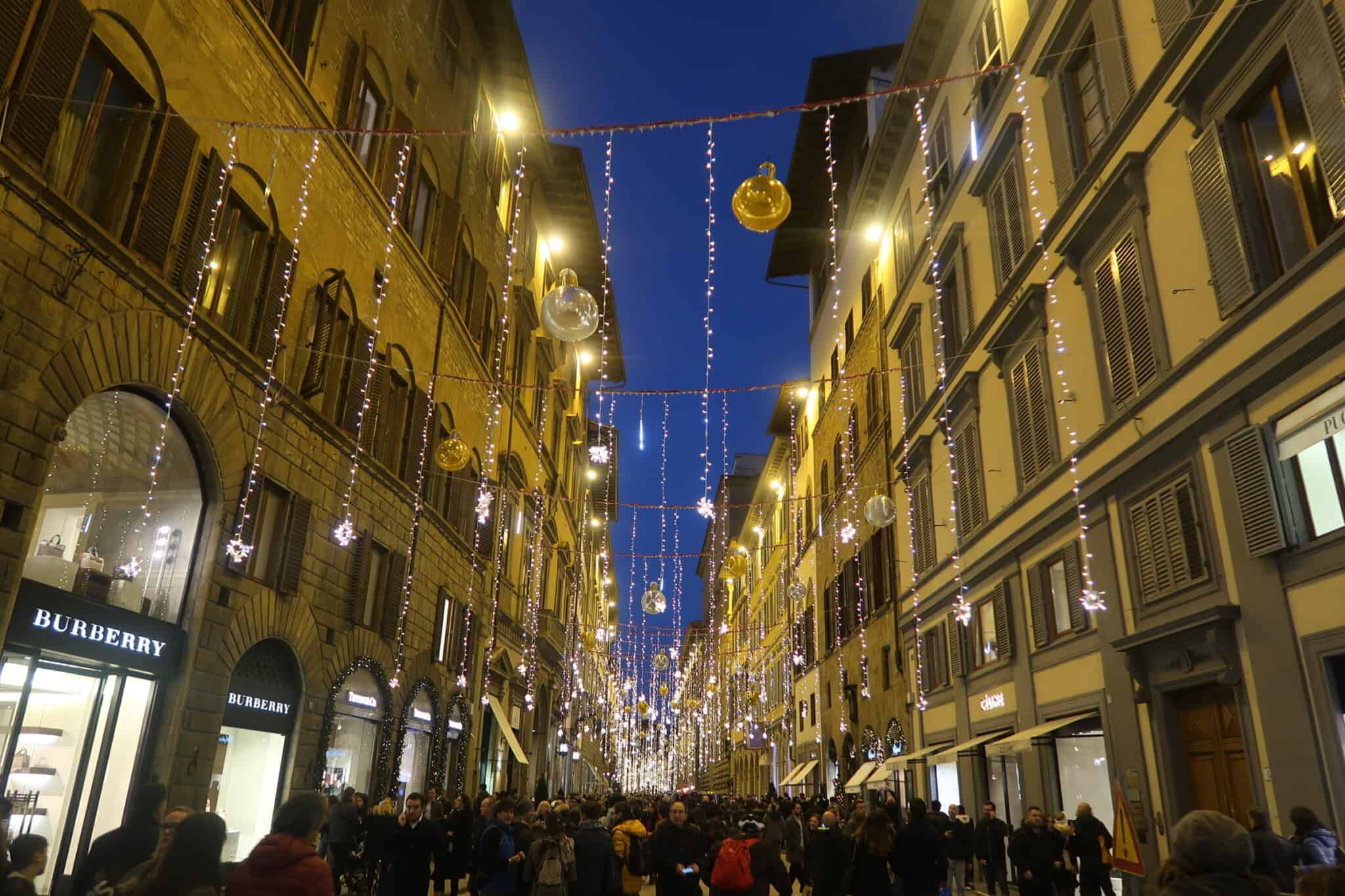 Pandoro and panettone is only made for the Christmas holiday in Italy but it is available from the beginning of November through the New Year.
Literally the day that Italian grocery stores open again after the New Year, the prices of pandoro and panettone drop by at least half. This is the time our family buys pandoro in bulk and we put it aside and slowly chip away at it for the next two months.
Good To Know: Store bought panettone and pandoro last longer than freshly made versions from bakeries, about three months.
There is no other time you will see these, most typically, although I have most recently seen a version of panettone called panettone d'estate or "summer panettone" for sale. I find this quite strange and in fact, they were on sale since no one was buying them.
When To Eat Pandoro And Panettone
Pandoro is an Italian Christmas cake and thus, is most popular as a dessert during this time of year.
Many Italian families, including mine, love to eat pandoro not only after a large meal but also for breakfast and snacks.
It's common to give and receive pandoro and panettone as gifts during Christmas and so we always end up with quite a few of them. We think the best way to enjoy them is simply for breakfast or in the afternoon with a cup of tea or coffee.
What Does Pandoro Mean?
Pandoro comes from the Italian words pan, meaning bread and d'oro, meaning gold. The holey Christmas "golden bread"
How To Pronounce Pandoro
Pandoro is pronounced pahn-doh-roh in Italian.
What Is Pandoro?
Pandoro is a light, egg-rich Christmas cake from the city of Verona (Veneto), going back to the 1800s. The first patent for pandoro was registered by the famous pastry chef Domenico Melegatti, which is the same recipe that is made in Italy today!
The sweet dough of Pandoro (similar to a French brioche dough) is very rich, flavored with vanilla and plenty of eggs and butter. The eggs and butter are actually what give the crust its golden color and name.
Although the dough is rather rich, the actual pandoro cake is light and shouldn't weigh you down (if it's a good one, that is!). Pandoro should melt in your mouth and not feel greasy.
Pandoro Christmas cake is cooked in an eight-pointed, tall star mold which is meant to remind us of the tall mountains outside of Verona. The powdered sugar that should be dusted on top just before serving represents all the snowfall.
Pandoro Variations
Nowadays in Italy, there are tons of variations to the traditional Italian Christmas cake pandoro that you can find throughout the peninsula.
Popular pandoro variation to look for in Italy:
Chocolate chip
Candied fruit
with pistachio cream
with hazelnut cream
with lemon
Another variation to the pandoro is the min-pandoro, available at supermarkets in baskets or displayed on endcaps. These make for great travel snacks, small gifts or souvenirs, or stocking stuffers!
How To Serve Pandoro
Pandoro, along with panettone, is one of the defining factors at a Christmas or holiday meal in Italy. I have been going to Italian Christmas dinners and lunches for over a decade now and I have never finished a meal without this Italian Christmas cake.
Usually Pandoro is cut horizontally to display the eight-pointed star and sometimes further cut into triangle slices. Many Italians serve their pandoro with a mascarpone cream to be spooned over the top.
When you open a box of pandoro, it comes with a separate bag of powdered sugar which is meant to be dusted over the top with a sieve right before serving.
Serving Tip: Pandoro is traditionally meant to be slightly warm before cutting. The best way to accomplish this is to place it on a radiator or next to a fireplace 20 minutes before serving.
Recipes With Pandoro
Italians have come up with so many recipes to use up leftover pandoro after the holiday season. I actually never end up making these because we love to eat it for breakfast just as is.
Here is a rundown of Italy's most popular recipes to use leftover pandoro:
What Does Panettone Mean?
Panettone is derived from the word pane in italian, meaning (bread). The -one ending is an Italian way to indicate a large size. In this case, a "large bread".
How To Pronounce Panettone
Panettone is pronounce pahn-eht-toh-neh in Italian
Listen to the pronunciation of panettone here:
What Is Panettone?
Panettone is a large, short, cylinder Italian Christmas cake made from a sweet, egg-rich dough dotted with raisins and candied fruit (orange and citron). As it rises and bakes, it forms a golden dome on top.
There are several stories about the origin of panettone and today, we are still not really sure of the correct one. What we can confirm is that it was born in Milan and is still today, the best place to buy artisan panettone.
Panettone ingredients are similar to the pandoro ingredients with the addition of raisins and candied fruit. It's made with different proportions then pandoro and bakes up to be more dense and less fluffy.
The final result of a good quality panettone is a buttery, rich cake that is soft, moist yet not chewy or dense.
Panettone Variations
The original panettone recipe is made with candied fruit and raisins. Many people, however, don't like the canditi and thus, several variations have been developed. Every year there seem to be more and more panettone options!
Popular Panettone Variations For Sale:
senza canditi – without candied fruit (just raisins)
with chocolate chips
with lemon cream
with pistachio cream
senza glutine – gluten free
with mixed berries
with white chocolate
with candied pear and ginger
Just like pandoro, look for mini-panettone for sale. They are individually wrapped panettone that come in all the varieties as the original.
How To Serve Panettone
There is no special way to serve panettone. It's served after a large Christmas meal in Italy but tradition doesn't have you warm it like it's friend (or enemy!), pandoro.
Panettone is sliced into big wedges horizontally. This makes for rather large pieces so I prefer to further cut each slice in half again, crosswise.
Recipes With Panettone
Just like pandoro, there are plenty of recipes to use leftover panettone, including:
Panettone French toast
Panettone bread pudding
Bruschetta di panettone – toasted panettone served with mascarpone, cream cheese, etc.
Torta di panettone farcita – filled panettone cake
Where To Buy Pandoro And Panettone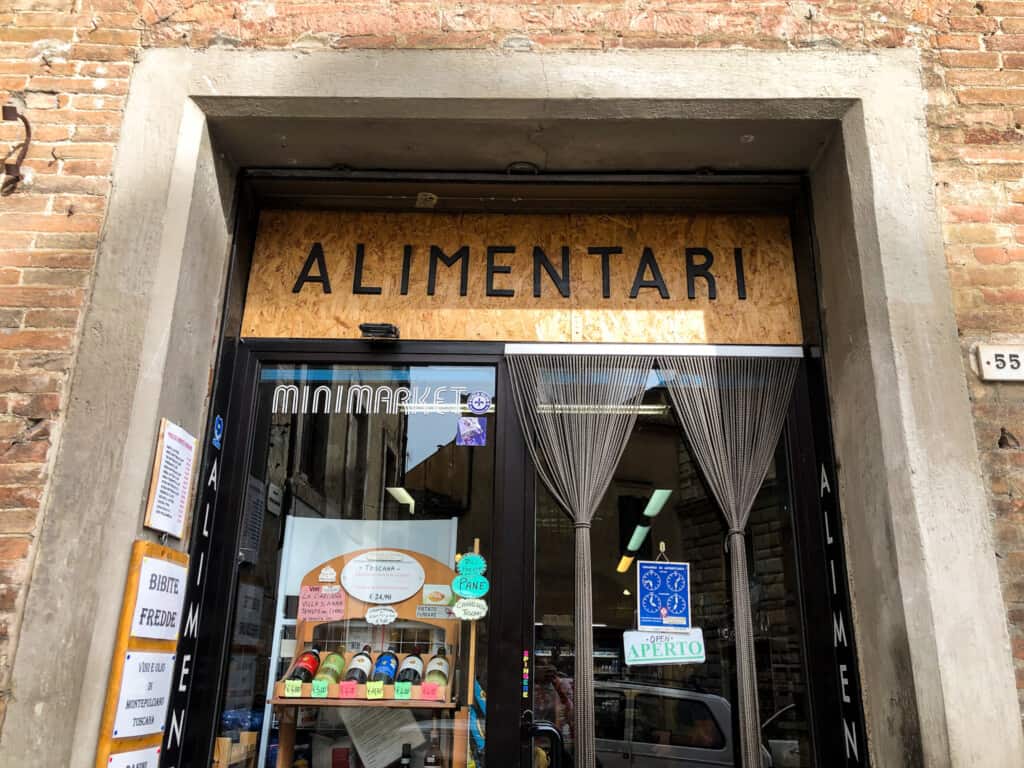 Where you will find panettone will depend on where you are.
The most popular brands in Italy to look for are:
Maina
Bauli (most famous)
Le Tre Marie (my family's favorite)
Balocco
Il Vecchio Forno
Motta
Where To Buy Pandoro And Panettone In USA
The best place to buy Italian Christmas cakes in the US is at specialty gourmet shops and small, Italian supermarkets (Eataly included). Gourmet shops and Italian delis will often import authentic Italian panettone and pandoro so keep your eyes peeled or consider pre-ordering one.
Where To Buy Pandoro And Panettone In Italy
Look for pandoro and panettone in Italy anywhere that sells food, including pizzicherie, alimentari, grocery stores, bakeries and even cafes and bars. 
Commercial Italian Christmas cakes cost anywhere from €5 to €15, depending on the brand. Artisan Christmas cakes from bakeries (pasticceria or forno) can be quite expensive and cost upward of €50 in the most famous bakeries in Milan!
We usually pay around €30 for a large one at our favorite bakery in Florence, S.Forno, and I would rather eat one or two artisan Italian Christmas cakes than 20 store bought ones. You can really taste the difference and for me, it's all about quality, not quantity!
Making Pandoro And Panettone At Home
Although tempting, I don't advise anyone to make pandoro or panettone at home. It's so labor intensive, requires specific equipment and a sourdough starter.
Pandoro recipes and panettone recipes call for very specific time tables to follow, weighed ingredients and repeated rises. If you are an experienced baker, then you could totally pull off a homemade pandoro or homemade panettone. If not, the store bought varieties are your best bet.
If you are invested in quality, opt for one of the rather expensive pandoro or panettone from bakeries in Italy. Vestri in Florence makes one of the best panettone in the city with various fillings and flavorings.
Other Italian Christmas Desserts
Although pandoro and panettone are the most popular Italian Christmas cakes to eat in Italy, there are several other Christmas treats to try on your next trip such as:
Panforte (or the variation panpepato)
Struffoli (Campania)
Certosino (also called Panspeziale)
Ricciarelli (Tuscany)
Mostaccioli (Southern Italy)
Biscotti con ghiacchia reale – cookies decorated with royal icing, recently popularized in Italy
Tronchetto di Natale – Yule log cake
Pandoro Vs Panettone FAQ
Which is better pandoro or panettone?
It's a personal preference but people who like pandoro better usually don't like raisins and candied fruit, which are in a panettone. Pandoro is more buttery and usually preferred among Italian children. 
What does pandoro taste like?
Pandoro tastes light as a cloud and fluffy, flavored with vanilla. Although the cake is quite yellow from all the egg yolks used in the pandoro recipe, it's quite light and won't weigh you down.
How do Italians eat pandoro?
Italians eat pandoro by warming it gently next to a fireplace or other heat source such as a radiator for about 20 minutes before serving. It's then dusted heavily in powdered sugar and served in big wedges (cut either horizontally or vertically).
Can you buy gluten-free pandoro?
Gluten-free pandoro is available in supermarkets and at some bakeries. At bakeries you need to confirm that the whole facility is gluten free or there might be the possibility of cross-contamination. Look for packaging with written senza glutine.
Can you buy gluten-free panettone?
Gluten-free pandoro is even easier to find than gluten-free pandoro at any supermarket and at some bakeries. At bakeries, confirm that the whole facility is gluten-free to avoid the chances of cross-contamination. Look for packaging with written senza glutine.