Last updated on November 17th, 2023
Is there anyone in the world who doesn't like chocolate? Yes, I know there are a few of you (I have only met two in my lifetime) but VERY FEW.
For everyone else, those who like chocolate and those who live for it, you are going to want to learn about Italy's love for chocolate, discovering the most beloved and popular Italian chocolate brands and products.
Whether you are planning a trip, already in Italy, on the hunt for chocolates to bring home, or planning an Italian-themed dinner or party abroad, you will need a guide to the best chocolates Italy has to offer.
In this article I will share the most popular Italian chocolate brands and share my family's favorite chocolates produced by those companies. I will explain why, where to get them and include fun facts and tips about each one.
How to Pronounce Chocolate in Italian
Chocolate in Italian is cioccolato, pronounced choh-coh-lah-toh.
Listen to the pronunciation of cioccolato:
Chocolate in Italy
Chocolate is one of Italy's favorite flavors, not surprisingly with Nutella at the top of the list. But beyond commercial brands, Italy has many fine chocolatiers and products to offer, all of which are "Made in Italy" with the finest of locally produced ingredients (when possible) and the best handpicked cocoa beans from abroad.
Italians love to eat chocolate anytime of the day. For breakfast either in the form of Nutella or in a pastry (brioche al cioccolato). Many Italian desserts and cookies such as bonet from Piedmont and mostaccioli from Naples contain chocolate. One of Italy's favorite gelato flavors is chocolate, a common snack in hot summer months. And for Italian holidays, chocolate is everywhere, especially in the form of cioccolatini (small bite-size chocolate).
Good To Know: Most of these companies sell special holiday editions of their chocolates so keep your eyes open for Christmas specialties, Valentine's Day boxes and huge chocolate Easter eggs filled with even more chocolate. 
My Family's 12 Favorite Chocolates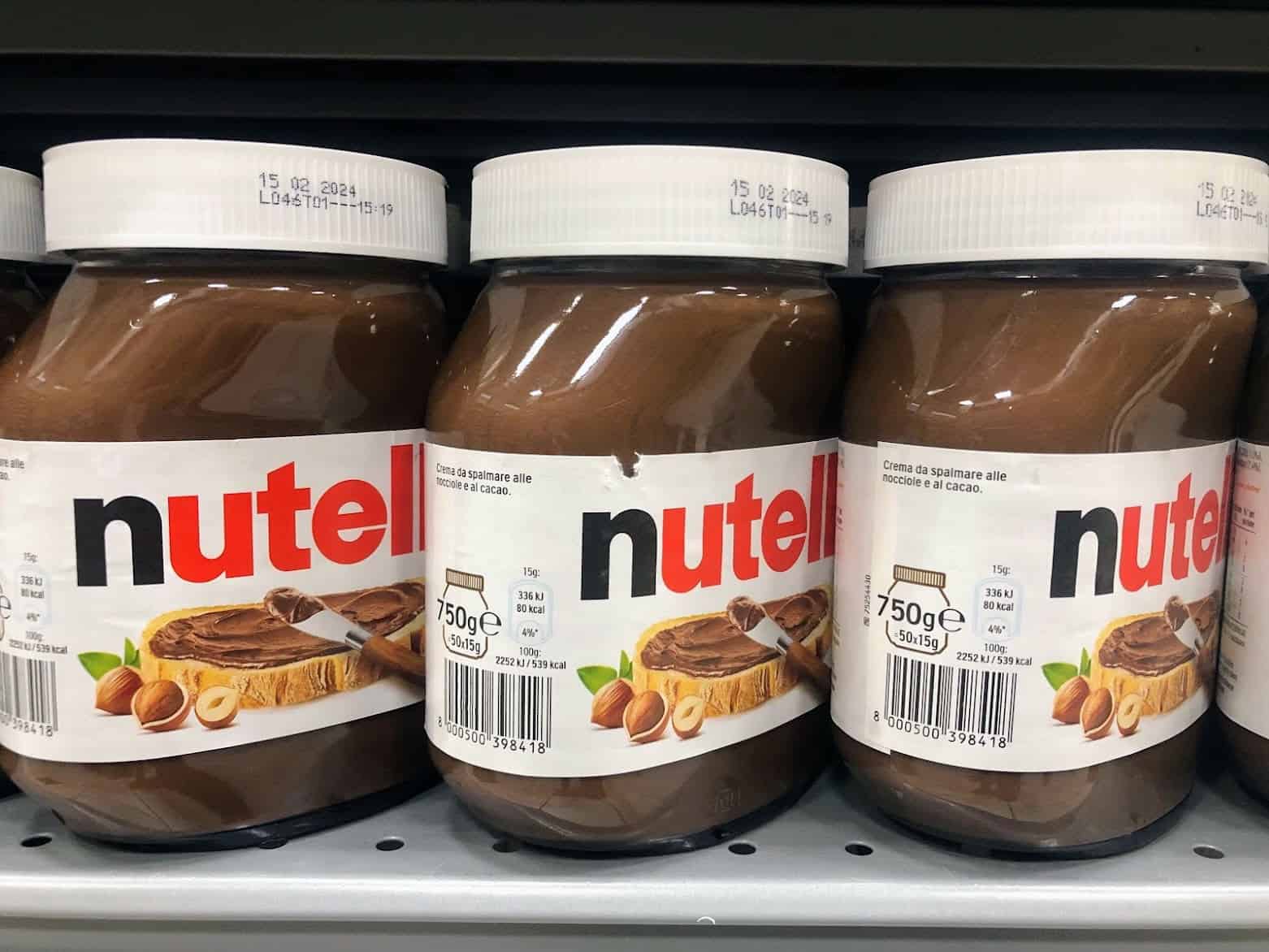 Within these 6 brands of chocolate, we have 12 favorite chocolates or chocolate-based products, which I will go over in detail below under each parent company.
Perugina Baci
Ferrero Rocher
Ferrero Nutella
Kinder Sorpresa Egg
Venchi nougatine
Venchi cremino
Caffarel gianduiotto
Sabadi cioccolato di modica al madarino IGP
Novi fondente ripieno Fondentenero Novithe,
Novi tavoletta nocciolato fondente extra Novi
Novi tavoletta Specialità noisette fondente extra
Novi tavoletta Specialità gianduia
Chocolate Souvenirs: Chocolate makes great souvenirs and gifts to bring back to your home country. Who doesn't like chocolate, right?
Perugina
Perugina Chocolate was founded in 1907 in Perugia where they still have their headquarters and factory. It was purchased by Nestlé in 1988.
Perugina's most popular product in Italy and in our family is the Baci, a two-bite round chocolate filled with a gianduia chocolate-hazelnut filling, topped with a whole hazelnut and dipped in dark chocolate.
The name Baci in Italian means "kisses". Over time and with a great marketing strategy, these little chocolates have become a symbol for love in Italy because on the label they put various quotes about falling in love, perhaps something you might say when lost for words in front of a new lover.
Below are some famous quotes that have been printed on the Baci chocolates:
"Love, indefinable love!" – G. Casanova
"In dreams as in love all is possible." – J. Arany
"I loved you at first sight. And you smile because you know it." – A. Boito
"A kiss strikes like lightning: love passes like a storm." – Arab proverb
"Love is like luck: it doesn't like to be chased." – T. Gautier
"Being deeply loved by someone gives you strength; loving someone deeply gives you courage." – Leo – Tzu
Everyone in our family loves these: they are fun to open, fun to eat and oh so good. I always bring them back to my American friends who maybe haven't had them before. If you like Nutella, you are going to like these!
Fun Fact: You can join a cooking class and make your own Baci at the Perugina chocolate factory in San Sisto, just outside Perugia.
Where To Buy Perugina Baci In Italy: At any commercial grocery store, small shop or confection shop. Buy it online abroad as well. They make great gifts for Italian food lovers.
Ferrero
Ferrero chocolate company started in Piedmont in 1942 making gianduia and today, is the second largest chocolate producer in the world! Although they are very commercial and you can find them literally everywhere in Italy, it's for good reason. They are one of my favorite gifts to bring people from Italy.
Fun Fact: Ferrero owns Nutella and Kinder.
The Kinder Sorpresa (kinder egg) is a milk chocolate egg that holds a little toy inside. Honestly, don't expect much. It's usually just a silly plastic game or animal but kids (including my own) love them!
Tip: Kinder Sorpresa make great gifts for kids from Italy because they are easily accessible and affordable. You can also buy them in packs of three. However, check with your country's customs regulations to make sure they're allowed into your country. The US doesn't allow Italy's Kinder eggs.
I would have to say our family's favorite chocolate they make is the Ferrero Rocher. It's a small, two-bite chocolate made from a wafer covered in crunchy chocolate and hazelnuts and filled with a chocolate-hazelnut cream filling. We don't buy Rocher chocolates on a regular basis but rather, they are reserved for the holidays.
Other treats include:
Where To Buy Ferrero Chocolates In Italy: At any commercial grocery store, small shop or confection shop. Buy it online overseas if you can't make it to Italy (or don't have space to bring it back in your luggage).
Venchi Chocolates
Venchi was first founded in Turin in 1878 by Silviano Venchi. Story goes that he spent all his savings on two bronze cauldrons and began producing chocolate on a very small scale, finally realizing his dream. Soon after, his chocolate gained a following and today, is one of Italy's most beloved artisan chocolates available on a commercial scale.
Even though the company has exploded in popularity, you can find their beautiful stores in every major Italian city. We always make a point to have ice cream at one of their two stores in downtown Florence. Not surprisingly, our favorite flavors are chocolate based, but they offer a vast selection that changes seasonally.
One of Venchi's first chocolates, the nougatine, made from finely chopped hazelnuts caramelized with sugar and covered in dark chocolate, remains one of their best selling products on the market today. It's also one of our favorites, as well as the cremino chocolate.
The company is dedicated to using 100% natural ingredients without artificial flavor. They also aim to use as little sugar as possible, as to not take away from the true chocolate experience. Today, the company produces over 350 different types of chocolate, which is available depending on the season.
Good To Know: Venchi produces several gluten-free and palm-oil free chocolates.
Where to Buy Venchi In Italy: At any commercial grocery store, small shop or confection shop. Find the largest selection, as well as gelato, at their company stores, located in every major city throughout Italy. Buy it online in America as well.
Caffarel
Caffarel was founded in 1826 in Turin and is still producing their most popular and beloved treat, Gianduiotto, a smooth, creamy chocolate mixed from local piedmont hazelnuts, cocoa beans and sugar and formed into small boat shapes.
These chocolates are enjoyed throughout the whole of Italy but in Turin they are particularly beloved and often paired with sweet wines for dessert or with the local world-famous Barolo.
Today, the company has expanded immensely and produces many other sweets besides:
Where To Buy Caffarel In Italy: At confection shops or any large supermarket in northern Italy (not stocked throughout the entire peninsula) or online if you can't make it to Italy soon!
Sabadi Modica Chocolate
Modica is a kind of Sicilian chocolate produced originally in Modica characterized by a gritty texture. It's artisan made with an ancient technique brought over by the Spaniards, centuries ago. The cocoa beans are ground by hand, and then cooked at a very low temperature, giving the chocolate a raw, gritty texture that is unlike any other chocolate I have ever tasted.

This is a chocolate that our family doesn't eat very often because it's harder to find the good stuff. I only buy it when it's artisan made. Nowadays, you can even find it at larger grocery stores, but I am wary of the quality as it's produced on a larger scale.
One of my favorite brands is Sabadi, a larger company who has really set itself apart by its packaging and top quality. They make a variety of flavors including mandarin orange (my favorite), cinnamon, lemon and ginger as well as more interesting flavors such as white pepper, salted, and spicy chili pepper.
The company has since branched out and makes a wide range of products from organic to raw chocolates, all top quality and worth seeking out!
Where To Buy Sabadi In Italy: You can also purchase it online or in small artisan shops known as gastronomie or at their company stores in Sicily.
Novi
This is one of Italy's most popular industrial chocolate brands, founded in 1903 in Piedmont. And to this day, the company represents a dedication to high quality standard of production from the cocoa beans carefully selected from Ecuador to the locally produced hazelnuts from Piedmont.
This is a chocolate our family buys on a regular basis not only for baking but also for eating because it's accessible and affordable. My favorite is il cioccolato fondente ripieno Fondentenero Novithe, a dark chocolate bar filled with a smooth, buttery creamy dark chocolate.
They make so many chocolates but their most popular are the bars. Here are some of our family's favorite chocolate bars:
Tavoletta nocciolato fondente extra Novi
Tavoletta Specialità noisette fondente extra
Tavoletta Specialità gianduia
Can you tell we like dark chocolate?
Where To Buy Novi Chocolates In Italy: At any commercial grocery store, small shop or confection shop or online if you can't come to Italy
Other Famous Chocolate Brands
Baratti & Milano (Turin)
Majani (Bologna)
Gardini (Ferrara)
Gobino (Turin)
Amadei (Tuscany)
Domori (Turin)
Alberti (Campania)
Vestri (Tuscany)
Italian Chocolate FAQ
Do kids in Italy eat a lot of chocolate?
Italian children eat a lot more chocolate than they do candy, especially Kinder chocolates such as the Kinder Sorpresa or Nutella.
Which Italian cities are famous for chocolate?
Turin is the most famous and important city for chocolate in Italy (as well as for candy making), where many of Italy's most famous and largest companies were born. Modica in Sicily is well known for their iconic modica chocolate.a
Does Italy Have Good Chocolate? 
Italy makes very good chocolate, often combining their famous locally produced hazelnuts from Piedmont and good, high quality cocoa beans hand selected and imported from South America. 
Is Ferrero Rocher Italian?
Ferrero Rocher is an Italian bite sized chocolate produced by a large company called Ferrero. 
What Is the Most Popular Chocolate in Italy? 
Ferrero Rocher is considered the most popular chocolate in Italy because it produces some of Italy's most beloved products such as Nutella, Ferrero Rocher and Kinder.