Have you ever wondered what the secret is to really good Italian cooking?
Are you having a hard time replicating your Italian grandmother's homemade tomato sauce and bolognese?
I have your answer – it's Italian soffritto. I can guarantee you that any good Italian recipe is going to start with an Italian soffritto, adding a depth of flavor and richness that is hard to achieve in any other way.
After years of cooking in Italy and learning the basics of Italian cooking from my Italian mother-in-law, I have learned to work soffritto into my daily cooking.
In this article, I will share my top five soffritto uses in the kitchen, including why it's important to add it to these recipes. And if you have never made Italian soffritto before, don't worry, you can follow my step-by-step instructions in Italian Soffritto – Step-By-Step Instructions + How to Use It.
Good To Know: I often speed up the process of making any of these dishes by cooking up a large batch of Italian soffritto, freezing it in small amounts and pulling out what I need as I go, saving me a ton of time and clean up. You can learn how to do this in How to Freeze Soffritto.
Soffritto Uses In Minestrone
Italian soffritto is the base for any good soup, not just minestrone (Italian vegetable soup). When making any kind of soup, especially one like Italian minestrone made with just seasonal ingredients, using soffritto is your best bet for flavor!
Before starting any soup, just let the carrot, onion and celery cook together a bit and get some good color on it over medium-low heat in some olive oil. At this point, you have the most flavorful base for your soup.
Now add the rest of your cut up vegetables and continue on with your recipe. If you are looking for other ways to flavor your soup, check out uses for parmesan rind.
Make It: Italian Recipe for Minestrone Soup – That Your Kids Will Actually Want to Eat! makes for a great healthy, hearty Tuscan dinner ready in under an hour.
Soffritto Uses In Ribollita
Italian soffritto is the base for many cucina povera Tuscan dishes, or poor man's food including farinata con cavolo nero, pappa al pomodoro and ribollita.
Ribollita is an ancient vegan Tuscan vegetable soup thickened with stale bread and bulked up with cannellini beans dating back to Medieval times.
Starting with a well cooked soffritto in Tuscan ribollita is what is going to set yours apart from others. If you are in Tuscany and have a chance to try ribollita at a restaurant, the good ones are going to be made with an Italian soffritto that has been slow-cooked, adding a ton of flavor and depth.
I make a lot of ribollita in the winter and keep it in the fridge for quick lunches all week long.
Make It: Ribollita is easy to make at home with my step-by-step instructions in Authentic Tuscan Ribollita Recipe – Straight from Italy!
Soffritto Uses In Tomato Sauce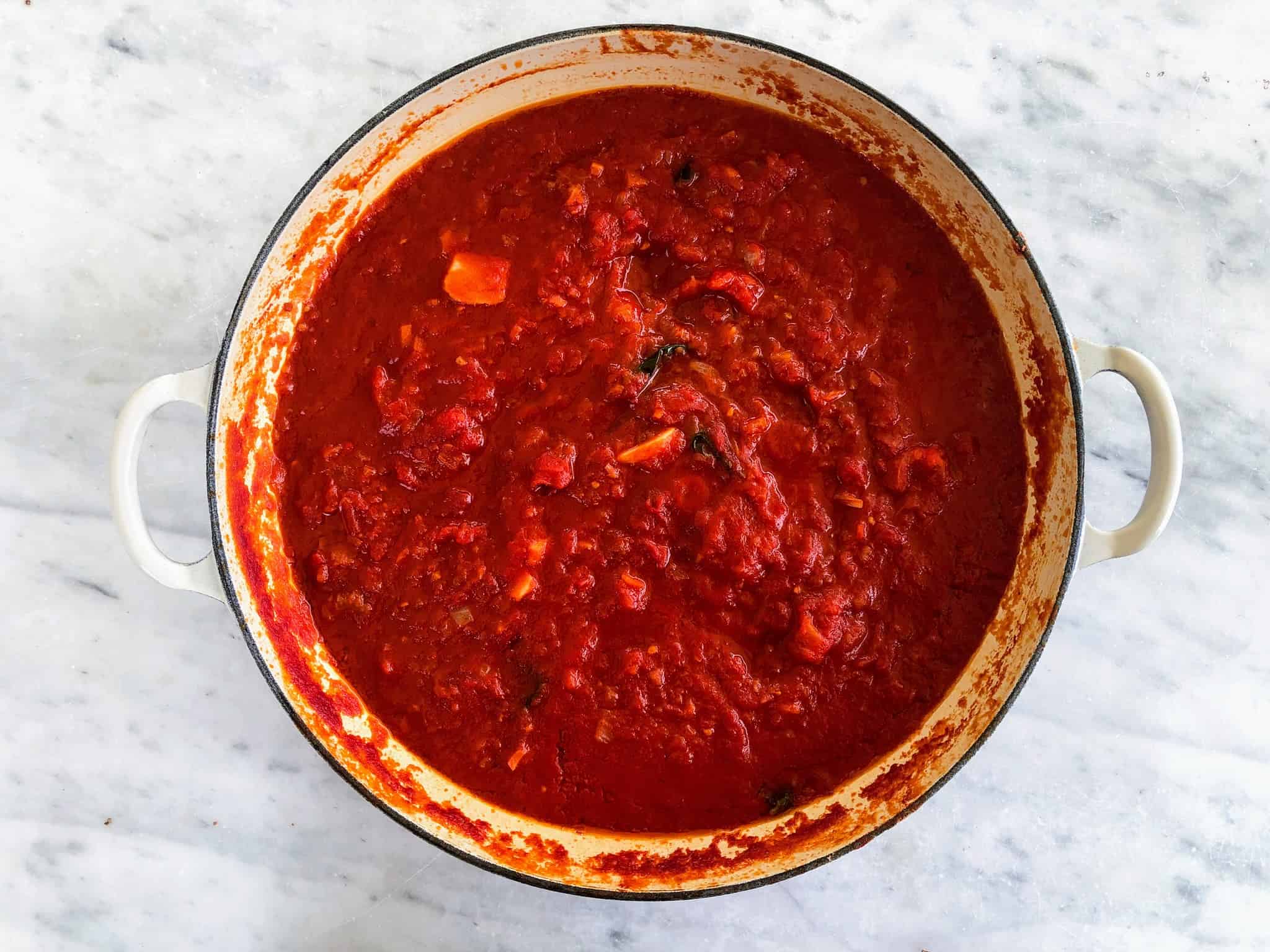 Any good tomato sauce is going to start with an Italian soffritto, just ask any Italian grandmother! This is their secret to a rich and luxurious tomato sauce, versatile enough to can and use all year round in various Italian dishes and recipes.
The only time you won't see an Italian soffritto used in a tomato sauce is when you are making fresh tomato sauce from vine ripe summer tomatoes. In this case, the aromi (carrots, onion and celery) are added straight in with all the other ingredients into the pot and simmered slowly.
Make It: Making tomato sauce from scratch is easy and will save you a lot of time (and money!) during the week if you make a big batch and either freeze or can it. Get our recipe for Fresh Pomodoro Sauce Recipe – An Italian Summer Tradition and Pomodoro Sauce Recipe – Authentic Tomato Sauce Straight From An Italian Kitchen.
Soffritto Uses In Meat Ragù Sauce (Bolognese)
Any Italian would tell you that it's impossible to make a good bolognese sauce without starting with an Italian soffritto. I cannot deny this. It's the most important step, along with browning the meat properly, to ensure a flavorful meat ragù.
I like to chop my soffritto very finely when making meat ragù, even using a food processor to pulse the veggies into an almost "paste-like" consistency, which helps them melt into the sauce.
Soffritto Uses In Stew
The best stews I have had start with an Italian soffritto, especially if they are slow-cooked beef stews. Over the course of being in Italy for more than 12 years now, I have made countless Italian stews and the ones that have stayed in my rotation are those that start with a rich and hearty Italian soffritto.
The Italian soffritto gives so much depth and flavor to any beef stew, especially if you add a garlic clove or two at the end of the soffritto.
Soffritto Uses FAQ
Can I freeze soffritto?
Yes, you absolutely can freeze Italian soffritto in small batches ready to pull out at any time. Consider making a double or even triple batch of Italian soffritto, freezing it and then just adding it to my top soffritto uses listed here. This trick saves me so much time, effort and clean up!