Last updated on November 27th, 2023
If you've done any traveling in Italy or read any Italian guide book, you may be a bit confused about the terms trattoria, osteria, ristorante and enoteca. Are they really that different from each other? What can you expect at each one?
Today in Italy these terms are often used interchangeably, but there are some notable differences between them. Whether you are on the hunt, booking ahead or picking at random, you can learn a lot about an Italian eatery from its title.
In this article, I will cover the following: trattoria, osteria, restaurant and enoteca. I will describe what defines them, what they are best for and what my personal recommendations are within each category. I'll also include other types of Italian eateries that you will come across. And you'll learn how to pronounce them all!
What Is An Osteria?
Osteria is pronounced oh-steh-REE-ah in Italian.
Listen to the pronunciation of osteria:
Best For: Osterie (plural of osteria) are best suited for travelers who are looking for cheap, regional cuisine and an authentic Italian experience.
The concept of an osteria dates back to Medieval times when it took a very different form than how we know it today. Back then, it was more of an inn where travelers, tradesmen and locals could come and take shelter from the cold, enjoying their own food that they brought (usually simple bread, cheese, cured meats) in company at communal tables. Wine and water would be served and you would pay a coperto for this service.
Fact: Today, it's common for the terms trattoria and osteria to be used interchangeably.
Osterie slowly transformed into very simple restaurant-like venues serving daily dishes with no menu, often at a fixed price. Nowadays, osterie have come a long way and now are a kind of wine bar or very casual eatery offering very simple, regional food.
True osterie are really fun places because they still embody some of the primary aspects of its origin with communal tables and very cheap eats. Of course, today, you are not allowed to bring your own meals but you can be sure what they are offering is going to be cheap, regional, often changing periodically to reflect the availability and season.
Menus are often limited, handwritten and printed or displayed on a large board. They have a very 'homey' feel to them as you are probably rubbing elbows with Italians looking for a cheap lunch on either side of you.
We Suggest: Da Mario in Florence around the San Lorenzo neighborhood, is a very typical osteria-like place although the word osteria is not part of its name (it's actually listed as a trattoria). Some tables are shared, the food is cheap and you can even order half portions! Only open for dinner on Thursday and Friday and for lunch Monday-Saturday. 
Learn More: Read more about Where to Drink Wine in Italy and Where to Buy Wine in Italy.
What Is A Trattoria?
Trattoria is pronounced trah-toh-REE-ah in Italian.
Listen to the pronunciation of trattoria:
Best For: A very traditional dining experience with regional cuisine.
Trattorie (plural of trattoria) are definitely a notch up from your osteria in theory although the words are often used interchangeably these days. Trattorie are usually casual, rustic family-run restaurants serving regional cuisine.
The food is going to be simple, seasonal and based on regional specialities and ingredients. Many of the staples in trattorie originate from the cucina povera, the concept of simple cooking with local ingredients that are nutrient rich and flavorful.
Good To Know: Because Italy is historically a poor country, the tradition of la cucina povera is weaved throughout the entire peninsula, shaped and defined geographically by each region's ability to farm and produce different ingredients and products.
The menu at a trattoria might not change as often as at a osteria but it should change a couple of times a year to reflect the season.
The table setting is going to be more upscale than that of an osteria with individual table for each party.
We Suggest: Trattoria del Carmine, Trattoria Da Sergio or Casalinga in Florence. Book ahead for all three, especially at dinner time and on weekends.
What Is A Ristorante?
Ristorante is pronounced ree-stohr-AHN-teh in Italian.
Listen to the pronunciation of ristorante:
Best For: Fine dining experiences with more refined services, extensive wine list and a sometimes more international, modern or creative menu.
Historically, restaurants were trattorias located in city centers. Trattorie and osterie were defined by their rural locations.
Today, a restaurant usually means a higher-end trattoria with full service and an experienced staff. The food is going to be prepared less based on a casalinga approach (or homecook) but rather, studied and curated.
The food isn't necessarily more sophisticated than of trattorias but it's the refined service, setting, extended menu and sometimes modern twist that sets them apart. Definitely expect to pay more at a restaurant than you would at a trattoria.
Good To Know: Some ristoranti actually call themselves trattorie or osterie by means to recall a sense of nostalgia to authenticity within Italian cuisine. A great example of this is the Osteria Francescana in Modena in Emilia-Romagna. This 3 star Michelin restaurant is far from what defines an Italian osteria.
What Is A Enoteca?
Enoteca is pronounced eh-noh-TEH-kah in Italian.
Listen to the pronunciation of enoteca:
Best For: Light fair or wine lovers.
This is essentially your good-old wine bar. Originally, no food was served but nowadays, they offer a short list of taglieri (cheese and/or charcuterie boards), crostini, small bites or nibbles to enjoy with your glass of wine(or several!). I suggest unwinding at an enoteca with an aperitivo after a day of travel before heading out to dinner.
Enoteche should be well stocked with an extensive wine list, both regional, national and sometimes international. You should be able to enjoy many of these by the glass or you can opt to buy bottles and take home as souvenirs or gifts.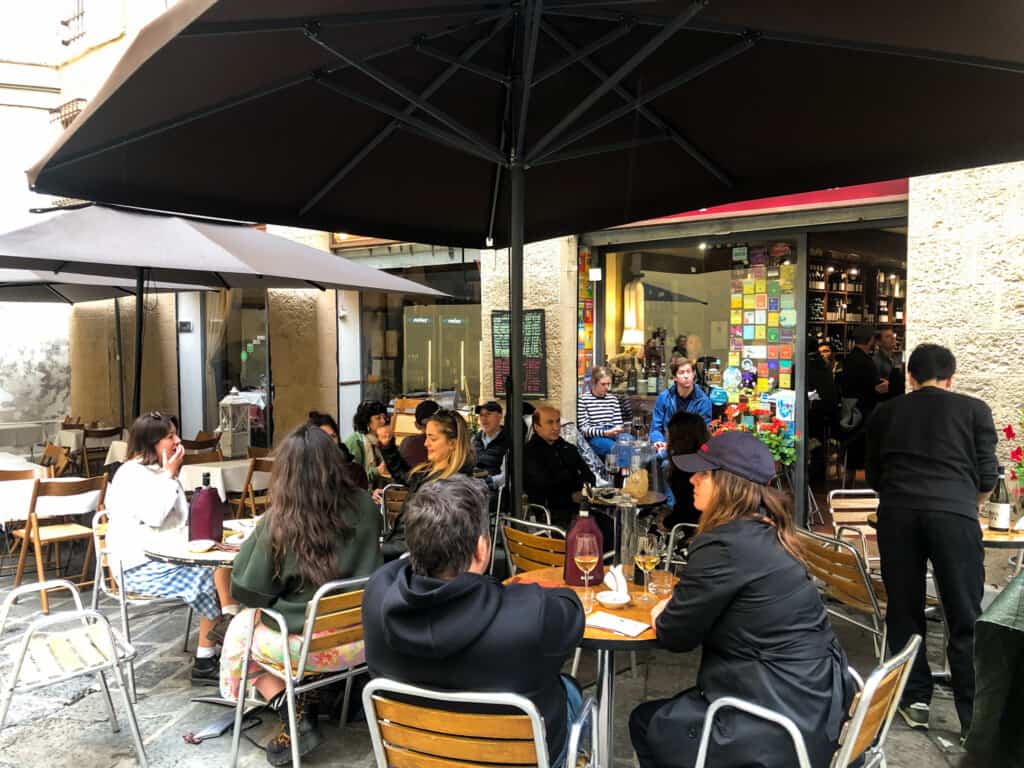 We Recommend: Santino or Le Volpi e l'Uva, both in Florence. Santino has no outdoor seating and can get extremely busy so get there early while Le Volpi e l'Uva has a great outdoor patio area just off of Ponte Vecchio.
Other Types Of Italian Eateries
Pasticceria
Pasticceria is pronounced pah-steech-cheh-REE-ah in Italian.
Listen to the pronunciation of pasticceria:
A pasticceria is your Italian bakery, serving up sweet treats and savory homemade nibbles such as grissini and crackers. Stop by here for a quick treat between tours or pick up some fresh breakfast pastries known as cornetti/brioche for a very typical Italian breakfast.
Rosticceria
Rosticceria is pronounced roh-steech-cheh-REE-ah in Italian.
Listen to the pronunciation of rosticceria:
A rosticceria is a take-away option (although some also have a small section in the back to eat-in) selling pre-prepared food items, mostly a variety of roasted meats, vegetables and fried sides such as french fries and fried polenta.
Gastronomia
Gastronomia is pronounced gah-stroh-noh-MEE-ah in Italian.
Listen to the pronunciation of gastronomia:
A gastronomia is similar to a rosticceria selling pre-prepared foods to bring home and warm up. The style is slightly more rustic, regional and homemade including regional dishes such as ribollita or fagioli all'uccelletto. They will also sell grocery basics such as pasta, canned tomatoes, oil, rice, bread, etc.
Learn More: Get the details on food shopping here in our article on Grocery Shopping in Italy.
Pescheria
Pescheria is pronounced peh-skeh-REE-ah in Italian.
Listen to the pronunciation of pescheria:
A pescheria is actually a fishmonger selling fresh fish but it's also a place to pick up pre-made fish specialties as well. They often have a section of pre-made fish salads, artisan preserved fish and commonly on Fridays, you can either pick up or order pesce fritto or mixed fried seafood to bring home.
Fiaschetteria
Fiaschetteria is pronounced fee-ah-skeht-teh-REE-ah in Italian.
Listen to the pronunciation of fiaschetteria:
A fiaschetteria was originally a place that sold wine from fiaschetti (straw covered wine bottles) either in bottles or by the glass. Today, you might see some that still only do this but it has also become a term to describe a very simple eatery, sometimes selling sandwiches, other times, very simple fare.
Note: I think it's really hard to define a fiaschetteria as they are often so different but they are always very good!
Taverna
Taverna is pronounced tah-VEHR-nah in Italian.
Listen to the pronunciation of taverna:
Eateries with the word taverna in them are rare in Italy. Historically, they were inns where travelers could come and get a cheap room and warm meal. Today, it's just another term to indicate a place to eat but there are no defining characteristics about it. They tend to be rustic, something you might see in the mountains in northern Italy such as in Trentino-Alto Adige or the Aosta Valley.
Paninoteca
Paninoteca is pronounced pah-nee-noh-TEH-kah in Italian.
Listen to the pronunciation of paninoteca:
If you love sandwiches then keep your eyes peeled for this sign, meaning sandwich shop. They usually prepare make-to-order sandwiches with regional cured meats and cheeses, most likely using the local bread.
Ordering Tip: A panino in Italian is a cold sandwich. Panini is the plural form of panino. If you would like more than one, then order tre panini (three sandwiches).
We Recommend: Ino for an upscale panino experience in Florence or Dogali for one of the best panini in all of Florence (about 35 minutes outside the city center next to the soccer stadium).
Tavola Calda
Tavola calda is pronounced TAH-voh-lah KAHL-dah in Italian.
Listen to the pronunciation of tavola calda:
A tavola calda translates to a cafeteria and while the name isn't very enticing, these are actually really good places to eat if you are with small kids or looking for a quick meal. The food is pre-prepared and warmed for you upon ordering. They don't include table service and the dishes change daily.
Tip: Stay away from tavole calde on main drags in big city centers. They tend to be very poor quality at a steep price. Opt for a bar on a side street and ask if they serve lunch.
Pizzeria
Pizzeria is pronounced peez-zeh-REE-ah in Italian.
Listen to the pronunciation of pizzeria:
Although probably quite obvious to most of you, an Italian pizzeria is not what you think. Not only do they make pizza but they also have a wide variety of salads, primi and secondi for those who aren't in the mood for a pie (I am not exactly sure who that would be!).
In Italy, it's common to start your pizza meal with a fried appetizer. Light, right? Perhaps not, but Italians love it! Some favorites are mozzarella in carozza (fried grilled cheese), polenta fritta or arancini.
For Hurried Travelers: If you are rushed during your travels, don't worry, you can still enjoy a good pizza. Many busy cities in Italy now offer pizza by the slice (or rectangle, rather) or its sold by weight.
Pizzicheria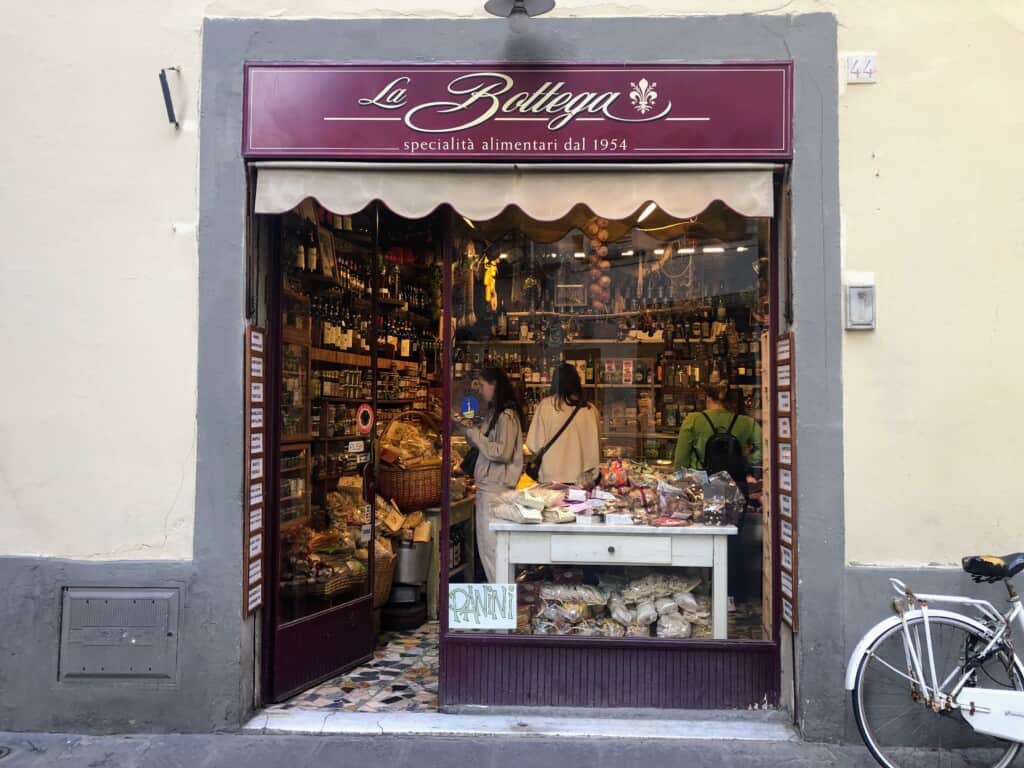 Pizzicheria is pronounced peez-zee-keh-REE-ah in Italian.
Listen to the pronunciation of pizzicheria:
This is your country deli, similar to a gastronomia but stocking less basic cooking goods and more pre-prepared and sandwich options. They might have a counter with bread, cured meats and cheeses from which to make a sandwich or you can choose from their regional products, canned goods and fresh cheeses to bring home or with which to pack a picnic.
Gelateria
Gelateria is pronounced geh-lah-teh-REE-ah in Italian.
Listen to the pronunciation of gelateria:
You probably can guess that a gelateria is an Italian shop serving up Italian gelato. Here, you can also usually find a semifreddo or granita and more commonly, milkshakes as well.
Florence Travelers: Interested in eating the best gelato in Florence? Read Best Gelato In Florence – From A Local (2023)
Bar
Bar is pronounced bahr in Italian.
Listen to the pronunciation of bar:
An Italian bar is nothing like an American bar. In Italy, it's a place that serves a little bit of everything, which will change, depending on the time of day. In the morning you can get coffee and breakfast, from noon to 2:30, light lunch, snacks in the afternoon and aperitivo and after-dinner drinks late into the night.
What more could you want? The Italian bar really has it all!
Italian Dining Establishments With No Specifications
Many Italian eateries, including trattorie, osterie and ristoranti, don't actually have these words in their title. In this case, a name is given and that's it. You will also see the word da attached to a name, the equivalent of the French chez, meaning 'at the house of'. When you see Da Sergio, for example, you can assume it's going to be more inline with home cooking, similar to an osteria or trattoria.
Don't be fooled, however, by names. You need to also look at the style of the restaurant and menu to really analyze what category it's going to fall under. It's quite trendy for upscale restaurants to call themselves a trattoria or not specify at all.
Learn More: Read our Traveler's Guide to Italian Dinner Courses and What Time Do Italians Eat Dinner?
What Is A Trattoria FAQ
What is the difference between a trattoria and a restaurant?
A trattoria is more rustic, often family-run sit-down eatery selling simple, traditional, regional cuisine in Italy. A restaurant, on the other hand, is more upscale with a curated menu. A restaurant is generally more expensive than a trattoria but not always. 
What is a trattoria in Italian?
A trattoria is a small, rustic, family-run restaurant often associated with serving seasonal, regional food in Italy. They are usually slightly more upscale than an osteria but not quite as fancy as a restaurant. Although casual, you should book before dining, especially in the evenings if you are in the city. 
What is the difference between a taverna and a trattoria?
Historically, a taverna was an inn where travelers could stop for a cheap room and hot meal. Today, this is not the case. A taverna evokes a more rustic, mountain-feel than a trattoria but the food and service in both is going to be similar: rustic, seasonal, regional and local. 
What is a wine shop in Italy?
A wine shop is known as an enoteca, serving an extensive list of wines by the glass and a large selection of bottles to enjoy on site with small bites or appetizers or bring home as souvenirs or gifts.