Last updated on November 6th, 2023
Cooking like an Italian pro is easy. All you need is a panty that is well stocked with basic Italian ingredients, just as you would find in any Italian nonna's kitchen.
It doesn't take much to create a pantry that has everything you need at arm's length to make some of the best Italian food in the world.
So much of what makes Italian cooking so powerful is the concept of using accessible, flavorful and affordable spices and flavors to enhance simple, seasonal, basic ingredients.
So read on to learn which Italian ingredients to keep on hand, making it easy to come up with a last minute Italian meal in just the time it takes to cook pasta. I'll explain how to achieve big flavor with simple, Italian ingredients and where and how to use them.
What Is Italian Cuisine?
Italian cuisine is part of the Mediterranean diet, based on the principle of using local goods and produce, seasonal vegetables, legumes, whole grains, local cheese and olive oil that is supplemented by locally reared livestock and fish.
While the basics of Italian are the same – pasta, rice, polenta – the recipes and methods of preparation differ greatly as you travel north to south down the Italian peninsula.
Italian cuisine is more seafood-based in southern Italy while central and northern regions rely more on preserved foods and meats. Cheese, dairy, rice and polenta are more prevalent throughout the northern regions while fresh cheese, homemade pasta and citrus dominate the south.
A Brief History of Italian Cuisine
Italian cuisine is rooted in the Ancient Roman diet and traditions of food preparation, that is to say, the Mediterranean diet. Because Italy was not legally unified until 1861, each region is defined by its own unique culinary identity. These regional cooking traditions arose and took shape after the fall of the Roman Empire and are today, still very evident across the country.
For example, in Naples we see lots of pizza, seafood in Sicily and Sardinia and rice and polenta in Milan and Turin. And what is the link between each region and its food? The land and what it's best suited for.
Traditions of long, multi-course meals are clearly rooted to the Ancient Roman tradition of extended meal time with plenty of local game, wine, produce and cheese. While Italy is today a modern G7 country, the identity of many Italians is still rooted in the idea of coming together and sharing a multiple course meal with friends and family. Although not always possible at lunchtime anymore, it certainly is a priority on the weekends and in the evenings for many families.
Essential Basic Italian Ingredients
These are basics that you will find in every Italian kitchen and what sets the groundwork in any good Italian recipe. Without them, a dish won't be Italian!
Garlic
Recommended Recipe: Soffritto
Garlic is one of the most common flavors across all culinary traditions worldwide but it's also one of the defining basic ingredients of Italian cooking. Whether adding it to a soffritto, tossing whole cloves into a sauce of soup or adding it to roasts and stews, garlic is everywhere.
If you have garlic, you have one of the most important ingredients to start an Italian meal, even if you seemingly have nothing else in the house but a cup of rice and a can of tomatoes.
Best For: Adding to olive oil and gently cooking before adding other ingredients in most any recipe.
Learn More: How to Peel Garlic – Best Easy & Fast Ways + How To Chop And Store It.
Extra Virgin Olive Oil
Recommended Recipe: Homemade Tuscan White Beans Recipe (Tuscan Fagioli all'Olio)
You really aren't going to get very far if you don't have extra-virgin olive oil in your kitchen as an Italian cook. It's what Italians pride themselves (and their cooking) on.
Best For: Sauteing, soffritto, drizzling and pan frying. If you want to know more about how Italians use olive oil in the kitchen, read 20+ Ways Italians Use Their Extra Virgin Olive Oil + When They Don't
Onion
Recommended Recipe: Italian Easter Pie or Soffritto
Onion is one of those ingredients that Italians just can't do without and with which you can scrape together a meal with next to nothing. Sauté a bit of onion with spicy pepper, garlic and olive oil and you have the most flavorful, simple sauce to flavor vegetables, pasta, rice or even cook meat in.
Best For: Soffritto and for making risotto.
Wine
Recommended Recipe: Meat ragù for pasta
Wine pretty much goes hand in hand with Italian cooking. Even the poorest and most humble dishes of the cucina povera are made with locally produced wine.
Best For: Deglazing the pan when making any kind of roast, pasta sauce, pan cooked fish or even stewed vegetables.
Parmesan Cheese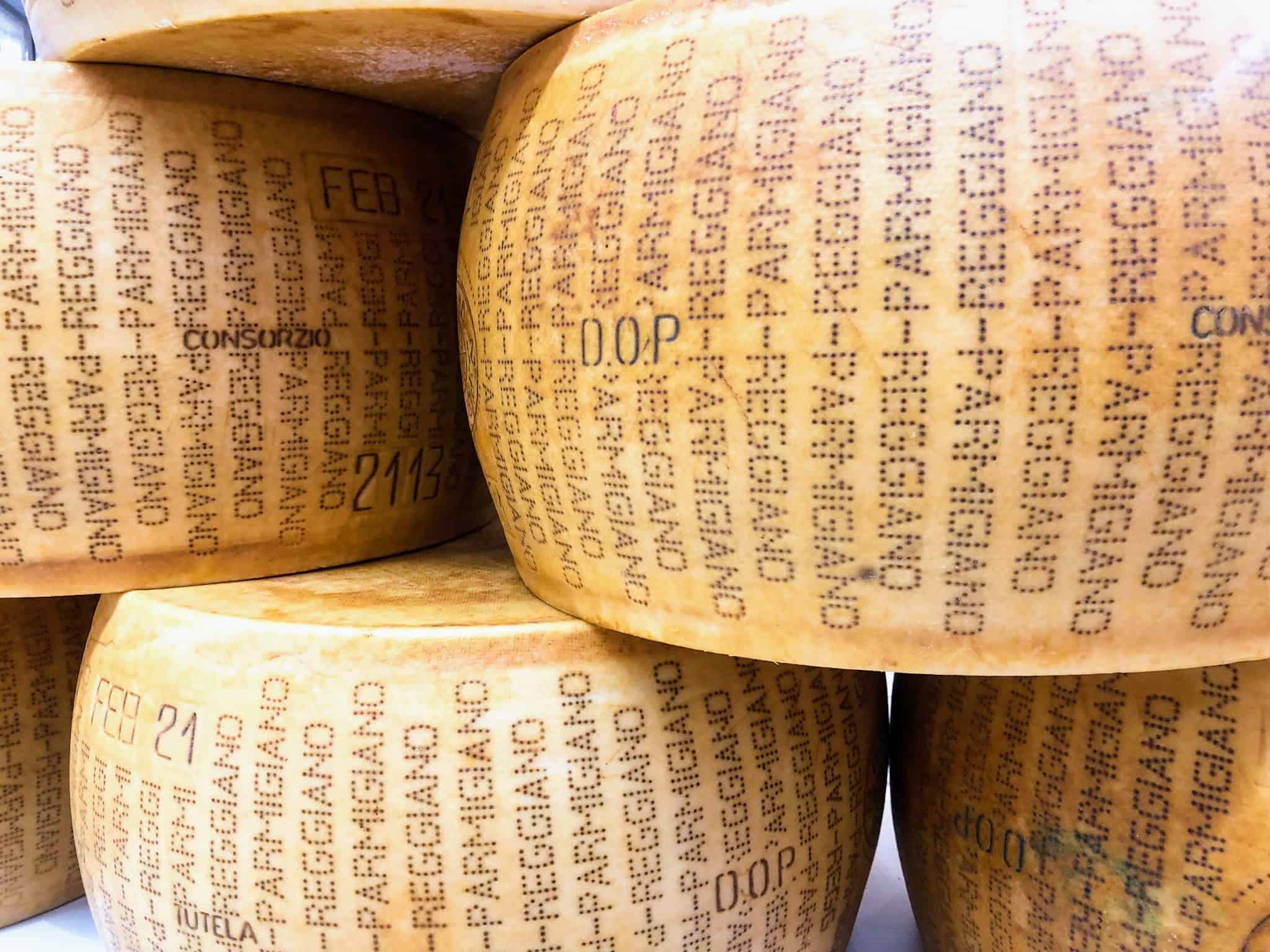 Recommended Recipe: Minestrone
Parmigiano-reggiano is the king of all Italian cheeses. Aged from 12-40+ months, this cheese is what can bring any old dish to the next level. Simply grate a little on the top of any first course meal or add the parmesan rind to any step in the cooking process and you have instantly achieved a new level of flavor and complexity.
Make sure you know How to Pronounce Parmigiano Correctly.
Fresh Italian Ingredients
Really what defines great Italian cooking is freshness and the use of seasonal produce and goods. Sometimes all you need is a squeeze or dash of freshness to brighten up a whole dish and make it come alive, setting it apart from mundane recipes. These are the most popular fresh Italian ingredients that you should always stock to replicate that fresh flavor of Italian cooking.
Tomatoes
Recommended Recipe: Authentic Chicken Cacciatore – My Tuscan Family's Recipe
Here in Italy we like to say that if you have tomatoes, you have a meal. Just grab a bag of pasta, a glug of olive oil and a clove of garlic and you have one of the most iconic Italian dishes like pasta al pomodoro ready in a matter of minutes. Cheap, easy, flavorful and Italian food in minutes? Yes please!
Did you know tomatoes weren't introduced into Italy until after the discovery of America? Well it's true and despite this, they have become one of the most important ingredients for making wholesome, authentic Italian meals.
While Italians prefer to use fresh tomatoes when possible, a good can will do just fine in the off-season. Stock your pantry with good quality canned tomatoes (whole, peeled) and you are on the right road to creating many of Italy's best and most famous dishes in no time.
Make It: Try making my Italian family's fresh pomodoro sauce with your surplus of summer tomatoes.
Fresh Herbs
Recommended Recipe: Piselli alla Fiorentina
Italians always have fresh herbs at hand whether that means picking up a bunch of parsley at the supermarket or growing a small pot of basil or rosemary on their windowsill. Adding fresh herbs to the last minute of cooking brightens up any dish, bringing it to life and adding a ton of color and aroma to your meal.
Italians would agree that fresh herbs are best but if for any reason this isn't possible, consider stocking dried oregano, thyme, rosemary and sage as an alternative. Dried herbs are rarely preferred over fresh (except in pizza sauce, for example) but they are anyhow a way to add extra flavor when it's simply not possible to grow fresh herbs during the wintertime like in northern Italy.
Tip: Learn How to Freeze Fresh Basil and How to Freeze Fresh Parsley so you can have it at your fingertips year round! And make sure you're storing your fresh basil the right way! You can also use try to make your own rosemary infused olive oil.
Favorite fresh herbs to have at hand:
Basil
Rosemary
Parsley
Time
sage
Best For: Brightening up rich dishes or sauces that have been cooking for a while such as stews, tomato sauce or roasts.
Lemons
Recommended Recipe: Real Italian Pastry Cream – Crema Pasticcera Recipe + How to use it
I love adding a squeeze of lemon or a bit of lemon peel to any dish because it will immediately brighten up the flavor. Lemons are used throughout Italy but especially in places like the Amalfi Coast, Capri and Sicily where citrus grows extremely well.
Best For: Add a squeeze of lemon to any soup or stew just before serving. Lemon zest can be used in many cocktails, in gelato or classic Italian dessert recipes.
Preserved Italian Ingredients
Historically, Italy is a poor country and because of this they learned to never throw anything away, preserving every last bit that possibly could be. Today, this tradition lives on and you can find not only amazing canned goods at your everyday supermarket.
Dried Mushrooms
Bring It Home: Dried mushrooms are everywhere in Italy and super light and easy to bring home in luggage. Consider bringing back as a souvenir or gift on your next trip to Italy.
Dried mushrooms are definitely one of Italy's better inventions. They are essentially concentrated earthy, warm, hearty flavors that can be added to almost any dish to add a depth of flavor that is unbeatable. My favorite is dried porcini mushrooms because they are a good workhorse: their price is right, they aren't too delicate, the flavor is bold and they hold up well.
Best For: Adding to risotto, pasta, beef stews or stirred into cheesy polenta.
Anchovies
Recommended Recipe: White Chicken Cacciatore Recipe – Rome's Iconic Braised Chicken Made Easy
While many of you out there may be afraid of this ingredient you really shouldn't be. It has a bad rap but it's one of Italy's best kept secrets to so many of its most flavorful dishes. Chances are you have had them without even knowing. Add just one or two to any soffritto and watch your dish explode with salty, umami flavor.
Best For: Adding to beef stews, soffritto, pizza, in pasta sauces or on salads or in salad dressings.
Capers
Recommended Recipe: Salsa Verde for serving with raw vegetables, grilled meats and vegetables.
Capers, like anchovies, are an easy way to add lots of salty flavor to any dish. You can either cook them directly with meat and fish or simple sprinkle them into pastas, salads or on top of pizza for a burst of flavor with literally no extra effort.
Best For: Sprinkling onto pizza or into pasta sauces or for making sauces.
Olives
Recommended Recipe: Italian Fennel and Orange Salad – A Winter Salad Recipe from Sicily
Preserved or canned olives are obviously a must in Italian pantries. Almost every region in Italy produces its own olive oil and thus, olives as well. They add a salty, briny bite to any stewed meat, salad or even pasta dish without any additional effort in the kitchen. Simply open a jar, dump them in and enjoy!
Best For: Olives work well with dishes in bianco meaning made with white wine such as white chicken cacciatore.
Pantry Italian Ingredient Staples
The holy trinity of bread, pasta and rice is the base for any Italian meal. When Italians sit down to eat you can be sure they are having at least one of these, if not two. I am also including beans in this category because each region in Italy grows their own legumes, which are essential to the Italian diet and to the culinary traditions of that region.
Bread
Recommended Recipe: Ribollita or pappa al pomodoro
If you have good bread, you can make a meal out of anything, including a corner of cheese and wild greens. The art of bread making has been with Italians since the beginning of time and remains one of the most practiced traditions in modern day Italy.
Bread Lovers: Read our comprehensive guide Bread in Italy – Types of Italian Breads & Where to Eat Them for in-depth descriptions, details and where to find various regional breads in Italy.
Bread can be used either as an accompaniment to traditional Italian meals, bulking up a simple dish or actually incorporated into the recipe such as ribollita.
Best For: Keeping on hand to serve alongside meat and fish, salads and egg dishes. Bread crusts are good for sopping up leftover pasta sauces or can be used to make homemade breadcrumbs.
Tip: Freeze leftover sliced bread the same day you make or purchase it to enjoy fresh bread anytime!
Pasta
Recommended Recipe: Homemade Tagliatelle
Pasta, pasta, pasta, where would Italy be without pasta? So many kinds, so many shapes and so many colors! No matter where you are, pasta is the carb of choice whether you are in southern Italy enjoying traditional homemade semolina, in central Italy (where we live) gobbling up bowlfuls of egg-pasta or northern Italy warming up to a bowl of stuffed pasta.
Best For: putting together a meal when you have nothing else. Use any kind of dried, fresh or homemade pasta with just a handful of the other ingredients listed in this article to make an authentic Italian meal. Read inspiration on the best pastas to make, read 30 Most Popular Italian Pasta Sauces (That We Actually Eat Here in Italy) or Famous Italian Pasta Dishes – by Region
Rice
Rice is more common in northern Italy than in southern Italy because it grows better in a colder climate. You might notice large rice plantations stretch across the north, which provide the base for which many northern dishes are made.
Much like pasta, rice can be made according to what is available and seasonal. In the winter you might find risotto al barolo (red wine risotto) or risotto con radicchio (radicchio lettuce risotto) while in the spring and summer, risotto with peas or zucchini is popular.
Best For: Classic risotto dishes. Even to make a simple risotto in bianco or white wine risotto, all you need is a bit of wine, carnaroli or arborio rice, an onion and some form of stock. Easy and simple!
Legumes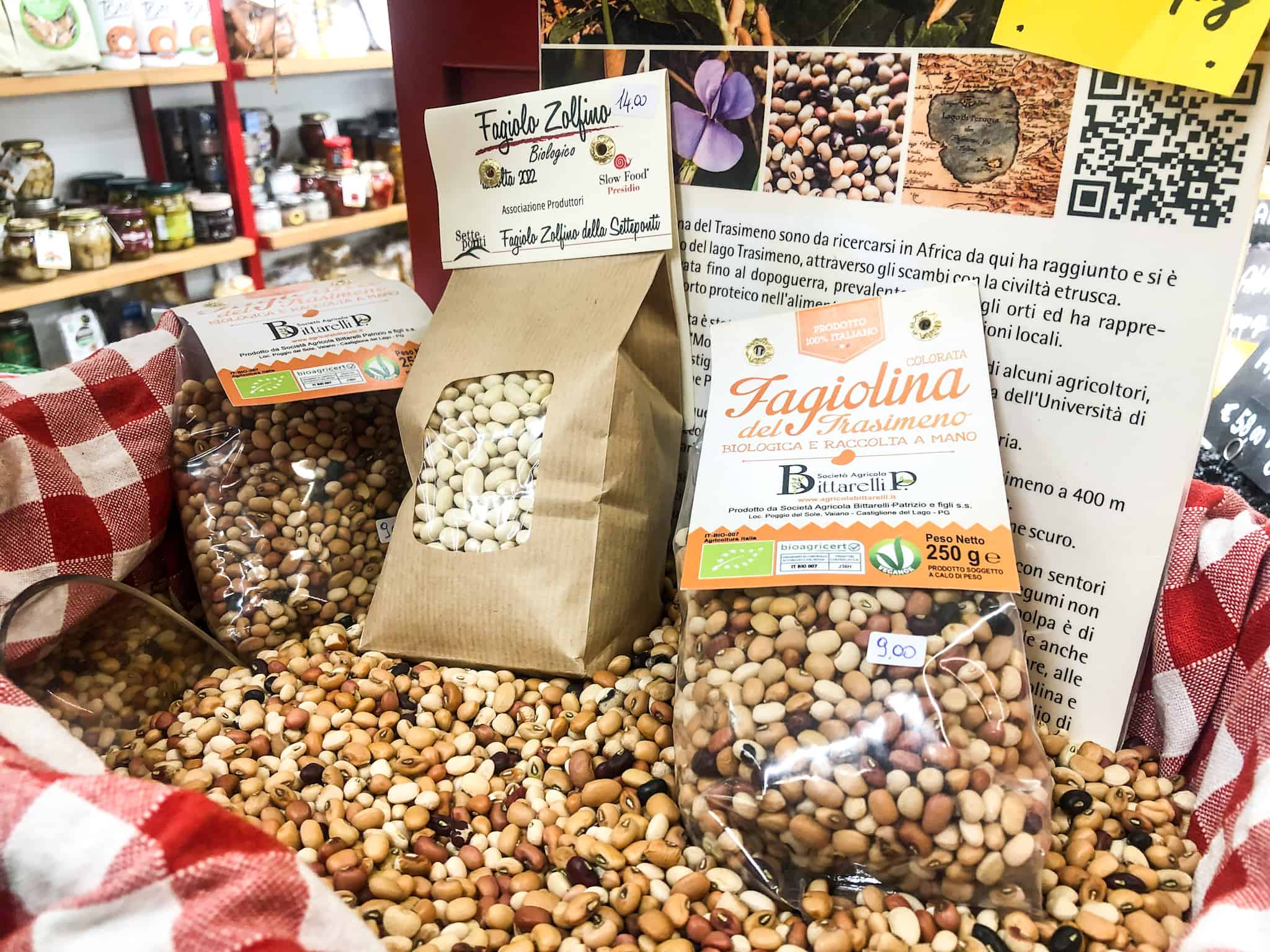 Recommended Recipe: Tuscan Cannellini Beans with Tomatoes and Garlic (Fagioli All'Uccelletto)
Legumes are a huge part of the Mediterranean diet and Italian cuisine because they grow extremely well throughout the peninsula, are very healthy, full of protein and can be dried and be used even in the harshest of times.
Each region cultivates their own variety such as fagioli di trasimeno from Umbria, fave in Puglia and fagioli cannellini in Tuscany, just to name a few.
Best For: Italy's most beloved way of using beans is of course, with pasta. Pasta e ceci is a classic Italian recipe combining their love for pasta with their dedication to regionally cultivated products such as the bean. In Calabria, look for lasagane e cicciari (pasta with chickpeas) but if you are in Tuscany, it's called pasta e ceci.
Other Italian Ingredients
Below is a short list of other Italian ingredients that, while present in many Italian kitchens, are not found across the peninsula because they are regional. The following ingredients will certainly make your Italian cooking experience easier if you keep them on hand, allowing you to prepare even more classic Italian meals but by no means are these stocked in every pantry in Italy.
Aceto balsamico di Modena – the classic balsamic vinegar from Modena is an Italian favorite, especially in Emilia-Romagna but don't be fooled, Italians would never put it on a caprese salad. It's used sparingly on lettuce, served with aged parmigiano-reggiano or figs and prosciutto.
Peperoni cruschi– dried red peppers are a staple in southern Italy where much of their cooking is enhanced with locally sourced spices and herbs. Add this pepper to any simple pasta or cooked vegetable for an added punch of flavor (Basilicata)
Pinoli – pine nuts are super popular in southern Italian cooking. They love that sweet, salty combination so you will find these thrown into a lot of salads, stewed vegetables and blended into pasta dishes.
Burro – butter may not seem like a classic Italian ingredient (usually it's associated more with French cooking) but it's actually the fat of choice in northern Italy where it's heavily influenced by its bordering countries and where dairy production is a large part of the local economy and regional culinary traditions.
Polenta – polenta or corn flour is a staple in northern Italy and thus, a staple in any pantry in regions like Friuli-Venezia Giulia, Veneto and the Aosta Valley. It's used much as pasta is in southern regions, as a first course meal, dressed up with whatever is seasonal and oftentimes with regional cheese. Try Polenta With Cannellini Beans And Kale Recipe (Farinata Con Cavolo Nero) – Vegan & Gluten-Free – a popular recipe in our house!
Italian Ingredients FAQ
What are traditional Italian ingredients?
Traditional Italian ingredients vary region to region but the most popular ingredients used throughout the entire peninsula are bread, pasta, rice, legumes, olives, capers, anchovies, dried mushrooms, lemons, fresh and dried herbs, tomatoes, parmesan cheese, wine, onions, garlic, and extra virgin olive oil. 
What are the most important ingredients and spices in Italy?
The most important spices used in Italian cooking are basil, oregano, sage, parsley, rosemary, thyme and fennel seed. Italians also use a lot of garlic, red pepper flakes and black pepper. 
What are the 5 main ingredients most commonly used in Italian cooking?
Italian cooking varies greatly depending on the region but throughout the entire country you will find extra virgin olive oil, tomatoes, wine, basil, parmesan cheese, garlic, pasta, rice, and bread. 
What spices does Italy have?
Here in Italy, we use a lot of herbs and spices to flavor very simple, basic ingredients. We prefer fresh herbs but if not available, dried is a fine alternative. Basic, thyme, oregano, rosemary, sage, parsley, bay leaf, marjoram and fennel are the most popular herbs added to Italian cooking and recipes.