Last updated on November 17th, 2023
Emilia-Romagna is often overlooked on a trip to Italy. Or, visitors will just stop by Bologna or Modena for the day. But, if you're into delicious food, Emilia-Romagna can't be beat!
This is our guide to the traditional food of Emilia-Romagna. We live in neighboring Tuscany and spend plenty of time eating our way through Emilia-Romagna. We have seen it all, tasted it all and even cooked plenty of it.
We'll look at what sets Emilia-Romagna apart from other regions and then dive into over 50 dishes that highlight its cuisine. I'll include pronunciation and my advice on where to get the best bites in town. Finally, I'll cover top flavors and products to watch out for and the best cured meats to try.
If you do nothing else before heading to Italy, remember that the best way to visit Emilia-Romagna is through its food so keep this article in your back pocket for quick reference!
Food from Emilia-Romagna vs Italian Food
Emilia-Romagna is a leader in producing and making some of the finest food in all of Italy and even the world! The region has more geographically protected products than any other with 200 protected by law and an additional 26 products with the PGI-protection status awarded by the EU.
What sets this region apart from other areas in Italy is its geography: the Po River runs right down the middle, making for a unique climate with fertile soil unlike any other in Italy, providing the opportunity to grow and raise numerous niche crops and livestock.
We must note that this river divides the region into two parts: Emilia and Romagna. Emilia is in the northwest, home to Piacenza, Parma, Reggio Emilia, Modena and Ferrara with a large focus on pork and a slight Germanic influence from its neighboring region, Lombardy.
Romagna lies to the west of the Po, encompassing the seaside of the Adriatic Sea as well as Ravenna, Forli, Cesena and Bologna. The cuisine in this half of the region is lighter, fresher, and more dependent on seafood.
Emilia-Romagna relies heavily on the tradition of fresh pasta making as well as many world-renowned foods such as prosciutto di Parma, balsamic vinegar and parmigiano reggiano. Dishes are elaborate, rich and heavy. This, however, is a good thing when it comes to food!
Gnocco Fritto
(Pronounced nyawk-koh freet-toh in Italian)
This is a fried bread made from flour, yeast, lard or oil, water and salt. It's first rolled out, cut into pieces and deep fried until golden-brown and puffed up. It's usually served warm, fresh out of the fryer, with cheeses and cold cuts typical of the territory. You may even find it served for dessert, covered in sugar or served with jam and Nutella.
This is the most popular appetizer you can find in the region and every city has their name for it: gnocco fritto in Modena, pinzino in Ferrara, torta fritta in Parma, chisulen in Piacenza or crescentina in Bologna.
We Recommend: Cà d' Frara Trattoria Moderna (Ferrara) is a slightly higher end trattoria serving up great food typical of Ferrara including pinzini served with cured meats and cheeses. Try Hosteria Giusti (Modena) and order the gnocco fritto but be sure to book ahead!
Sformato di Zucca
(sfohr-mah-toh dee zook-kah in Italian)
This is a savory flan made with béchamel, eggs, pumpkin puree, parmesan and nutmeg, typically served as an appetizer.
Erbazzone
(Pronounced ehr-bahz-zoh-neh in Italian)
This savory pie is filled with different greens that grow in abundance, including spinach, swiss chard, various herbs, pancetta or ham, parmesan, garlic and onion or leeks. Before being baked it is brushed with lard, giving it a golden crust. You will either see this as an appetizer or an afternoon snack.
Friggione
(Pronounced freej-joh-neh in Italian)
Sometimes called frizòn, this is a sweet onion dip from Bologna made by thinly slicing local medicina onions and rubbing them in salt and sugar before slowly cooking them with fresh tomatoes and lard.
Ragù alla Romagnola
(Pronounced rah-goo ahl-lah roh-mahn-yoh-lah in Italian)
This rich and hearty meat sauce is made from ground pork and veal sautéed with onions, bacon, carrots, celery, salt, pepper, tomatoes, and white wine. There is no cheese, cream or milk added like in many bolognese versions. Traditionally it is served with fresh pasta such as tagliatelle.
Ragù alla Bolognese
(Pronounced rah-goo ahl-lah boh-lohn-yeh-seh in Italian)
This ragù is made from either ground beef, pork or a combination of both. Onions, pancetta, carrots, celery, salt and pepper are browned with the meat followed by the addition of tomatoes, wine and nutmeg. Many recipes also include a splash of milk or cream. You will see it served with tagliatelle, fettuccine or other handmade egg pastas or used to make lasagna.
Lasagne alla Bolognese
(pronounced lah-sahn-yeh ahl-lah boh-lohn-yeh-seh in Italian)
This lasagna is made from layers of homemade pasta sheets (sometimes made with the addition of spinach) that are layered with béchamel and ragù alla bolognese. It is finished with a generous sprinkling of parmesan cheese before being baked until bubbling and crisp on the top.
We Recommend: Don't miss the lasagna alla bolognese at Trattoria della Gigina (Bologna).
Tagliatelle al ragù alla Bolognese
(Pronounced tahl-yah-tehl-leh ahl rah-goo ahl-lah boh-lohn-yeh-seh in Italian)
Rich, hand-rolled egg pasta is tossed with hearty meat sauce, a dish that will warm any soul. Sometimes you will also see other ribbon pastas such as fettuccine or pappardelle but the authentic versions will never be served with spaghetti or linguine!
Learn More: Read our articles on Linguine vs Fettuccine and Linguine vs Spaghetti.
Tortellini
(Pronounced tohr-tehl-lee-nee in Italian)
The story is that the chef who created this stuffed pasta modeled the shape after the belly button of the goddess Venus.
These little pockets of heaven are made from a variety of fillings, most commonly from pork, mortadella, prosciutto, eggs, nutmeg and parmesan, all wrapped up in a ring shaped pocket of fresh made egg pasta. They are served in brodo (in broth) or al ragù (with meat sauce)
We Recommend: Don't miss the amazing handmade pasta and tortellini at Trattoria Anna Maria (Bologna)
Tortellini in Brodo
(Pronounced tohr-tehl-lee-nee in broh-doh in Italian)
This is ultra comfort food for both locals and tourists. Homemade tortellini are cooked directly in a rich capon broth and served with a sprinkling of parmesan cheese. Because this is a rather labor intensive dish, it was traditionally only eaten on Christmas but now that the pasta is produced on a large scale and available for purchase in supermarkets, it's a year-round favorite.
We Recommend: All'Osteria Bottega (Bologna) for excellent tortellini in brodo.
Spoja Lorda
(Pronounced spoh-yah lohr-dah in Italian)
This dish from Ravenna is made from square-shaped stuffed pasta filled with ricotta or robiola, parmigiano reggiano, eggs, salt, and nutmeg. They are then cooked in a very rich beef broth that has been "brewing" for hours upon hours and served with grated parmigiano reggiano.
Passatelli in Brodo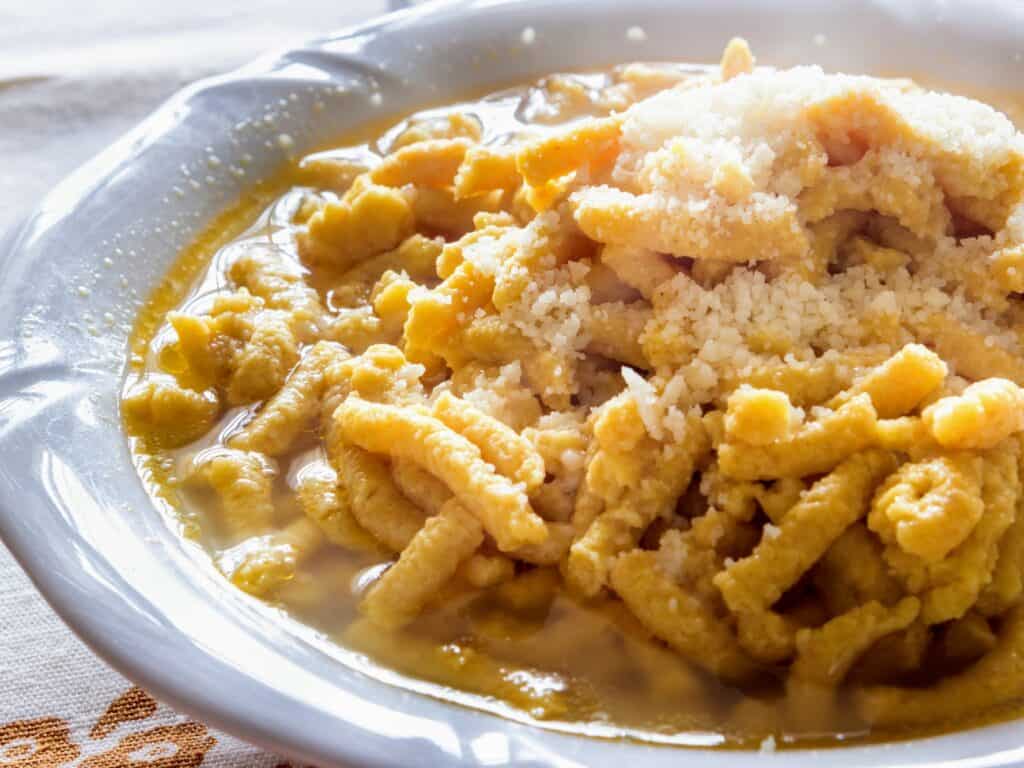 (Pronounced pahs-sah-tehl-lee in broh-doh in Italian)
This is one of my favorite primi in Emilia-Romagna. Passatelli in brodo are small dumplings that are cooked in rich homemade beef broth. The dumplings are made from a dough of cheese, bread and eggs and then pressed through a large sieve type of gadget that makes little worm-shaped dumplings that are as light as a pillow.
We Recommend: Trattoria Ermes (Modena) is a great place for passatelli in brodo.
Anolini
(Pronounced ah-noh-lee-nee in Italian)
Another small dumpling made from handmade egg pasta filled with ground meat, parmesan and breadcrumbs. It's Christmas lunch tradition to eat anolini in a broth called terza, made from beef, capon and pork.
Tortelli d'Erbetta
(Pronounced tohr-tehl-lee dehr-beht-tah in Italian)
Originally from Parma, this egg pasta is stuffed with a mixture of ricotta, eggs, nutmeg, grated parmigiano reggiano, and beet spinach or regular spinach and served tossed in melted butter and grated parmigiano reggiano. It is common to see locals eating this on the Feast of Saint Giovanni on June 23rd.
We Recommend: Trattoria Antichi Sapori (Bologna) serves up some of the best pasta in the city, especially well known for their stuffed pastas.
Tortelli di Zucca
(Pronounced tohr-tehl-lee dee zook-kah in Italian)
Both Mantua and Ferrara claim that they developed this recipe and they fight for good reason: it's unique and memorable!
This stuffed pasta is filled with a mixture of pumpkin, amaretto cookies, parmesan, and fruit mustard and served in a butter and sage sauce. Not everyone likes the slightly sweet aspect to this dish, but it's worth a try because there is nothing else like it.
We Recommend: Trattoria Ai Due Platani (Coloreto) for some of the best fresh pasta in all of the region!
Gramigna con Salsiccia
(Pronounced grah-ming-yah cohn sahl-seech-chah in Italian)
This is a curly-shaped pasta tossed in a hearty and rich ragù made with pork sausage, onions, carrots, celery, tomatoes and wine. And of course, it is finished with a sprinkling of grated parmigiano reggiano.
Cappelletti in Brodo
(Pronounced cahp-pehl-leht-tee in broh-doh in Italian)
Meaning "little caps" this is yet another regional stuffed pasta served in chicken broth that will warm you to the bone. This is a dish that you will find throughout northern Italy but it's believed to have originated in Emilia-Romagna. The cappelletti are stuffed with various things but most commonly a mixture of beef, chicken, cheese, and nutmeg.
Cappellacci di Zucca
(Pronounced cahp-pehl-lach-chee dee zook-kah in Italian)
This is Ferrara's most popular pasta, dating back to the Renaissance. This stuffed pasta is filled with butternut squash, parmesan and nutmeg, making for a warm and earthy primo, served in a butter and sage sauce. Sometimes they are also served in tomato or ragù but butter and sage is the most traditional.
Pasticcio di Maccheroni
(Pronounced pah-steech-choh dee mahk-kehr-oh-nee in Italian)
This is a quite particular pasta dish from Ferrara made from a mixture of maccheroni pasta, truffles, ragù and béchamel that is baked in a shortcrust pastry shell in the shape of a priest's hat. Although this may seem like a strange sweet and salty combination, it has passed the test of time – it's been a favorite since the 16th-century! You'll see it in January and February during Carnival.
Balanzoni
(Pronounced bah-lahn-zoh-nee in Italian)
These are delicious large spinach pasta pouches similar to tortellini stuffed with ricotta, spinach, eggs, parmigiano reggiano, and mortadella or pork loin, originating in Bologna. The stuffed pasta is cooked normally in boiling water and served in a butter and sage sauce.
Lasagne alla Parmigiana
(Pronounced lah-sahn-yeh ahl-lah pahr-mee-jahn-ah in Italian)
A match made in heaven: lasagne and eggplant parmigiana. Although there are many recipes, it's usually made by layering lasagne sheets with slices of fried eggplant, tomato sauce, mozzarella, basil and grated parmesan. The whole thing is baked until golden and bubbling. This is a dream for a vegetarian or for veggie lovers like myself!
Pisarei e Fasò
(Pronounced pee-sahr-eh eh fah-soh in Italian)
This simple, rustic dish from Piacenza is made with small dumplings made from flour, breadcrumbs and water served in a thick tomato sauce made from lard and mashed borlotti beans. Sometimes pork is added to the tomato sauce but in the olden times when meat was a specialty item, they did without.
Stracotto di Somaro
(Pronounced strah-coht-toh dee soh-mah-roh in Italian)
A traditional Italian dish originating from Emilia-Romagna, especially popular in Modena. This stew is made with a combination of donkey meat, tomatoes, red wine, garlic, carrots, celery, olive oil, sage, cloves, nutmeg, bay leaves, salt, and pepper. After browning the meat and vegetables, everything is stewed slowly for hours with the tomatoes and wine until the meat is tender.
Cotoletta alla Bolognese
(Pronounced coh-toh-leht-tah ahl-lah boh-lohn-yeh-seh in Italian)
This secondo is made from thin breaded veal cutlets that are fried in butter until crisp. They are then topped with a slice of prosciutto crudo and grated Parmigiano-Reggiano. The cutlet is then returned to the pan with a bit of broth and butter, covered and quickly cooked over low heat just until the cheese has melted.
We Recommend: All'Osteria Bottega (Bologna), a historic institution that you cannot miss. They are particularly famous for their cotoletta alla bolognese.
Punta di Petto alla Parmigiana
(Pronounced poon-tah dee peht-toh ahl-lah pahr-mee-jahn-ah in Italian)
This dish, originally from Parma, is made by stuffing veal breasts with onions, celery, eggs, milk, butter, parsley, breadcrumbs, nutmeg, Parmigiano-Reggiano, salt, black pepper and more veal meat. The meat is then sewn closed and boiled in a light vegetable broth.
Trippa alla Parmigiana
(Pronounced treep-pah ahl-lah pahr-mee-jahn-ah in Italian)
This is an ancient dish made with a combination of veal tripe that is tenderized by boiling it. It's then sauteed in butter and finished in the pan with plenty of parmigiano reggiano cheese. Some recipes call for tomatoes, onions, various herbs, or chili peppers.
Cotechino Modena
(Pronounced coh-tek-ee-noh moh-deh-nah in Italian)
This sausage is made from pork, pork fat, pork rinds, salt, peppercorns and often flavored with wine, sugar, spices and herbs. The meat is stuffed into a natural pork casing and sold either fresh or pre-cooked.
Learn More: Read all about the Different Types of Italian Sausage.
Zampone Modena
(Pronounced zahm-poh-neh moh-deh-nah in Italian)
The story goes that this sausage dates back to 1511 in Mirandola, when the city was under attack by Pope Julius II. In order to hide their food and survive, the villagers killed all their pigs, chopped up their meat, seasoned it and stuffed it back into the pig's trotters. To this day it's beloved throughout Emilia-Romagna, although the recipe now calls for spices such as nutmeg, cinnamon and cloves.
Coppia Ferrarese
(Pronounced cohp-pee-ah fehr-rahr-eh-seh in Italian)
This is a delicious twisted-shaped sourdough bread from Ferrara made with flour, pork lard, olive oil, salt, water, and malt. In 2001, it was awarded the PGI protection.
Tigella
(Pronounced tee-gehl-lah in Italian)
This round bread is baked in special clay molds lined with a mixture of lard, rosemary, garlic, and Parmigiano-Reggiano cheese. The molds often have a decorative pattern which is transferred to the bread in the baking process.
We Recommend: If you are up for some adventure and would like to explore the outskirts of Bologna we recommend Chiosco Ai Pini. A favorite among locals, this is a quick and easy going place, very casual and literally everything on the menu is delicious so don't worry about ordering the wrong thing.
Borlengo
(Pronounced bohr-lehn-goh in Italian)
Borlengo is a giant savory pancake made from flour, salt, milk, and eggs and cooked in a large griddle until crisp. It is then flavored with bacon fat, garlic and rosemary and sometimes grated cheese. A great snack or street food to try.
Piadina Romagnola
(Pronounced pee-ah-dee-nah roh-mahn-yoh-lah in Italian)
Originally, la piadina was staple for locals who didn't have much money, this is now a classic Italian flatbread stuffed with various meats and cheeses such as prosciutto e stracchino and enjoyed as a sandwich. This is a staple street food or on the go lunch for many locals. The best and most authentic ones are in Rimini although you will find them throughout the region.
We Recommend: For a great piadina head to Nud e Crud (Rimini).
Read More: about la piadina romagnola and about all of Italy's bread in Bread in Italy – Types of Italian Breads & Where to Eat Them
Bensone
(Pronounced behn-soh-neh in Italian)
This oval-shaped dessert from Modena is a very simple cake made from flour, milk, eggs, butter, and sugar. Sometimes it is made with various fillings such as with jam or Nutella.
Torta di Tagliatelle
(Pronounced tohr-tah dee tahl-yah-tehl-leh in Italian)
Also called torta ricciolina, it is made by filling shortcrust pastry with fresh tagliatelle pasta coated in a mixture of sugar, almonds, and butter. The whole thing is baked until crisp and finished with almond liqueur and powdered sugar. In Mantua, this cake is made without the crust.
We Recommend: Ai Tri Scalin or Hostaria Savonarola, both in Ferrara, for great home cooking. The atmosphere is casual while the food is to write home about, especially the torta di tagliatelle.
Brazadèla
(Pronounced brah-zah-deh-lah in Italian)
Brazadèla is a traditional ring-shaped pound cake known as a ciambella in other parts of Italy, flavored with anise and lemon. Simple yet satisfying it's common to serve on Easter yet it is so good that it's enjoyed all year around, especially as a snack or for breakfast.
Mandorlini del Ponte
(Pronounced mahn-dohr-lee-nee dehl pohn-teh in Italian)
Mandorlini del ponte are Italian meringue cookies originating from Ferrara. The meringue cookies (the dry version, not chewy) from Ferrara are made with egg whites, flour, almonds, sugar, and butter. Their name is an ode to a bridge in the neighboring city of Pontelagoscuro.
Spongata
(Pronounced spohn-gah-tah in Italian)
Its name comes from the Italian word spugna meaning "sponge" referring to the similarities of the filling to the pillowy consistency of a sponge as well as its tiny holes. Pastry dough is filled with broken up amaretti cookies, white wine, toasted bread, walnuts, pine nuts, raisins, and a variety of flavorings such as honey, sugar, cloves, nutmeg, cinnamon and orange peel, covered with another layer of pastry dough and baked until golden. It's finished with a dusting of powdered sugar.
Torta degli Addobbi
(Pronounced tohr-tah deh-yee ahd-dohb-bee in Italian)
This popular dessert is a baked rice pudding flavored with oranges and almonds before being baked with a touch of almond liqueur. This rice pudding cake is made with milk, sugar, lemon zest, rice, almonds, eggs, rum, and almond liqueur. Once cooled, it is then cut into diamond shapes and eaten like a cake.
Certosino
(Pronounced chehr-toh-see-noh in Italian)
Known as zrtuséin in the local dialect or as panspezial, this dense cake from Bologna is made with almonds, pine nuts, cocoa powder, dark chocolate, honey, and candied fruit.
Torta Barozzi
(Pronounced tohr-tah bahr-ohz-zee in Italian)
This rich, decadent cake is made with almonds, cocoa, coffee and rum although no one really knows the secret recipe as it is held only by the Gollini family who invented it in 1907. There are many knock-offs which are excellent but to get the real deal you need to head to the Gollini Bakery outside of Bologna in Vignola.
We Recommend: La Pasticceria Gollini (Vignola) holds the secret recipe for torta barozzi.
Torta di Riso
(Pronounced tohr-tah dee ree-soh in Italian)
This typical Christmas dessert is made from a kind of rice custard or pudding flavored with either vanilla or citrus that is baked and drizzled with anise liquor and dusted with powdered sugar when cool.
Torta Tenerina
(Pronounced tohr-tah then-eh-ree-nah in Italian)
This very light and delicate cake was made in honor of Elena Petrovich, the queen of Montenegro and the wife of the Italian King Vittorio Emanuele III. The cake itself is quite simple, made with just chocolate, butter, eggs, sugar, and cornstarch. The crust is similar to meringue which holds a rich and light chocolate filling. Although you will find this throughout the region, it's originally from Ferrara and thus, we recommend you seek it out there.
Pampapato di Ferrara
(Pronounced pahm-pah-pah-toh dee fehr-rah-rah in Italian)
This is a Christmas fruit cake from Ferrara made from almonds, hazelnuts, and candied fruit flavored with cocoa, honey, cinnamon, cloves, and black pepper.
Ingredients and Flavors
Parmigiano Reggiano: a firm yet delicate cheese perfect for finishing pastas with but also eating as is. It can only be made from the milk of cows that feed in a strictly defined area between the cities of Parma, Reggio, Modena, Bologna, and Mantova, and it must be aged naturally anywhere from 1 year to 3+. The younger cheeses are softer while the more they mature, the harder they get and have a stronger bite to them. Read my tips for Using Leftover Parmesan Rinds when cooking at home! Also check out our Complete Guide to Italian Cheese!
Tosone: this is a byproduct obtained during the production of Parmigiano-Reggiano. When parmesan is shaped into their classic wheel form, the cheese that is cut away in the process is collected and known as tosone. It is great on its own but it melts beautifully as well making it perfect for cooking.
Grana Padano: this is commonly mistaken for Parmigiano-Reggiano for folks who are not cheese experts as the texture and flavor is similar, however, it's much less expensive.
Aceto Balsamico: The balsamic vinegar from Modena is world-renowned, sweet and dark, almost like a syrup. Grape juice is slowly aged through a slow process of acidification, periodically moving the juice from one wooden barrel to another which helps to define its flavor and develop its depth. The process is one of a kind, worth a visit if you can swing it! It makes a great gift or souvenir!
Riso: In the furthest eastern tip of Romagna next to Veneto the conditions are ideal for growing rice, in particular Arborio, Baldo, Volano and Carnaroli. In fact, it's from here that we start to see a big change in the Italian diet: much more rice and much less pasta.
Castagne: the reason the soil of the Pianura Padana is so fertile is because of the coastal breeze and the rich sediments from the Po river. It's here that chestnuts, sometimes called marroni in Italian, grow in abundance. If you are visiting the region in the fall be sure to buy some from one of the many street vendors selling freshly roasted chestnuts.
Foodie Experience: Consider the triad of all tours in Emilia-Romagna of prosciutto, balsamic vinegar and parmesan cheese. Read more all about this experience in Italy Foodie Bucket List – 17 Amazing Italian Culinary Experiences by Region
Cured Meats
Prosciutto Crudo di Parma: this cured meat takes the cup. It's simply the best, hands down. No arguing. Period. is considered the "king" of salumi. The quality meat and the natural aging process is key to how this delicate prosciutto is cured and dried, making for an almost sweet, less salty prosciutto than other Italian varieties such as prosciutto toscano.
Salame di Felino: this pork sausage is made from locally-reared pigs feeding on nothing but the local acorns that grow in their pastures. How is that for farm to table!
Salama da Sugo: this intensely flavored salami is made exclusively in the province of Ferrara with a mixture of various cuts of pork including the neck, belly, liver and tongue. The meat is seasoned with salt, pepper, cloves, nutmeg, cinnamon and red wine before being stuffed into natural pork casings and left to age for 6-9 months. You can either get this cruda (raw) or cotta (cooked).
Coppa Piacentina: made exclusively in Piacenza from pork, this cured meat has a very strong flavor and is quite salty.
Culatello di Zibello: this is considered one of the kings of cured meats. It's made from pig thigh and seasoned with salt, pepper, garlic and white wine. To really get an appreciation for this delicacy we recommend you eat it alone or with a crusty piece of bread.
Spalla cotta di San Secondo: although not a cured meat, it is worth mentioning: this soft and velvety meat is made from slow-cooked pork shoulder seasoned with herbs and spices, either served hot or cold.
Mortadella di Bologna: this is essentially bologna deli meat but fancy, locally made in the old way spiced with either peppercorns or pistachios. I never liked a bologna sandwich growing up in Massachusetts but I absolutely love mortadella today! 
Learn More: You may want to read Is Prosciutto Raw? and Prosciutto Crudo vs Cotto.
Traditional Food of Emilia-Romagna FAQ
Can I bring Parmigiano-Reggiano back home with me? 
If you are flying to the USA you can bring cheese back with you from Italy as long as it is vacuum packed. 
Can I bring fresh pasta such as tortellini back home with me?
Unfortunately if you are flying outside of the EU you cannot bring fresh pasta home. It also wouldn't travel well even if you could because it needs to be refrigerated. 
Can I bring prosciutto home with me?
Probably not – check your country's department of food and agriculture website.
What are good gifts to bring back from Emilia-Romagna?
There are several great gift options to bring back the flavors of Emilia-Romagna:
Parmigiano-Reggiano (or any cheese)
Balsamic vinegar of Modena
Carnaroli Rice 
Salt from Cervia
Nocino liquore from Modena
Olive oil from Brisighella