Are you curious to know what an authentic Easter celebration looks like? Are you wondering what kind of Italian Easter food we eat here in Italy?
I can guarantee you that in Italy, this holy Sunday involves a lot of eating, starting from early in the morning with chocolate eggs for kids and finishing with an afternoon of traditional Italian Easter food.
I have been celebrating Easter in Italy for close to fifteen years now with my Italian family in Southern Tuscany. We are always with our family but it's also tradition in Italy to celebrate with your closest friends as well.
And of course, there is no proper celebration in Italy without a good amount of authentic Italian food. In this article, I am going to describe the most authentic, traditional Easter food that you'll find on a table in Italy.
Whether you are looking to bring a little corner of Italian Easter to your part of the world or you will be in Italy next Easter, you are in the right place. Many of these foods can be purchased from bakeries and other eateries in Italy during the Easter festivities, so don't miss out!
Italian Easter Antipasti
Antipasti or appetizers are served at the table in a formal setting but on Easter in Italy, they are often served with an aperitivo standing before the meal starts.
Uova Sode
Known as le uova benedette in Italian, it's an Easter tradition in Italy to make hard boiled eggs and have them blessed. Usually this happens on the Saturday before Easter Sunday and are then either eaten for breakfast or as an appetizer before Easter lunch.
Historically, these eggs were never colored but nowadays, I see more and more Italian families dying their eggs, similar to American traditions.
Torta Pasqualina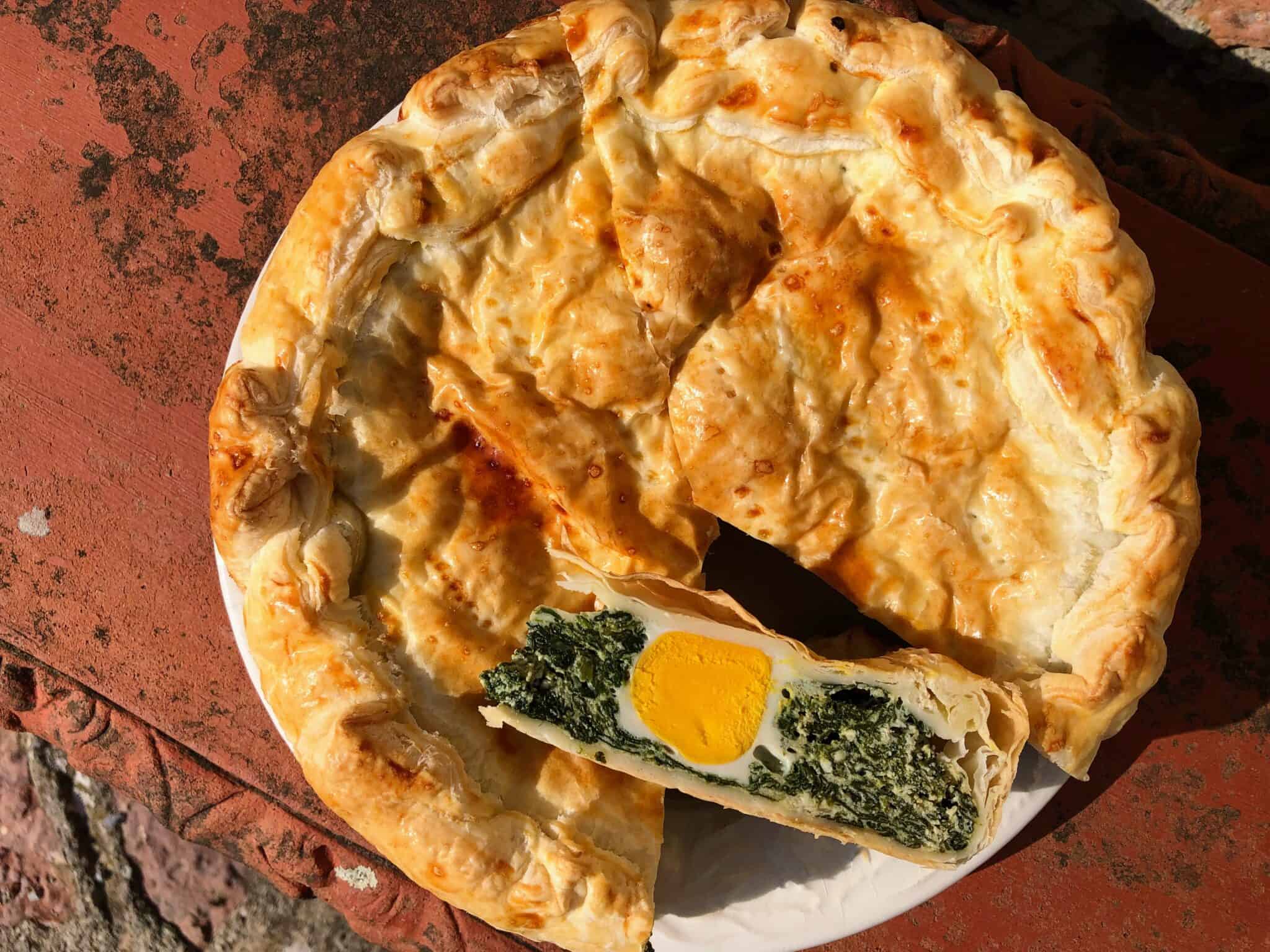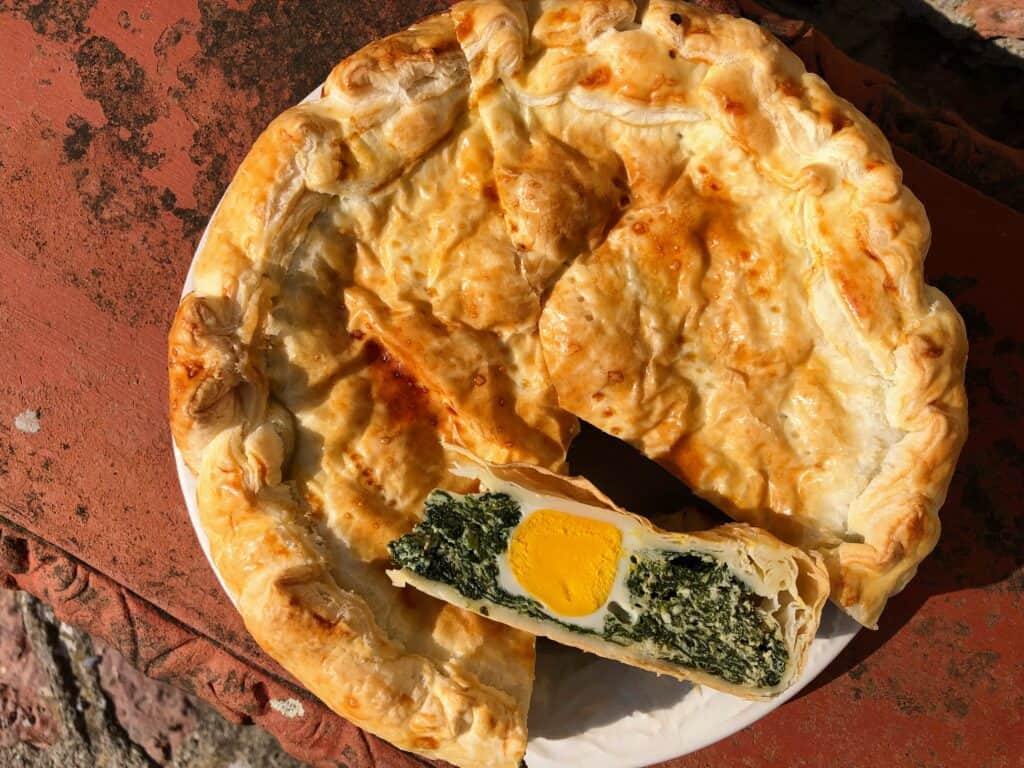 Pronounced tohr-tah pah-skweh-lee-nah in Italian.
Torta Pasqualina is a savory pie or quiche originating in Liguria filled with a ricotta and spinach mixture. Torta Pasqualina is a beautiful cake with a surprise inside. Any guesses? Whole hard boiled eggs, making for a unique presentation.
The original recipe is made with 33 sheets of puff pastry in celebration of Christ and 7 eggs, symbolizing the rebirth of life, the return of spring, and conquering death.
Make It: Add Torta Pasqualina to your Easter feast this year. Follow our step-by-step instructions for Italian Easter Pie Recipe – Our Family's Torta Pasqualina
Rafanata
Pronounced rah-rah-nah-tah in Italian.
Rafanata is a large egg omelet made from potatoes, pecorino cheese and grated horseradish (known as 'poor man's truffle in Southern Italy) served as an appetizer at Easter in Basilicata.
Crescia Al Formaggio
Pronounced creh-shah ahl fohr-mahj-joh in Italian.
Crescia al formaggio is a traditional savory Easter bread made with cheese. Historically, this bread comes from Marche and Umbria but today, it's common throughout the peninsula and always shows up at our Easter table as well.
The type of cheese used in the bread will be regional but classics include pecorino cheese, parmigiano cheese and scamorza.
Salsiccia Secca
Pronounced sahl-seech-chah sehk-kah in Italian.
Salsiccia secca is a small sausage enjoyed in Umbria throughout the entire year but it's tradition to serve it on a charcuterie board during the Easter festivities. You will often find it paired with crescia al formaggio.
Casatiello
Pronounced cah-sah-tee-ehl-low in Italian.
Casatiello is one of the most iconic Italian Easter foods from Campania made from a simple bread dough filled with various cured meats such as salami, ham, prosciutto, pancetta and cheese, rolled and baked in a ring mold. The bread is decorated with hard-boiled eggs and lattice strips of dough before being baked.
Pizza Rustica
Pronounced peetz-zah roo-stee-cah in Italian.
Pizza rustica is more of a savory pie than a pizza from Basilicata filled with eggs, cheese and cured meats. Pizza Rustica is actually made on Good Friday but sometimes, it will show up on the Easter Sunday lunch table as well.
Picone
Pronounced pee-choh-nee in Italian.
Piconi are a savory version of calcioni from Le Marche, made with a filling of eggs, Parmigiano Reggiano), pecorino cheese, lemon zest, salt and pepper.
Italian Easter Food – Secondi
Abbacchio
Pronounced ahb-brahk-keeoh in Italian.
Abbacchio, from Lazio, is a dish that is reserved for Easter made from very young lamb fed solely on mother's milk and slowly stewed with rosemary, sage, garlic, white wine, vinegar and anchovies and served with roasted potatoes. This is a really delicious dish but don't expect to find this recipe outside of the region in Italy.
Cutturiddu di Pecora
Pronounced coot-too-reed-doo dee peh-cohr-ah in Italian.
This is a typical way to prepare meat for the Easter holidays originating from Basilicata. This one-pot dish is made from mutton that is slowly stewed with onions, tomatoes, peppers, potatoes, celery and garlic until the meat has tenderized and the vegetables are falling apart.
Stracotto
Pronounced strah-coh-toh in Italian.
Stracotto is not an Easter specific dish but it's a common beef stew that is often served in Italy to people who don't like lamb. Beef is slow cooked in red wine, soffritto and lots of herbs until fork tender. It's best made a day ahead.
Italian Easter Food – Sides
Asparagi Con Bozner Sauce
Pronounced ah-spahr-ah-jee cohn bohz-nehr saws in Italian.
Wild asparagus grows everywhere in Northern Italy in the Spring. If you can get your hands on it, it's really something special. This Italian Easter food is a common side dish from Trentino-Alto Adige made from steamed asparagus served with an egg-based sauce, similar to Hollandaise sauce.
Asparagus in general are a common vegetable served on Easter because this is when they are in season.
Puntarelle
Pronounced poon-tah-rehl-leh in Italian.
Puntarelle are a type of chicory that is enjoyed most typically throughout Southern Italy. In Rome, a popular Italian Easter salad made from puntarelle is spiced up with a sauce made from anchovies, garlic and lemon juice, known as puntarelle alla Romana.
Carciofi
Pronounced cahr-choh-fee in Italian.
Artichokes that are cleaned, chopped up and sauteed in olive oil or butter is one of the more popular Italian Easter foods. The exact recipe will depend on the region you are visiting but common recipes include:
Carciofi fritti – fried artichokes
Carciofi alla romana – stewed whole artichoke hearts from Rome
Carciofi saltati – sauteed artichoke hearts
Piselli Freschi
Pronounced pee-sehl-lee freh-skee in Italian.
Fresh peas are one of Italy's most beloved spring crops. The season is short, just a couple of weeks, so if you are lucky enough to be in the right region where the pea season crosses paths with Easter, they will certainly be on the table for Lunch. Oftentimes, you will see them more than once, first in an appetizer and then in a pasta or risotto, for example.
Make Them: In Tuscany, peas and prosciutto are the most popular method for preparing peas. Try my recipe for Piselli alla Fiorentina.
Italian Easter Desserts
Italian Easter desserts are definitely the most interesting aspect of Italian Easter foods. They are one-of-a-kind, not found anywhere else in the world!
Colomba
Pronounced coh-lohm-bah in Italian.
The colomba, meaning dove, is a sweet bread from Lombardy made from a brioche-like dough shaped like a dove and covered with a crisp sugar and almond topping.
The dough is flavored with either lemon zest or candied fruit. It's similar to the panettone but doesn't always have the candied fruit and raisins. At most, it might have candied orange peel.
Bring It Home: If you are in Italy during Easter, this is a must purchase item to bring home with you as a souvenir or gift. Just like panettone and pandoro, colomba is best from a bakery or artisan made from a small alimentari (grocery store). You can, however, buy commercial brands at supermarkets as well.
Focaccia Veneta
Pronounced foh-kahch-chah veh-neh-tah in Italian. M
Focaccia Veneta is a sweet brioche-like bread characterized by its long baking process and proofing (five of them!). Look for this Italian Easter food if you are in the Veneto region in the Spring.
Pastiera Napoletana
Pronounced pah-steehr-ah nah-poh-lee-tah-nah in Italian.
Pastiera Napoletana is a sweet shortcrust pastry pie baked with a filling made from cooked wheat, eggs, ricotta cheese, and flavored with orange or lemon zest. Although originally from Naples in Campania, this Italian Easter dessert has slowly gained popularity throughout Italy and shows up from time to time in other Italian regions as well.
La Pupa e il Cavallo
Pronounced lah poo-pah eh eel cah-vahl-loh in Italian.
La Pupa e il Cavallo is perhaps my favorite of all the Italian Easter foods although still very regional to Abruzzo. You won't find it in any other region.
It's made from two big cookies. The first, la pupa, is the shape of a girl and il cavallo is the horse-shaped cookie. Traditionally little girls are given la pupa and little boys il cavallo on Easter Sunday.
Brazadèla
Pronounced brah-zah-deh-lah in Italian.
Brazadèla is a traditional ring-shaped pound cake from Emilia-Romagna. Although it's tradition to serve this simple Italian Easter food for the holidays, Italians enjoy this ciambella year round for a snack or for breakfast.
Agnello Pasquale
Pronounced ahn-yehl-loh pah-sqwahl-eh in Italian.
Agnello pasquale is a sweet cake made from almond and pistachio meal from Sicily and flavored with either lemon zest or vanilla. It's baked in a lamb-shaped cake pan and decorated with buttercream.
Fiadone
Pronounced fee-ah-doh-nee in Italian.
Fiadone, from Abruzzo, are made from little dough balls filled with a cheese center, either sweet or salty and baked until golden. I prefer the savory ones but our dear friend, Brunilde, from Abruzzo always makes the sweet ones for Easter.
Sgute
Pronounced sgoo-teh in Italian.
Known in many different ways in the local dialect, sgute is a sweet brioche bread encasing at least one hard-boiled egg in the shape of a handbag, or some other festive shape such as a bunny. I have never seen this Italian Easter food outside of Calabria.
Ginetti
Pronounced jee-neht-tee in Italian.
Ginetti are Easter cookies that are also made for other festivities such as weddings. They are flavored with either anise seed or lemon and double baked before being finished with a lemon glaze.
Other Italian Easter Food
Coratella
Pronounced cohr-ah-tel-luh in Italian.
This is Abruzzo's way of using every bit of the lamb that was slaughtered for Easter. All the innards are pan fried with onions and sometimes eggs before being served for breakfast on Easter morning.
Dolcini
Dolcini means 'sweet' or 'small desserts' in Italian and here I am talking about all the small Easter candy, sweets and chocolates that start to crop up in candy shops, bakeries and grocery stores in Italy around Easter time.
This means cookies that are decorated like eggs, small bunny and lamb shaped chocolates and little egg candies, all of which are used as table decorations and handed out to children during the Easter spring break.
This also includes the small chocolate covered almonds that are often sugar-coated in pastel colors that you will see everywhere in the weeks leading up to Easter in Italy.
Uovo di Pasqua
Pronounced oo-oh-voh dee pah-skwah in Italian.
L'uovo di Pasqua is a large hollow chocolate egg, filled with smaller individually wrapped chocolates and sometimes a little sorpresa or surprise gift.
They vary in size, some as small as your hand and some as big as a stool. Others are made with dark, artisan chocolate for adults while childrens eggs are made from milk chocolate and often contain a small toy.
It's tradition to give these to people on Easter, especially if you are a guest at someone's home for lunch, along with a colomba cake.
How To Plan Your Italian Easter Foods For A Meal
Are you interested in creating an Italian Easter feast for your friends and family? It's totally possible outside of Italy but it will take some planning, pre-baking and plenty of hungry mouths.
Below, I am providing a sample traditional Italian Easter menu with broad ideas about how and when to serve Italian Easter foods.
Aperitivo And Appetizers (Antipasti)
Italians will always have a small aperitivo including something light to drink and some nibbles before they sit down at the table for their large meal.
Image setting up a buffet-style table with a combination of the following Italian Easter foods to serve as appetizers before the meal:
Torta pasqualina pre-sliced into small wedges
Hard-boiled eggs (the blessing is optional!)
Cheese platter
Crescia al formaggio cut into pieces
First Course (Primo)
Italians will always have a first course at their Easter lunch. Sometimes this might be a soup, other times a baked pasta or a rice dish. My family usually does a lasagne but choose from any of the following:
Lasagne bolognese – traditional meat ragù lasagne
Lasagne al pesto – pesto lasagne
Risotto primavera (with asparagus, peas and artichokes)
Pasta al forno (baked pasta with bechamel sauce and other ingredients such as sausage, vegetables or meat sauce).
Second Course (Secondo) And Sides (Contorni)
Traditional second courses on Easter are most likely going to be made from lamb, rabbit or some kind of veal. My Italian family always serves a lamb stew and a beef stew because half of the family doesn't like lamb.
Fact: It's not uncommon to serve more than one secondo on holidays in Italy.
Fish is not served as a second course on Easter in Italy but rather, eaten on Easter Friday.
Pair your stewed lamb or beef with any of the following traditional Italian Easter food sides:
Fresh spring peas
Grilled or boiled asparagus
Sauteed artichokes
Roasted potatoes
Desserts (Dolci)
Many of the greatest Italian Easter foods are desserts. At our Italian Easter, we would often serve a buffet of several Italian Easter desserts, not just one, including:
Colomba
Chocolate eggs
Crostata
Easter Cookies
Pastiera Napoletana
Coffee and Digestivo
And of course, you can bet that Italians will be finishing their Italian Easter meal with a coffee, an espresso to be precise, and perhaps an ammazzacaffè or a digestivo, an after-dinner (or in this case, lunch) drink.
When Do Italians Eat Their Easter Meal?
Italians usually eat their largest meal at Lunch on the weekends and this is particularly true on Easter. It might be a late lunch, between 1:30 and 2:30 pm, but once they sit down, it will last a couple of hours as they make their way through multiple courses.
Do Italians Eat Every Course At An Easter Meal?
While many Italians have strayed from the multicourse meals on a daily basis for a lack of time, I can guarantee you that holidays in Italy are the moments when Italians won't be skipping anything on the menu!
On Easter Sunday, Italians not only eat a full course meal including primo, secondo, contorno and dessert but they will also eat a large antipasto or other snacks with their aperitivo or pre-meal drink.
Italian Easter Food Traditions For Children
So does the Easter bunny come to Italy? Not really. No such thing. Instead, every year, children are given a large chocolate egg, varying in size (and quality for that matter) filled with more chocolate and usually a toy.
They are usually quite large, at least as big as your head but they may be even bigger! I have seen some of these chocolate eggs as big as a chair before.
While these eggs are traditionally given to children, they are today given and eaten by adults as well.
You can buy commercial brands at grocery stores of these large uova di Pasqua from Kinder, Novi and Lindt but I recommend the artisan brands such as Venchi and Vestri if you are traveling in Italy.
Tip: Look for artisan made uove di Pasqua at small alimentari or family-run groceries or bakeries!