Last updated on June 3rd, 2023
Do you eat a gluten-free diet and have concerns about eating gelato in Italy? If so, it's important to know what the risks are when eating gelato in Italy (with gluten and cross-contamination).
Whether you have a serious allergy or just prefer to stay away from gluten, here's all you need to know about what to avoid in Italy when it comes to gelato, what to look for and where to go.
In this guide:
provide the definition of gluten-free gelato in Italy
explain how to avoid cross-contamination
tell you where to safely eat gluten-free gelato in Italy
provide a comprehensive Italian vocabulary list with helpful phrases to navigate ordering gluten-free gelato in Italy
Is Gelato In Italy Gluten Free?
Italian gelato is made from a base of milk, sugar and fruit or other flavors such as chocolate or coffee. Thus, gelato by nature is gluten-free unless it's made with added ingredients that contain gluten such as cookies or cake. Although gluten-free, gelato is not dairy or lactose-free.
Fact: Italian gelato is not a high-risk food when it comes to cross contamination and allergens for gluten-free folks.
Many gelaterias, however, are not gluten-free establishments and sell gelato flavors that have been made with gluten or processed in the same machinery.
Cones are also generally made with gluten so be sure to ask for your gelato in a cup.
How To Ensure Your Italian Gelato Is Gluten Free
The best and only way to ensure your gelato is going to be 100% gluten-free and without risk of cross-contamination is to visit a gluten-free gelateria. In these facilities, gluten is not at all used in any of the flavors and the cones and any cookie ingredients are made with gluten-free products (such as amaretti cookies).
To find out if a gelateria is a gluten-free facility, call prior to visiting or ask upon arrival.
La vostra gelateria è completamente senza glutine?
Is your entire gelateria gluten-free?
If you are touring and in need of a cool treat, look for words such as senza glutine advertised outside the gelateria. Usually if a gelateria advertises that they are gluten-free, it means the whole establishment is gluten-free as well, not just certain flavors.
Does Gluten Free Gelato Taste Good?
Because Italian gelato is naturally gluten-free, it's just as good as other gelato flavors. Italian gelato is slow churned, making it richer and denser when compared to ice cream. Gluten-free gelato is no different.
Italian sorbetti and granite are also gluten-free, made with a base of sugar, water and most commonly fruit. Sorbetto is not only gluten-free but also dairy and lactose-free as well. 
Where To Find Gluten Free Gelato In Italy
You can find gluten-free gelato in all gelaterias even if the premise isn't gluten-free. If you have a serious allergy, consider a gluten-free facility.
The Best Gluten Free Gelaterias In Italy
Most major cities in Italy have gluten-free gelaterias where you will find no risk of cross-contamination. If they serve cones, they will be made without gluten. Here you will find my picks for the best gluten-free gelaterias in Italy:
All Of Italy
Including multiple locations in Milan, Rome, Florence and Venice
Grom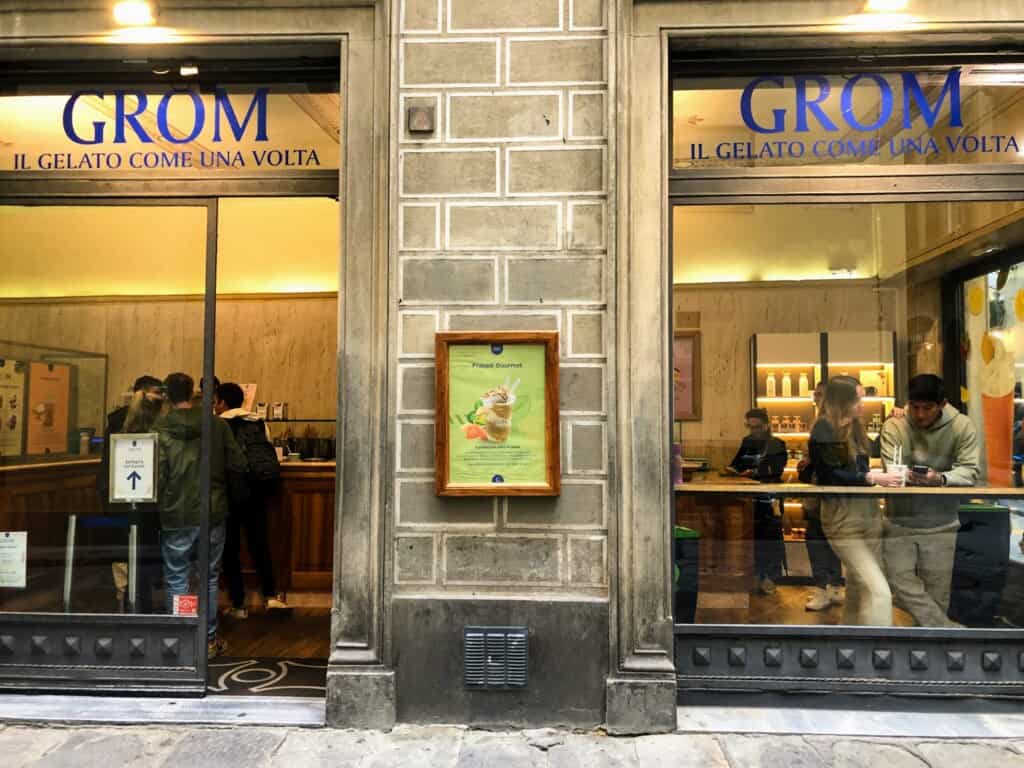 Grom is a gelateria chain in Italy that is not only one of the best out there but also gluten-free as well. All their cones and flavors are made without gluten. Their flavors change daily and they can also make you a milkshake if you want!
Good To Know: Grom is located in every major city in Italy, usually with a great location. If you can't find a small, artisan gelateria near you, you know you can count on Grom.
Rome
Fatamorgana
Via Lago di Lesina 9/11, Rome
Fatamorgana is a local chain in Rome but this doesn't mean the quality is at all compromised. The original location is downtown near Piazza del Popolo. I suggest this gelateria for gluten-free folks who love innovative gelato flavors. Here, the flavors change based on what is popular at the time, always staying trendy while at the same time, offering the most classic flavors everyday.
Florence
La Sorbettiera
Piazza Tasso, 11r. +39 055.512.0336
Although a bit off the beaten path, la Sorbettiera is worth the short walk Oltrarno past Piazza del Carmine. I suggest making a night out of it by eating at one of the many small, authentic trattorie speckled along the side streets such as Pandemonio di Casa Brogi and eating gelato for dessert.
See all of my Florence favorites in my guide to the Best Gelato in Florence!
Venice
Gelateria Nico
Fondamenta Zattere Al Ponte Lungo, 922, Venice +39 041 522 5293
Gluten-free gelato on a waterfront? Why not! They make not only a variety of gluten-free flavors but also other frozen treats that are perfect for the summer heat such as popsicles.
Popular Gluten Free Gelato Flavors
Choose gelato flavors that don't have cake or cookies for gluten-free options. You will notice that most popular gelato flavors are indeed made without gluten.
For a full list read Italian Gelato Flavors.
Most popular naturally gluten-free gelato flavors:
| | | |
| --- | --- | --- |
| Italian Gelato Flavor | Pronunciation | English Translation |
| Cioccolato fondente | chohk-koh-lah-toh fon-dehn-teh | Dark chocolate |
| Cioccolato | chohk-koh-lah-toh | Chocolate |
| Bacio | bah-choh | Hazelnut chocolate |
| Gianduja/Gianduia | jahn-doo-yah | Nutella |
| Stracciatella | stratch-chah-tehl-lah | Chocolate Chip |
| Fiordilatte | feeoh-dee-aht-teh | Milk |
| Crema | kreh-mah | Cream |
| Amarena | ah-mah-reh-nah | Swirled sour cherry |
| Caffè | kah-feh | Coffee |
| Pistacchio | pee-stahk-keeoh | Pistachio |
| Mandorla | mahn-dohr-lah | Almond |
| Nocciola | nohch-chyoh-lah | Hazelnut |
| Fragola | frah-goh-lah | Strawberry |
| Lampone | lam-poh-neh | Raspberry |
| Pesca | peh-skah | Peach |
| Limone | lee-moh-neh | Lemon |
| Frutti di bosco | froo-tee-dee-boh-skoh | Mixed berry or blackberry |
| Fico | fee-coh | Fig |
Gelato Flavors With Gluten
Some Italian gelato flavors are made with cookies or cake. When this happens, the flavors are no-longer gluten-free. Stay clear of the following flavors unless you are in a gluten-free facility.
Flavors of gelato that are not gluten-free:
gelato al biscotto (ai biscotti) – made with cookies
zuppa inglese – with sponge cake
cookies – made with cookies
cantucci – made with tuscan cookies
How To Order Gluten-Free Gelato In Italy
Usually you will be asked to pay for your gelato before you order your flavors in Italy. This is not always the case though so just follow the crowd!
For detailed instruction read our full guide on How To Order Gelato In Italy – Step-by-Step Guide + Tips
Choose whether you want a cup or cone.
Pick a size (scoops/flavors)
Pay at the register and hold onto your receipt.
Head to the gelato counter (if different) and give the receipt to the server.
If you are not in a gluten-free facility, repeat that you are gluten-free to ensure they don't use a serving spoon that was in another flavor with gluten (gelato flavors usually have their own scoop though).
Non posso mangiare glutine. Vorrei cioccolato e fragola, per piacere.
I cannot eat gluten. I would like chocolate and strawberry please.
Choose your flavors
Enjoy!
Tasting Etiquette: You can certainly try a gelato flavor before committing to it but it's not really good practice to try more than one.
Alternatives to Italian Gelato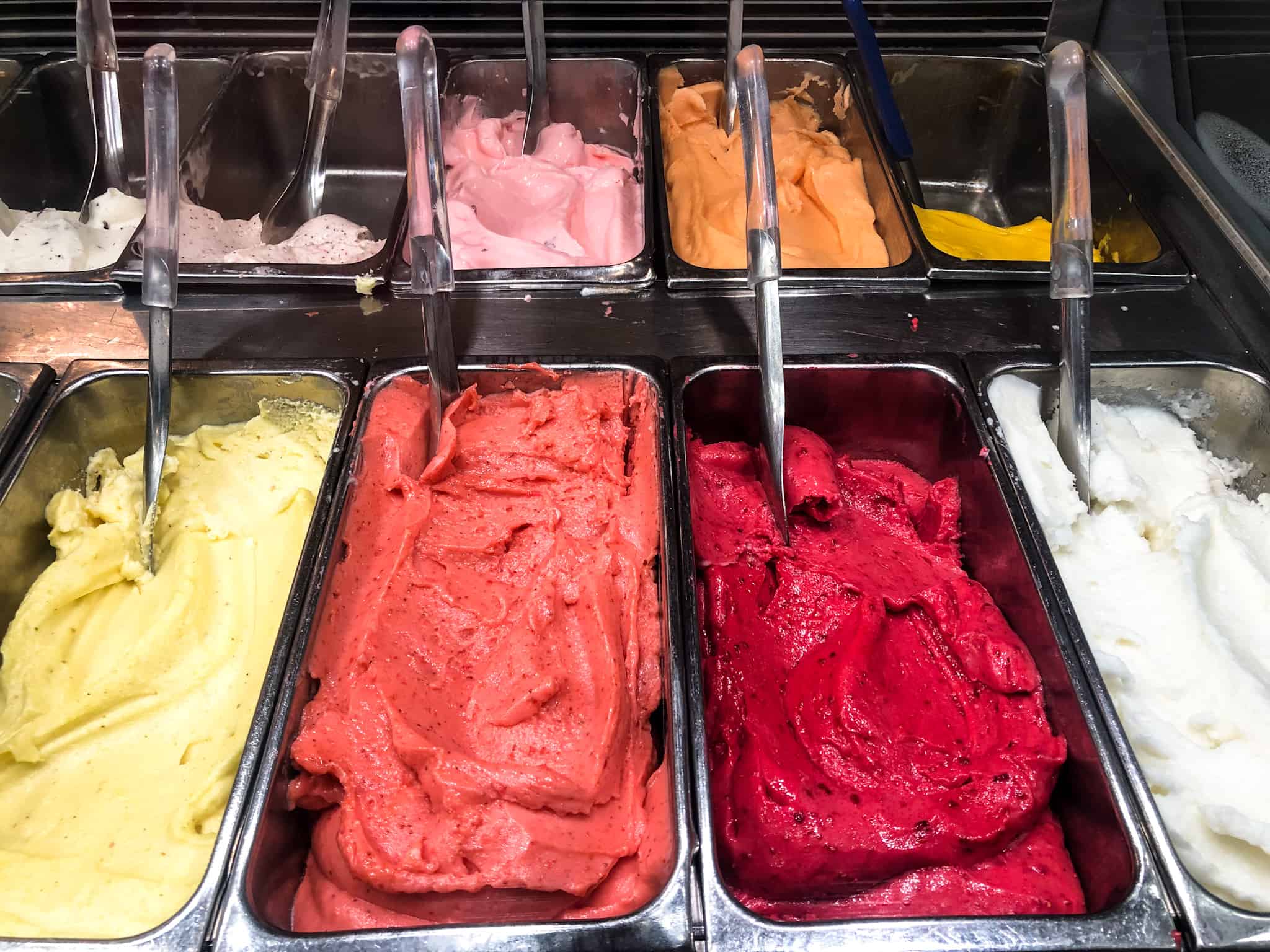 Many gelaterias also serve sorbetto and granita, both naturally gluten-free made with a base of sugar, water and most commonly fruit (but also with chocolate and coffee).
You can also order cremolata in some gelaterias but this is less common. You will more likely come across cremolata in bars where you can sit down because it's usually served in a dish and eaten with a spoon.
Tips For Eating Gluten Free Gelato In Italy
Follow these tips for ensuring a positive gluten-free experience when eating gelato in Italy.
Ensure the facility is gluten-free by calling or looking online prior to going out of your way.
Look for words like senza glutine when looking for a facility.
Order gelato in a cup if you are not in a gluten-free facility.
Stay away from any cookies that they might put on top of your gelato when you are not in a gluten-free facility.
Be sure to mention that you are gluten-free if you are concerned about cross-contamination in a regular gelateria. For example, some gelaterias use scoops that are rinsed each time before scooping gelato again. If you are gluten-free, this is risky.
Look for notices or allergy signs in the gelateria to read more about what is in each individual gelato flavor.
Helpful Vocabulary For Eating Gluten Free Gelato In Italy
| | | |
| --- | --- | --- |
| Italian | Pronunciation | English Translation |
| Vorrei… | Vohr-reh | I would like… |
| in un cono | een oon coh-noh | in a cone |
| in una coppa | een oonah cohp-peh-tah | in a cup |
| un gusto | oon goo-stoh | one flavor |
| due/tre/quattro gusti, tre gusti | doo-eh/treh/qwaht-troh goo-stee | two/three/four flavors |
| Posso assaggiare il cioccolato per favore? | poh-soh ahs-sahj-jah-reh eel chohk-koh-lah-toh pehr fah-voh-reh | May I please try the chocolate? |
| grazie | grah-zee-eh | thank you |
| per favore | per-fah-voh-reh | please |
| senza glutine | sen-zah gloo-tee-neh | gluten-free |
| Non posso mangiare glutine | nohn pohs-soh mahn-jah-reh gloo-tee-neh | I cannot eat gluten |
| Ho un'allergia al glutine | oh oon-ahl-lehr-jeeah ahl gloo-tee-neh | I have an allergy to gluten |
| celiaco | ceh-leeah-coh | celiac |
| vegano | veh-gah-noh | vegan |
| senza lattosio | sen-zah laht-toh-seeoh | lactose-free |
Gluten Free Gelato FAQ
Is gelato typically gluten-free?
Artisan gelato is typically gluten-free unless you are ordering flavors with cookies and cake. The original Italian recipe for gelato is made with milk, sugar and flavorings such as chocolate or fruit but no wheat or gluten is added. 
Is gelato dairy-free and gluten free?
Gelato is not dairy-free because it's made with milk, which is a dairy product. Gelato is, however, gluten-free unless made with added cookies or cake. 
Is gelato gluten-free in Italy?
In Italy, yes, gelato is gluten-free unless you are ordering flavors with cake or cookies in them. If you have a serious allergy, consider a gluten-free facility as there is a slight risk of cross-contamination in gelaterias.