Last updated on November 20th, 2023
Are you wandering around after visiting the Uffizi Gallery, wondering where to find the best gelato in Florence? If you've done your research, you probably noticed the list is never-ending and it seems impossible to choose. Perhaps you are afraid of getting tricked or drawn into a tourist trap.
I am here to help! I have lived here for over a decade, so it's fair to say I have eaten my fair share of gelato in Florence. And I can say, I have had it all – from bad and trendy, to mediocre and fabulous.
In this guide, I will share with you my top picks for the absolute best gelato in Florence based on my first-hand experience and years of gelato eating failures and triumphs. I will also provide you with some initial useful information about ordering and identifying good gelato in Italy.
I will also include honorable mentions at the bottom that aren't my absolute favorite but deserve a shout out because of their quality gelato in a convenient and popular location, which is always welcome when touring the most crowded areas.
The Difference Between Gelato And Ice Cream
On first notice, they may seem similar but there are some major differences between Italian gelato and ice cream.
Gelato compared to ice cream:
Has less fat, about 4-8% compared to 14%
Is made with milk, not cream
Is usually made without eggs
Is slow-churned, creating a dense finished product
Is softer because it's stored at higher temperature
To know more about all Italian frozen treats, read about The Differences Between Gelato, Ice Cream, Sorbet, Cremolata and Granita.
How To Find Quality Gelato In Florence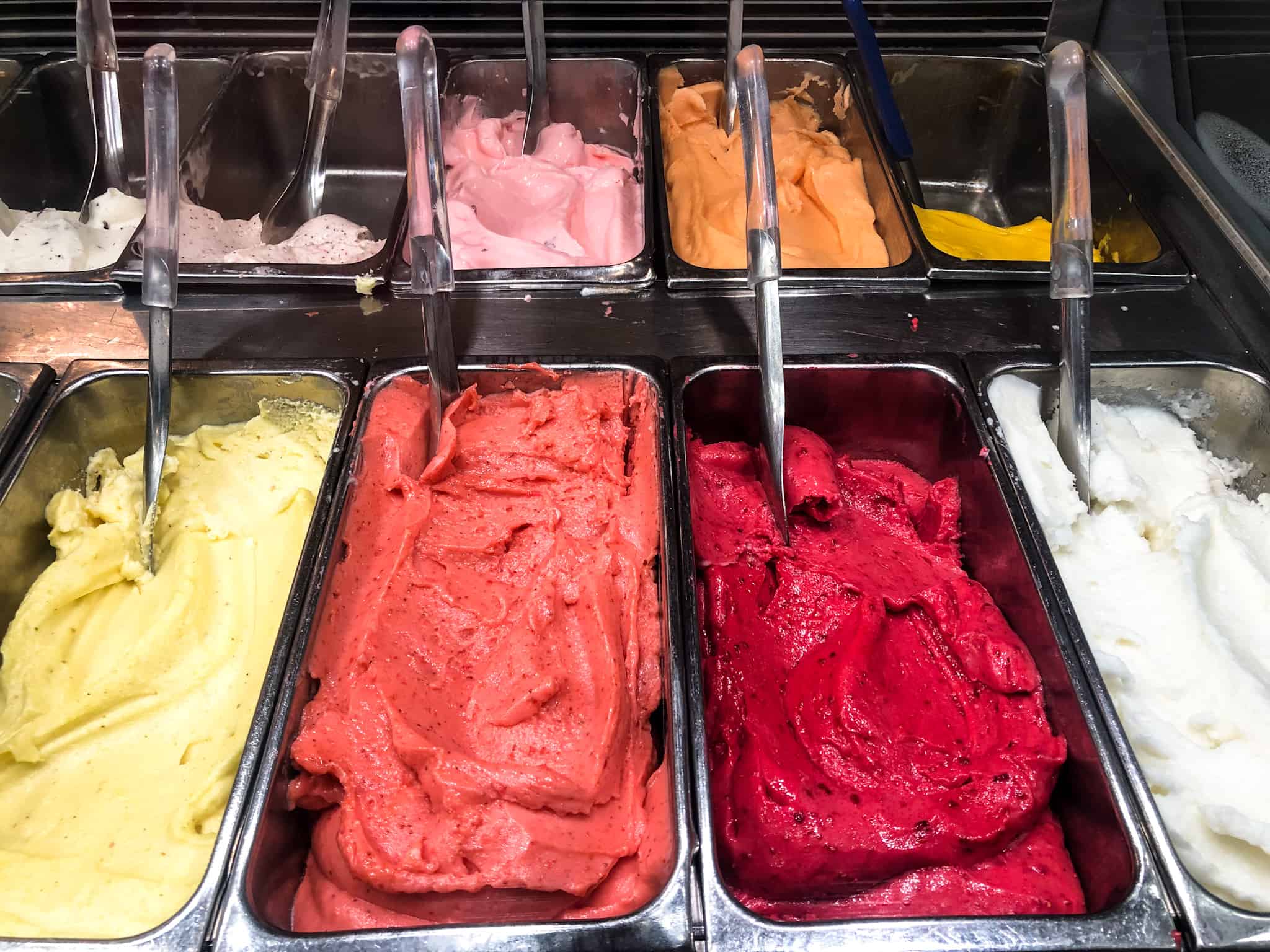 Worried about eating bad gelato in Italy? It can happen, I have done it! Keep these things in mind and trust me, you won't ever eat bad gelato again!
Keep these points in mind when looking for quality gelato:
Look for dull, muted colors (not bright, neon ones)
Avoid mounds of gelato
Avoid large tubs or containers of gelato
Look for aluminum containers, preferably with lids
Look for seasonal flavors
Look for words such as gelato artigianale or fatto in casa (artisan made or hand-crafted)
A line is generally a good thing
Ask a local for their recommendation
For a detailed explanation of these tips, read about How To Identify Quality Gelato In Italy.
Gelato Flavors To Try In Florence
Here is a list of the best flavors to try in Florence. Most of these flavors can be found throughout Italy but the ingredients in these gelati either grow well here in Tuscany or they are signature flavors.
Buontalenti: the signature flavor of Florence named after Bernardo Buontalenti, the Florentine who invented gelato. Badiani has the absolute best.
Crema: cream, a classic Italian favorite, made with eggs.
Fiordilatte: if you really want to tell if a gelateria is good, try their sweet milk gelato which will use only the best quality milk, often from Maremma in southern Tuscany
Fragolina: made from small, wild strawberries only available from April-June. Vivoli has the best.
Fichi: figs are a staple in Tuscany from the summer through early fall.
Melone: melon sorbetto in Florence is some of the best I have ever had in Italy
Ricotta con fichi e miele: ricotta is a sheep's milk cheese and we love our sheep cheese here. Don't miss this gelato flavor made with figs, ricotta and local honey.
For a full list of gelato flavors, read Italian Gelato Flavors.
The Best Gelato in Florence
| | | |
| --- | --- | --- |
| Gelateria | Area Of Florence | Best For |
| Gelateria della Passera | Oltarno (Palazzo Pitti) | Fruit and nut flavors |
| Gelateria Edoardo | Piazza Duomo | Organic gelato |
| Cantina del Gelato | Oltrano (Ponte Vecchio) | Taking kids and pairing with an aperitivo (insert link) on the same square for adults |
| Sbrino | Oltrano (Piazza Santo Spirito) | Farm-to-table gelato |
| Gelateria Dei Medici | Sant'Ambrogio | A large Selection / Frozen gelato treats |
| Gelateria La Carraia | Oltarno (Ponte La Carraio), Santa Croce (second location) | Mousse/semifreddo flavors (insert link) |
| Gelateria Pasticceria Badiani | Campo di Marte (soccer stadium outside city center) | Buontalenti gelato |
| Vivoli | Santa Croce | Seasonal selection, affogato gelato treat (insert link) |
| Vestri | Arco di San Pierino | Chocolate flavors |
| Carabè | Accademia museum | Sicilian flavors/granita |
| La Sorbettiera | Piazza Tasso | Gluten-free establishment |
| My Sugar | San Lorenzo | Small, artisan selection/less crowded |
| La Gelateria | San Lorenzo | Off the beaten track (of the San Lorenzo open air market) |
| Gelateria dei Neri | Uffizi | Large selection of flavors/indoor seating area |
| Grom | Duomo | Gluten-free establishment |
| Venchi | Piazza della Repubblica/Piazza della Signoria (two locations) | Chocolate flavors |
Gelateria della Passera
via Toscanella, 15, +39 055.291882
Gelateria della Passera is definitely one of my all-time favorites in Florence. I sometimes ride my bike from my house 20 minutes away just to get a cone. The short flavor list changes daily, all of which are made from top quality ingredients. I highly recommend the fruit flavors and the coffee gelato.
Good To Know: Craving a caffè instead of gelato? Check out where to find the Best Coffee in Florence.
Located in the beautifully charming Piazza della Passera Oltrarno, you could spend all day here, skipping from one place to the next. Have an aperitivo at Bar Degli Artisti, dinner at Quattro Leoni and gelato here – you won't be disappointed!
Good To Know: The smallest cone only allows you one flavor so ask for the next size up to try two gelato flavors!
Gelateria Edoardo
Piazza del Duomo, 45r. +39 055.281055
Gelateria Edoardo is perhaps my favorite gelateria in all of Florence. It caters to hungry tourists who have just done some serious climbing of the Duomo or bell tower. Centrally located at the back end of the duomo, Edoardo offers some of the best gelato I have had in Italy.
The owners, Julia and Carlo, were borned and raised in Florence so they know what people want when it comes to gelato. All their gelato is organic and the cones are made right in front of you.
Good To Know: Concerned about allergies? Gelateria Edoardo posts a list of what potential allergens are used in their facilities right next to the register for easy access.
Cantina Del Gelato
Via de' Bardi, 31 +39 055 050 1617 (Borgo la Croce, 30r, second location)
From the street, cantina del gelato doesn't stick out whatsoever but upon further investigation, I realized they really had something going for them. While you will always find the classics, they are sure to have fun flavors (insert link) such as ginger, mint and melon. The sorbet (insert link) flavors are super light and refreshing yet flavorful and satisfying.
I also love cantina del gelato because of its location. It's located right on the small square where my kids can run around. Although there are cars, the small space is large enough to play freely. There is also a cute bar right on the same square, making it really convenient for adults who need a little drink!
Good To Know: Be sure to grab one of the seats just outside the window or chill out in the piazza with your kids, allowing them time to run around.
Sbrino Gelatificio Contadino
Via dei Serragli, 32r. +39 055 012 2286
Sbrino is relatively new to the gelato scene in Florence but it has gained traction quickly, despite the pandemic. Firstly, the actual gelateria has a really cool and fun vibe with modern lights and plants growing on the ceiling.
Sbrino is definitely one of the few places that brings us "farm-to table" style gelato with milk made from the family's own cows. When possible, they use ingredients from Tuscany and when they can't, they go for the next best: quality DOP and DOC ingredients from other regions. My boys always get the salted caramel and classic stracciatella but I think the chocolate and original nut flavors are their strong suit.
Good To Know: Sbrino has now opened locations in Via Senese 1R, Piazza Piave 3 (Scandicci) and coming soon to the San Nicolò neighborhood.
Perchè No!
via dei Tavolini, 19r. +39 055.2398969
Meaning 'Why Not?', Perchè No! is one of Florence's oldest establishments. Their dedication to innovation is transparent in flavors like black sesame and current with mint. And the location can't be beat: it's right off the main drag of via calzaiuoli running from Piazza della Signoria to Piazza Duomo.
Good To Know: Perchè No! has a small seating area located right across from the shop. Grab a seat if you see one because they go fast, especially when it's hot!
Gelateria Dei Medici
Piazza Beccaria, 7r. +39 055.3860008
Some of the best gelato in Florence. Originally located outside of the city walls, Gelateria dei Medici made the smart choice to cater to the tourist population as well by opening a second location. Although not directly in town, this gelateria is located close to Sant'Ambrogio market.
Their flavors are made with the freshest and best ingredients with attention to seasonality and innovation. If you are feeling adventuresome, try their ginger or herb flavored gelato, basilico. I really like their nut flavors, especially the nocciola and mandorla.
Good To Know: Gelateria dei Medici has wonderful pre-made frozen desserts to take home and enjoy as well. Both their cakes and fruit-filled sorbets are excellent!
Gelateria La Carraia
Piazza Nazario Sauro, 25r. +39 055 280695/Via dei Benci, 24r. +39 055 241284
Gelato from La Carraia is some of the most beloved gelato by Florentines but from an outsider's perspective it looks a little cheap. There are a ton of flavors, which are sometimes very commercial, the walls are bright yellow and green but I have to admit, the gelato is top notch. The line is always long but it's well worth the wait. Along with your classics, they usually make fun flavors on rotation such as amaretti, cheesecake and after eight.
They are particularly well-stocked with a variety of gelato flavors, sorbet flavors and mousse or semifreddo flavors.
Good To Know: Gelateria La Carraia also has another location close to Santa Croce, which is much easier to get to if you are touring downtown.
Gelateria Pasticceria Badiani
viale dei Mille, 20r. +39 055.578682
Although a good 40 minute walk from the city center, this has been one of my favorites since my college days. This bar and gelateria is known to have the best buontalenti flavor in all of Florence, now made in a lactose-free version as well.
My personal favorite is tangy yogurt gelato with their dark chocolate from Venezuela in a cone.
Good To Know: Badiani has recently opened up a new location in downtown Florence in 14 Via dei Tosinghi open 10:00 pm – 11:00 pm, holding some of the most extensive hours of all the gelaterias in Florence!
Good To Know: Badiani is also a great breakfast bar, offering up delicious pastries, classic Italian espresso and excellent small desserts to bring home.
Vivoli
via Isole delle Stinche, 7r. +39 055.292334
I have an ongoing love story with Vivoli because they catered my wedding with a gelato cart and made my wedding cake. To this day, I eat gelato here as much as possible.
Around since 1929, Vivoli is one of Florence's most famous gelaterias among locals. They are particularly known for their crema, fragolina gelato and affogato (an espresso poured over a scoop of ice cream). If you love your gelato in a cone, however, you are out of luck. Sylvana, the owner, believes that the cone takes away from the flavor of the ice cream. Cups only!
Good To Know: Vivoli is also famous for their bar, offering excellent coffee and budini di riso (small shortcrust pastries filled with rice pudding).
Vestri
Borgo degli Albizi, 11r. +39 055 234 0374
Vestri first started out as a chocolate maker in Arezzo but soon branched out and opened a location in Florence, serving gelato in the summer and hot chocolate in the winter. Their flavors are very limited but oh so good. Their specialties are chocolate-based, made with chocolate grown in their own plantation in South America.
Good To Know: Everything made by Vestri (including chocolates, truffles, candies, gelato, panettone, pandoro) comes from Chocolate grown from their own plantation in South America, a mark of top-quality attention to detail from the initial cocoa bean to the final chocolate bar for sale in the shop.
Carabè
via Ricasoli, 60r. +39 055.289476
Run by Antonio, a Sicilian-born gelato maker of four generations, Carabè doesn't get more authentic and artisan than this. I recommend the fruit flavors and granita – clearly his Sicilian heritage at play. And per Sicilian tradition, you can even get your gelato in a brioche!
My favorite is the agrumi granita, fresh and light, clearly made with only the best citrus around.
Good To Know: Carabè is close to the Accademia in Florence. If you have just spent the entire morning getting your fair share of David by Michelangelo, then you will absolutely want to stop by Carabè for a little treat.
La Sorbettiera
Piazza Tasso, 11r. +39 055.512.0336
La Sorbettiera is another gelateria that doesn't cater often to tourism because of its remote location. This being said, it's a favorite among locals and often flooded in the afternoon when school lets out. Opened by Antonio, this family run gelateria has a long gelato making history, starting in 1934 in Verona. Today, Antonio's brother manages their location in Germany. And if you are too lazy to go out for gelato or have a post-dinner craving in your hotel or apartment, you can order gelato from La Sorbettiera with Foodora and have it delivered to your door!
I suggest dining at Pandemonio di Casa Brogi, saving room for dessert and heading just down the road here for gelato.
Good To Know: La Sorbettiera has a park right across the way, perfect for little kids. There is a small library, Biblioteca Pietro Thouar, with a kids section, great for hiding out on rainy days.
My Sugar
via de Ginori, 49r, +39 393.0696042
My Sugar has been awarded several prizes and 'best of' awards over the course of their relatively short life, making it a popular choice for both locals and tourists alike. I like how innovative they are with their flavors such as olive oil, black sesame and bergamo. Of course, you can also find all the classics made from locally sourced ingredients.
Honorable Mentions For Best Gelato In Florence
La Gelatiera
Via de' Ginori, 21r. +39 055 760 6445
This hole in the wall sticks out with its brightly painted teal shutter doors that open onto the street. This establishment is 100% gluten-free with various vegan and lactose-free flavors. The reason I like La Gelatiera is because you can feel the attention to detail just by looking at the place. The location is also prime, making it one of my top picks for those of you touring around San Lorenzo and need a little gelato pick-me-up.
Good To Know: Nab one of the seats outside but be quick, there is only one small bench with room for two.
Gelateria dei Neri
via dei Neri, 9/11r. +39 055.210034
You can't miss this place: there is always a huge line. This is one of those places that is the exception to the rule 'less favors is better' when identifying quality gelato. They have a ton of flavors, ranging from classics to more international flavors such as salted caramel and cookies and cream. And don't miss their granita, served year-round but particularly refreshing during the summer.
Good To Know: Gelateria dei Neri has a larger indoor seating area than others, making it ideal for rainy or windy days.
Il Gelato Del Filo
Via S. Miniato, 5 +39 055 248 0617
Another hole in the wall, literally. You can't even go in but rather, order at the window and enjoy your gelato on the street. They only ever have a handful of artisan flavors but the location is prime if you are heading up to Piazzale Michelangelo. It's located right at the bottom in the heart of the San Niccolò neighborhood.
Good To Know: You will also come across several small restaurants, bars and sandwich shops in this square. Spend an evening here hopping from one food adventure to another.
Best Gelato Chains In Florence
Sometimes, it's all about location and these chains usually have the best spots in the busiest tourist locations in Italy.
Grom
via del Campanile, 2. +39 055.216158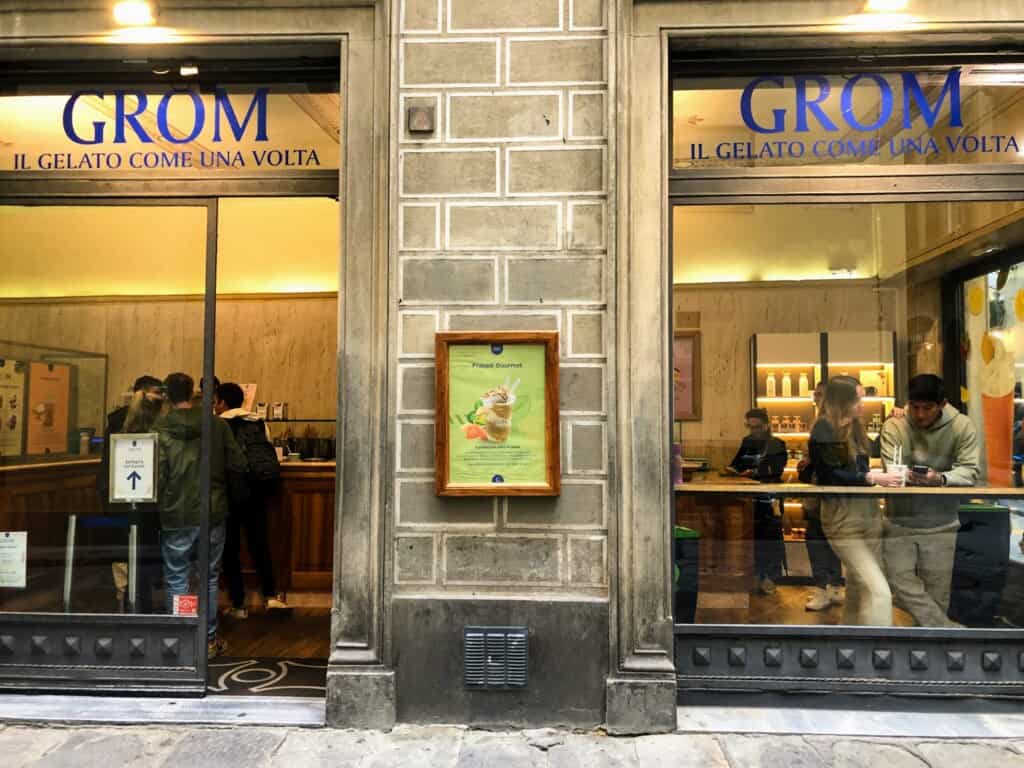 The ingredients at Grom are high quality and the gelato is made on-site. Grom is also a gluten-free establishment so there is no risk of cross-contamination. Anything with cake or cookies, including their cone and cookie flavored gelato is made with gluten-free ingredients. And if you are in the mood for a milkshake, they make this too!
Good To Know: Grom is located just to the right side of the Duomo in Florence (facing it), on a small, shaded side street, making it the ideal location to cool off and hide out from the summer sun.
Venchi
via Calimaruzza, 2-4. +39 055.288505/via Calzaiuoli, 65r. +39 055.264339
Venchi was originally a chocolate brand but soon moved into gelato. The store locations throughout Italy are famous for their 'chocolate wall' made of melted chocolate with which they will dip your cone in if you ask. Their specialty is chocolate so I suggest sticking to the chocolate flavors.
How To Order Gelato In Florence
Although not always the case, most gelaterias have you pay for your gelato before you choose your flavors. If in doubt, watch the people in line in front of you.
For detailed instruction read our full guide on How to Order Gelato.
Choose a cup or cone.
Choose the size (scoops/flavors)
Pay at the register
Bring your receipt to the gelato counter (if different) and give it to the server
Choose your flavors
Tasting Gelato: You can certainly try a gelato flavor in Florence before committing but it's not really acceptable to try more than one at any given time.
Gelato in Florence Helpful Vocabulary
| | | |
| --- | --- | --- |
| Italian | Pronunciation | English Translation |
| Vorrei… | Vohr-reh | I would like… |
| in un cono | een oon coh-noh | in a cone |
| in una coppa | een oonah cohp-peh-tah | in a cup |
| un gusto | oon goo-stoh | one flavor |
| due/tre/quattro gusti, tre gusti | doo-eh/treh/qwaht-troh goo-stee | two/three/four flavors |
| Posso assaggiare il cioccolato per favore? | poh-soh ahs-sahj-jah-reh eel chohk-koh-lah-toh pehr fah-voh-reh | May I please try the chocolate? |
| assaggiare | ahs-sahj-jah-reh | try |
| Dove posso pagare? | doh-veh poh-soh pah-gah-reh | Where do I pay? |
| Quanto costa? | qwahn-toh coh-stah | How much does it cost? |
| grazie | grah-zee-eh | thank you |
| per favore | per-fah-voh-reh | please |
| vegano | veh-gah-noh | vegan |
| senza lattosio | sen-zah laht-toh-seeoh | lactose-free |
Foodie Recommendations: Interested in more Florentine food recommendations? Read Best Coffee In Florence – A Florentine Local's Guide To The Best Cafés In Florence, Best Pizza in Florence, Italy – From a Local and Traditional Tuscan Food – A Local's Tips on Food In Tuscany You Must Try.
Best Gelato In Florence FAQ
Is Florence the birthplace of gelato?
Florence is considered the birthplace of gelato because a man named Buontalenti was the first to invent the milk-based frozen treat that we know and love today as gelato in 1600.
Is gelato in Florence vegan?
Not all gelato in Florence is vegan but there are many sorbetto options that are lactose and dairy-free and vegan.
What city has the best gelato in Italy?
Florence is considered to be one of the best cities in Italy for gelato because it's where gelato is said to have been first invented by Buontalenti in 1600. 
Why is Italian gelato so good?
Italian gelato is slow-churned, making a rich and dense frozen treat that is very flavorful. Ice cream, on the other hand, is churned much more quickly and thus, full of air, making for a less flavorful final product. 
How can you tell real gelato in Italy?
Keep these points in mind when looking for quality, real gelato:
Look for dull, muted colors (not bright, neon ones)
Avoid mounds of gelato
Avoid large tubs or containers of gelato
Look for aluminum containers, preferably with lids
Look for seasonal flavors 
Look for words such as gelato artigianale or fatto in casa (artisan made or hand-crafted)