Last updated on November 27th, 2023
Italy is full of gelato, but not all gelato shops are created equal.
How do you tell a good gelateria from a bad one?
And once you have that nailed down, how do you order?
What should you order?
What do Italians do?
If you're asking yourself any of these questions, read on! In this comprehensive guide to gelato in Italy, I'll cover all things Italian gelato, including types and how to identify authentic, quality gelato while you're traveling in Italy.
For your travels in Italy, I have put together this gelato guide covering:
Gelato pronunciation
History and characteristics
How gelato is made
How to identify a good gelateria
Most popular flavors
Vegan, gluten free gelato and sorbet
Gelato cost and how to order + tips
How and when to eat gelato like an Italian
My personal favorite gelaterias (gelaterie)
Gelato History
Records of frozen treats date back to ancient times, first with the Chinese, Arabs and Romans. We know that ancient Romans would collect shaved ice from the mountains and serve it with fruit syrups for a frozen treat, resembling more of a sorbet or shaved ice than an ice cream.
This tradition of flavoring freshly fallen snow from the mountains was also popularized in Sicily by the Arabs. Instead of gelato, they called it sorbetto or granita.
It wasn't until the Renaissance that frozen desserts took off in Europe when Caterina de Medici of Florence shared her love for sorbet (which morphed from the Sicilian tradition of flavoring ice with fruit) at her dinner parties in Paris. This sweet treat quickly spread throughout the continent.
Then in the year 1600, the Florentine Bernardo Buontalenti developed what we know as gelato, the milk-based frozen treat and discovered how to actually keep it frozen for longer periods. This is the first mention of the term gelato that is documented.
Fun Fact: Buontalenti is a popular flavor in Italy, especially in Florence, named after Bernardo Buontalenti. It's similar to a sweet condensed milk or crema flavor, pale yellow in color.
With this new discovery, the Italian Francesco Procopio dei Coltelli, opened the first gelato shop, Café Procope in Paris in 1686.
The rest is history and today, Italians consume over 9 pounds of gelato each year!
Don't miss my guide to the Best Gelato in Florence!
How To Pronounce Gelato In Italian
Gelato is pronounced jeh-lah-toh in Italian
Listen to the pronunciation of gelato:
What Does Gelato Mean?
Gelato means frozen in Italian and can be used to describe anything that is just that.
For example, you might hear someone skiing say:
"Le mie mani sono gelate!" – My hands are cold!
"Su in cima è gelato!" – Up on the mountain it's freezing!
"L'acqua è gelata oggi!" – The water is so cold today!
The Difference Between Gelato And Ice Cream
Although gelato and ice cream may seem very similar, they actually have some very distinctive differences.
Gelato compared to ice cream:
Has less fat, about 4-8% compared to 14% milk fat
Is made with milk instead of cream
Usually is egg-free
Is slow-churned, creating a dense, less airy treat
Is stored at a higher temperature and thus softer
Learn More: Read about the Difference Between Gelato and Ice Cream (& Other Italian Frozen Treats).
What Is Gelato Made Of?
Gelato can be split into two categories: milk-based and fruit-based or sorbetto.
Actually, gelato by definition is made with a base of milk and sugar with other flavors that are churned into the base.
Sorbetto, on the other hand, is dairy-free, made only with sugar and water flavored with things like chocolate or fruit.
Artisan gelato should have no artificial coloring or flavoring.
How Gelato Is Made In Italy
There are three ways gelato can be made: hot process, cold process and sprint process. Avoid sprint at all costs. Hot and cold methods are stamps of approval.
Cold Process For Making Gelato
In this process, the ingredients are not pasteurized on site because the maker should already be using ingredients that are microbiologically safe. The gelato base is mixed together and poured directly into the batch freezer and churned into gelato. This is slightly quicker than the hot process but anyhow provides the gelato maker with complete control over the final product.
Hot Process For Making Gelato
This is a relatively new technique but very popular these days. The gelato mixture is quickly heated to a temperature of 85°C for a short five seconds and then quickly brought back down to 5°C, creating a safe mixture to consume. The base mixture is then added to a batch freezer where it is churned into gelato.
Sprint Method For Making Gelato
The sprint method is the newest and quickest way to make gelato but is a sure sign of a poor final result. Either water or milk is added to a pre-packaged gelato mix containing all the ingredients and flavors, including stabilizers (big no-no in good gelato). The whole thing is dumped into a machine and the gelato is ready in no time. Quick and easy is the recipe for bad gelato!
How To Identify Quality Gelato In Italy
Here are a few tips to help you find the best Italian gelato but keep in mind a good place doesn't have to check all the boxes. You might be recommended a small-family run place but it actually has a bright neon sign with a huge gelato cone model outside.
Check Out The Colors
More importantly, you should be looking at the fruit and nut colors. Is the banana bright yellow? Is the melon a sunset orange? Does the pistachio have a bright green color of spring grass? If the answers are yes, then this is a big turn off.
Gelato is made with natural ingredients so the colors should reflect that. They are often muted and dull. Banana is just slightly tinted yellow but it's more gray/very light brown while pistachio is going to be a very light greenish brown color.
Good To Know: Pistacchio is the best color to judge of all the gelato flavors. If it's anything other than pale, muted, sage green, it's made with additives.
Avoid Mounds Of Gelato
If you see containers with giant mounds of gelato piled high, this is a sure sign of bad gelato. The gelato should be presented in small containers and should not go above the height of that container. Gelato is kept at a warmer temperature than gelato and so the real stuff will never pass the mountain test.
Quality gelato would never stay mounded high like that. For this to happen, it must be filled with emulsifiers and served at the wrong temperature. The consistency of gelato is much more smooth and 'runny' than ice cream ( would actually stand up to the mountain).
Fact: Gelato is kept at about 10° F (-4° C).
Avoid Large Tubs
Stay away from large tubs of gelato, which is a sure sign that it's mass produced and delivered to the shop. Good gelato will be served in stainless steel rectangle containers or cylinders.
Keep In Mind: Great gelato and mediocre gelato are both kept in the rectangular stainless steel containers so they are not necessarily going to help you decipher a good gelateria from a bad one!
Look For Lids
The absolute best gelato is kept in stainless steel containers with lids. Most commonly they are deep, round containers, but not always. This ensures the gelato is being kept at just the right temperature and it isn't subject for long periods to the outside air.
Avoid Bragging
The absolute best gelaterias rely on word of mouth and their reputation that they have carefully built over time. They have no need for signs that say "Best Gelato In Florence" or a huge ice cream statue in the storefront (although there are exceptions).
Fewer Choices Are Better
The less choice, the more curated and quality to detail the gelateria gives to their flavors. It also ensures that their gelato is made on site and in small batches without hiring out. They usually change daily, bearing in mind the season and availability.
This isn't always the case as some of the best gelaterias make up to 40 flavors but generally speaking, the less the better.
Check Out The Fruit Flavors
The best gelato will be made with seasonal ingredients. You are never going to see strawberry gelato in the middle of November when strawberries are in season from March through June in Italy.
If you see kiwi and clementine in January then you know the place is doing something right!
Even though you can get fruit out of season, it's not a common practice in Italy. Most of the produce you can get is grown domestically and thus, has a short growing season. The best gelaterias are using local ingredients of top quality and grapefruit flown in from South Africa doesn't count.
Peach ice cream in December? Try again!
Look For Homemade Gelato
Terms like gelato artigianale (artisan gelato) or gelato fatto in casa are generally good words to keep an eye out for. They mean that the gelato is made all natural by hand, onsite and with attention to what is seasonal.
You need to use a little judgment, however, because there is some false marketing out there. Some gelaterias on main drags will promote their gelato with these words but if you see any other give away, then stay far away!
Serving Utensils
Because gelato is served slightly warmer than ice cream, it's best dished out with a metal spatula-like tool that is slightly curved. This allows the gelato to be scooped from the bucket, smeared on the side to slightly soften it and delicately place it in the cup or on a cone.
No spatulas, no good.
Exception To The Rule: Gelateria della Passerà doesn't use spatulas but a round scoop. Despite this, the gelato is one of the best in Florence!
Ingredients
By law, gelaterias need to be able to tell you exactly what is in their gelato. If you don't see the list out, just ask and they will (or should!) kindly present you with a list of ingredients. It should be short, with all-natural ingredients. One ingredient out of line is one too many!
Look For A Line
This tip needs to be taken with a grain of salt. If you are in the most famous square in Rome and it's 102° F out and you see a line out the door at a place with mountains of gelato, then go around the corner to a side street.
If, however, you notice a line in a popular location with small tubs, a short list of flavors and all the other right signs, get in line fast! Just because a gelateria is in the most touristy location, doesn't necessarily make it bad. And visa versa!
Ask a Local
Asking a local is my favorite way to travel and find the most undiscovered and authentic food. When I say ask a local, I don't mean your hotel receptionist but rather, choose someone with whom you might want to be friends with on the street.
Don't be shy, most people speak enough English to understand that you are looking for good gelato. And if they don't, gesture by licking a pretend cone!
The Ultimate Taste Test
This is a bit harder to do as you usually need to pay for the gelato and show your receipt before heading to the counter to pick your flavors.
This trick might come in handy if you are in a large crowd or in a big family and choosing between two competing gelaterias close by. Buy a small cup but before ordering, ask to try one of the nut flavors. It's easiest to tell if they are using any additives because the flavor of real pistachios or hazelnuts is hard to recreate. Worst case is that you throw €2.00 out the window. Again, not the best test since you need to pay beforehand.
Popular Flavors Of Gelato In Italy
There are so many flavors to choose from when it comes to gelato. You will notice they change depending on the season but the classics are always a fixture. Here is a list of the most popular and common flavors:
| | | |
| --- | --- | --- |
| Italian Gelato Flavor | English Translation | Notes |
| Cioccolato fondente | Dark chocolate | Look for cioccolato fondente extra noir which is even richer. Sometimes there is a dairy-free sorbetto version as well |
| Cioccolato | Chocolate | A compromise between a very milky chocolate and a dark chocolate |
| Cioccolato al latte | Milk chocolate | Not very popular among Italians. They prefer normal chocolate which is between milk and dark. |
| Bacio | Hazelnut chocolate | Meaning kiss, this is a reference to the flavor of Perugina's famous bacio chocolate made with chocolate and hazelnuts. This flavor is just that with bits of nuts sometimes mixed in |
| Gianduja/Gianduia | Nutella | Completely smooth, milk chocolate and hazelnut gelato |
| Cioccolato all'arancia | Orange chocolate | Sometimes with candied orange peel, other times, completely smooth |
| Stracciatella | Chocolate Chip | Made with fiordilatte with bits of chopped dark chocolate mixed in, not chocolate chips |
| Fiordilatte | Milk | Literally sweetened cream, this is the base to many other gelato flavors and makes a great accompanying flavor to all |
| Crema | Cream | A custard flavor egg-based gelato flavor, one of Italy's favorites |
| Vaniglia | Vanilla | Not very common as most Italians prefer crema |
| Zabaione or zabaglione This is a popular Italian dessert, a lightly whipped eggy custard | Zabaione | Custard gelato with a heavy glug of Marsala wine (contains eggs) |
| Amarena | Swirled sour cherry | Fiordilatte gelato is swirled with sour cherry (not sour at all though), originally from Emilia-Romagna |
| Caffè | Coffee | Also look for non-dairy and vegan sorbetto |
| Riso | Rice | Made similar to rice pudding with actual grains of rice in it |
| Pistacchio | Pistachio | Should be dusty, light sage green, not bright green |
| Mandorla | Almond | Should be almost white or very light brown color |
| Nocciola | Hazelnut | Look for a muted, light brown color. One of Italy's most popular flavors |
| Fragola | Strawberry | In season from March-June |
| Lampone | Raspberry | A summer flavor |
| Pesca | Peach | In season during the summer |
| Albricocca | Apricot | In season during the Summer |
| Pera | Pear | A winter flavor |
| Limone | Lemon | Look for it year-round |
| Mandarino | Mandarin orange | In season during the winter |
| Pompelmo | Grapefruit | In season during the winter |
| Frutti di bosco | Mixed berry or blackberry | Typically best in the summer |
| Melone | Melon | Excellent in the summer |
| Fico | Fig | July-October. Look also for ricotta e fico (ricotta and figs) |
| Mango | Mango | Obviously the mangos not grown in Italy but it's very refreshing in the summer |
| Banana | Banana | Look for a pale, dusty yellow, not bright yellow |
| Cocco | Coconut | Some will be smooth, others will have small bits of coconut flesh mixed in |
| Caramello | Caramel | Look also for caramello salato (salted caramel) |
Learn More: Check out our Guide to Italian Gelato Flavors (including pronunciations).
Sorbetto – Dairy-Free Vegan Gelato In Italy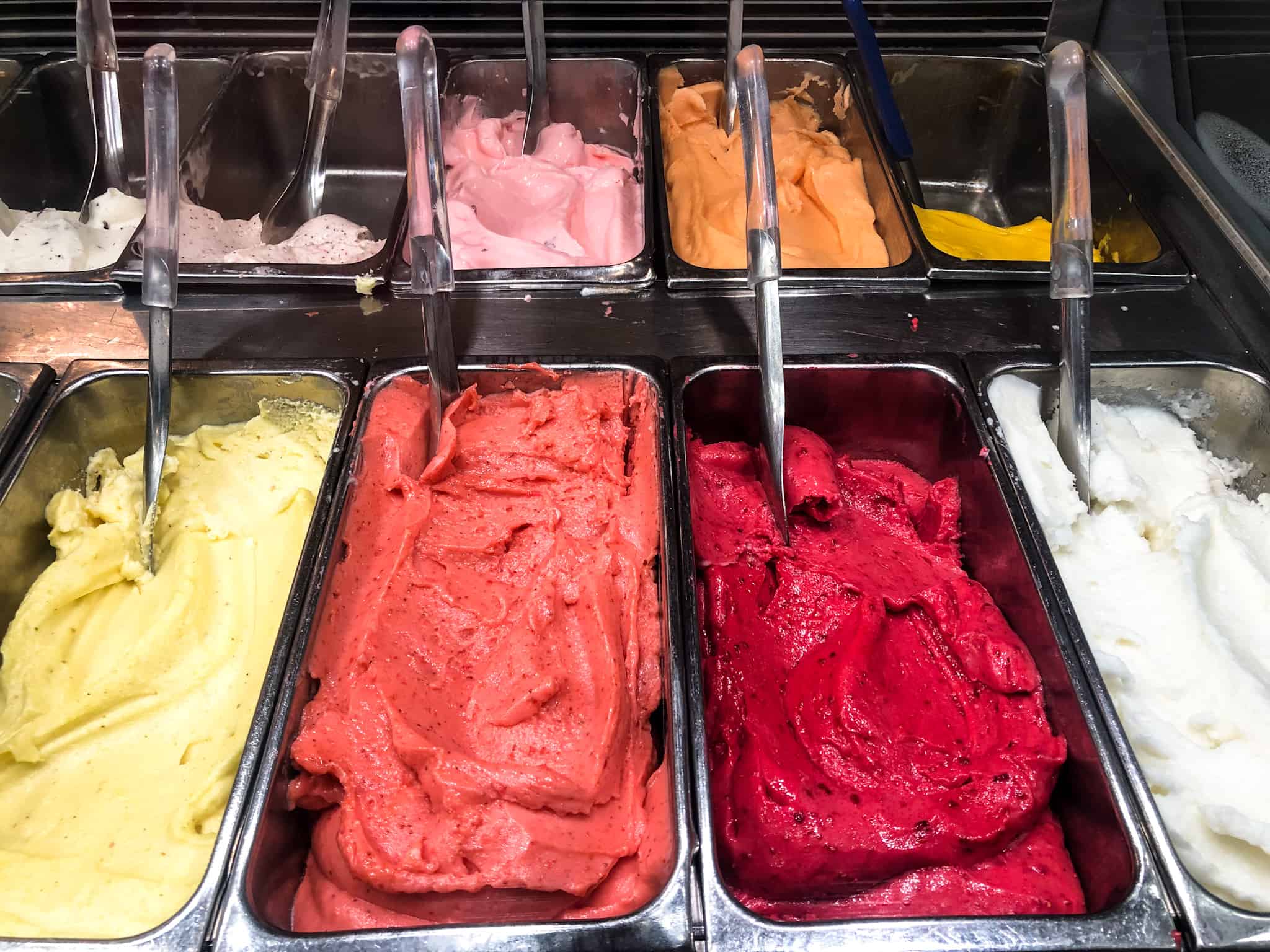 Sorbetto is a frozen treat prepared in the same way as gelato but without a milk base. The base is usually water, fruit and sugar but very dark chocolate and coffee is another popular choice.
Most gelaterias have a section of sorbetti which will be listed on the side or in another section on the flavor board.
Fact: Fruit flavored gelato is not necessarily dairy-free! Fruit flavors can either be milk or water-based so be sure to ask if it doesn't specify sorbetto.
Gluten-Free Gelato In Italy
If gelato is made without additives, which as you know now, it shouldn't be, it should also be gluten-free by nature. If you have a serious allergy you should confirm with the gelateria beforehand to be sure the whole facility is gluten-free, not just the gelato.
Stay away from cones, cookies on top or any flavor that has biscotti or cookies in it.
Flavors of gelato that are not gluten-free:
gelato al biscotto (ai biscotti) – made with cookies
zuppa inglese – with sponge cake
cookies – made with cookies
cantucci – made with tuscan cookies
Good To Know: Even though many Italian gelato flavors are naturally gluten-free, if they are not made in a gluten-free facility there is still a small possibility of cross-contamination.
Learn More: Read our guide to Gluten Free Gelato in Italy.
Semifreddo or Mousse Gelato In Italy
There is one more category of gelato that you will notice in the gelato cases: semifreddo or mousse gelato. This gelato is made and frozen differently, often with more sugar and air, creating more of a semi-frozen or mousse-like consistency than a dense consistency, characteristic of Italian gelato.
Semifreddo gelato is usually grouped together in a separate section or to one side of the gelato window case. Look for the words semifreddo or mousse in the ice cream flavor name.
How Much Does Gelato Cost In Italy?
Gelato prices are more or less the same as long as you aren't going to a tourist trap on the main streets of a busy Italian city.
The smallest size usually costs between €2.00 and €3.00 and the largest size will be between €6.00 and €8.00.
You can also purchase gelato by the kilo which will cost between €25.00-€30.00. Gelaterias will package the gelato flavors of your choice into a styrofoam container that will keep it cold for travel, making it a great dessert to bring to a dinner party.
How To Order Gelato
Decide between a cup or cone.
Choose how many scoops or flavors you would like
Pay at the register and hold onto your receipt
Head to the gelateria counter and choose your flavors
Good To Know: Not all gelaterias have you pay first. Steps 4 and 5 can be interchangeable. Sometimes you will get your gelato and then be asked to pay, like at Gelateria della Passera or Gelateria Edoardo in Florence.
How Gelato Is Served In Italy
Gelato typically comes in a variety of sizes ranging from small to x-large (usually 4 sizes but sometimes more). You can either choose from a cup or a cone.
The smallest size generally lets you choose 1 or 2 flavors and the number of flavors you can add increases depending on the size you get.
The gelato is scooped from the cylinder or rectangle container with a kind of slightly hollowed out spatula that will help the server smear the gelato against the side of the container to slightly warm it up and make it "moldable". This way, it can be shaped into a dollop onto a cone or precisely divided among other flavors into a cup.
Italian Gelato In A Cup Or A Cone
You can either choose a cup or a cone to enjoy your gelato in. Italians like both so you will see a mixed bag.
Sometimes when ordering a cone, the smallest size will be a pretty flimsy, tasteless cone but if you get the next size up, the cone will be artisan made and fully worth the extra euro, in my humble opinion.
In some shops such as Venchi, they will ask if you want the cone dipped in chocolate or dipped and rolled in nuts. This is a fairly new phenomenon in Italian gelaterias and not common in very small shops.
You will also be given a small plastic spoon to help you eat the gelato off the top of the cone at some places. It's not a rule though so if you want one, just ask! I always like one to start my cone with and then I start to lick it when it begins to melt.
If you order a cup, you will be given this same small, plastic spoon with which you can eat your gelato. Some gelaterias will also put a small, round wafer cookie (similar to the cone) on top of your cone.
Italian Gelato in a Brioche
Leave it to Sicilians to come up with the extravagant way to serve gelato: in a pastry!
This regional speciality is a must try when traveling in Sicily. Instead of asking for a cone or cup, you can get your gelato in a brioche bun, a simple Italian baked pastry. They will give it to you in a paper wrapping and a small, plastic spoon to help you not get gelato completely all over yourself (although it's certainly a messy affair).
And what more? You can even order it for breakfast and no one will look twice at you. I mean, how else do you stay cool in Sicily in August?
Toppings On Gelato In Italy
Italians are purists when it comes to food. They like things a certain way, a simple yet traditional way, and gelato is no different.
It's going to be impossible to find a good gelateria that is going to put toppings, syrups or other caramels or melted chocolate on your ice cream.
At the most, you will see some places that will put whipped cream on top for an extra charge (usually between €.50 and €1) or a small waffle cookie made from the same batter as the cone.
Whipped cream is extravagant and not the norm but if you see it, it doesn't mean the place is a bad gelateria – it's just not a super popular option.
When Do Italians Eat Gelato?
Italians love any excuse to eat gelato but most commonly it's eaten in the afternoon to tide you over until dinner time (don't forget, Italians eat late, between 8:00 pm and 9:00 pm).
Gelato is a favorite after school snack or merenda for school children. In fact, try not to get gelato around between 4:30 and 5:00 during the school year because you will be engulfed by a swarm of children.
Here are other times you will see Italians eating gelato:
For a mid-morning snack (mostly children). It's dairy and fresh fruit after all!
After dinner
In the dead of winter, while wearing heavy coats, scarves and hats
Tips For Eating And Ordering Gelato Like An Italian
Be Assertive
You will need to be a bit assertive in busy gelaterias. Identify where and if you need to pay first and keep in mind Italians don't always form lines. They often just bunch up so stand strong and inch your way up!
Pair Your Flavors Well
Try and choose flavors that go well together. Nut flavors pair well with creamy and chocolatey flavors while fruit flavors pair well with each other.
Don't Walk While Eating Gelato
Italians usually enjoy gelato sitting or standing, just like they do with coffee, rather than walking.
Order A Modest Size
Italians usually order a small or medium. They won't go for large sizes.
Don't Book It To The Nearest Gelateria Right After Lunch
Gelato is primarily enjoyed by Italians as a sweet treat in the late afternoon (and sometimes after dinner). Because lunch tends to be the largest meal of the day in Italy, Italians are too full to eat gelato right afterwards.
Where Is The Best Gelato In Italy?
I have eaten a lot of gelato in Italy but I am only recommending places that I have been to recently and feel fully confident in recommending based on my personal experience.
Best Gelato in Florence
Gelateria Edoardo
Gelateria Edoardo is an amazing gelateria right on the back of the Duomo made with organic ingredients. The flavors are always changing and gelato is made in small batches, two of the best signs!
Good To Know: Gelateria Edoardo also makes their own cones in front of you. You can taste the difference.
La Carraia
Most of the locals can agree that La Carraia is one of the better places. Even though they have a large selection, the quality is still top-notch. It's a little off the beaten path but the price is right and it's full of locals. They have recently opened a smaller location right close to Santa Croce but they don't have nearly as many flavors as the original location.
Badiani
Badiani is one of my absolute favorites but it's located outside the city center. Unless you are going to a soccer game at the stadium, you probably won't want to make the 40 minute trek. It's known for having the best buontalenti gelato in all of Florence. My favorite is their yogurt flavor which is tangy yet sweet. They also make a no-sugar version but they don't have it every time.
Gelateria Dei Medici
Gelateria Dei Medici is for those of you staying or shopping at the open air market Sant'Ambrogio – it's right next door! Their first location did so well that they opened a second location (the first is on the outskirts of Florence) and I couldn't be happier. Flavors change seasonally and they also offer a case of frozen desserts that are made on-site.
Perché No!
Perché No!, meaning "Why Not!" is one of Florence's oldest gelaterias, first opened in 1939. The price is a little steeper than others but the location is prime and the flavors are innovative, making it well worth the extra fifty cents.
Gelateria della Passera
This is my hands-down favorite place in Florence along with Gelateria Edoardo. Tucked away in one of the cutest little squares in the Oltrarno area, this hole in the wall has only a handful of flavors that change daily. The one slightly odd thing about this gelateria is that they scoop the gelato with a round ice-cream scoop, generally not a good sign. But here, they do it and you are charged by the pallina or ball of ice cream. Look for the line – I don't think I've ever been there when there wasn't one!
Vivoli
I can't not mention Vivoli in this post because it's such a historic institution. They actually made my wedding cake and served gelato alongside it over ten years ago so I fully admit that I am biased.
Not only are they famous for their gelato (especially their gelato alle fragoline, only available for a couple of months in the late spring/early summer) but well famous for the affogato.
Good To Know: You can even order a milkshake at Vivoli but don't expect an enormous size like you might see back home. It's modest but decadent!
Best Gelato in Rome
Fatamorgana
Fatamorgana has quickly gained traction and now has several locations, the original being in via laurina, close to Piazza del Popolo. They have all your traditional flavors but then really branch out with creative and usual flavors such as basil and green tea.
Good To Know: Fatamorgana is a gluten-free facility so there is no risk of cross-contamination!
Giolitti
Giolitti is the oldest gelateria in Rome and has a special place in my heart. It's the first gelateria I went to in Rome when I was 19 working for a summer on organic farms in Italy. It was so good I went back everyday and always ordered panna or whipped cream on top. And if you are with people who aren't in the mood for gelato, no worries, it's also a good bar with other dessert specialties and coffee.
And don't be afraid of the crowds, the line moves relatively quickly. Just be assertive and with Romans, you do need to be a little pushy!
Come Il Latte
Come Il Latte means "Like Milk" and you certainly can tell that this place uses nothing but top notch dairy and seasonal fruit. Not far from the Termini train station, this gelateria is authentic yet has fun and innovative flavors. They will also dip your cone in chocolate (a not very Italian thing to do)!
Best Gelato In Pienza
Fredo Pasticceria Gelateria Artigianale
Great gelato, great location. We hit up Fredo Pasticceria Gelateria Artigianale every time we go to Pienza. It's located right next to the main square Piazza Pio II so you can let your kids run off their sugar high afterwards!
Best Gelato In Montepulciano
Sgarbi Gelato Natura
There aren't that many choices in the small town of Montepulciano but Sgarbi is the best. They have a lot of sorbetto and other non-dairy choices. Once my son licked his ice cream right off the cone and the owner quickly offered to replace it, no charge. My kids go to school close by so let's just say we are not strangers to them!
Best Gelato Chains In Italy
When you need a scoop of gelato and you are unsure, these are reliable chains that I have always been happy with. Their locations can't be beat!
Grom
Grom has made a name for itself not only in Italy but internationally as well. Today, you will find Grom in every major Italian city but also overseas.
Good To Know: Grom is a gluten-free facility so there is no risk of cross-contamination!
Venchi
I actually love Venchi, even though it's a chain. They started off as a chocolatier but soon dipped their toe into gelato making and never looked back. They specialize in chocolate flavors but every single kind I have tried has been delicious, creamy and rich.
Famous for their chocolate wall, they will happily dip your cone in chocolate and cover it in nuts for a small additional cost.
Good To Know: Too cold for gelato? Venchi makes hot crepes filled with either milk or dark chocolate hazelnut spread.
Gelato Experiences In Italy
If you love gelato and want to visit the Gelato Museum, it's just outside of Bologna (Emilia-Romagna). If you are on the fence about making a special trip their just for the museum than consider a whole foodie tour and visit a parmesan cheese factory, see how prosciutto di Parma is made and sign up for a balsamic vinegar di Modena tasting with the triad of all food tours!
If you would like to take a gelato making class, you can find several options throughout Italy but the only one in Florence that I recommend is by I Gelati Del Bondi close to the train station. I have never taken this class personally but I have a friend who has. She was enthusiastic.
Gelato Festivals In Italy
Gelato festivals take place throughout Italy but they are unreliable about when and where they will be. Keep your eye peeled for flyers and advertisements when traveling.
Typically how they work is that you can buy a pass which allows you to try either a certain number of 'mini-gelati' or a super pass that grants you access to every single vendor.
I took my boys to the Gelato World Masters Final in Florence a couple of years ago and it was honestly too much for little kids. They went crazy and then felt sick. It was a super fun experience though with a beautiful view overlooking Florence on Piazzale Michelangelo. This fair takes place in several locations each year so visit its website for a detailed annual schedule of locations.
Gelato In Italian Supermarkets
Commercially produced gelato is just as popular among Italians as the artisan shops. Similar to the US, Italians go out for ice cream, but they also buy it in containers and tubs and have it at home for dessert.
Because artisan gelato is all-natural and free of any additives and preservatives, it's hard to produce artisan gelato on a commercial scale that has a long shelf-life. What you are going to see in the store is full of emulsifiers and additives to make it last a long time.
Even the best supermarket gelatos such as Grom has dextrose in it. I have only ever run across a handful that are all natural but if you take a look at the shelves, the popular brands such as Algida, Magnum and Carte D'Oro are chalk full of additives. This doesn't stop me from eating them though!
Gelato in Italy FAQ
Why is gelato famous in Italy?
Gelato is famous in Italy because it took off during the Renaissance. It wasn't until then that frozen desserts took off in Europe when Caterina de Medici of Florence shared her love for sorbet at her dinner parties in Paris. This sweet treat quickly spread throughout the continent. Then in the year 1600, the Florentine Bernardo Buontalenti developed the milk-based frozen treat and discovered how to actually keep it frozen.
Which city in Italy is gelato known for?
Florence is considered the birthplace of gelato because the Florentine Bernardo Buontalenti first developed how to actually keep gelato frozen.
How much does gelato cost in Italy?
The average price is going to be between €2.00 and €3.00 for a small but as much as €6.00 and €8.00 for the largest size.
Do Italians eat gelato every day?
No, gelato is a treat just as any other and if nothing else, Italians are reasonable and modest so it's something they will have on a weekly basis but not daily. 
How do you eat gelato in Italy?
Italians eat their gelato either sitting or standing but never walking. When in Italy, do as the Italians do!
What are the most popular gelato flavors in Italy?
The most popular Italian gelato flavors are cioccolato (chocolate), crema (cream or custard flavored), amarena (swirled sour cherry), pistacchio (pistachio), nocciola (hazelnut) and gianduia (chocolate hazelnut). 
How do you order gelato in Italy?
At most gelaterias you need to pay for your gelato at the register and then head over to the counter to be served. 
Is gelato egg-free?
Most of the time, yes. Some flavors that are custard-based such as zabaione or crema have eggs in them. 
Is gelato gluten-free?
Gelato is gluten-free as long as you don't order flavors with cookies or cake in them and order the gelato in a cup. If cross-contamination is a concern, visit a gluten-free gelato facility.
What is overrun in gelato?
Overrun is the amount of air that is churned into a gelato (or ice cream).