Last updated on November 21st, 2023
Long days of sightseeing in Italy require sustenance and what better way to fuel up than by diving into Italy's most beloved Italian snacks!
While snacking isn't common for Italians, it's pretty important for touring bella Italia!
From street food and market specialties to grocery store staples and baked goods, Italy has it all when it comes to snacks. And, each region has its own specialties.
In this guide, I will go over:
the most popular Italian snacks
which Italian snacks to buy when touring
where to buy snacks in Italy
how to enjoy Italian snacks, including at aperitivo
Note: Many of these Italian snacks can be purchased "to-go" and eaten as street food, perfect for long days of touring. If a snack should be eaten any other way, I will indicate how it should be consumed.
Where To Buy Italian Snacks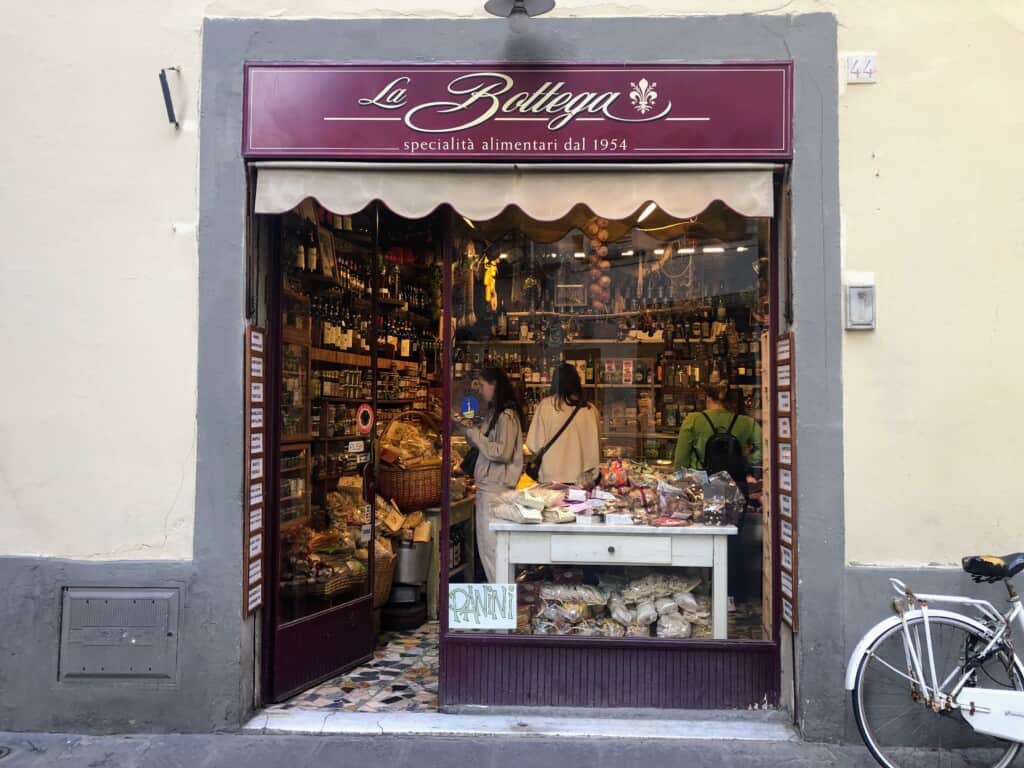 Where to buy Italian snacks is going to depend on what kind of Italian snack you are having.
Kiosks/Individual Vendors For Italian Snacks
These are going to be your street vendors where you will find all street food Italian snacks such as regional specialties, fried foods and local sandwiches. Individual vendors selling street food usually are not mobile, meaning they cater to the locals. If it was bad, it would go out of business within a week's time.
Deli For Italian Snacks
Stop by any pizziccheria or deli for great sandwiches made with local bread, cured meats and cheese. They may or may not have a bar for coffee and a couple of tables.
Markets For Italian Snacks
Head to any open air market for authentic Italian snacks. Some of the best street food vendors will be here so even if you happen upon a market at random and don't know anything about it, chances are they are going to be selling some pretty good street food such as porchetta, southern Italian specialties, cheese, and local sausages, just to name a few.
Grocery Stores For Italian Snacks
Grocery stores literally have it all in Italy, even small ones. They are a great place for dipping your toe in commercially produced goodies such as cookies and candy. You can also stock up on fresh fruit, bread (insert link) and other staples.
Popular Italian Snacks To Buy At Grocery Stores:
Mulino Bianco cookies
Loaker Wafer Cookies
Kinder pre-packaged Italian snacks
Bauli pre-packaged cornetti/brioche
Nuts and Seeds
Focaccia
Taralli
Crackers
Italian candy
Learn More: Read my guide to The Best Snacks You Can Buy at a Grocery Store in Italy.
Alimentari For Italian Snacks
Alimentari or gastronomie or small grocers are great places to get basics but also good quality Italian snacks. They will likely stock some of the most popular commercially produced snacks but also sell regional or small batch food items. They are likely to have a small deli and can make you a sandwich.
Read More: For more details and information on the similarities and differences between Italian eateries, read What Is A Trattoria? – Your Guide To Italian Eateries, From Ristoranti & Osterie to Paninoteche & Tavole Calde
Bakeries For Italian Snacks
Look for any kind of baked items, cookies, pizza (like potato pizza!), bread, focaccia, schiacciata, etc. at a forno or panificio (bakery) in Italy. Grocery stores will also have their own forno, selling a variety of local pastries and baked goods.
Fact: A pasticceria is an talian bakery specializing in sweet treats.
Bars For Italian Snacks
Bars are one of the best places to get an Italian snack because they never close! The Italian bar is the one exception to the afternoon rest or closing time, usually always open from 6:30/7:00 am to aperitivo or after dinner (dopo cena in Italian).
Here you will find anything from breakfast items such as pastries and coffee to pizza by the slice, light lunches to go (or to sit-down and enjoy), afternoon donuts and small pastries and pre-dinner nibbles.
Popular Italian Snacks By Region
Look for these popular Italian snacks to buy on your next trip to Italy. All of the Italian snacks listed below can be eaten anytime of the day.
Good To Know: Many of these Italian snacks can even be found outside the region of origin under which they are listed. Note that the snacks will be best within that region but we are in Italy afterall, they aren't going to be bad across the boarder in a neighboring region either!
Popular Italian Snacks Throughout Italy
These Italian snacks are really good throughout the entire peninsula and they never get old!
Taralli
(Pronounced tah-rahl-lee in Italian)
Taralli are little ring shaped crackers made from lots of olive oil, water and flour, and sometimes flavoring such as fennel seeds. The absolute best version is from Puglia!
Panini
(Pronounced pah-nee-nee in Italian)
Panini are sandwiches in Italian, not grilled but simply made with bread and some kind of cured meat and cheese. In Italy, panini are not super heavy on the filling and usually only contain one kind of meat. If you want a panino made with focaccia, then you need to specify!
Fact: Panini is the plural form of panino, meaning just one sandwich.
Porchetta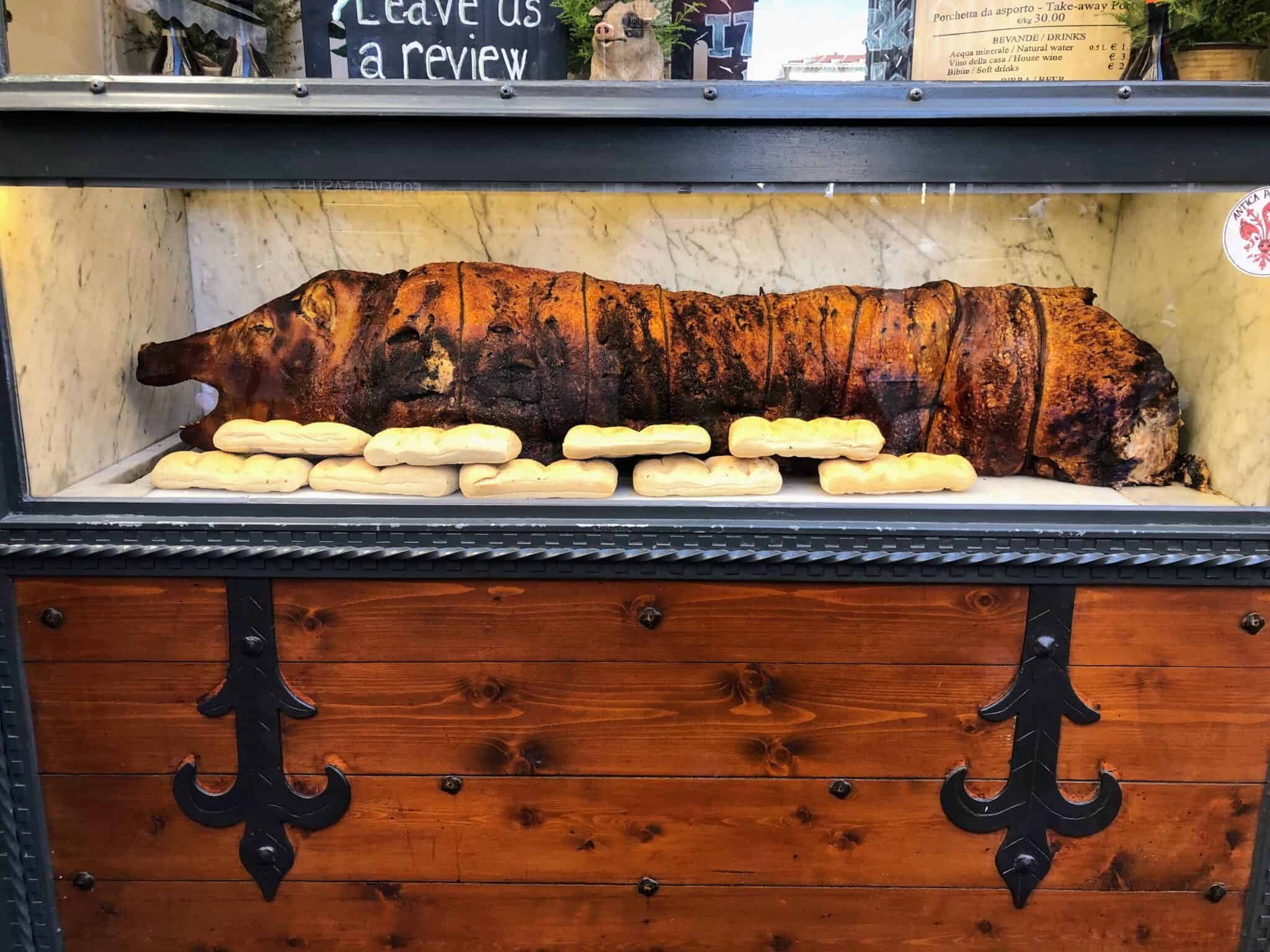 (Pronounced pohr-keht-tah in Italian)
Each region in Italy will make their own version of stuffed pig, slowly roasted over a spit fire and served on a bread roll.
Focaccia
(Pronounced foh-cahch-chah in Italian)
Although focaccia is originally from Liguria, it's popular throughout Italy, each region with their own recipe or specialty. Focaccia, a fluffy flatbread, is an easy on-the-go snack to pack away for long days touring or travel days. It's great to make sandwiches with and it's easy to make your own Ligurian focaccia.
Biscotti
(Pronoucned bee-skoht-tee in Italian)
Who doesn't love cookies? Biscotti is the general term for "cookies" in Italian and each region makes their own specialty. To learn more about Italy's most beloved cookies, read 10 Most Popular Italian Cookies – Where To Eat Them and How To Pronounce Them.
Pizza A Taglio
(Pronounced peetz-zah ah tahl-yeeoh in Italian)
Pizza a taglio is essentially pizza by the slice in Italian (although it comes in squares or rectangles in Italy, not a triangle slice). It's usually purchased by weight and can be purchased at most bakeries or forni, bars or grocery stores.
Pizzette
(Pronoucned peetz-zeht-teh in Italian)
Pizzetta are small, golf ball sized mini pizzas that are enjoyed throughout all of Italy as a snack or aperitivo. Grab a whole bag of them (sold by weight) at a forno and snack on them all day long. Sometimes they are made with a pizza dough but other times you will find them made with puff pastry, topped with pizza sauce and cheese.
Bombolone
(Pronoucned bohm-boh-loh-neh in Italian)
Donuts! We all love donuts, well at least in my family, and the Italian donut is usually light as a feather, unless you get it with crema or cream-filled. Check out any bar around 4:00/4:30 pm for freshly made donuts made for children getting out of school and hungry for merenda.
Brioche
(Pronounced bree-ohsh in Italian)
Also known as a cornetto in some parts of Italy, the brioche is a classic Italian pastry. They aren't super buttery like French croissants but rather, sweeter and lighter. You can really order them in any shape, flavor and size you want at any bar in Italy for breakfast. After noon, the selection goes way downhill.
Gelato
(Pronouced geh-lah-toh in Italian)
Italian ice cream, what could be better? Expect gelaterias to open up around 11:30 and enjoy your sweet, frozen treat in any flavor you desire anytime after that! There really is no excuse not to be eating gelato in Italy.
Florence Travelers: Check out my recommendations for Best Gelato In Florence – From A Local (2023) and learn how to order like a pro here.
Torrone
(Pronounced tohr-ROH-neh in Italian)
Torrone is Italian nougat made with various nuts, caramelized sugar, vanilla, spices, honey and sometimes other flavors such as chocolate, vanilla or orange zest.
Castagne arroste
(Pronounced cah-stahn-yeh ahr-roh-steh in Italian)
You will come across castagne arroste, roasted chestnuts, throughout the late fall and into winter, especially during the Christmas holiday in Italy. Vendors often sell them on the side of the road to roast at home or you can purchase them freshly roasted and piping hot in city centers, food festivals and Christmas markets. This is one of our family's favorite Italian snacks in the winter.
Frittelle
(Pronounced freet-tehl-leh in Italian)
Depending on the region, they may be called differently (look for frìtole in Venice , for example) but these little fried dough balls are a favorite among all Italians. Sometimes they will be flavored or filled with pastry cream.
Salumi
(Pronounced sah-loo-mee in Italian)
Salumi is the word for cured meats in Italian and there is no better Italian snack than this if you are a meat lover. I like to order salumi at markets or delis so I can choose how they are sliced (thickly or thinly). Choose from prosciutto, salame, lonza, prosciutto cotto or finocchiona, just to name a few.
Enjoy them as is or with bread or focaccia for a more hearty Italian snack.
Italian Snacks In Sicily
Probably some of the best street food in Italy so don't hold back!
Arancini
(Pronounced ahr-ahn-chee-nee in Italian)
Arancini are big, round or cone shaped fried rice balls stuffed with various fillings such as meat sauce (ragù), peas, cheese, prosciutto (insert link) and mozzarella or mushrooms.
Fact: The word arancini comes from the Italian word for orange, arancio, referring to the orange-like appearance of the golden rice balls.
Cartocciata
(Pronounced cahr-tohch-chah-tah in Italian)
Cartocciata is a stuffed pizza from Catania that can either be enjoyed as an Italian snack or an on-the-go lunch. The most traditional filling for cartocciata is tomato and mozzarella but our family likes fried eggplant the best!
Crocchè
(Pronounced crohk-keh in Italian)
Crocchè are fried mashed potato balls or 'fingers' flavored with parmesan and parsley. They are best enjoyed when they are just out of the fryer.
Stigghiola
(Pronounced steeg-ghee-ohl-ah in Italian)
Stigghiola is a very traditional Italian snack of lamb innards seasoned with parsley, wrapped around a leek and grilled on a skewer in Sicily
We Recommend: For the best Sicilian street food head to Vucciria, a street market in downtown Palermo. It's a great place for food shopping but also aperitivo, cocktails and nightlife.
Pane con la Milza
(Pronounced pah-neh cohn lah mill-zah in Italian)
Also called pani ca meusa, pane con la milza is a sandwich found in Palermo made from a stew of veal lung, trachea and spleen.
You can order your sandwich maritatu, meaning "married" with ricotta or caciocavallo cheese, or schettu with a generous squeeze of lemon juice.
Sfincione
(Pronounced sfeen-chohn-eh in Italian)
Sfincione is a fluffy focaccia-like bread, typically topped with ingredients like tomato sauce, onions, anchovies, oregano and caciocavallo cheese (insert link). You can easily find these from little street vendors, especially in Palermo.
Polpo Bollito
(Pronounced pohl-poh bohl-leet-oh in Italian)
Called vugghiutu around town, boiled octopus is a traditional street food that you will notice on coastal towns throughout Sicily. I consider this more of a meal than an Italian snack but it's definitely worth trying if you have the chance – there is nothing fresher!
Brioche con tuppa
(Pronounced bree-ohsh cohn toop-pah in Italian)
Brioche col tuppo is really just a plain brioche bun with a rounded top that sticks out (known as the tuppo). Locals insist that the tuppo should be eaten first! You can also have it filled with gelato or granita (see below) and enjoy your breakfast bun as the locals do.
Granita/Gelato con Brioche
(Pronounced grah-nee-tah cohn bree-osh in Italian)
Only in Sicily can you eat granita or gelato with a brioche bun and not stand out. Enjoy frozen, crushed ice flavored with sugar and juice or other flavorings with a large pastry on the side. If you are having breakfast, then be sure to order an espresso with it too!
Cannoli
(Pronounced cahn-noh-lee in Italian)
Cannoli are THE Italian snack or dessert to try while in Sicily. You will notice many locals sitting down to eat their cannolo (singular form of cannoli) but don't be afraid to eat it as street food as you travel along.
Cannoli are made by stuffing dried pastry shells with either a cow's or sheep's milk ricotta filling (I prefer sheep's milk) sweetened with sugar.
Tip: To identify a good cannolo, look for a place that fills them on the spot with the ricotta cream (if they are pre-filled they get soggy!).
Italian Snacks in Veneto
The best way to enjoy Italian snacks in Veneto is with an aperitivo, in particular a spritz.
Cicchetti
(Pronounced cheek-keht-tee in Italian)
Cicchetti are small, savory bites similar to the Spanish tradition of tapas meant to be consumed with a glass of wine or other aperitivo. Cicchetti culture is huge in Venice and can't be ignored. Don't miss ordering a plate of small bites for a truly Venetian experience. Baccalà mantecato, polpette di pesce, sarde in saor, spiedino di frittura and polpette Veneziane are some of the most popular ones but the list goes on and on!
Tramezzino
(Pronounced trah-mehz-zee-noh veh-neh-zee-ah-noh in Italian)
A tramezzino is a soft, crustless white bread sandwich stuffed with various fillings such as tuna and eggs, ham and cheese, and mozzarella and tomato, often made with mayonnaise. The most popular way to eat them is standing at a bar in Venice as a snack or quick lunch with an aperitivo or spritz.
Tip: You can also purchase a tramezzino in supermarkets but don't expect grand things. They aren't bad though and are great in a pinch.
Crema Fritta
(Pronounced creh-mah freet-tah)
Meaning "fried custard" in English, crema fritta is exactly what the name describes: sweet custard cut ito diamond shapes, battered and deep fried. In Le Marche it's often part of an antipasto of mixed fried food but in Veneto it's a common street food around the Chirstmas holidays and Carnivale.
Italian Snacks In Calabria
Zippuli
Zippuli are fried fritters made from a simple dough of water, flour, yeast, potatoes and salt. Originally, they were made as a poor man's food but today, they are often enriched with cheese, tomatoes, anchovies, olives or 'nduja.
Tartufo di Pizzo
(Pronounced tahr-too-foh dee peets-zoh in Italian)
Tartufo di Pizzo is not a truffle, but rather, Calabria's famous gelato dessert made from a molten chocolate center covered in two gelato flavors and rolled in powdered sugar. This is a must-try for those of you traveling to Italy's toe.
Cevapčići
(Pronounced cheh-vahp-chee-chee in Italian)
If you love meat then you are going to love the Cevapčići street food of Friuli. It's a kind of kebab made from minced beef and lamb with various seasonings, served with a sauce called ajvar.
Chifelini
(Pronounced kee-feh-lee-nee in Italian)
Also known as chifeletti, chifelini are small potato fritters originally from Trieste but easily found across the entire region. They are either savory or sweet, finished with salt or sugar, depending on the variety.
Italian Snacks From Piedmont
Grissini
(Pronounced grees-see-nee in Italian)
Grissini are long, thin, hard Italian breadsticks originally from Torino. This Italian snack is perfect for on the go travels but you will notice them served in almost every restaurant on the table included in the coperto fee. Somtimest they are plain but you can also find them flavored with herbs, seeds, or cheese.
Torrone di Nocciole
(Pronounced tohr-roh-neh dee nohch-choh-leh in Italian)
Torrone di nocciole is a hazelnut nougat made with locally grown hazelnuts from Piedmont. You can find torrone throughout Italy but it's worth seeking out this local variety if you are looking for an Italian snack and have sweet tooth while up north.
Bignole
(Pronounced been-yoh-leh in Italian)
Bignole are small, bite-sized pastries, similar to an eclair pastry filled with various custards and creams such as lemon cream, chocolate cream, pistachio or hazelnut cream. These are particularly good in Piedmont but our family enjoys them throughout the whole of Italy, even in our home in Tuscany where we often pick up a tray to bring for dessert if asked for lunch.
Popular Italian Snacks In Tuscany
Necci
Necci are thin pancake-like crepes made from chestnut flour, sometimes filled with a sweet ricotta cream or sausage. These are not super common so if you happen upon a market vendor making them fresh, get in line and don't get out! Necci are seasonal, as are chestnuts, made only in the fall and early winter.
Schiacciata
(Pronounced skee-ahch-chyah-tah in Italian)
Schiacciata is Tuscan-style focaccia that is oily and crunchy on the outside yet soft and chewy on the inside. Schiacciata is a popular Italian snack afterschool. Enjoy it either as is or filled with local cheeses and meats such as prosciutto.
Schiacciata All'Uva
(Pronounced skee-ahch-chyah-tah ahl-oov-ah in Italian)
Schiacciata all'uva is a sweet focaccia bread dotted heavily with uva fragola, a small variety grapes that are harvested in the fall. This isn't the easiest street food to eat as it's so heavily filled with grapes it can easily fall apart but it's worth the mess. We look forward to this every year when it starts cropping up in bakeries throughout Tuscany in September.
Fettunta
(Pronounced feht-toon-tah in Italian)
Fettunta is grilled pane toscano drizzled with freshly-pressed olive oil, called olio nuovo in Italian and sprinkled with sea salt. This popular antipasto or appetizer starts to become around the olive harvest in October and November
Lampredotto
(Pronounced lahm-preh-doht-toh in Italian)
Lampredotto isn't my favorite but it's a favorite among Florentines. This street food is tenderized by boiling the cow's stomach for hours in a broth and then served with salsa verde, a popular Italian sauce made from capers, anchovies, parsley, lemon, oil, garlic and onion on a white bread bun.
Popular Italian Snacks In Lazio
Maritozzi
(Pronounced mah-ree-tohz-zee in Italian)
Maritozzi are sweet buns sliced in half and filled with whipped cream. Roman's like to eat them for breakfast with coffee and I highly suggest you do the same although this Italian snack is acceptable anytime of the day in Rome.
Trapizzino
(Pronounced trah-peetz-zee-noh in Italian)
Trapizzino is a relatively new street food in Italy, similar to a pizza pocket filled with meat or vegetables. Usually, this style of pizza is a quick lunch for locals but it also makes a great filling snack if you need fuel. Look for it in bakeries, street vendors or to-go pizzeries.
Supplì
(Pronounced soop-plee in Italian)
Supplì is similar to the Sicilian arancini but in this recipe, the rice is cooked in a meat ragù instead of butter and white wine. Of course, they are stuffed with various fillings and best enjoyed hot or warm.
Pizza alla Pala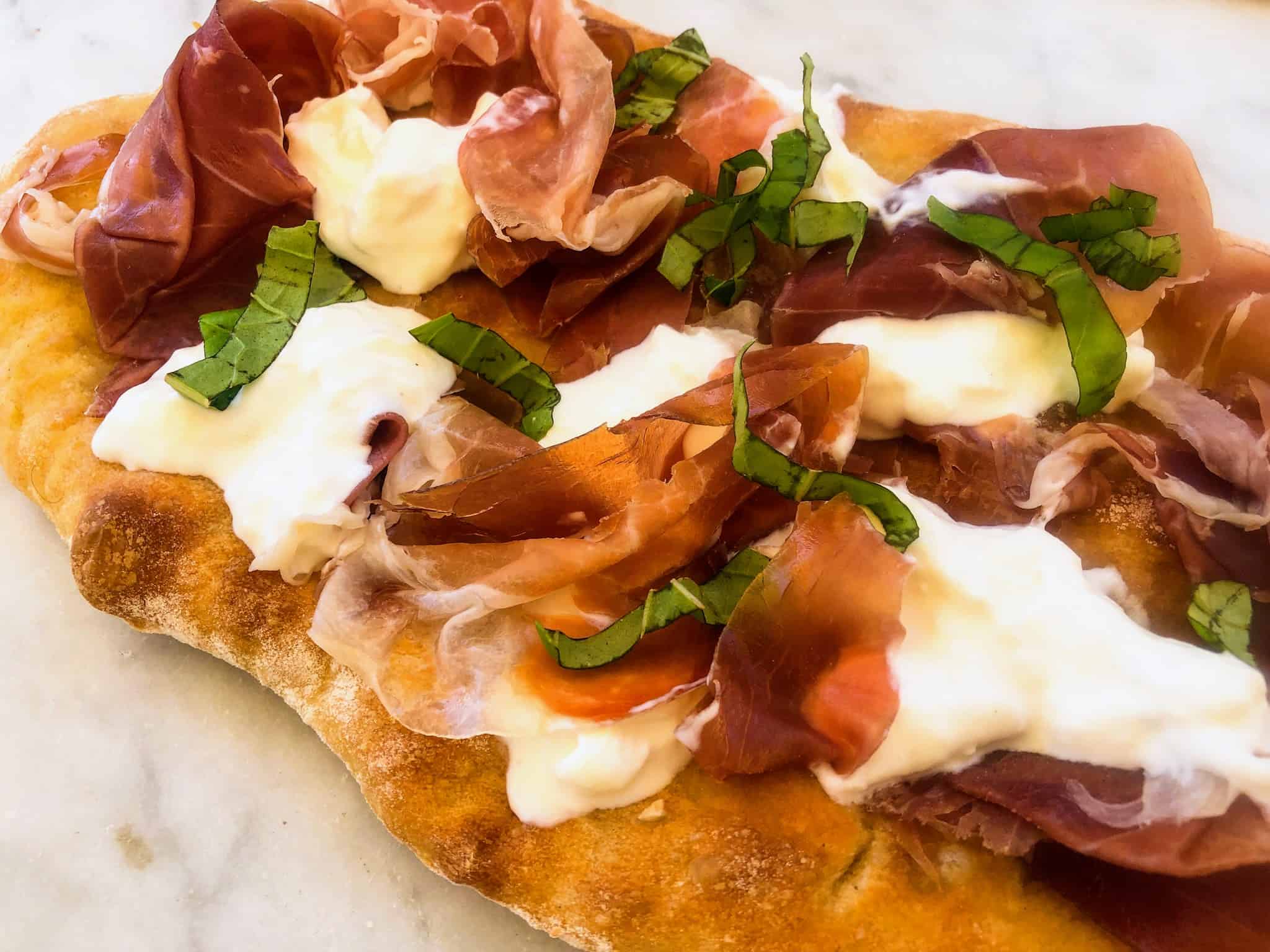 (Pronounced peez-zah ahl-lah pah-lah in Italian)
Also known as pizza pinsa, this oval-shaped flatbread is Rome's most famous pizza option, enjoyed as a quick lunch or Italian snack. You can find pizza alla pala or pinsa very easily as it's a favorite among locals. It's defined by a slow-rise and high hydration, making for a light and airy crust, easily digested and considered lighter than other pizzas.
Italian Snacks From Sardinia
Panada
(Pronounced pah-nah-dah in Italian)
Panada is a type of stuffed pizza, similar to an empanada. The dough is stuffed with a soft mixture of potatoes, sun-dried tomatoes, parsley, garlic, olive oil and either lamb or locally fished eel and baked until golden.
Mustazzeddu
(Pronounced moo-stahz-zehd-doo in Italian)
Yet another type of pizza-focaccia from Sardinia. Did I mention that each region in Italy has their own version of pizza and focaccia? In this Italian snack, the dough is topped with tomatoes, onion, basil, garlic, olive oil, and salt.
Pizzetta Sfoglia
(Pronounced peez-zeht-tah sfohl-yee-ah in Italian)
Pizzetta sfoglia is made by stuffing phyllo pastry dough with a salty mixture of tomato sauce, capers and anchovies.
Pardulas
(Pronounced pahr-doo-lahs in Italian)
Pardulas are sweet pie-like treats filled with ricotta and saffron. They are easily purchased at many shops and eateries but the best ones are going to be sold at bakeries.
Tip: Sardinians eat order pardule for breakfast with coffee. I always say there is no better way to experience a place than by doing what the locals do.
Casadinas
(Pronounced cah-sah-dee-nahs in Italian)
Casadinas are a type of pardula made with fresh pecorino Sardo instead of ricotta.
Focaccia Barese
(Pronounced foh-cahch-chah bahr-ehs-eh in Italian)
Focaccia Barese is defined by it's surface dotted with cherry tomatoes, local olives and oregano. This is a must-try when in Bari and don't worry, you will see it on every corner!
Calzone di Cipolla
(Pronounced cahl-zohn-eh dee chee-pohl-lah in Italian)
Calzone di cipolla or "onion calzone" is the pugliese version of a beloved Italian snack filled with tomatoes, onions, olives and anchovies.
Zeppole
(Pronounced zehp-poh-leh in Italian)
Zeppole are sweet fried pastries filled with various creams eaten throughout Italy in celebration of Father's Day.
Pasticciotto
(Pronounced pah-steech-choht-toh in Italian)
Pasticciotto is a luxuriously smooth creamy custard flavored with black cherries and baked into a flaky pie crust. The best is in Lecce!
Puccia
(Pronounced pooch-chah in Italian)
Puccia is pizza dough stuffed with meats, cheeses, and/or vegetables, great to bring to the beach for an Italian snack.
Pizzo Leccese
(Pronounced peez-zoh lehch-cheh-seh in Italian)
Pizzo Leccese is definitely considered one of the best of all Puglia's street food. This thick bread is cooked with lots of seasonal vegetables such as eggplant, zucchini, peppers, tomatoes, bitter greens, cheese and sometimes meat.
Italian Snacks From Liguria
Farinata
(Pronounced fah-ree-nah-tah dee cheh-chee in Italian)
Farinata is a salty, oily chickpea flatbread that is super filling and satisfying. It's also vegan.
Fact: In Tuscany, farinata is called cecina, which you can easily make at home using our recipe: Tuscany's Best Street Food is Vegan: Cecina (Chickpea Flatbread) Recipe from Italy
Latte Dolce Fritto
(Pronounced lah-teh dohl-cheh freet-toh in Italian)
Also known as crema fritta (insert hyperlink above), latte dolce fritto is sweet custard cut into pieces, coated in breadcrumbs and fried until golden. You can get it hot or cold (I always prefer it hot!).
Fact: Latte dolce fritto is sometimes called crema fritta in Italian, depending on where you are on the Italian peninsula.
Sgabeo
(Pronounced sgah-beh-oh in Italian)
Sgabeo (plural sbagbei) is a savory Italian snack made from strips of fried leavened dough. Sometimes you can order them filled with cold cuts such as prosciutto and cheese or made sweet with pastry cream or Nutella.
Frisceu
(Pronounced free-shey-oh in Italian)
Also known as cuculli, these small fried fritters are simply delicious, oftentimes flavored with salt dried cod, onions and/or oregano. They are best when they are hot out of the fryer!
Italian Snacks In Lombardy
Sciatt
(Pronounced shaht in Italian)
Sciatt are round buckwheat fritters flavored with cheese. You most likely will see them served as an appetizer but they are also enjoyed as an Italian snack or street food by locals.
Italian Snacks In Campania
Panzerotti
(Pronounced pahn-zehr-oht-tee in Italian)
Panzerotti are one of the most famous Italian snacks to try, made from pizza dough pockets filled with mozzarella and tomato and deep fried to golden perfection. You will also find them filled with seasonal ingredients including peppers and cheese, spinach and ricotta, and zucchini and mozzarella. 
Fact: You will also come across pizza fritta, which is very similar to panzerotti, served in pizzerias across the south.
Pizzelle
(Pronounced peetz-zehl-leh in Italian).
Pizzelle are essentially deep fried pizza dough topped with tomato sauce, mozzarella and parmesan cheese. You will find these throughout Campania but the best ones are in Naples.
Cuoppo
(Pronounced coo-ohp-poh in Italian)
Cuoppo is a paper cone filled with fresh mixed fried seafood. For me, this is more of a meal than a snack!
Panuozzo
(Pronounced pah-noo-ohz-zoh in Italian)
Panuozzo is yet another pizza-calzone variation filled with eggplant, tomato sauce, cheese, and sometimes prosciutto or other salumi.
Mozzarella in Carrozza
(Pronounced mohz-zah-rehl-lah in cahr-rohz-zah in Italian)
Mozzarella in carrozza is one of my favorite Italian snacks. It's a fried mozzarella sandwich. Not exactly light but a true southern Italian specialty!
Babà Napoletano
(Pronounced bah-bah nah-poh-lee-tahn-oh in Italian)
Babà Napoletano is a sponge cake soaked in a thick, citrus syrup, oftentimes alcoholic. They are quiet dense, verys sweet and even popular at breakfast in Naples. This is another Italian snack which is now widespread across the Italian peninsula but the really good ones are made in Naples.
Sfogliatella
(Pronounced sfohl-yah-tehl-lah in Italian)
Meaning "leaf layers," sfogliatelle are small pastries resembling lobster tails with a semolina and ricotta filling.
Struffoli
(Pronounced stroof-foh-lee in Italian)
Stuffoli is a dessert enjoyed throughout Italy but great also as an Italian snack. Small rounds of dough are deep fried and doused in honey.
Olive Ascolane
(Pronounced oh-lee-veh ah-skoh-lah-neh in Italian)
Olive ascolane are one of the most original Italian snacks I have tried in Italy made from local green olives that are filled with ground meat, breaded and deep fried. You will sometimes find them mixed in with other fried foods at a restaurant but you can also pick them up from street vendors and at markets.
Piadina
(Pronounced pee-ah-dee-nah in Italian)
Piadina is one of the best Italian flatbreads you can buy in Italy. Usually, it comes stuffed with different meats and cheeses, the most famous combination being prosciutto with stracchino and arugula.
Tip: Visit Rimini for the best piadina in all of Italy. No matter the eatery, restaurant or small kiosk, the piadina will be excellent!
Focaccia di Recco con Formaggio
(Pronounced foh-cahch-chah dee rehch-choh cohn fohr-mahj-joh in Italian)
Focaccia di Recco con formaggio is a cheese-filled focaccia bread from Recco. This focaccia is made without yeast, which makes for a very thin flatbread that is filled with a soft cow's milk cheese called stracchino or crescenza.
Erbazzone
(Pronounced ehr-bahz-zoh-neh in Italian)
Erbazzone is a must try for veggie-lovers. This is a type of savory pie filled with greens flavored with pancetta, parmesan, onion and garlic. The real reason this pie is so good is because it's covered in lard before going into the oven. Locals enjoy this Italian snack in the afternoon or in small bites with a cocktail.
Crescentina
(Pronounced creh-sheh-tee-nah in Italian)
Crescentina is one of the most popular appetizers, street foods or Italian snacks you can try while in Emilia-Romagna made from fried leavened dough that is usually served with soft cheese and prosciutto. Every region and even city has their own name for it: gnocco fritto in Modena, pinzino in Ferrara, torta fritta in Parma, chisulen in Piacenza or crescentina in Bologna.
Borlengo
(Pronounced bohr-lehn-goh in Italian)
Borlengo is a large, thin, savory pancake from Modena rubbed with bacon fat, garlic and rosemary after being cooked. Originally made with just water and flour, it's today enriched with milk and eggs.
Italian Snacks in Molise
Pampanella
(Pronounced pahm-pah-nehl-lah in Italian)
Pampanella is the must-try Italian snack from Molise made from strips of pork loin that are seasoned with lots of sweet and spicy pepper and baked. Look for it as a sandwich or as is.
Ciccioli
(Pronounced cheech-choh-lee in Italian)
Ciccioli are fat scraps or pork rinds that are served as crispy nibbles in Molise. I don't love these because they are super salty but the locals go crazy for them!
Aperitivo Snacks
Aperitivo snacks are just savory Italian snacks that also pair well before dinner as an aperitivo. Many of the Italian snacks described above are eaten not only during the day but also with a cocktail such as a spritz or negroni before dinner.
Italians love nuts, potato chips and small crackers as well when it comes to aperitivo snacks.
Here are some of the most common aperitivo snacks you will be served in Italy:
Taralli
Focaccia/schiacciata
Grissini
Olives
Pizzette
Various Cicchetti
Italian Snacks FAQ
Is snacking common in Italy?
It's true that Italians don't snack as much as in other cultures but that is not to say that they never eat inbetween meals. When they do snack, it's small, quick and independent from other activities or jobs. Italians don't often combine work and pleasure so it's unheard of to work and eat. For an afternoon pick-me-up, an Italian will leave the office, have an espresso at the bar and maybe a small pastry or baked good. 
What is afternoon snack in Italy?
The afternoon snack in italy is referred to as merenda. It's very light, usually easy made at home with a slice of bread, a piece of fruit or sometimes, a gelato or bakery item for children. 
What snacks do Italians like?
Italians don't usually snack too much (although children do) but when they do need something, they will oftentimes have a gelato, a small pastry, a piece of fruit, a slice of focaccia or schiaccaita. It's going to be small and enjoyed quickly. 
What are the Italian snack brands?
In supermarkets you can easily pick up pre-packaged Italians snacks made by San Carlo, Ferrero (including Kinder), Pavesi, Mulino Bianco and Balconi, just to name the most popular.