Last updated on July 31st, 2023
Perhaps you have heard that Italy is one of the best places to try truffles in the world. It's true! Whatever your reason: you are planning your vacation to Italy, you want to book a truffle experience, you want to cook with them, bring them back as souvenirs or simply try them for the first time, you are going to need to know the basics.
After living in Italy for 10+ years and writing about food for even longer, I have learned a lot about truffles, or tartufi, as we call them here in Italy. So let me give you the 4-1-1 on Italian truffles.
In this article I will go over:
Exactly what a truffle is and how to pronounce it
What are the different types of truffles in Italy, where to buy them, and how much they cost
How Italian truffles are found and what you can do with them
Classic Italian dishes that use truffles
How to bring truffles home as souvenirs
What is a Truffle?
A truffle in English has several meanings. It can refer to a type of highly prized mushroom that grows underground, usually around a depth between 5-30 cm.
A truffle can also refer to a chocolate candy made with a chocolate ganache center covered in various types of chocolate and sometimes finished with nuts, cocoa powder, coconut flakes or other flavors.
In Italian, the word tartufo, or truffle, refers again, to two very different things. The first is the mushroom, just as in English. The second is a kind of ice cream dessert called a tartufo di pizzo from Calabria.
What is a Truffle Called in Italian?
Truffle in Italian is tartufo, coming from the latin word 'tuber', describing a lump or the shape of the mushroom.
Listen to the pronunciation of tartufo:
Tartufo is pronounced tar-too-foh in Italian. The plural of tartufo is tartufi, meaning truffles.
Listen to the pronunciation of tartufi:
Types of Truffles in Italy
White Truffles
Tuber Magnatum Pico
Tuber Magnatum Pico or white truffles are called Trifola d'Alba Madonna in Italian, translating to "Truffle of the White Madonna". Others know them as the King of Truffles or the White Diamond because of their high market value.
These irregularly shaped white truffles are smooth and can range from a white to beige color. They are very earthy and some describe them as having notes of sweet honey and nuts.
Nice To Know: Fresh white truffles don't last very long, only about 3 days!
White truffles grow most famously in the province of Langhe in Piedmont but they also grow in other regions of Italy as well (see below).
Tartufo Bianchetto/Marzuolo
The bianchetto truffle is known as the "white truffle of the poor" because it can easily be mistaken for the magnatum pico if you are not a truffle expert. It's much less pungent and is usually a bit small and with more white veins than in the pico.
Black Truffles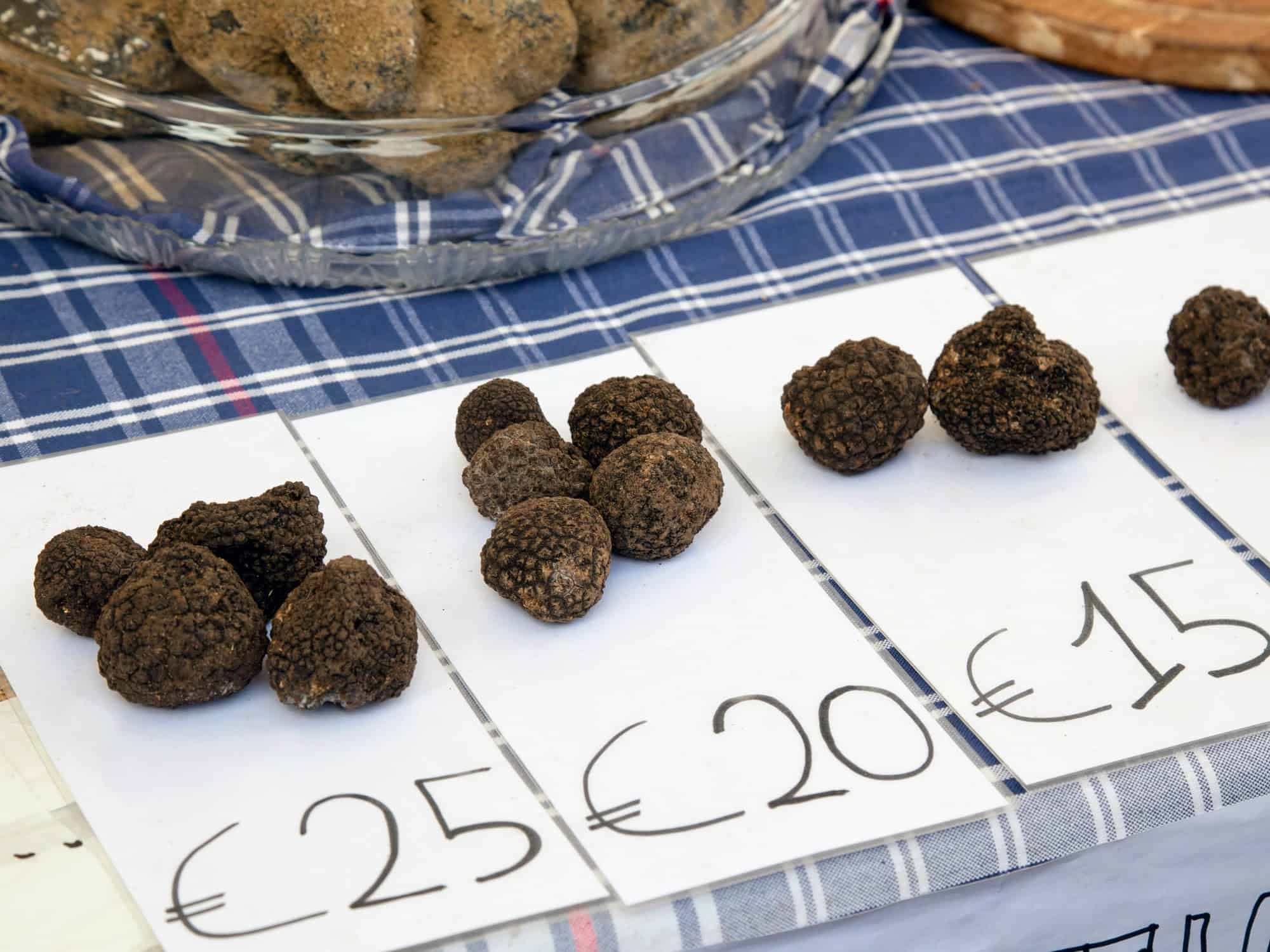 Nero Pregiato
Nero Pregiato or black truffles is the other primary category of truffles. They are more resistant and can remain fresh longer than their white counterparts. It only grows from November until March.
Black truffles have a dark brown or black exterior that is rough. The inside tends to be dark gray or dark brown with small white veins running through it.
Black truffles are not nearly as delicate as white so they can handle being cooked. They are heartier and richer and very pungent.
Fact: The best black truffles are found in Umbria.
Scorzone
The sorzone is the most common black summer truffle which is more mild and is hunted from May to October. It has a lighter interior than the nero pregiato.
Tartufo Uncinato
Also known as the burgundy truffle, it seemingly looks like the scorzone but it has a stronger smell and more little white veins on the inside.
Tartufo Moscato
The moscato truffle is recognized by its small size, similar to a walnut.
Good To Know: avoid the tartufo di bagnoli at all costs: it's bitter and can be recognized by its brown exterior and yellowish interior.
How Truffles are Found
Because truffles cannot be farmed or cultivated, they must be foraged, or dug out of the woods. They are very hard to find because they grow underground, between 2-12 inches under the surface, most typically around root systems of trees.
Historically, pigs were used to find truffles because they had good noses but they would also create a lot of damage both to the land and to the truffle themselves. The practice of using truffle hunting dogs or cani di tartufo was soon put to use.
Fact: Today, it's illegal to use pigs to hunt for truffles.
Only certain types of dogs are used for truffle hunting and they are trained from day one when they are still nursing from their mother to sniff out strong smells, such as truffles. Usually, the Lagotto Romagnolo, the German Bracco and the Pointer are used for truffle hunting.
Fun Fact: Not only can truffle dogs cost upwards towards €5,000.00 but they also have special schools. In Piedmont, there is even a special dog university for training dogs to truffle hunt!
Truffle hunters head out with their dogs to areas that they know are bound to have truffles (this is a bit of a best-kept secret for those who know these places). The dogs are then let off their leashes and let free to sniff around for the jackpot scent.
It's just as important that the dog owner knows how to handle their dog once they have discovered a truffle because they are easily damaged which can affect the market value. Hunters use a small stick with a sharp point at the end that is used to remove the truffle from the earth.
Fact: It's crucial for the truffle hunter to cover the hole with soil where he dug up his truffle so new ones can grow.
Truffle hunting is illegal at night, from about one hour after sunset to one hour before sunrise. It's also prohibited to truffle hunt from May 1-31st and from September 1-20, no matter the variety.
The truffles then need to be kept very carefully to ensure they stay fresh and in optimal condition for selling directly to clients, at fairs, markets, gourmet shops or restaurants.
Hunting With A Local: As a tourist, there are many companies that offer truffle hunting experiences. They most commonly include a morning of truffle hunting with an expert and a luxurious truffle-filled lunch!
Where to Find Truffles in Italy
Truffles grow prolifically throughout the Italian peninsula, particularly in central Italy and up in Piedmont. Even so, you can find truffles sold throughout all of Italy either fresh or preserved in some way.
Restaurant Tip: Seek out specific truffle restaurants in your town of destination during truffle season. Many restaurants will change their menus seasonally to incorporate the abundance of truffles. Others serve truffles year-round such as Tartufi and Friends (Via Borgognona, 4/E, 00187 Roma RM). Procacci is my pick is you are traveling in Florence. Even if you don't love truffles, you can sit at their bar and have a great glass of wine with a friend who needs to get their truffle fix.
Regions Italian Truffles Grow in
The following Italian regions have the perfect climates, conditions and soil for truffles:
Areas Italian Truffles Grow in
Heavily wooded areas or rocky areas where truffles thrive are known as tartufaie. They flourish in humid, cool climates and tend to grow under willow, poplar, hazelnut and oak trees (but not limited to).
Looking for Truffles at Italian Markets
Whether you are at more structured food markets such as Sant'Ambrogio in Florence or happen upon several trucks and stalls lining the side of a road, truffles are often available for sale in some form or another.
You will see the truffles displayed on the tables, marked by price, which will depend on the size, type and quality.
We Recommend: If you are in a group with some people who like truffles and others who don't, head to the top floor of Mercato Centrale in Florence where everyone can order exactly what they want from the different stands. Those who like truffles can order from Il Tartufo.
Finding Truffles in Italy at Festivals and Fairs
Local sagre or fiere, or food fairs take place all over Italy, including several highlighting the various white and black Italian truffles.
| | | | |
| --- | --- | --- | --- |
| Name | Time of Year | Location | Good To Know |
| The International White Truffle Fair of Alba | Early October-Early November | Alba (Piedmont) | World Truffle Market is held within this sagra |
| National White Truffle Fair | Late October-Early November | Acqualanga (Marche) | Specifically good for rare varieties |
| Tartofla Savigno Truffle Festival | Early-Mid November | Savigno (Emilia-Romagna) | Good location for pairing with a food tour of Emilia-Romagna |
| San Miniato National White Truffle Market | Weekends in November | San Miniato (Tuscany) | Smaller than other truffle fairs |
| Tignale Truffle Festival | Late September-Early October | Lake Garda (Lombardy) | Ideal for sampling various truffles and talking to local experts |
The International White Truffle Fair of Alba
Also known as the World Truffle Market, this is the perfect place to sample and purchase truffles. You can watch cooking demonstrations, listen to seminars and sample the best of the best. There is even a whole section for kids! This is the most famous truffle fair attracting buyers from all over the world.
National White Truffle Fair
Acqualanga is actually home to three truffle fairs under the hat of the National White Truffle Fair. The first is the Regional Black Truffle Fair, taking place in February. The Black Summer Fair is in July and from late October to early November is the National White Truffle Fair, the most famous of the three.
Tartofla Savigno Truffle Festival (International White Truffle Festival)
Savigno is named "the city of truffles" because of this specific fair that celebrates the white truffle in November. You will find not only white but all kinds of truffles so whatever your agenda, there is something for you.
San Miniato National White Truffle Market
The San Miniato National White Truffle Market is not nearly as big as some of the other festivals but it's a good introduction to white truffles. You can not only indulge in the various local truffles but also take part in the entertainment such as music and dancing. It takes place on the weekends in November in San Miniato (Tuscany).
Tignale Truffle Festival
Unlike other festivals, the Tignale Truffle Festival is more geared towards tasting and sampling the different varieties instead of buying and selling. Not only can you sign up for a tasting event but local restaurants change their menus to melt into the truffle fair vibe with various dishes showcasing the different varieties.
How Much Do Italian Truffles Cost?
Truffles are a luxury food item, even in Italy where they grow very well. This is because they cannot be cultivated or controlled by farmers. Truffles only grow wild in the forest and can only be found using expertly trained dogs.
In addition, truffles don't have a long shelf life unless they are preserved in some way such as in oil. Some last only a few days while others can last a few months, but no more.
They also only grow seasonally, skyrocketing the price. Depending on the variety and quality, a truffle can cost anywhere from €2,000 to €5,000 (and upward!) per kilo.
When to Find Truffles in Italy
Truffles grow at different times of the year, depending on the variety.
White and black truffles can be split into two categories: winter and summer truffles.
The winter white truffles are found between October and January while the summer white truffles are found between January and April.
Winter black truffle hunting goes from November to March while the summer black truffle is found between May and September.
Truffle Hunting Tip: If you hope to come to Italy in the hopes of eating fresh truffles, come in late October through November when they are at their best!
What You Can Do With Your Italian Truffles
Mostly, you can cook with them and in many cases, this means eating them raw and avoiding any form of heat. This is because heat can destroy the delicate flavor of white truffles. Black truffles are a bit more resistant and can be cooked. This is why you will see white truffles most commonly shaved very thinly over dishes.
Because truffles are seasonal, Italian home chefs whip up many recipes off the cusp without any real recipe. This is what is most commonly done with tartufi:
mixed into butter to make crostini
shaved on eggs
shaved and stuffed under poultry skin
make risotto
shaved onto pasta, specifically egg pasta such as fettuccine
used to make truffle oil
shaved on eggs
used in ravioli stuffing
Popular Italian Dishes Made With Truffles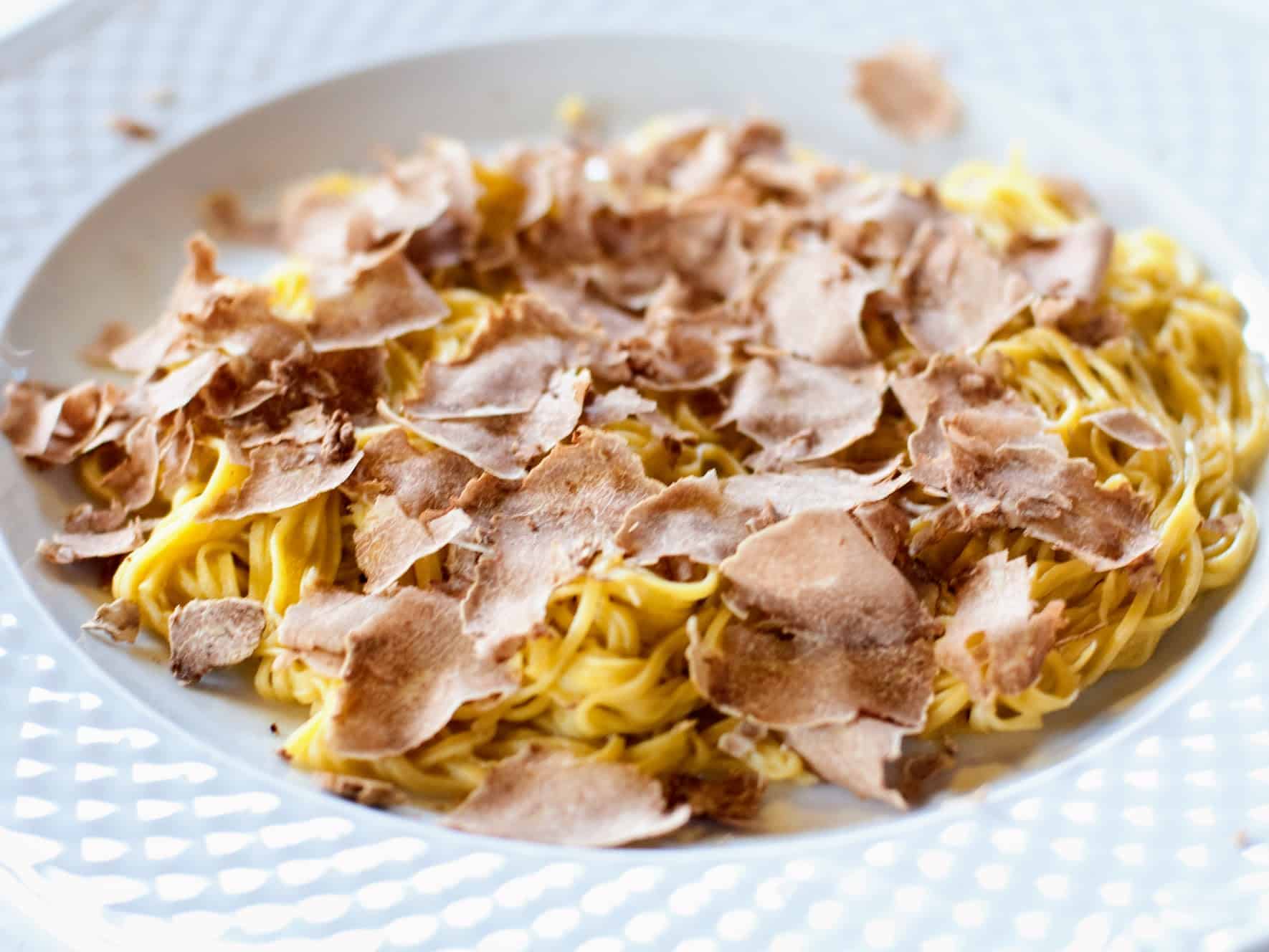 Carpaccio al Tartufo Bianco
A classic dish during truffle season in Tuscany made from thin, raw beef slices served with shavings of parmigiano-reggiano and white truffles.
Fettuccine con Tartufo
Fettuccine con tartufo is a favorite in Italy, especially in the central regions where more fettuccine is eaten such as Tuscany and Umbria. This isn't the lightest dish, made heavy and hearty with cream and plenty of parmigiano-reggiano.
Risotto al tartufo
Risotto al tartufo is a dish you will find more towards northern Italy where the preferred starch is rice. Sometimes the truffles will be shaved on top, other times, they will be cooked right in. No matter, it's luxurious and filling!
Gnocchi al tartufo
Gnocchi al tartufo is a potato dumpling coated in a cream-based sauce infused with fresh truffles. Most typically it's finished with a shaving of fresh tartufo.
We Suggest: Amerigo (Via Guglielmo Marconi, 14/16, 40053 Savigno, BO) is one of Italy's most famous Michelin restaurants for gnocchi al tartufo. It's best to call ahead for reservations and with ample time during the truffle fair.
Frittata con tartufo
Frittata con tartufo is Italy's version of an omelet served with freshly shaved truffles. Eggs have a delicate flavor so they pair perfectly with rich, earthy truffles.
Florence Recommendation: Osteria delle Tre Panche (Via Pacinotti 32/R, Florence). It's a bit outside the city center but this little hole in the wall is well worth the taxi fare to get there!
Tajarin al tartufo
Tajarin al tartufo is made from thin strands of egg pasta shaved with white truffles, the local variety that is found in Piedmont. I personally think this is one of the best ways to taste truffles because the egg pasta is thin and holds and truffle shavings well with just the right ratio between pasta and truffle.
Italian Truffles as a Souvenir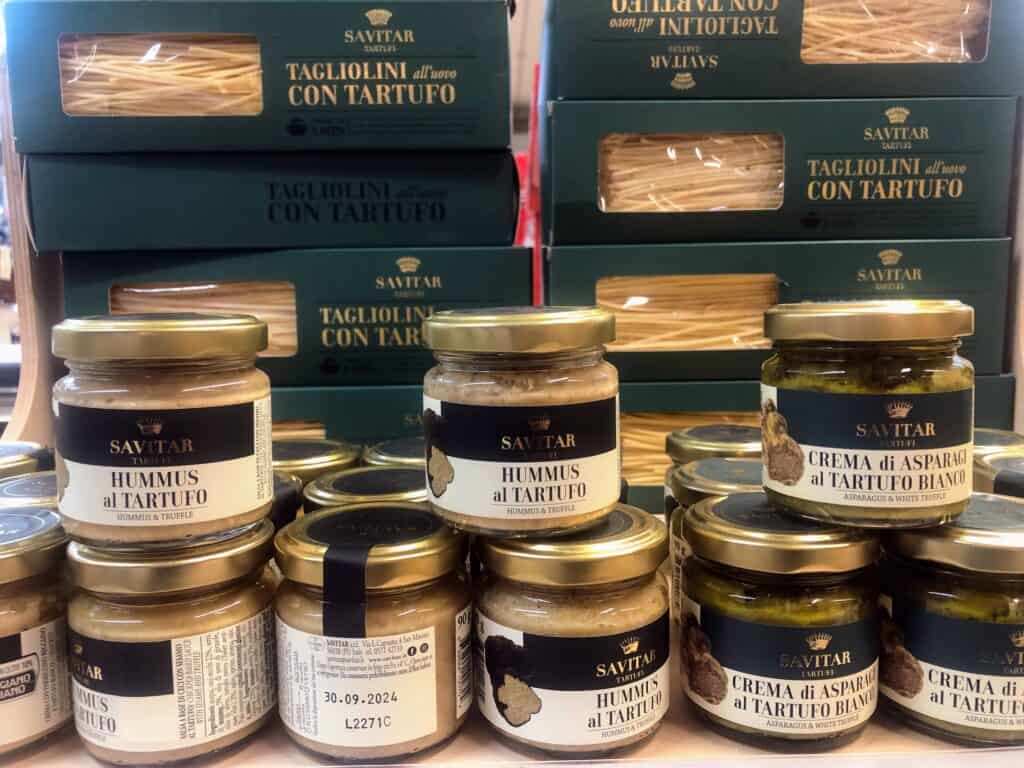 Because truffles are delicate and degrade quickly with time, it's best to buy them preserved in some way. Italy has such a large and vast tourism industry, the country has also invested in preserving truffles that can be sold to tourists to bring home as souvenirs and gifts.
Good To Know: You cannot bring fresh truffles into many countries outside the EU, including the US so check with your country's customs to be sure!
Here are the best ways to bring truffles home:
Truffle oil
Truffle cream spread for crostini
Truffle sauce (similar to a mayonnaise condiment)
Truffle dried pasta
Truffle dried ravioli
Truffle risotto rice
Shaved truffles packed in oil
Truffles in Italy FAQ
Why are truffles so expensive?
Truffles are expensive primarily because they cannot be cultivated or controlled by farmers. They grow wild in the forest and can only be found using expertly trained dogs. Truffles are seasonal and also don't have a long shelf life, some only a couple of days, which increases their market value. 
Do pigs find truffles in Italy?
Historically, pigs were used to find truffles because they had good noses but they would also create a lot of damage both to the land and to the truffles themselves. The practice of using truffle hunting dogs or cani di tartufo is now the norm. 
How do you store truffles?
Depending on the variety, truffles can be stored wrapped in paper towels in a glass jar in the refrigerator.