Last updated on November 17th, 2023
Umbria is sometimes overshadowed by its bordering regions of Tuscany (Florence) and Lazio (Rome) but Italy's 'green heart' has just a fraction of the crowds, lines and tourist traps.
Umbria is the only region in Italy without a coastline so it's the mountains, lakes and forests that stand out, speckled with vineyards, olive groves and an abundance of fertile farmlands.
Orvieto, Norcia and Trevi are just a few of Umbria's goldmines for culinary experiences, producing some of Italy's finest and most appreciated foods. Slowly but surely foodies and travelers are discovering Umbria's food scene so don't get left behind!
Food in Umbria vs Italian Food
Similar to Tuscan cuisine (in fact, many say Umbria is the undiscovered Tuscany), Umbrian culinary traditions are rooted in Etruscan times and based on local ingredients found in the dense forests, fished from the lakes and grown in fertile soil. Both Tuscan and Umbrian cuisines are called cucina povera – poor man's cooking, meaning based on dishes made with ingredients from the local territory that are rich in nutrients, in this case, olive oil, lots of legumes, grains, wild mushrooms and fresh vegetables.
Unlike other regions, Umbrian food relies heavily on all the legumes and beans that grow extremely well in its climate.
While some Italian food can be a bit more complicated, simplicity is Umbria's magic ingredient. The cooking is simple but everyday ingredients are dressed up with fresh truffles, olive oil or sprinklings of handmade cheeses.
And let's not forget about all the wild game. Umbria is home to wild boar, guinea fowl and families of wild hare, all of which have defined the Umbrian cuisine for centuries.
Fact: Tuscany is well known for its olive harvest and oil but Umbria has been awarded five DOP denominations of olive oil!
Umbrian Appetizers
Crostini alla spoletina
Originating from Spoleto, this unusual appetizer is made with toasted or grilled bread topped with black truffles, anchovies, garlic, olive oil and lemon juice.
Frittata al tartufo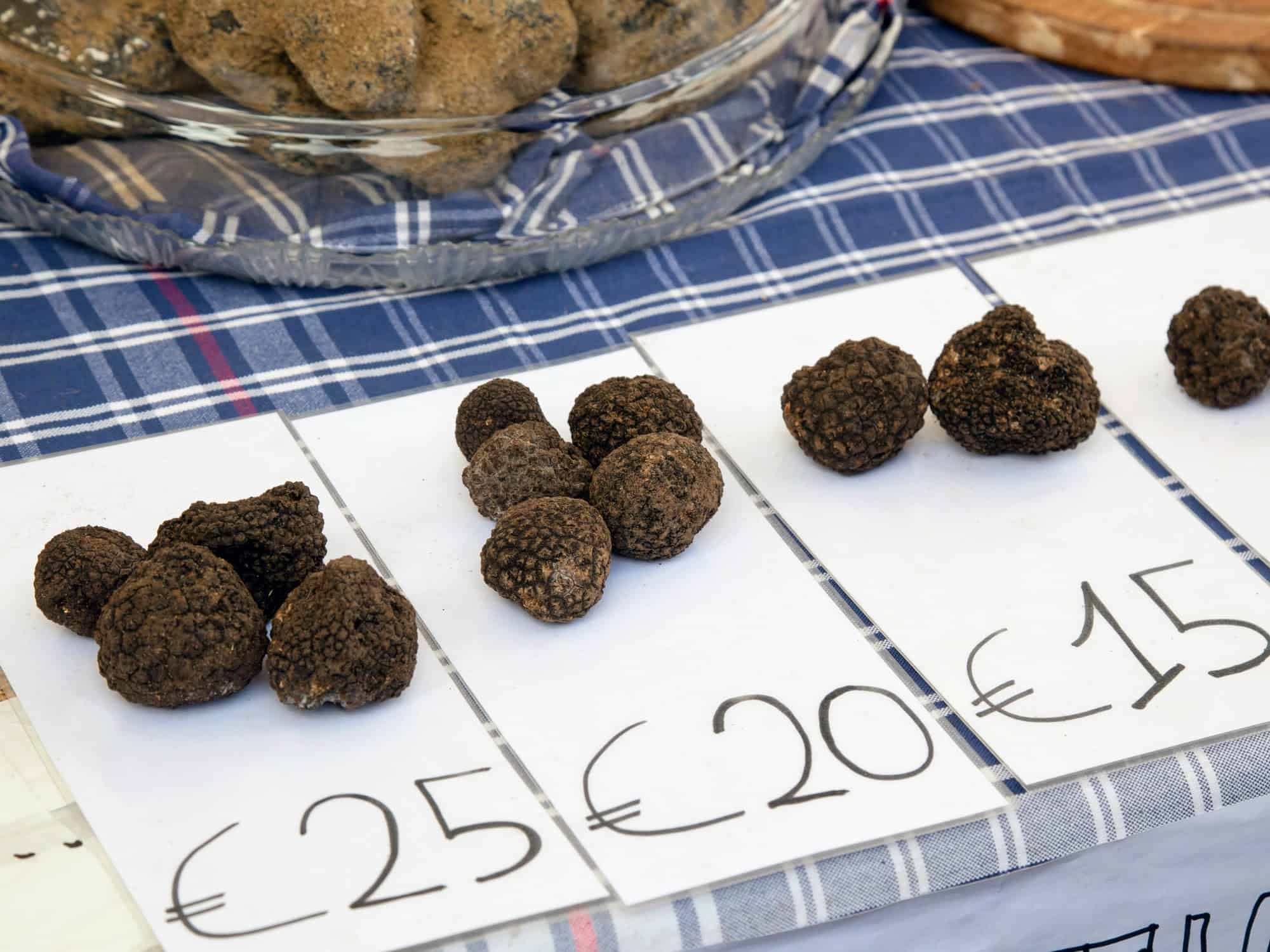 This is one of the best dishes to order if you love truffles as I do! Truffles grow in such abundance in Umbria that it's no wonder that you see them shaved on everything! This frittata is an extremely easy and quick dish to prepare. Beaten eggs are cooked in a very hot pan with olive oil and when the eggs have just set it is taken off the heat and laden with shavings of local truffles. Some restaurants finish their version with grated cheese.
Cooking Tip: If you are able to get your hands on some truffles while in Umbria try sauteeing them in butter and tossing with an egg pasta such as fettuccine or tagliatelle for a dinner that you will not forget!
Foodie Experience: Umbria is prime truffle hunting territory. Book a truffle hunting lunch and tour but before, read Italy Foodie Bucket List – 17 Amazing Italian Culinary Experiences by Region for more details.
Pecorino and caciotta cheese
Umbrian cheesemakers make both rich and creamy soft cheeses as well as cave-aged, sharp cheeses with a nice bite. Pecorino (sheep's milk cheese) and caciotta (semi-soft cheese) are very often enjoyed before or in place of dessert. You can also sample cheese with a tagliere di formaggi (a cheese board) as an appetizer.
Worth Mentioning:
Tagliere di salumi (charcuterie platter)
Pinzimonio (raw vegetables served with freshly pressed olive oil)
Fettunta (grilled bread slices drizzled with new olive oil and finished with salt)
Pasta in Umbria
Fettuccine con la ricotta
A rich and simple dish rooted in Umbria's cucina povera, this dish has very few ingredients, all of which are found locally. Freshly cooked fettuccine pasta is tossed with a mixture of fresh ricotta (sheep's milk), olive oil, cream, grated parmesan, salt and pepper for a warming winter meal.
This is a great way to taste ricotta cheese and if you aren't familiar with sheep's milk ricotta then you are going to want to order this!
Tagliatelle con ragù d'agnello
Originating from Foligno, this hearty pasta is beefed up with a very rich ragù made from the local lamb. The addition of garlic and rosemary makes for an earthy sauce, setting this ragù apart from others. Per tradition, this ragù is best when it is simmered for hours on end and then tossed with homemade tagliatelle pasta.
Pasta alla norcina
This dish from Norcia is made with pasta corta (short pasta) like penne or rigatoni. Crumbled Norcia sausage, white wine, cream, onion and lots of grated pecorino cheese completes the dish.
I have seen some versions using black truffles, tagliatelle instead of short pasta and mushrooms and it's no surprise as these are all some of Umbria's most prized ingredients.
Strangozzi
Last but certainly not least is Strangozzi which is a kind of hand rolled thick spaghetti originating from Spoleto.
There are several stories and legends as to where this pasta gets its name but the most popular one says it comes from the Italian word stringhe, meaning shoelaces, which is what this pasta does indeed resemble.
This pasta is traditionally served with either black truffles or in a simple spicy tomato sauce.
Other Pasta Dishes in Umbria:
Umbricelli in salsa di Trasimeno (pasta with perch from the local lake)
Pappardelle alla lepre (with wild hare ragù)
Meat in Umbria
The lush rolling hills of Umbria are a natural setting and ideal rural landscape for raising livestock. They're also home to wild game like boar, hare and pigeon.
Scafata
This is an almost veggie option but alas it has pancetta. This is a traditional Umbrian stew that will warm you from the inside out. Made with fava beans, swiss chard, tomatoes, white wine, chili peppers, pancetta, onions, carrots, celery and rosemary, it is very rustic and filling. The secret is to simmer it for hours on end!
Friccò all'eugubina
Friccò refers to how the meat is cooked while Eugubina means from Gubbio (an idyllic, underappreciated medieval hill-top town).
This winter stew, made with either lamb or rabbit, is slowly cooked and served with a mix of potatoes and vegetables. Local herbs are added right before serving, a typical final step in Umbrian cooking.
Foodie Tip: Gubbio is well known for their street food. It's a great opportunity to try authentic nibbles and get your hands in some food souvenirs to bring home.
Prosciutto di Norcia:
Every region in Italy has its version of prosciutto, cured ham, and Umbria's is considered one of Italy's best. You will commonly find it on taglieri or charcuterie boards throughout Italy and for good reason: it is a semi 'sweet' prosciutto meaning it is not overly salted when cured and thus, very palatable.
Try It: Here is your opportunity to try not only the prosciutto di Norcia but all of the other locally cured meats. Don't miss the tagliere at "Locanda del Bartoccio" (Norcia).
Learn More: You may want to read Is Prosciutto Raw? and 9 Types of Prosciutto to Try on Your Trip to Italy.
Porchetta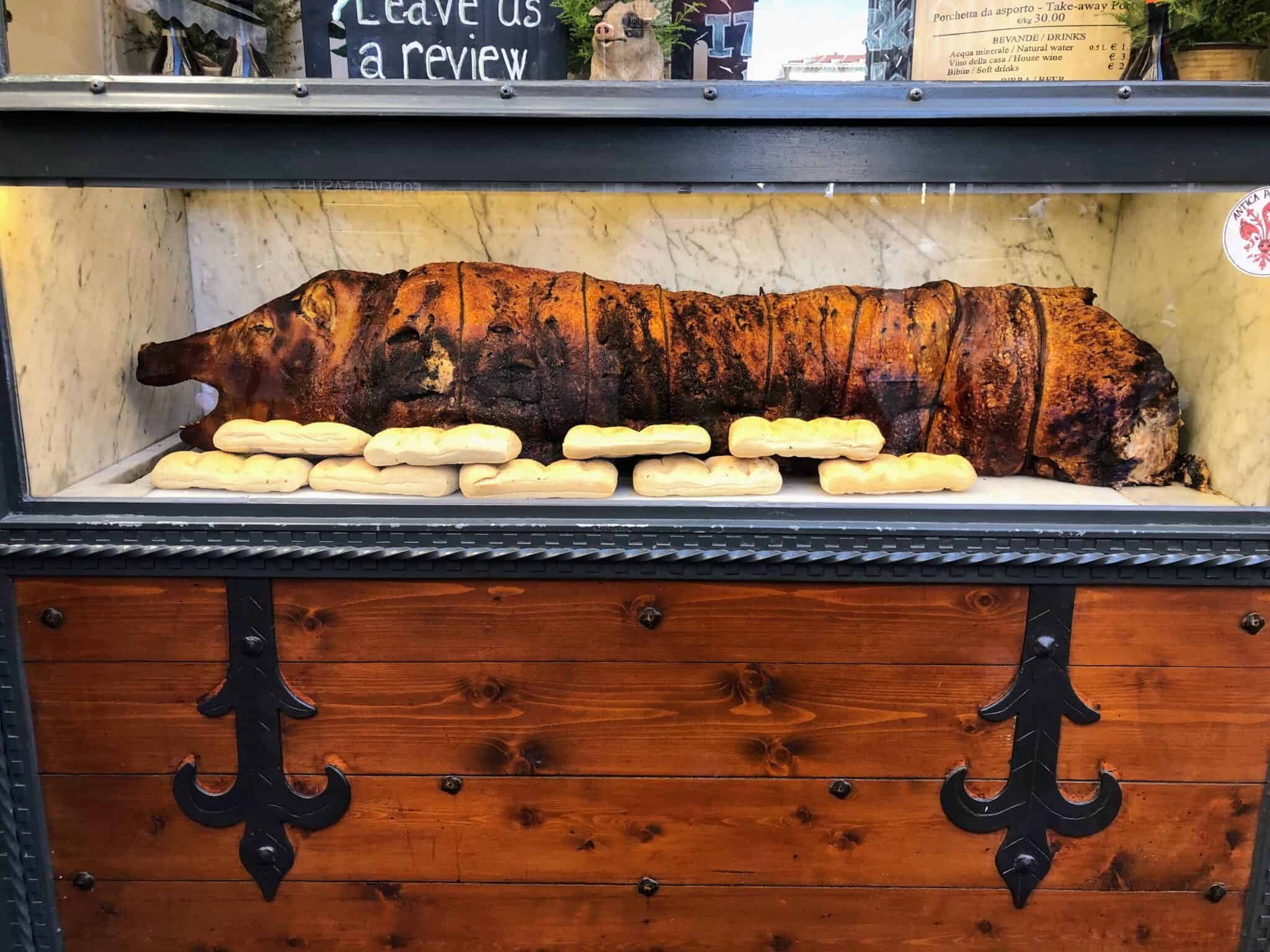 A common way to cook meat in Umbria is on a spit over an open fire. Perugia has its version of this popular Italian dish – cooks stuff wild fennel into the center before rolling it up to roast. Porchetta is either eaten as a secondo (second course) or as a panino (sandwich).
Try It: Stop by Antica Salumeria Granieri Amato (Perugia) for a variety of panini, including porchetta.
Salsiccia secca
This small salami-like sausage is a must try, available on any tagliere or available in sandwiches. The sausage is very lean and air-dried. Umbrians like to enjoy this during the Easter holidays with a cheesy bread made for the celebration. 
Learn More: Read all about the Different Types of Italian Sausage.
Worth Mentioning:
Colombaccio Selvatico (turtledove cooked on a spit)
Gallina ubriaca (roasted chicken in local wine)
Torello alla Perugina (veal)
Vegetarian Options in Umbria
Vegetarians won't go hungry in Umbria. Hearty beans and legumes grow abundantly in this region and play a large role in the cooking. A common way to use beans and farro is in rustic soups.
Arvortolo
You can often taste this sort of fried pizza as street food in Perugia, from where it originated. Arvortolo means 'flipped' in Italian as the dough is never neglected, always being turned over to ensure a perfect end result. Over time a sweet version has also been developed which I highly recommend!
Ordering Tip: Instead of ordering a main dish, order several contorni (vegetable sides). Umbrian menus have an abundance of grilled or stewed vegetables, locally grown lentils or farro, and lovely salads.
Bandiera
Bandiera, meaning flag in Italian, is an Umbrian side dish celebrating the red, white and green colors of the Italian flag with green peppers, onion and tomatoes. They're cooked together and served with a crusty end of bread. Yum!
Farrecchiata di roveja
This vegetarian dish is one of Umbria's best creations.
Farrecchiata refers to the process of cooking a legume that has been milled into a flour as polenta. Roveja is the name of a pea legume grown only in Umbria and Marche. Farrecchiata di roveja is polenta made with peas but dressed up with garlic, olive oil, anchovies and sage. Vegetarian or not, I highly suggest you order this unique dish at least once in Umbria.
Torta al testo
This is Umbria's version of a flatbread, cooked in a circular pan over a stove or open fire. Originally it was just made with flour, water and salt but these days yeast or baking soda is added. You will find it served with many of the local soups and stews or as farcita, filled with meats, cheeses and bitter greens.
Ordering Tip: If you like salty meats and cheeses, pair them with bitter greens on the menu (found under contorni). The bitterness of the greens, which may be spinach, kale, swiss chard or chicory depending on the season, really balances out the saltiness of the meats and cheeses.
Read More: About torta al testo and other Italian breads in Bread in Italy – Types of Italian Breads & Where to Eat Them
Fagiolini di Trasimeno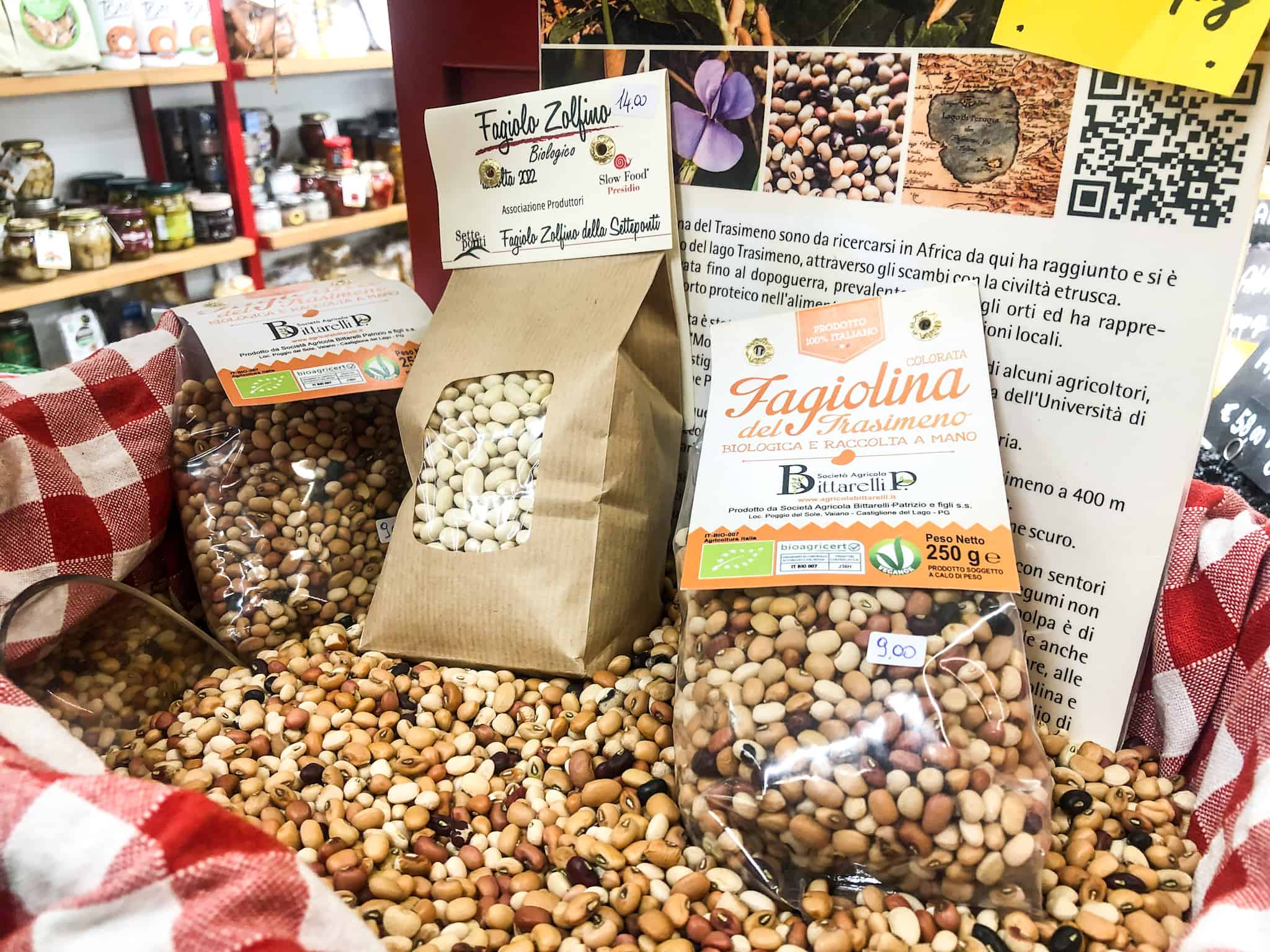 Fagiolini are small, buttery legume beans with a rich nutty flavor grown around Trasimeno Lake since Etruscian times. This nutrient rich food is everywhere: thrown in salads, topped on bruschetta, made into soups or eaten as a side dish finished with a drizzle of local olive oil and a sprinkling of salt.
Try It: You can easily bring these dried beans back in your suitcase if you don't get a chance to try them. Stop in at "Osteria a Priori" (Perugia) and check out the many ways these little beans are served.
Notable Vegetarian Options:
Imbrecciata (legume and farro soup)
Impastoiata (stewed beans atop a mound of polenta)
Quadrucci e Ceci (pasta and chickpeas)
Crema di fave (a creamy fava bean soup)
Zuppa di farro (farro soup)
Cannara onions (locally grown onions)
Lenticchie di Castelluccio (locally grown lentils)
Did You Know?: Many breads in Umbria are made without salt! Back in the 16th century the pope imposed a salt tax on the people who refused to pay it. Umbrians learned to make bread without salt and you know what they say – old traditions die hard!
Umbrian Desserts
Although you will come across many traditional Italian desserts, the traditional Umbrian desserts stand out: they are always oven-baked and often include ingredients like nuts, honey, spices or candied fruit.
Rocciata
This sweet strudel-type dessert from Assisi (the town of Saint Francis) is made with a very thin and crunchy dough stuffed tight with a mixture of apples, walnuts and dried fruits. It gets its name from the word roccia meaning 'rolled' in Italian.
It is then shaped into a coil or horseshoe shape and dusted with powdered sugar.
There are many varieties of this dessert as every Umbrian has his own family recipe that may call for cinnamon, figs, orange zest, liquor or cloves, just to name a few.
Rocciata is traditionally served on All-Saints Day although you will see it throughout the year as well.
Torcolo di San Costanzo
This dessert has many funny stories behind it, none of which can be proved. But it is certain that it was given to local Italian girls who would go to pray in front of Saint Costanzo in Perugia in the hopes that the image would wink back at them, giving them hope of marriage.
Torcolo di San Costanza is a rustic cake shaped into a circle made from water, flour, lard, sugar and dried fruits and nuts such as raisins, pine nuts and anise seed.
Pampepato
Also known as diamante delle terre di San Valentino, this is a traditional Christmas cake from Terni that is shaped like a large dome.
It is a rich, brown cake prepared with chocolate, raisins, nuts, cocoa powder, candied fruit, coffee, cinnamon and nutmeg, honey and flour, making for a dense but soft cake with a crunchy exterior. Perfect with a warm cup of tea during the holiday season!
Crescionda
If you like amaretti cookies you will love this one. Crescionda is light yet satisfying, made with chocolate, aniseed liqueur, eggs, sugar, flour, milk and lemon and finished with a dusting of powdered sugar.
Tip: If you try your hand at making this cake, be sure to refrigerate it when it has cooled and then serve it either at room temperature or cold.
Chocolate
Let's not forget that Perugia is home to the Perugina Chocolate Factory, which is famous for its Baci (kiss) chocolates.
Perugia is also known for its specialty chocolates that are worth stopping for. These artisan chocolates also make for great gifts to bring home.
Insider's Tip:
"Antica Spezieria Bavicchi" (Perugia) to buy lesser-known brands of local chocolates and chocolate liquors.
"Augusta Perusia"(Perugia) for a sampling of freshly made local chocolates and great gelato.
"Turan Café" (Perugia) for more chocolate made onsite!
Food in Umbria FAQ
What are traditional breakfast foods in Umbria?
Umbrians are not unlike other Italians when it comes to breakfast. They enjoy either espresso or cappuccino with a brioche – an Italian pastry – at the local bar or espresso or cappuccino at home with cookies, a slice of toast with nutella but always something sweet! It is rare to see Italians eating savory breakfast foods!
Is the food in Umbria the same as in Tuscany?
Tuscan and Umbrian cooking is rooted in cucina povera – meaning poor man's cooking. Dishes are created and made with ingredients that are easily grown or found in its region that are rich in nutrients and that will fill you up and keep you working hard. Many Tuscans and Umbrians didn't have a lot of flexibility with their diet as they couldn't afford to use ingredients that they couldn't grow or forage for themselves.