Last updated on November 27th, 2023
Whether you are traveling to Italy with your children, running a school trip or going abroad with a club sport or team, you may be wondering what the legal drinking age in Italy is.
Europe has always been a bit more relaxed when it comes to drinking alcohol but it's important to note that not all European countries abide by the same laws.
In this article I will share with you:
the laws that govern the legal drinking age in Italy and the purchase of alcohol
what is culturally acceptable in terms of alcohol consumption
what you will see and what you can expect
my perspective on living and raising children in Italy where alcohol is an integrated part of its culture rather than a forbidden substance
The Legal Drinking Age in Italy
If you have traveled to Italy before or are in the middle of your current Italian vacation, you may notice what seems to be a lot of underage drinking going on in Italy. This does happen but by law, you need to be 18 years old to legally consume and purchase alcohol in Italy.
The legal drinking age in Italy is 18 years old.
DISCLAIMER: Much of what is written here is based on my first hand-experience traveling and living in Italy and raising children here. My claims are opinions and general statements that cannot be applied or considered laws or rules (unless specified otherwise with sources).
Drinking Throughout History In Italy
Producing wine (and other forms of alcohol such as digestifs) have always been part of the economy and Italian culture, dating back to the Ancient Romans. Not only has it remained a cornerstone to the local Italian culinary traditions but it has become one of the most lucrative markets for the country. Today, Italy is the largest producer of wine in the entire world!
Even today in rural areas, moonshine and homemade vino called vino fatto in casa is the norm.
If you take a closer look, you will notice that Italians with just a small plot of land will make room for a row or two of grapes. In this way, they can make wine at home, just as their father taught them and just as they are teaching their children.
This tradition is a bit of a dying art but where I live in the Tuscan countryside, we are surrounded by this.
Drinking Culture In Italy
Everything in Italian culinary tradition has a purpose and wine is no exception. Wine is meant to make food taste better, enhance flavors when cooking and ease digestion, making it an ingredient just as any other. It's consumed in moderation and without any special treatment.
Because Italy has such a longstanding history and close relationship with wine making on both a large and small scale, drinking it at meal times is also standard. Minors having a glass of wine at the table is not considered strange or out of the norm. Rather, it's perfectly acceptable and welcomed.
Fact: Alcohol in Italy does not have a negative connotation. It's not considered a forbidden fruit that will hurt you, as it is in other places in the world.
In my experience, wine is much like water at an Italian table, even at lunch. It's always available, even in small quantities, made to be enjoyed with the meal.
Historically, watered down wine, called aqua rosa or pink wine (it's really just a drop of red wine in a glass of water) was even given in small amounts to children. And today this traditional lives on. Why is this? Not for the alcohol but for taste. Italians have always valued the importance of taste and flavors and wine is just a very complex one that should be valued even by children. By familiarizing them with the taste, wine is normalized and thus, less likely to be abused or taken advantage of.
As a snack back in the day, my mother-in-law has memories of eating white bread sprinkled with a bit of red wine and sugar in the afternoon as a young girl. If you ask any older Italian, they will confirm that they too, have memories of this everyday snack.
Drinking is a completely integrated part of Italian culture which is why alcohol isn't likely to be abused by teenagers as it often is in other parts of the world where drinking any form of alcohol is strictly forbidden and punishable by law until the age of 18 or 21.
Whether it's wine at the table, beer with a pizza or a light, refreshing drink before dinner as an aperitivo, alcoholic beverages are ingrained into Italian culture, just as any other culinary tradition.
Laws Governing Drinking Age In Italy
Before recently, there were really no implications for serving or selling alcohol to underage people. Today, however, there are laws and regulations governing alcohol consumption by minors in Italy:
You must be 18 years of age to drink and purchase alcohol (as of 2012, the legal drinking age was raised from 16 to 18 years).
Fines can be given for selling alcohol to minors.
Serving alcohol to someone under the age of 16 is a criminal offense (if the minor is older than 16, it's punishable with a fine).
Italian Laws & Regulations: Source 1; Source 2
Although these laws are in place, they are not very enforced. Teenagers drinking a glass of wine in public are never approached by the police nor are establishments raided with checks or undercover cops looking to bust a bartender. This just doesn't happen.
So why are these laws not enforced? They aren't enforced because they don't really need to be. Because alcohol is normalized, drinking large amounts, hazing with alcohol and getting black out drunk doesn't happen in Italy like it does in America. Do Italian teenagers get black out drunk? Yes, of course, this is a milestone for every human at some point but does it happen repeatedly? No, not really.
You've Got Options: Check out Non-Alcoholic Italian Drinks – That We Actually Drink in Italy.
Penalties For Serving Alcohol To Minors In Italy
Selling alcohol to children over the age of 16 can be punished with a fine of 250 to 1,000 euros. If the person is found to have done this more than once, the fine is increased to 500 to 2,000 euros with the suspension of the activity for three months.
Selling alcohol to children under the age of 16 is considered a criminal offense and can be punished with fines and also jail time.
Italian Laws & Regulations: Source 3
The Legal Drinking Age In Italy For Foreigners
The laws governing the legal drinking age in Italy apply to the geographical location of Italy. It doesn't depend on your citizenship. If you are a foreign traveler, American, for example, you will be subject to the drinking laws within the Italian borders. The moment you leave Italy, you will need to check the domestic drinking age of the country you are in.
So should you let your 18 year old drink in Italy if the drinking age is 21 in America?
That is up to you. Knowing the Italian laws mentioned above, you need to be the judge and make decisions that are best for your children. The only thing I can say is that after being raised in a country (America) with a strict ban on alcohol until the age of 21 and then raising children in Italy where alcohol is integrated into society, I see a very different approach between American kids and Italian kids.
Americans tend to overdo it and get out of control because they somehow feel they might not get a chance to try it again (or anytime soon because it's forbidden). Italian kids are moderate and have better judgment in terms of alcohol consumption. They learn the limits more easily and don't tend to binge.
At the end of the day, it's important to drink responsibly, even if the legal drinking age in Italy is lower than what you are accustomed to.
Drinking In Public in Italy
Drinking alcohol outside of an establishment, i.e. on the street or parks is not permissible in Italy. This being said, it's a common practice. You probably won't see someone walking across the Ponte Vecchio with an open bottle of wine but you may see someone sitting on a park bench with an open can of beer.
Italy is a very reasonable place in terms of drinking in public. Italian authorities don't tend to bother people who are drinking without disturbing others. If someone is disturbing the peace, being loud or problematic, they will likely find themselves face-to-face with the authorities.
Good To Know: Some cities have their own laws when it comes to drinking in public, usually put in place for safety. For example, in Rome, after 10 pm, it's against the law to drink alcohol in glass unless you are seated at an establishment (no standing outside a bar with a glass).
Underage Drinking In Public in Italy
Most Italians can agree that drinking a glass of wine at the table, even as a teenager, is totally acceptable and moreso, enjoyable.
While drinking under the age of 18 in public is forbidden by law, in my experience, it still happens quite a bit here in Italy. While you won't see a 15 year old ordering a glass of wine at lunch with a buddy, you might see a family eating dinner together and the parent letting their teenager have a small glass of wine without thinking twice about it.
If you are traveling in Italy with your underage children and wondering if you can do the same, you should understand the potential consequences but also the reality.
Drinking At Home in Italy
Because the drinking age in Italy was recently increased from 16 to 18, the approach to drinking in Italy is still very much casual. Many families serve inexpensive, affordable table wine at every meal and let their teenagers have a glass. What they won't do is allow their kids to have a whole bottle of wine nor develop a habit for drinking.
But guess what? An Italian teenager is not likely to want to get drunk off a whole bottle of wine because drinking alcohol is not forbidden. It's simply another beverage as any other (with some limitations) on the table.
What Doesn't Happen In Italy
What you don't really see in Italy is kids getting black out drunk, cops having to break up teens drinking, parties with minors drinking alcohol in excess or shops and bars being closed for breaking the law.
You also won't see parents or adults encouraging drinking. Yes, a parent might pour their kid a small glass of wine at the table to enjoy with their food but they won't order them a cocktail or glass of prosecco at the age of 14 alongside all the other adults.
You won't see young kids with full glasses of wine either. They will taste their parents' wine or have some watered down wine.
While adults will certainly permit a glass of wine here and there, Italian parents are not going to offer after-dinner drinks such as digestifs or hard liquor to their kids.
Will You Be Carded in Italy?
Unlike in America where being carded is common practice, this is not the case in Italy. I have lived here for 10 years and been traveling here since I was 15 and not once have I been asked to show a valid i.d. when ordering or purchasing alcohol.
Fact: By law, vendors should be confirming your age before selling alcohol but the reality is that they generally don't.
Now, if someone is underage by several years and look it (14, for example), rather than being asked for an i.d., he/she may just be sent away. This goes for bars too – if the person is clearly very young, the bartender will just tell him/her that they aren't fooling anyone.
If, however, the person is 16, out in the square after dinner and he tries to order a spritz, no one will likely say anything. Again, this is because it has only been recently that serving alcohol to minors has been criminalized and Italians don't consider a 16 year old having a spritz to be forbidden.
Italian Drinking Customs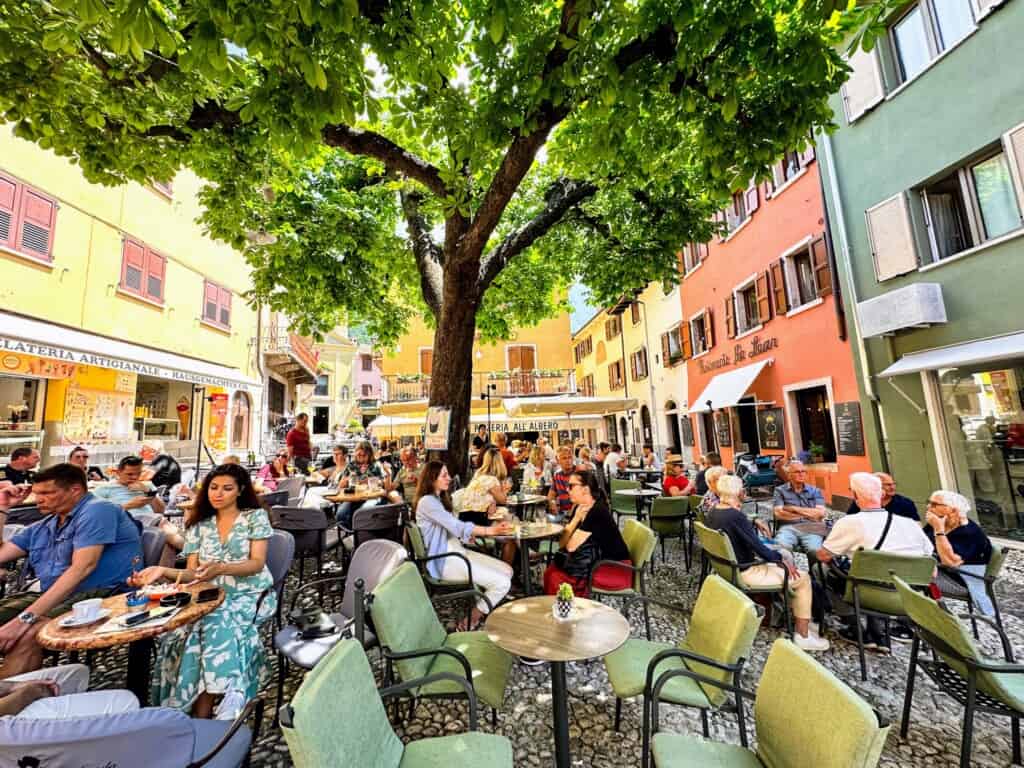 These are the most likely drinking customs and circumstances you will come across in Italy:
Toasting in Italy is traditional when enjoying an alcoholic beverage in company. Maintain eye contact and say cin cin or salute. Read more about how and when to toast in Italy here.
Aperitivo is a pre-meal light drink and a small nibble enjoyed between 6:30-8:30 pm in Italy. To learn more about enjoying an aperitivo in Italy read Aperitivo In Italy – How Italians Do Pre-dinner Drinks + How To Recreate It At Home
Meals are typically concluded with an after-dinner digestif such as grappa, amaro, limoncello or mirto, for example.
Where To Drink In Italy
Bar
Italian bars are not what Americans call bars but rather, places that serve food and drink all day from breakfast, snacks and lunch to aperitivo and drinks late into the night. You can order wine, beer, cocktails and even digestifs. More casual, old-school Italian bars are best for a glass of wine while cool, trendy bars are a better choice for cocktails. Enjoying an aperitivo at an Italian bar is one of the most authentic experiences you can have while in Italy.
Ristorante
At any restaurant, trattoria or osteria, you will be able to order wine and beer. Fancy places will have separate wine menus while more casual, family-run or trattoria-like restaurants will have a short wine selection. Opt for house wine for an affordable option that comes in either ¼ liter, ½ liter or 1 liters.
Enoteca
At any enoteca or wine bar you will find an extensive wine list and get the chance to enjoy many of these by the glass. While enoteche are specialized in wine, they might also have craft beer.
Pub
A pub in Italy is the same in all aspects as one you will find in the US or England: they serve a lot of beer, usually have a down to earth vibe and are the best places for drinking with buddies and watching sporting events.
Locale (Discoteca)
Un locale or discoteca is a club that will usually open later on, certainly after 12:30 but even later. You can really order anything you want to drink here but you should be expected to show a valid i.d. upon entrance.
Alimentari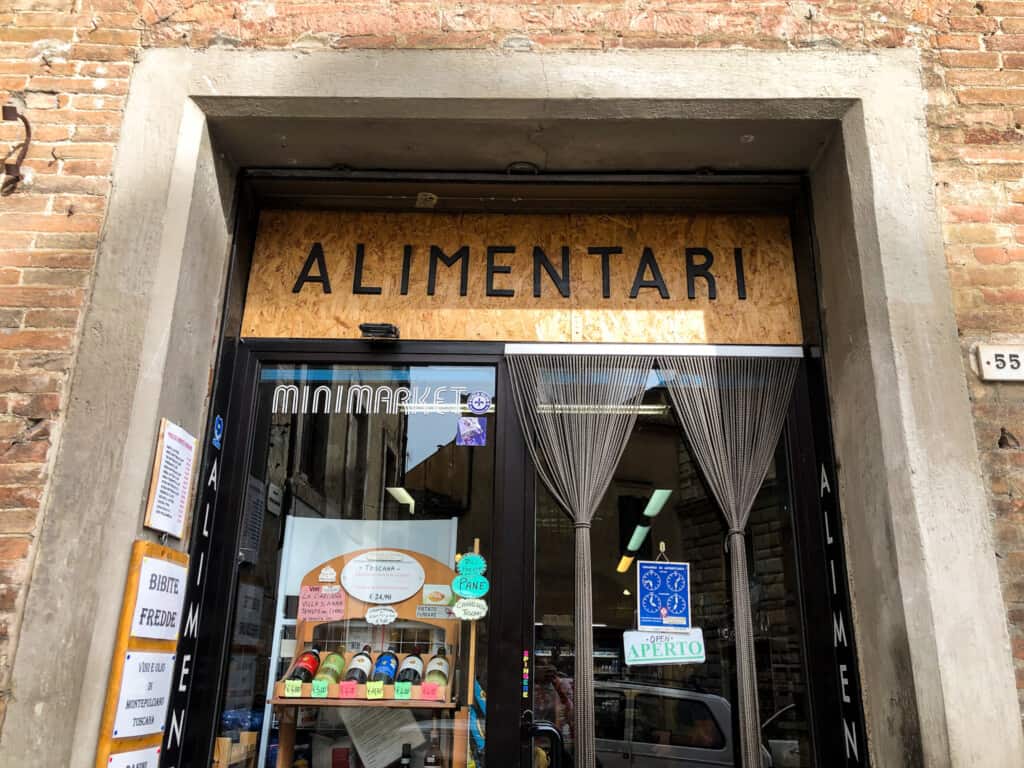 Small grocers and delis called gastronomie will sell alcohol of all kinds. Look for a small refrigerator with already chilled options.
Supermercati
Grocery stores in Italy usually have a very good selection of wine. They will also have Italian beers which are decent (don't expect craft though) and a wide-selection of Italian liquors, including digestifs and bitters. The larger the supermarket, the larger the selection. 
Learn More: Read more about Where to Drink Wine in Italy and Where to Buy Wine in Italy.
Popular Alcoholic Beverages in Italy
As I said, drinking alcohol in Italy is really normalized and always done in moderation. Here is a list of the most common alcoholic beverages to enjoy in Italy (enjoyed by adults).
Wine: red, white, rosé, sparkling, whatever your preference, Italy has it!
Prosecco: sparkling white wine at its best produced in northern Italy.
Beer: enjoy craft of large beer manufacturers such as Ignusa or Moretti.
Spritz Cocktails: spritz is a general category of cocktails made with a bitter liquor, wine and soda water.
Bitters: Aperol and Campari are the most popular brands used to make a variety of cocktails
Digestif: after-dinner drinks that aid in digestion such as limoncello, grappa or amaro.
Cocktails: Italians love cocktails as much as anyone else. Find a comprehensive list of the most popular cocktails in Italy here Best Italian Cocktails – 15 Popular Aperitifs We Actually Drink In Italy
Drinking Age In Italy FAQ
Can I bring alcohol into Italy from another country?
Yes you can but you can't bring as much as you want. The amount will depend on the country from which you are traveling so be sure to check with customs beforehand.
Can I bring alcohol home as a souvenir?
Generally speaking you can but you need to check with your destination country to be sure and for limitations in quantities.  You also need to be of legal age in your destination country.
Can you drive under the influence in Italy?
You can not drive if your blood alcohol level is over 0.05%.  Use a designated driver if you'll be drinking.
Is the drinking age the same in every city in Italy?
Yes, the legal drinking age in Italy is the same no matter the city or region you are in. 
Can I drink alcohol in public in Italy?
Public drinking is not prohibited in Italy but the law is not strictly enforced. Sometimes Italians drink in public and don't run into trouble unless they are drunk and/or causing problems.