Last updated on November 27th, 2023
No matter your reason for drinking a non-alcoholic beverage, Italy has something for you. It's true that all Italians love their spritz (which has alcohol), but they are just as loyal to their non-alcoholic Italian drinks as well.
When I first moved to Italy, I was a die-hard Campari Spritz lover until I finally tasted some of the most popular Italian non-alcoholic drinks on the market. They are refreshing, light and nothing like you can get in the US. In the heat of Italian summers, there is nothing better than one of these drinks I recommend.
In this article, I will go over the most popular Italian non-alcoholic drinks that we actually drink in Italy. There are a ton out there and mainstream options such as Coca Cola and Fanta are always on the menu but these are the true Italian gems.
Without further ado, let's get into these non alcoholic Italian drinks that you should check out at your next aperitivo!
Chinotto
Chinotto is Italy's most famous and historic non alcoholic Italian drink, similar in appearance to Coca Cola but not at all the same in taste. Chinotto originally comes from China when sailors shared their love for the citrus plant from which this non alcoholic Italian drink gets its name.
When I first came to Italy, I didn't like Chinotto at all but I have come to love it. I find this to be true for most first-time travelers but it's a taste that grows on you.
Aranciata
Aranciata is Italy's version of an orange soda or Fanta, without the loads of sugar. Its base is sparkling water with the addition of orange juice, some sugar and other flavorings.
My absolute favorite is the one put out by San Pellegrino, in particular, the aranciata amaro, a bitter variety. It's not quite as sweet as the typical recipe.
There are several brands and small artisan producers who have their own recipe for aranciata. If you are at a specialty store, ask if they have a locally produced one and you will be pleasantly surprised!
San Pellegrino SanBittèr
San Pellegrino SanBittèr is one of the most famous non alcoholic Italian drinks, often enjoyed in place of a Campari cocktail, because of its similar dark, ruby-red color.
It only comes in small, sleek glass 100 ml bottles. Any Italian would recognize the packaging in an instant.
This non alcoholic Italian drink is fizzy with a sweet, citrus flavor. The recipe is more complex than that of an orange or lemon soda with notes of spice and other wild flowers, making it ideal to pair with a salty snack.
Cedrata
Cedrata is one of Italy's oldest non alcoholic Italian drinks made from a large citrus fruit called a cedro, grown in Southern Italy. It's carbonated, lighted sweet yet sour with hints of citrus. Compared to Chinotto, it's much less bitter and next to Limonata, it's much less sweet.
Today, the main producer of Cedrata is Tassoni and this is what you will most likely get if you order a small glass of it in a bar.
Crodino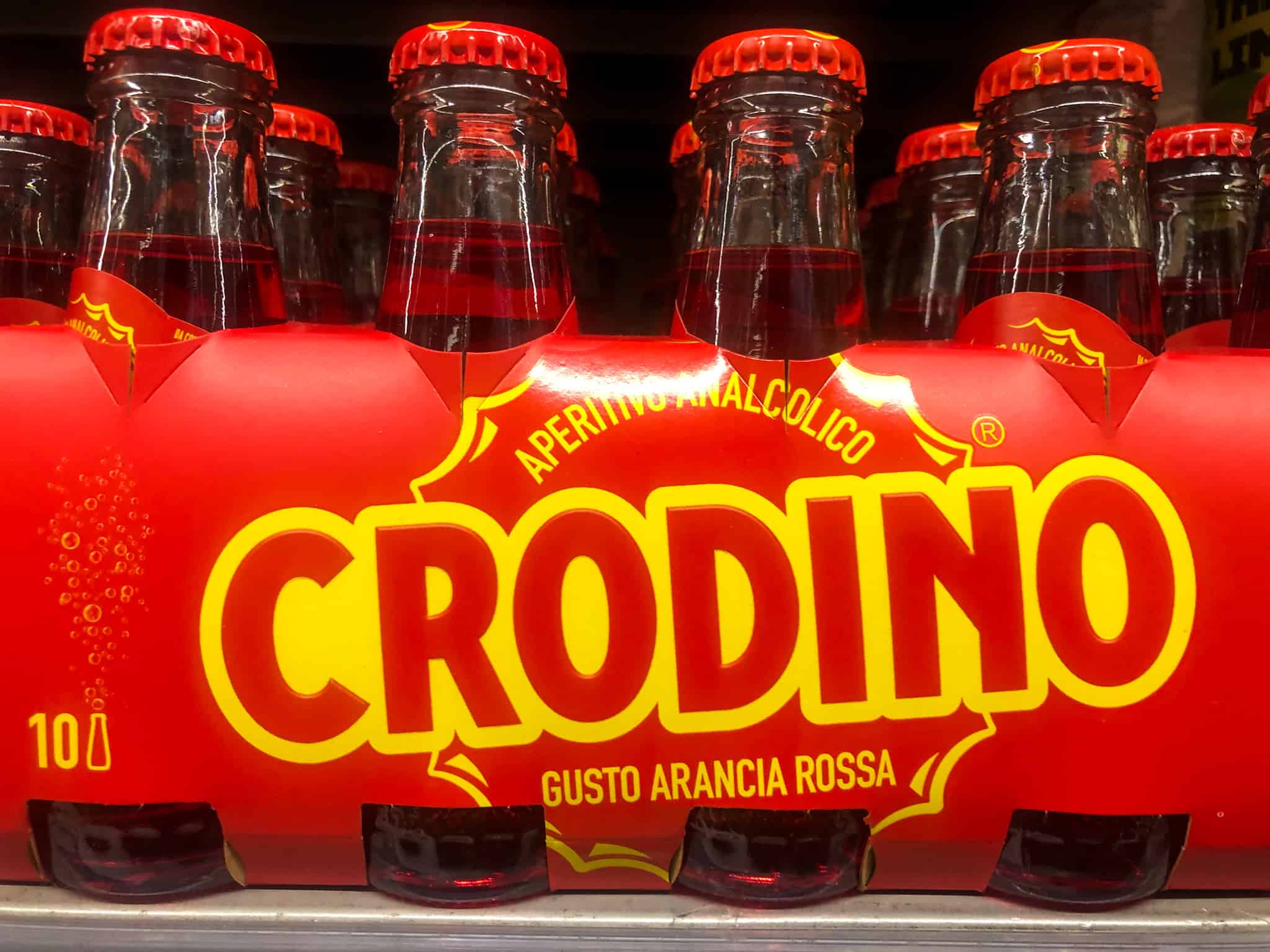 Crodino is a pre-packaged non alcoholic Italian drink mix that was created to replace the alcoholic spritz. This is what many Italians drink instead of a spritz cocktail because it not only looks like an Aperol spritz but the taste is similar as well.
If you order this, it's typically served like a Spritz in a large goblet glass over ice, garnished with orange.
I am not really sure why but I see a lot of oldies drinking this in Italy. Anyone know?
Limonata
Limonata is essentially a lemon soda made from real lemon juice, sparkling water and other flavorings. It's just barely sweet when compared to other lemon sodas, crisp and very refreshing.
I really never drank soda before I had limonata in Italy and this was the first Italian non alcoholic drink that converted me. I try not to drink them on a weekly basis but when it's hot out, there is nothing better!
The most famous one is called Lemonsoda, made by Crodo, most recently purchased by Royal Unibrew. Limonata by Lurisia also has three lemon flower essences in it, making it extra special.
Gazzosa
Gazzosa is more like what we call lemonade in America. It's more clear rather than yellow and made from the famous sfusato lemons on the Amalfi coast in Campania. Unlike lemonade, however, it's sparkling!
Orzata
Orzata is most known for being used in the famous cocktail Mai Tai but here in Italy, it's also used to make a homemade soda. This almond-barley sweet syrup is mixed with sparkling water and poured over ice.
This isn't my favorite summer drink and I don't see a lot of Italians drinking it in Tuscany. It's much more popular in the Southern regions.
Spuma
Spuma is Italy's take on Coca Cola, although the taste is nothing of the likes. It's made from sparkling water, sugar, caramel and other secret flavorings.
Keep your eyes peeled for old timer Italians standing at a bar with a fizzy drink – it's Spuma that they are drinking. You can ask for it bionda, meaning blonde (indicative of its light color), flavored with rhubarb, orange and vanilla. The dark version looks more like a cola and is more bitter, similar to chinotto.
I associate Spuma with an "old Italy", not the new generations. That is not to say that young Italians don't ever drink it but let's just say that lemonsoda and coca cola have become more popular non alcoholic Italian drinks than Spuma.
Estathè Ferrero Tea
EstaThè is a sweet tea that is usually enjoyed by Italian children or with a sandwich. Usually comes in small individual drinks with a straw but I see it also in large, plastic bottles. It comes in three flavors, lemon, peach and green tea.
Peroni Libera And Nastro Azzurro 0.0%
Peroni Libera and Nastro Azzurro 0.0% are the most popular non alcoholic Italian beers. Peroni beers are very light and clear with not a ton of flavor.
This being said, it's great in the summer because of how light and refreshing it is. When I am downtown in Florence in the summer, it's so incredibly hot and there is nothing worse than being drunk in the heat. Peroni Libera and Nastro Azzurro 0.0% are exactly what I want in those times!
I most recently saw that Moretti birra also came out with a line called La Zero, with 0% alcohol.
Bonus: Schweppes Tonica
Schweppes is a Swiss brand so I am adding it as a bonus Italian non alcoholic drink. I feel it deserves a shout out because this is a popular option in Italy as an aperitivo for either children or people who don't want to drink alcohol.
Unlike in the USA where tonic water is often used to mix drinks, here in Italy we drink it on its own – cold, or over ice.
Other Non-Alcoholic Italian Drinks
Coffee Beverages
Coffee drinks are the first non-alcoholic Italian drinks that come to mind when we aren't talking about aperitivo.
The most popular coffee drinks are cappuccino, caffe latte, caffe macchiato and a cold shakerato in the summer. For a comprehensive list of coffee drinks in Italy, read 47 Ways to Drink Coffee in Italy + Pronunciations.
Mocktails
A mocktail in Italy is called a drink analcolico and refers to a cocktail made without alcohol. Oftentimes on Italian drink menus there will be a section at the end dedicated to non alcoholic cocktails.
Usually, they are replicas of regular cocktails made without alcohol such as a virgin hugo spritz, virgin spritz, virgin bloody mary, etc.
Centrifuga
A centrifuga is a freshly pressed juice, usually made from several fruits and or vegetables. Many bars offer these non alcoholic Italian drinks all day from breakfast to aperitivo time.
Non Alcoholic Italian Drinks FAQ
Can you toast with a non alcoholic Italiano drink?
While most Italians would agree that you should only toasting with alcohol, I think it's unfair to penalize someone who doesn't drink or hasn't ordered an alcoholic beverage. Go ahead and cheers with your Italian non alcoholic drink and don't think twice about it.
What is the most popular non alcoholic drink in Italy?
It's hard to say but I would consider chinotto and lemonsoda the two most popular non alcoholic drinks in Italy. Estathè is the most popular with Italian children.
Does Italy have non-alcoholic drinks?
Do they ever! Italy might be famous for their cocktails such as the classic Spritz, Campari aperitivo, and various digestifs, they also sell a wide variety of pleasantly refreshing non alcoholic Italian drinks as well. The most popular are chinotto, lemonsoda, Spuma and limonata. 
What non alcoholic drink goes with Italian food?
When Italians aren't drinking wine with dinner, they usually stick to water (sparkling or still) or, a Coka Cola if they are having a pizza. Italians don't drink cocktails or mocktails with food. 
What to drink in Italy if you're sober?
The answer will really depend if you want to mimic the flavors of Italian cocktails. If yes, stick with Crodino or San Pellegrino SanBittèr, which have similar flavor profiles of the famous Italian spritz. If you aren't interested in replicating the feel of the classic Italian cocktails, go with chinotto or lemonsoda, which are the most popular non alcoholic Italian drinks.