Last updated on October 17th, 2023
Have you ever wondered what that bright orange cocktail is that everyone seems to be drinking? Whether on your latest trip to Italy or at the hippest bar in your hometown, you've probably noticed that the Italian Aperol spritz has exploded onto the cocktail scene.
And for good reason. There's nothing more light and refreshing than the Aperol Spritz, and it's easily reproduced at home without any fancy cocktail equipment and with ingredients that you can find at any well-stocked liquor store.
If you are looking for a fun, effervescent, light cocktail to make this summer then consider this Italian Aperol Spritz. I first discovered this cocktail when I came to Italy as a student close to 15 years ago and I haven't stopped making it since!
In this article I will cover:
what you will need to make an Aperol spritz
step-by-step instructions on how to make it
how to serve it like an Italian
the most common variations
What Is An Italian Aperol Spritz?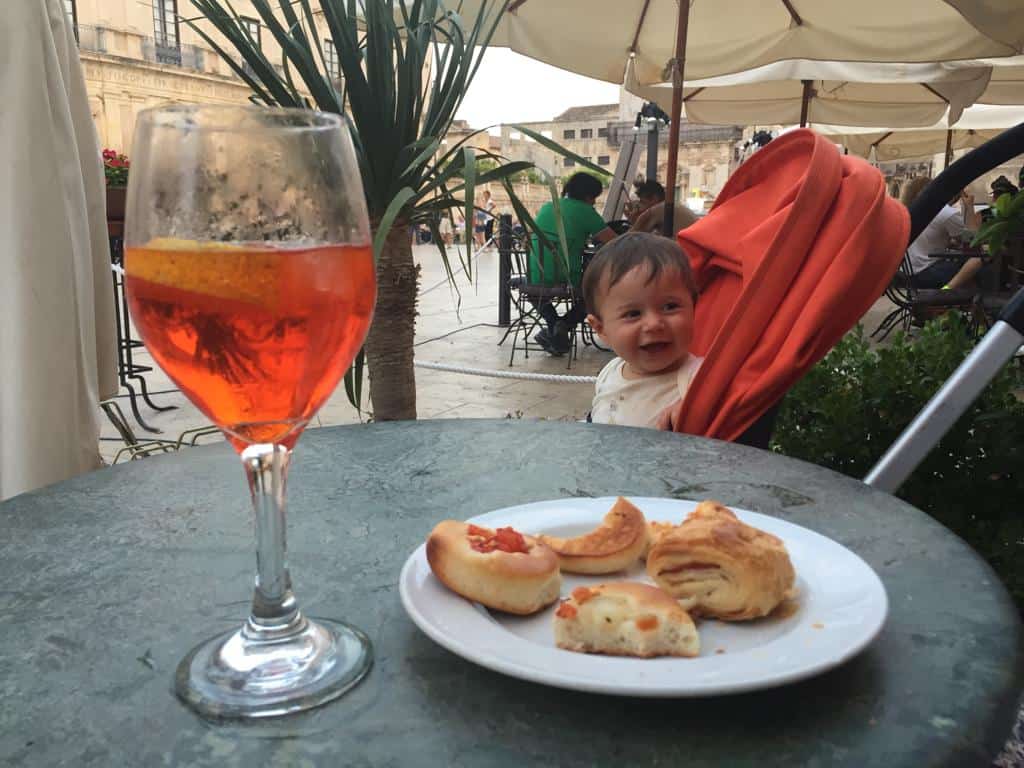 The spritz, also called the Spritz Veneziano or Italian spritz is a prosecco based cocktail originally from Veneto made bright orange with the addition of Aperol, a popular digestive bitter and a splash of soda water.
The cocktail is typically served in a large wine glass or balloon glass on the rocks with a garnish of thinly sliced round of orange directly into the glass.
The spritz, as the Italians call it (no need to say Aperol spritz because it's implied you would like it made with Aperol if you order a spritz) was originally served as an aperitif before dinner and today remains the most popular time to drink it but it's also enjoyed by Italians as an after-dinner drink as well.
The First Italian Spritz
The origins of the Italian Spritz are a mystery but what we do know is that the word spritz in German means "a splash". This is a reference to the splash of water that the Austrians added to Italian wine during the Napoleonic wars when they were in Veneto. The soldiers disapproved of the local white wine and a splash of sparkling water made it more palatable.
The Italian Aperol Spritz recipe that we use today was developed sometime in the 1920's in the Veneto after the debut of Aperol at the Padua fair of 1919.
Today, Venice and Padua still feud over where the birthplace of the cocktail is.
How To Pronounce Aperol Spritz in Italian
An Aperol spritz in Italian is referred to simply as a spritz, pronounced speetz
Listen to the pronunciation of Spritz:
What Does An Aperol Spritz Taste Like?
Because Aperol has a very citrusy flavor, particularly orange with undertones of herbaceous flavors. Although slightly sweet, it has a bitter flavor because of the atomic botanicals used in the recipe.
The whole cocktail is balanced out with a bit of fizz and from the prosecco and club soda. It's light and refreshing, best for warmer months.
What Is Aperol?
Aperol is a bright orange apéritif made from a combination of herbs and citrus. It can be enjoyed on its own but it most usually combined with other flavors and liquors to make cocktails.
Where To Buy Aperol In The US
You can buy Aperol in any well-stocked liquor store next to the other hard liqueurs or amaros.
Aperol Vs Campari Spritz
A Campari spritz is a variation to the Aperol spritz made by replacing the Aperol with Campari in equal parts.
The Campari spritz is more alcoholic and has a stronger bitter profile (Campari is 25% ABV vs Aperol which is 11% ABV). It's also a lot more red as opposed to the sunset orange color of the Aperol spritz.
If you order a spritz in Italy, it's assumed it will be made with Aperol. If you would like it made with Campari, you will need to specify this by asking for a Campari Spritz.
Good To Know: The legal drinking age in Italy is 18.
Italian Spritz Ingredients
The Aperol Spritz is an easy recipe to remember. Just follow the 1 – 2 – 3 rule. (1 ounce club soda, 2 ounces Aperol and 3 ounces prosecco).
1 ounce (a splash) club soda ( or any other unflavored sparkling water)
2 ounces Aperol
3 ounces prosecco, preferably dry, chilled
Orange slice, for garnish
Aperol
The brightly colored orange Aperol aperitif has no substitution in terms of flavor. If you don't have it, check out our Aperol Spritz variations below for other spritz cocktails to make.
Prosecco
Prosecco is a relatively inexpensive Italian sparkling white wine similar to French Champagne but without the price tag.
Prosecco Superiore DOC is the best and most expensive kind of prosecco you can get but I suggest any dry prosecco, medium-range (between 10-18 dollars) will do fine.
I think it's important to choose a dry version because Aperol is quite sweet already. If you add a sweet sparkling wine, the cocktail will be unbalanced and overly sweet.
Be sure the prosecco is chilled before preparing the cocktail to prevent the ice cubes from melting quickly.
Club Soda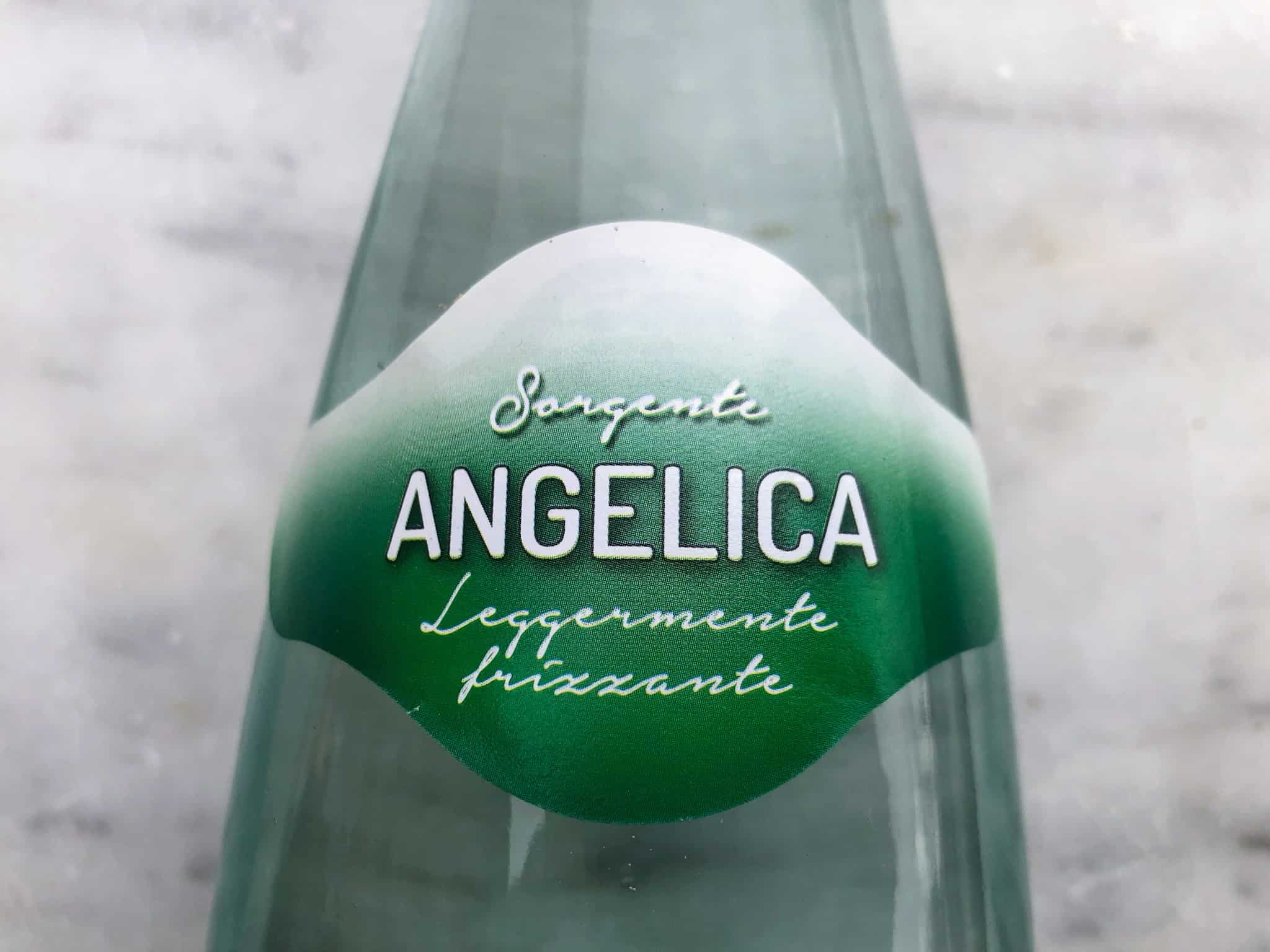 Any kind of sparkling water will do as long as it's not flavored. I like to use heavily carbonated versions but if you prefer less-fizzy drinks, stick to a lightly carbonated brand such as Spindrift sparkling water.
Slice of Fresh Orange
Apart from its bright orange sunset color, the Aperol spritz is characterized by its garnish: a slice of orange. Of course if you don't have it, this is no reason not to make a spritz but I highly recommend it.
How To Make An Italian Aperol Spritz Cocktail
Add plenty of ice to a large globe or wine glass. Pour in the Aperol and the prosecco and mix well.
Top with a splash of club soda and garnish with a slice or orange (either a whole round slice or a thin half-moon shaped slice).
What Kind of Glass To Serve an Italian Spritz In
In Italy you will most always see an Aperol spritz served in a large balloon or wine glass with plenty of ice.
The only exception to this is at bars during after-dinner hours (past midnight). You will most likely get it in a tall glass or even tall plastic cup. Many bars enact the 'no-glass' rule after midnight to avoid breakage when piazzas get overly crowded with late-nighters!
You will also be served an Aperol spritz in plastic when you are at kiosks or beach bars in Italy.
If you are making Aperol spritz at home, stick to a large wine glass such as a red wine glass or a balloon glass, if you have one.
How To Garnish an Italian Spritz
An Italian Aperol spritz should be garnished with either a whole thin slice of orange or a half moon thin slice of orange. The orange should be put directly into the glass, not on the rim of the glass.
It should not be garnished with a twist of orange.
Aperol Substitutions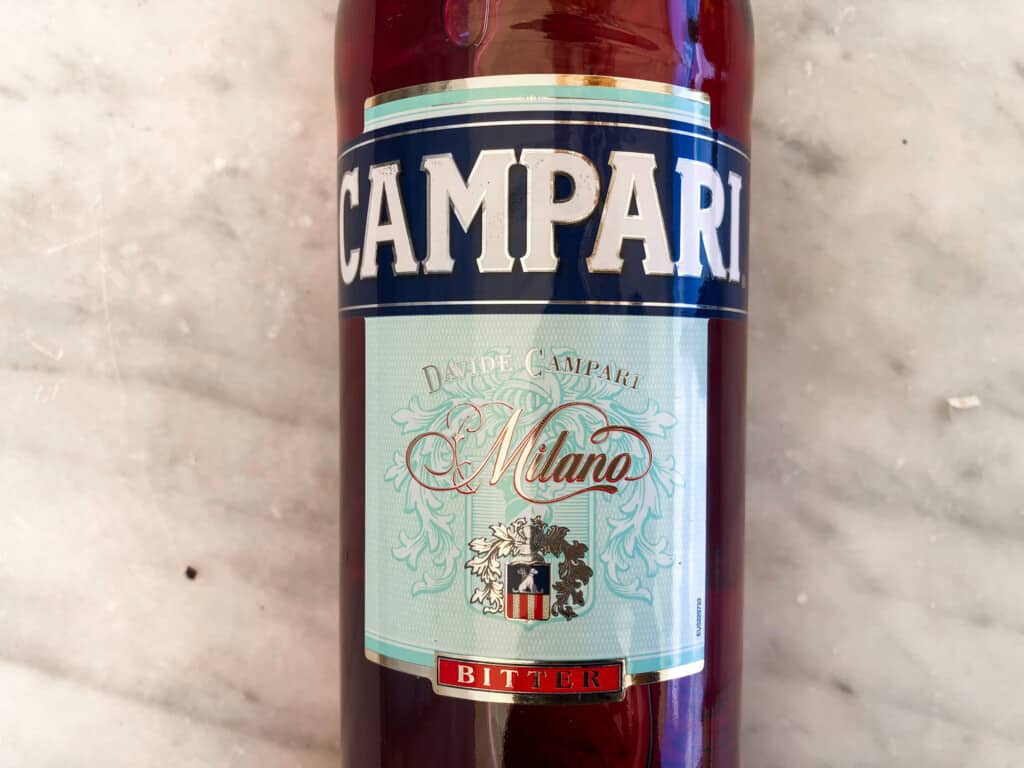 Because Aperol is a bitter, it can be substituted with any of the following in equal parts but it will not have the same flavor profile as Aperol:
Campari – the most classic substitution with a slightly higher ABV of 25% (instead of Aperol's 11%)
Cappelletti – another Italian bitter that is between Aperol and Campari in terms of bitterness.
Cynar – made mostly from artichokes, this is a very strong bitter substitution.
Aperol Spritz Variations
Since the rise of the spritz, the cocktail has taken off in so many directions. Here are Italy's most beloved versions. My favorite is the Campari Spritz because it's not quite as sweet as the original Aperol Spritz.
For Cocktail Lovers: Read our comprehensive guide to Best Italian Cocktails – 15 Popular Aperitifs We Actually Drink In Italy
You can also consider substituting a sparking rosé for a classic white prosecco.
How to Personalize An Aperol Spritz
Like any cocktail, an Aperol spritz is best enjoyed when personalized to your own preferences. Consider adjusting the amount of Aperol or soda water to increase the bitter profile or alcohol content.
Make Your Aperol Spritz Less Bitter
If you don't initially like the taste of Aperol but would like to train your pallet, try adding a little less Aperol and more prosecco for sweetness to your Italian spritz. Slowly but surely you can decrease the prosecco and increase the Aperol until you achieve your ideal Aperol spritz cocktail.
A Lower ABV Aperol Spritz
To make a lighter, less alcoholic version of the Italian Spritz, simply replace a bit of the prosecco with soda water and/or decrease the Aperol. For example, 1 oz Aperol, 3 oz prosecco and 2 oz soda water.
Non-Alcoholic Italian Spritz
Although it's hard to replicate the exact flavor of the Aperol Spritz without the alcoholic bitter, there is a relatively good substitute called Crodino, also available for purchase in the US. Crodino is a bit spicier yet is bitter and very botanical at the same time. The color is also similar to that of Aperol, making it an ideal substitution.
You can semi-replicate the Italian Spritz with this non-alcoholic substitute.
Serve over ice, garnished with a slice of orange.
More Options: Check out Non-Alcoholic Italian Drinks – That We Actually Drink in Italy.
When Do Italians Drink Aperol Spritz?
Italians drink spritz as cocktails most typically with a small salty bite to wet their pallet before dinner, better known as an aperitivo in Italian. The bitter flavor of the Aperol is perfectly paired with salty stuzzichini such as peanuts, chips and small squares of focaccia.
Spritz are also enjoyed after dinner by most famously the younger generations. In Italy, piazzas will fill up with crowds of people meeting for a post-dinner drink and oftentimes, this drink is a spritz.
What to Serve With Your Italian Aperol Spritz
In Italy, the spritz is always served as an aperitif, before dinner with small, salty bites. When you order a cocktail in Italy, it's customary to also serve a small smorgasbord or nibbles to sample while you sip.
Although a classic Italian spritz is slightly sweet because of the Aperol, it's primarily a bitter cocktail. For this reason, salty, fatty snacks are best. Here are some of the most common nibbles you will be served alongside your spritz in Italy:
potato chips or seasoned crackers
small squares of focaccia
various nuts
cut up veggies
taralli – Italian crackers from Puglia
pizzette – small individual pizza rounds about the size of a golf ball
cured meats and cheeses
The Italian Spritz Bible
Spritz – Italy's Most Iconic Aperitivo Cocktail, with Recipes by Talia Baiocchi and Leslie Pariseau is hands-down the best book you can buy about the Italian Spritz. The authors go over the history, life-story, various recipes including tons of variations and other cocktail ideas, plus a selection of appetizer recipes to serve with spritz.
Not only is it a very useful little manual to have but it makes a great coffee table book to keep around. This is one of my favorite cocktail books and one of my favorite gifts to give friends and family who like to make cocktails.
Italian Spritz (Aperol Spritz)
The authentic and easy recipe for the classic Italian spritz
Ingredients
1

oz

club soda

(a splash), or any other unflavored sparkling water

2

oz

Aperol

3

oz

prosecco

preferably dry, chilled

orange slice

for garnish
Instructions
Add the club soda, Aperol, and prosecco to a glass. Then stir and garnish with the orange slice. Enjoy!
Italian Spritz FAQ
How long does an Aperol Spritz last?
An Aperol spritz should be enjoyed right after it's made because the prosecco and club soda will go flat quickly. The ice will also melt quickly, making it even more watery. 
Can I make Aperol Spritz for a crowd?
You can make Aperol spritz for a crowd but you will need to serve them right away because the cocktail will go flat relatively quickly. 
Can I pre-mix an Aperol Spritz?
You really cannot pre-mix aperol because of the fizzy prosecco and club soda. If you mix it ahead of time, it will go flat pretty quickly which is why they are best made to order. 
What is an Aperol Spritz made of?
An Aperol spritz is made of Aperol (2 parts) and prosecco (3 parts) with a splash of soda water. 
Can I use champagne to make an Aperol Spritz?
You can absolutely use champagne to make a spritz.
What can I use instead of Aperol in a Spritz?
The most common substitute for Aperol in a spritz is Campari, another Italian bitter with a higher ABV and more bitter flavor. 
Is a Spritz made with white wine?
A spritz is made with sparkling water or club soda, Aperol and prosecco. If it's made with white wine it's known as a Spritz bianco. 
What kind of glass should an Aperol Spritz be served in?
An Aperol Spritz should be served in a large wine glass or balloon glass.
Is Aperol high in sugar?
Aperol does have a high sugar content to balance out the bitterness.
Should Aperol be refrigerated?
If you use it a lot, you don't need to refrigerate it because it will last about 12 months once opened. If you hope to keep it longer than that and have the fridge space, go ahead and pop it in. 
Can you drink Aperol on its own?
Served on the rocks, Aperol can be enjoyed on its own or for an even lighter version with a splash of club soda for an Aperol Soda.