Last updated on November 6th, 2023
Whether you are looking to aid in your digestion or simply looking for a little after-dinner Italian digestivo, you should learn a few basics before deciding which one is right for you.
The practice of after-dinner drinks or Italian digestivo is close to a religious practice here in Italy and should not be missed. Living here, I've really come to appreciate this part of the Italian culture.
If you really want to "wine and dine" as the Italians do, then read on to learn:
Italy's most popular after dinner drinks
how to order Italian digestivi
which Italian digestif is right for you.
Italian Digestivo In Italian
Italian digestivo or digestif is referred to as digestivo or digestivi (plural) in Italian.
Sometimes you will see a heading at the end of a menu at an Italian restaurant with the various choices but other times, you can just ask for whatever you want. Most restaurants will stock the basics and most popular Italian digestives.
Good To Know: The legal drinking age in Italy is 18. Take a look at Non-Alcoholic Italian Drinks – That We Actually Drink in Italy.
How To Pronounce Italian Digestivo In Italian
Digestivo is pronounced dee-jeh-stee-voh in Italian.
Listen to the pronunciation of digestivo here:
What Is An Italian Digestivo?
An Italian digestivo or digestif is an after-dinner drink with a mid to high ABV usually served cold in a small glass.
Fact: Not all Italian digestives are served cold. Grappa, for example, can be served at room temperature. Other times, you might ask for your Italian digestivo on the rocks.
An Italian digestivo was historically an amaro or Italian bitter made by infusing brandy or other basic alcohol with a blend of herbs, wild flowers, aromatic spices and citrus and meant to help in the aid of digestion, hence its name.
Today, however, an Italian digestivo encompasses many more after-dinner drinks, not just amari. Amari are the most common form of Italian digestivo but don't limit yourself to that subcategory when choosing for yourself.
Disappointing Fact: An Italian digestivo doesn't actually aid in your digestion, according to scientific research. Herbs that are infused into alcohol and sweetened with sugar have not been proven to help you digest food but don't let that stop you from enjoying them!
When To Drink Italian Digestivo
An Italian digestivo should be consumed after coffee at the end of a meal. It's going to be the last thing you consume when eating Italian-style.
Fun Fact: The Italian digestivo is also referred to as the ammazzacaffè meaning "kill the coffee". The Italian digestivo is meant to kill the taste of the coffee and leave you with a clean pallet. Some Italians believe it's also meant to literally prevent the caffeine from doing its job by evening out the stimulants and depressants that you have just consumed!
Never order an Italian digestivo before coffee and if you are not having coffee, just skip straight to the Italian digestivo right after dessert or the last course of your meal.
Most Popular Italian Digestivo
| | | | | |
| --- | --- | --- | --- | --- |
| Name | Region of Origin | ABV (Alcohol by volume) | Type | Available In USA |
| Amaro | All over Italy | minimum 15% | Bitter herb based liquor | Amazon (but not the most popular authentic Italian brands) |
| Limoncello | Campania | 30% | Sweet lemon liquor | Amazon |
| Sambuca | Campania / Lazio | 40% | Anise based liquor | Amazon (but not Molinari brand) |
| Mirto | Sardinia | 30% | Myrtle herbal liquor | NO |
| Grappa | All over Italy | 40-60% | Grape pomace infused into grain alcohol | Amazon |
Amaro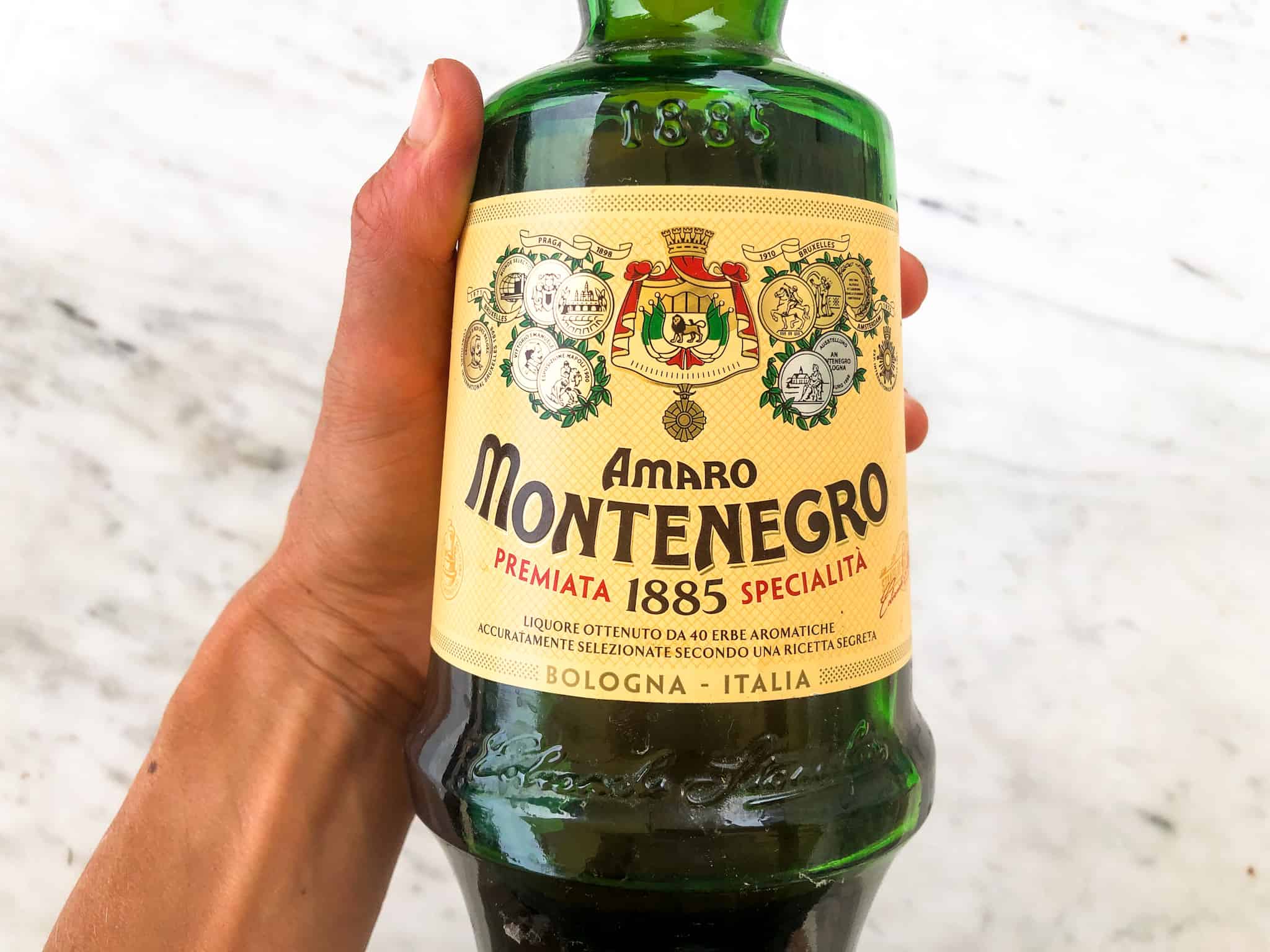 Amaro is pronounced ah-mah-roh in Italian.
Listen to the pronunciation of amaro here:
Alcohol By Volume: Minimum 15% but upward of 40%.
Amari are literally bitters made by infusing alcohol with herbs, roots, spices, extracts and citrus and lightly sweetened with sugar. Some varieties, especially commercially produced brands, are made with more sugar and are thicker and more syrupy.
An amaro is the original Italian digestivo which led to the current practice of after-dinner drinks in Italy. These amari are the bitters that were originally thought to aid in digestion after a large meal.
Amari are one of the most widespread and popular Italian digestives across the country and every region and even household has their own secret recipe. No matter the kind or region of origin, they are always served in the same way: according to local tradition or to how the patron prefers. This can include at room temperature, cold, or over ice.
Fact: Amari are also widely used to make cocktails in Italy.
Because amari are so popular throughout Italy, there are many very good commercially produced varieties available for purchase at any well-stocked grocery store.
Here are the most popular commercial brands of amari in Italy:
Braulio: From the Stelvio Pass in the Northern Italian Alps, this amaro is less sweet and very aromatic compared to others.
Montenegro: One of Italy's most beloved brands with hints of nutmeg and orange, available at most restaurants and bars.
Amaro del Capo: Another very popular option from Calabria made from close to 30 bitter flavors including various herbs, flowers, fruits, citrus and roots.
Cynar: created in Padua in Veneto, this Italian digestivo is made primarily from artichoke, creating a very distinct and unique flavor.
Fernet-Branca: Born in Milan in the mid 19th century, this popular amaro continues to be a favorite among Northern Italians.
Averna: Originally from Sicily, Averna was first created by the Benedictine monks from myrtle, juniper, rosemary and sage.
Limoncello
Limoncello is pronounced lee-mohn-chehl-loh in Italian.
Listen to the pronunciation of limoncello here:
Alcohol by volume: Around 30%
Limoncello is a very sweet, lemon-based Italian digestivo and although originally from the Amalfi Coast (Campania), it's enjoyed throughout the entire Italian peninsula.
Limoncello is typically served neat, extremely cold in a small glass. Most people keep their limoncello in the freezer or refrigerator.
Limoncello is often made in-house in Italy as it's very easy to make by macerating lemon peel with sugar and grain alcohol such as vodka. Limoncello is actually at its best when made at home because commercial brands tend to be overly sweet and syrupy.
Not only is limoncello a great Italian digestivo but it's also used in several southern Italian dessert recipes, gelato and also to make Limoncello Spritz .
But don't confuse limoncello with a close relative crema di limoncello, made with milk or cream and lemons.
Tip: When traveling in Northern Italy you might also hear limoncello referred to as limoncino. It's the same thing.
Mirto
Mirto is pronounced meet-toh in Italian.
Listen to the pronunciation of mirto here:
Alcohol By Volume: Around 30%
Mirto is an Italian digestivo made from macerated myrtle berries that are heavily sweetened. It's characterized by a dark red/purple color and best enjoyed ice cold from the freezer.
The best mirto is from Sardinia but you can also find it throughout Italy. Here in Tuscany, it's not uncommon to find in-house varieties offered to the patron after a large meal in rural areas.
Sambuca
Sambuca is pronounced sahm-boo-kah in Italian.
Listen to the pronunciation of sambuca here:
Alcohol By Volume: Around 40%
Italians love fennel and other anise flavored foods and flavors which is why Sambuca makes the charts of Italy's Top 5 Italian Digestives.
Sambuca is a clear anise based Italian digestivo that was first commercially produced in the mid 19th century by Luigui Manzi. Originally from Ischia in Campania, he actually opened shop in Lazio where the company was born.
Today, the most famous brand of this Italian digestivo is Molinari, which is also available for purchase overseas.
Sambuca is sometimes added to coffee, known as caffè corretto, to be consumed during the day (for experienced old-timers or hard core drinkers only!) or directly after a meal. This is, in fact, the one exception to ordering your Italian digestivo before you coffee because you are actually combining the two in one delicious drink!
Fact: Sometimes, sambuca is served with a couple of whole coffee beans meant to be consumed side-by-side the sambuca to enhance its flavor.
Grappa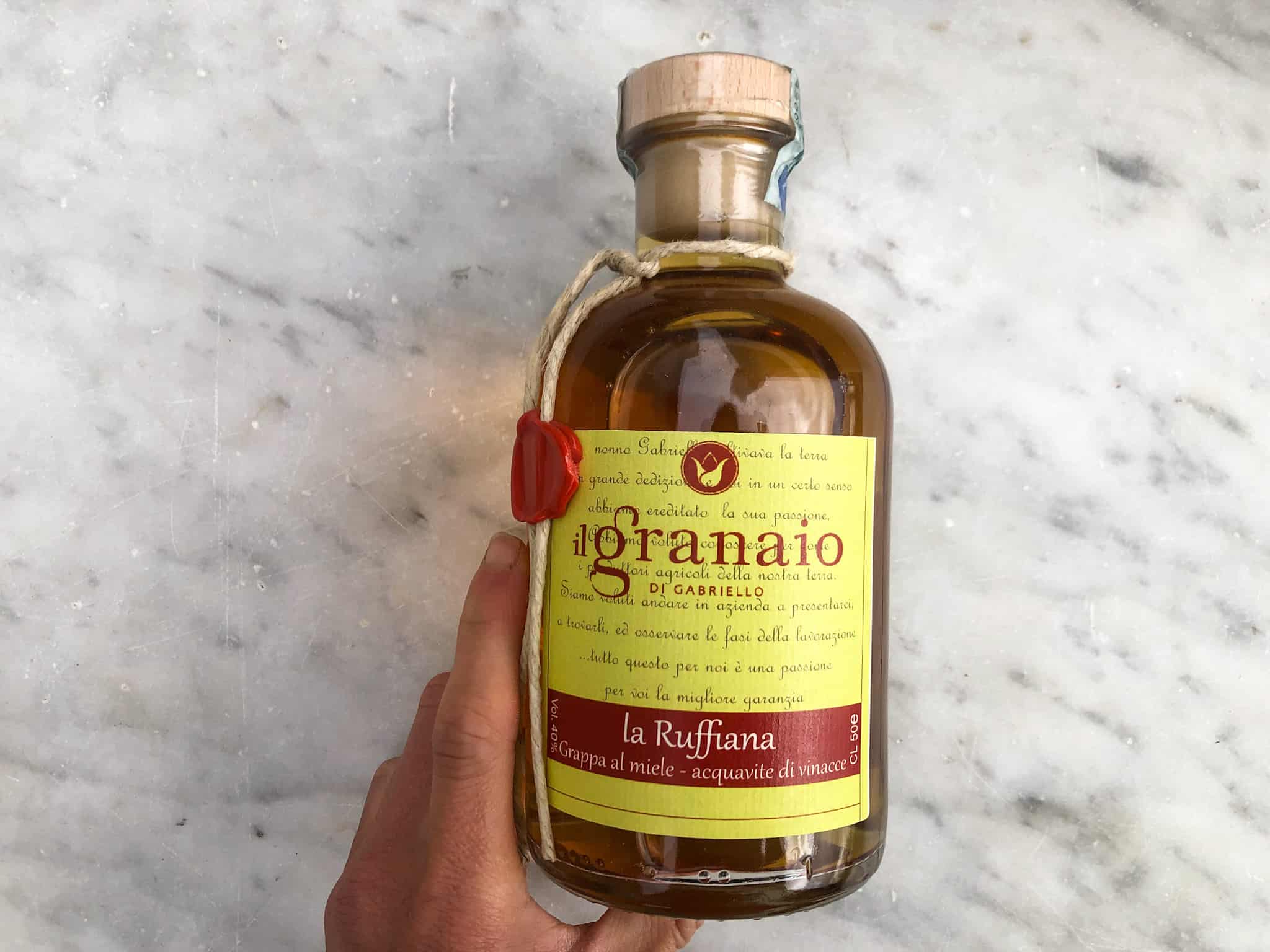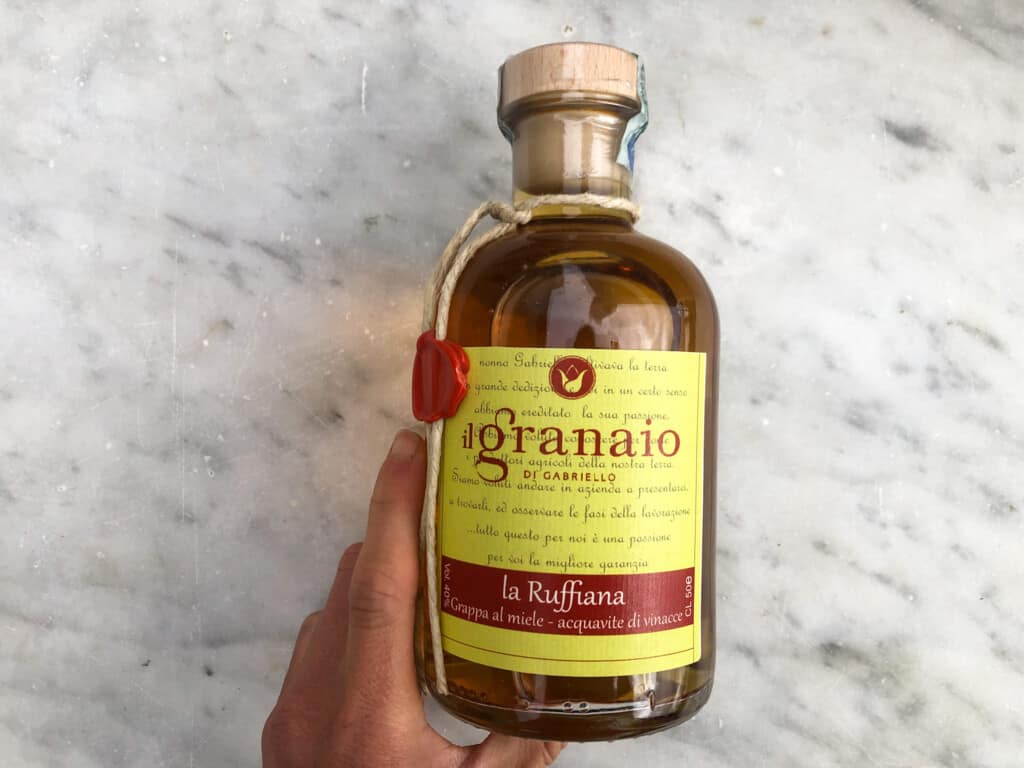 Grappa is pronounced grahp-pah in Italian.
Listen to the pronunciation of grappa here:
Alcohol By Volume: 35-60%
Grappa is perhaps one of the 'scariest' of all Italian digestives because of its bad reputation. If it's bad, it's really bad. If it's good, it's really good. After years of hating grappa, it's now my favorite Italian digestivo, in particular, grappa al miele, or honey grappa.
Grappa is made from pomace or the leftover grape skins and seeds from wine making that are infused into grain alcohol. It's usually colorless, but in some varieties such as honey or aged varieties, it can be pale or dark yellow.
The absolute best grappa you can try is made from one particular type of grape, as opposed to a mix. For example, grappa made from the Nebbiolo grape known as grappa di barolo from Piedmont is aged for up to 20 years and you can really taste the difference!
Tip: Because the quality of grappa can vary greatly, it's helpful to ask the server to tell you a little about the grappa before you commit to ordering it. Is it made locally? Is it normal or a special variety? If it's a run of the mill grappa, I would pass but if they made it themselves, if it's an aged or single-grape variety, order a round for the table!
Other Italian Digestivo
Here is a short list of some of the other Italian digestivo varieties you will come across while in Italy.
Note: Some of these Italian after-dinner drinks are sweet or fortified wines (I will indicate if they are) rather than Italian digestives. In this case, they are usually consumed with dessert but can also be enjoyed as an after-dinner drink.
Strega
The name Strega, meaning "witch", from Benveto in Campania, refers to an ancient legend in which the witches would gather around to create their magic potion. Strega is made from close to 70 different herbs and characterized by its bright yellow color.
Fact: Strega is also used in various desserts, to flavor chocolates and to make other candy.
Amaretto
Amaretto is a sweet almond liqueur, sometimes called Amaretto di Saronno (from Lombardy).
Nocino
Nocino is a 40% ABV walnut liqueur from Emilia-Romagna made from under ripe walnuts.
Galliano
Galliano is an Italian digestivo from Tuscany made from anise, juniper berry, cinnamon and lavender. It's more typically used in cocktails but it can also be enjoyed after dinner.
Passito
Passito is a sweet wine made from partially dried out grapes (usually white) resulting in a very concentrated, naturally sweet wine. They are generally pretty expensive because a large amount of grapes are used to produce a small quantity of wine (similar to maple syrup).
Vin Santo
Literally meaning 'Holy Wine,' vin santo from Tuscany is made just as passito but it's usually served with small almond cookies called cantuccini.
Bring It Home: Vin Santo and cantuccini make a great gift or souvenir to bring back from Italy.
Genepì
Genapì is an herbal based Italian digestivo made from mugword (also known as wormwood in English) especially popular in Piedmont and the Aosta Valley.
Marsala
Marsala is a fortified wine from Marsala in Sicily, from which it gets its name.
Marsala can either be enjoyed as an Italian digestivo or is oftentimes used in cooking such as pollo alla marsala (chicken Marsala).
How To Pick The Right Italian Digestivo For You
The very best way is to try them all! Please don't do this in one sitting, of course! The world of Italian digestivo is infinite as the tradition of making them is still very regional in Italy.
I always suggest to friends that the best way to start is to try what is traditional to the Italian region in which you are in. For example, when on the Amalfi coast, stick to limoncello but if you are in the Italian mountains, go for something like mirto that will be made with wild myrtle.
How To Order Italian Digestivo
Before ordering an Italian digestivo, wait a minute to see if the waiter brings you a bottle of their in-house digestivo to try. It's not uncommon for restaurants in Italy to offer you a digestivo after your meal, especially if you are in a family-run joint or rural area. In this case, they will leave a bottle (or several) on your table for you to help yourself. But remember, this is a little 'thank you' from the restaurant, not a free for all so only have one drink.
If this doesn't happen, you will need to order one, which you can easily do by saying:
Vorrei ordinare un digestivo. Cosa mi consiglia?
"I would like to order a digestive. What would you recommend?"
Vorrei un amaro, per favore.
"I would like an amaro, please."
Vorrei provare un digestivo della zona. Cosa avete?
"I would like to try a local digestive. What do you have?"
Important To Know: The legal blood alcohol limit in Italy is 0.5 g/l. If you have had anything to drink at dinner, an Italian digestivo will certainly tip your levels above the legal amount. Opt for a cab or public transportation. Read more about drinking in Italy in The Legal Drinking Age In Italy – Advice From A Local (2023).
Italian Digestive FAQ
What is an Italian digestif?
An Italian digestivo is a small mid to high alcoholic drink served after dinner meant to aid in digestion. It's often an amaro but not necessarily. The list of Italian digestives is long, including amaro, limoncello, mirto, sambuca and grappa being the most popular and widespread types
What Italian liqueur is good for digestion?
Although there is no scientific evidence to prove that an Italian digestivo will actually aid in your digestion, amari, made with bitter flavors and limoncello are considered by Italians to be the best for helping in digestion. 
When should I drink digestivo?
An Italian digestivo should be consumed after your coffee at the end of the meal or after the last thing you consume at the table. 
How do you serve digestivo?
An Italian digestivo should be served in a small glass (sometimes similar to a shot glass or other times with a stem), most typically chilled and without ice. How you take your digestivo, however, is subjective and is up to you.