Last updated on September 26th, 2023
Are you looking for a light and refreshing cocktail to enjoy this summer?
Do you love drinking a classic Italian spritz but crave an alternative?
The limoncello Spritz is a simple, citrusy variation of the popular Italian cocktail, the Aperol spritz. Easy to make, easy to drink and always a crowd pleaser, make this your new summer go-to drink with my simple, easy-to-follow recipe for limoncello spritz.
In this article, I will teach you how to make an easy limoncello spritz with just three ingredients. I will go over pronunciation and provide you with step-by-step instructions to nail this cocktail down.
Whether you are hosting a party, preparing for a crowd or just enjoying a quiet evening in company or alone, this no-fail recipe for limoncello spritz hits the spot everytime.
Recipe Pronunciation
Limoncello spritz is pronounced lee-mon-chehl-loh spreetz in Italian.
Listen to the pronunciation of limoncello spritz:
What Is A Spritz Cocktail?
Spitz cocktails is an umbrella category of cocktails made with prosecco, a bitter liquor and a splash of soda water. The origins of a spritz dates back to the 1800's when the Veneto region was occupied by Austians who found the local wine to be too strong for their liking.
To fix this dilemma, story goes that the soldiers would dilute the wine with a splash, or spritz as you say in German, of water. Later on, bitters were added and the spritz cocktail as we know it today was born.
What Is A Limoncello Spritz?
A limoncello spritz is a riff on the classic Aperol spritz made from limoncello instead of Aperol. The limoncello replaces the Aperol in equal parts (2 parts), while the prosecco (3 parts) and soda water (1 part), remain the same.
A limoncello spritz is bubbly, light and packed full of fresh lemon flavor, perfect for warm summer weather.
What Does A Limoncello Spritz Taste Like?
A limoncello spritz is bubbly and light with a smooth lemon flavor. Unlike pure limoncello, which is overwhelmingly lemony and very sweet (not a bad thing!), a limoncello spritz has a subtle but distinct lemon flavor that is toned down by the addition of soda water and prosecco.
A limoncello spritz is slightly sweet from the limoncello but also well balanced from the dry prosecco.
Why Make A Limoncello Spritz?
It's refreshing. If you love fresh, summer, citrusy flavors, then this is the cocktail for you. It will instantly transport you to the southern Italian peninsula where lemons grow on just about every corner.
It's simple to make. Limoncello spritz is also for those of you who want a no-fuss, low-effort cocktail.
It's easy to scale and make for a crowd. Because the limoncello spritz follows the same Aperol spritz 3-2-1 proportions, it's easy to remember how to make it without looking it up everytime and can easily be increased to serve a crowd or at a party.
Limoncello Spritz Ingredients
3 oz prosecco or other sparkling wine
2 oz limoncello
1 oz club soda
Prosecco
Prosecco is a relatively inexpensive Italian sparkling white wine similar to French Champagne. Prosecco Superiore DOC is the best and most expensive kind of prosecco on the market. For a limoncello spritz, any dry prosecco, medium-range (between 10-18 dollars) is perfect.
Tip: It's important to choose a dry prosecco because limoncello can be quite sweet. If you add a sweet sparkling wine, your limoncello spritz will be too sweet.
Be sure the prosecco is chilled before preparing the cocktail to prevent the ice cubes from melting quickly.
What Is Limoncello?
Limoncello is a lemon Italian liqueur from the Amalfi coast in Campania, most typically served as a digestivo or after-dinner digestif but also as an aperitivo. It's usually served chilled, as is in small glasses. Limoncello has an ABV of around 28% to 32%.
Many southern Italian restaurants and families make their own in-house limoncello which is nothing like the bright yellow syrupy stuff you find at the grocery stores. Good limoncello isn't necessarily bright yellow when it's made without additives from sugar, lemon peels, and vodka.
After several weeks of infusion, the limoncello can be strained and is ready to serve.
Good To Know: When buying limoncello, it's helpful to note that the brightest and most neon color doesn't mean quality. Look for a limoncello without additives or added colors for the best quality.
Club Soda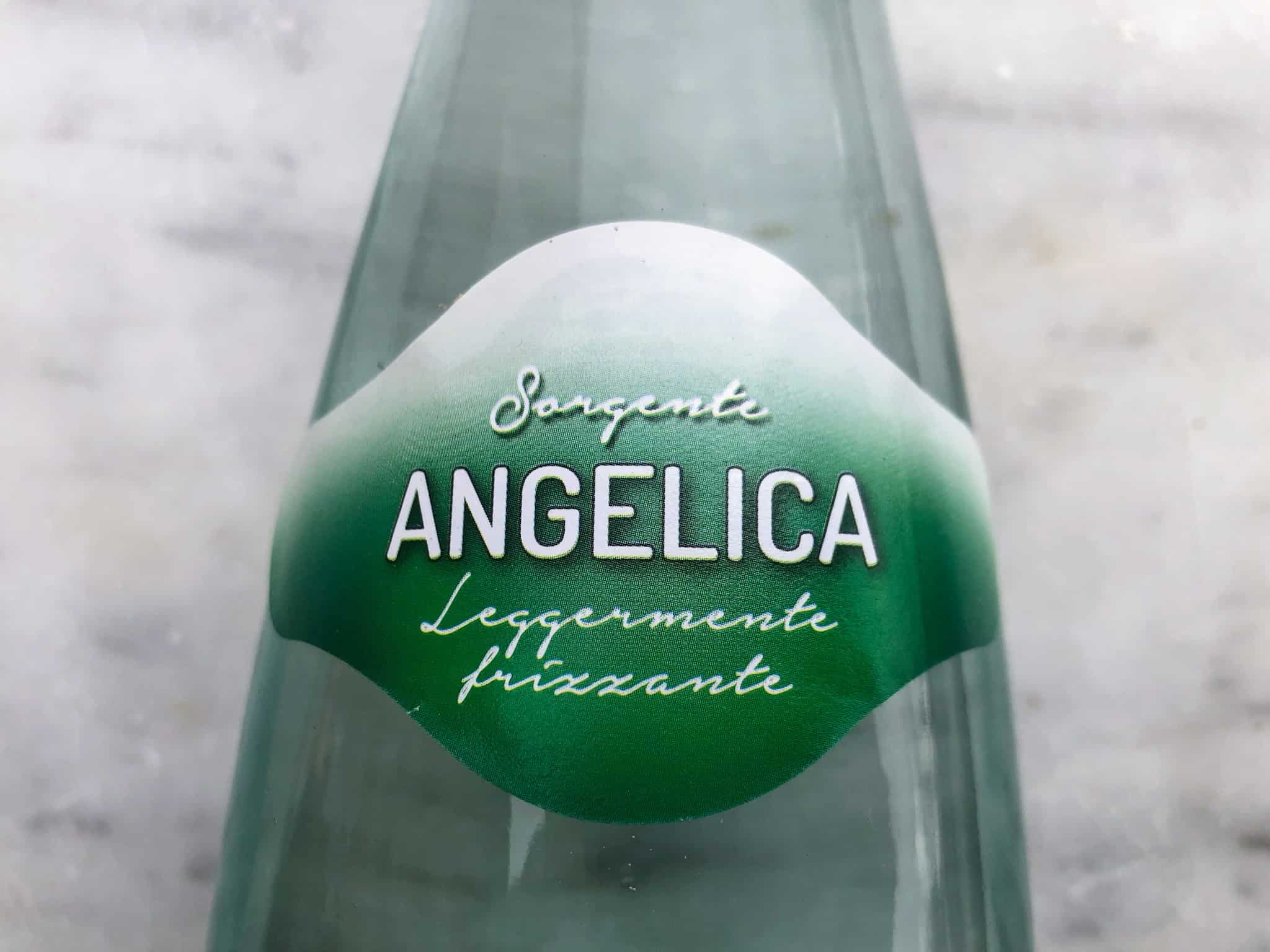 Any kind of cold, sparkling water will do as long as it's unflavored. My preference is to use a heavily carbonated fizzy water like Pellegrino.
How To Make A Limoncello Spritz
Fill a large globe, balloon or wine glass with ice
Add the limoncello, followed by the prosecco and club soda.
Stir well and add a garnish of half a lemon and a sprig of mint or thyme.
How To Serve A Limoncello Spitz
A limoncello spritz is served as any other spritz in Italy would be in a large globe, balloon or wine glass. Choose a stemless version for a more casual vibe.
How To Serve Limoncello Spritz To A Crowd
The limoncello spritz is a great cocktail for a large group because it's always a crowd pleaser. Who doesn't love lemons, after all? Unfortunately, it's hard to mix up prior to serving because of the carbonation.
I like to set up an assembly line with glasses filled with ice and a big pitcher. Prep your garnish. I mix the ingredients for the amount of cocktails I am making in a large pitcher and then pour it immediately into the prepared glasses. Just keep the 3-2-1 ratio in mind when calculating proportions!
How To Garnish a Limoncello Spritz
You can garnish a limoncello spritz with a halfmoon or whole slice of lemon and or a sprig of mint or thyme.
How And When To Drink A Limoncello Spritz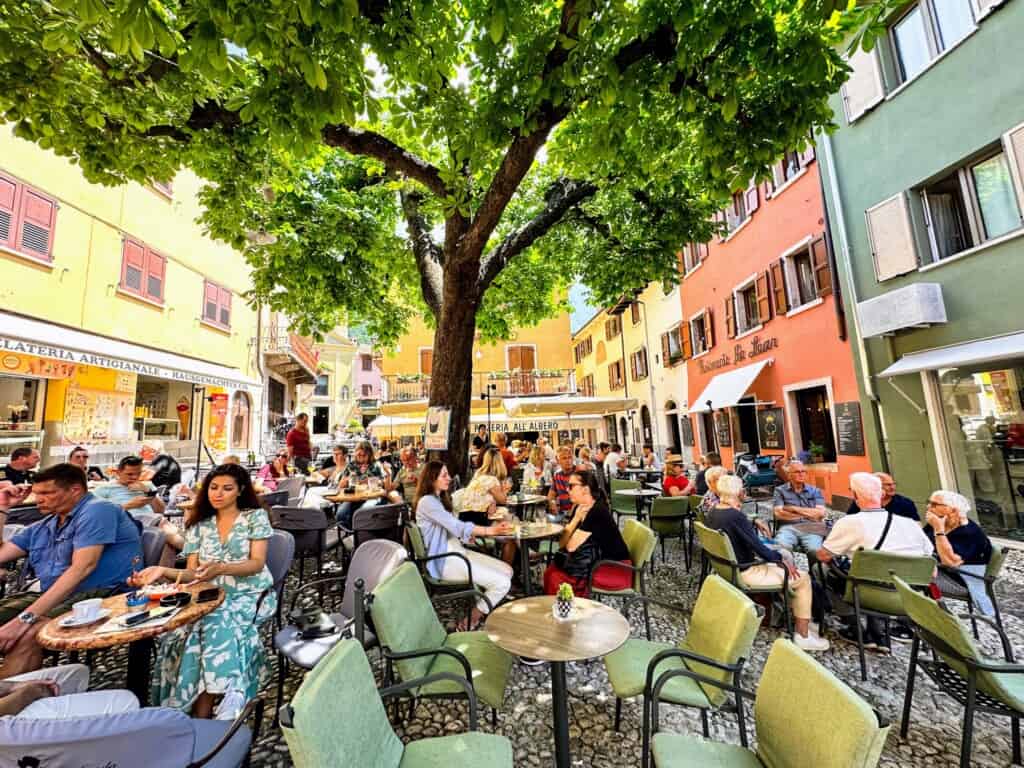 Here in Italy, we drink spritz cocktails as an apertivo because they are light and flavorful, perfect to wet your appetite before sitting down to dinner. Alongside an aperitivo, in this case a limoncello spritz, it's nice to enjoy a small, salty bite to cut the sweetness.
Popular nibbles to serve with a limoncello spritz:
Learn More: Get the scoop on how Italians drink before dinner at aperitivo.
Good To Know: The legal drinking age in Italy is 18.
Limoncello Spritz Substitutions
If you substitute any of the ingredients in a limoncello spritz, it's no longer a limoncello spritz. A spritz is defined by prosecco, a splash of club soda and some other liquor (usually a bitter), in this case limoncello. If you are looking to serve another spritz cocktail without limoncello, consider one of the following:
Tips For Making Limoncello Spritz
On very hot days, chill the glasses to keep your limoncello spritz extra cool
Be sure you are using limoncello, not crema di limoncello which has dairy in it
Make sure all the ingredients are well chilled before assembling your limoncello spritz
Keep your limoncello in the fridge or freezer so you don't have to plan ahead to make a limoncello spritz
Use large ice cubes to keep them from melting quickly
Limoncello Spritz
The easy recipe for the refreshing summer cocktail – limoncello spritz.
Equipment
1 wine glass

or balloon glass
Ingredients
3

oz

prosecco

or other sparkling wine

2

oz

limoncello

1

oz

club soda
Instructions
Fill a large globe, balloon or wine glass with ice.

Add the limoncello, followed by the prosecco and club soda.

Stir well and add a garnish of half a lemon and a sprig of mint or thyme. 
Limoncello Spritz FAQ
Is limoncello strong?
Limoncello ABV is around 28-32% so yes, it's strong but not the strong stuff out there either. 
How do I store limoncello?
You can store limoncello at room temperature but it's best enjoyed chilled. Keep limoncello in the fridge or even freezer to always have chilled limoncello on hand. This way, you don't need to plan ahead to enjoy a limoncello spritz. 
What is limoncello spritz made of?
A limoncello spritz is made of 3 parts prosecco, 2 parts limoncello and 1 part club soda. 
Is limoncello stronger than Aperol?
Limoncello is stronger than aperol with an ABV of 28-32% compared to 11%. 
How do you serve limoncello in Italy?
Limoncello, when served on its own, is usually poured into a small short-stemmed glass or a shot glass that has been chilled. When used to make a limoncello spritz, it's served in a large wine glass or balloon glass.
How do Italians drink limoncello?
Italians like to drink limoncello as a digestif after dinner or in cocktails before dinner as an aperitivo.
Where is limoncello from?
Limoncello is originally from Southern Italy, specifically the Amalfi coast in Campania where lemons grow very well. 
What is limoncello?
Limoncello is a sweet Italian lemon liqueur from Campania made from the zest of lemons, sugar and usually vodka or other neutral grain alcohol. 
What does limoncello taste like?
Limoncello is sweet and lemony. 
Where can I buy limoncello?
You can purchase limoncello at a liquor store or you can easily make it at home. Be sure to use organic lemons, if possible. It's extremely simple to make, the most important ingredient being patience as time does its magic!