Last updated on November 21st, 2023
If you are coming to Italy, chances are you will be spending a great deal of your time eating amazing food. And why wouldn't you be? Italy is home to some of the best food in the whole world, snacks included!
But there are so many Italian snacks to try, especially if you are grocery shopping at Italian supermarkets. How is one to choose? Which ones are worth your time, money and calories?
Raising four kids in Italy has given me quite a lot of experience in terms of best Italian snacks to eat from supermarkets in Italy. After eating a lot of junk, fancy gourmet snacks, trendy snacks and traditional snacks in Italy, I now have a solid list of the absolute best Italian snacks supermarkets have to offer.
I will also include what to avoid buying in terms of the best Italian snacks at supermarkets in Italy.
Go Deeper: For my complete guide to snacks in Italy, read Italian Snacks – A Traveler's Guide To 75+ Regional Snacks To Try In Italy.
Best Supermarkets For Italian Snacks
The absolute best supermarkets for Italian snacks are going to be the largest ones (ipermercati/supermercati) because they stock the most variety. This being said, even the smallest grocery stores are well stocked with all my recommendations below.
Good To Know: All of these best Italian snacks are stocked at grocery stores in Italy but not at all alimentari (small, family-run grocery stores).
My family's favorite grocery stores in Italy are Coop and Essalunga. Essalunga is a bit more expensive and you won't find it in the historic district of most city centers in Italy. The Coop is more diffused. Even more popular in cities is Conad (often called Conad City or Sapori e Dintorni Conad).
At gourmet grocery stores and alimentari you are likely to find some of the items but you will also find plenty of artisan varieties of these categories. For example, you might find cantuccini, hard biscotti cookies from Tuscany, made just down the road instead of Loaker cookies.
Tips For Shopping Best Italian Snacks Supermarkets
Look for individually wrapped packages of cookies, crackers and nuts. Many companies make packages with several portioned out servings, which make for easier travel.
Before buying Italian snacks, think about how you are going to eat them. For example, don't choose yogurt if you don't have a spoon.
Think about refrigeration. If it's 100 degrees in Italy and you are out all day, don't buy a wedge of cheese to snack on.
Always pick up some fresh fruit to pair with your packaged Italian snacks. Italians always do this, including our family.
Baked goods from the bakery are usually not very good the next day.
Cookies
Italian cookies are usually divided into two groups: cookies that you eat as a snack for merenda and others that you eat at breakfast. The best Italian snack cookies are usually much more rich and elaborate including cookies with actual chocolate, cream fillings and regional specialties.
Here are my family's favorite Italian cookies to try:
Loaker Wafer cookies (Napolitaner – hazelnut flavor)
Coop Fior Fiore Archetti con cioccolato (only at Coop)
Ringo
Breakfast Cookies
In Italy, Italians eat cookies for breakfast with a coffee beverage. They won't have a lot but four or five with coffee is just perfect. These cookies are usually much more simple and plain, often a shortcrust cookie flavored with things like chocolate chips, cocoa powder, vanilla, etc.
These are Italy's most popular breakfast cookies to try (also favorites of my children):
Gioccole
Pan di Stelle
Mulino Bianco (we like Galletti the best).
Breakfast Brioche
Next to the breakfast cookies you will see a section of pre-packaged brioche or pastries that children often eat for breakfast in Italy. These are some of the best Italian snacks at supermarkets to pick up if you are going to be on the road. They are individually pre-packaged and aren't too messy.
My kids love the chocolate brioche bread the best.
Plumcake
Plumcake is a favorite Italian snack for kids (yet it has nothing to do with plums). It's a soft individually wrapped pound that is usually individually wrapped. It comes in several varieties including chocolate chip and whole wheat. I like to compare these to an everyday, simple tea cake.
Yogurt
Italian yogurt is really good and if you love yogurt as much as I do, then you will be able to taste the difference. Opt for whole milk yogurt, called intero, which will be rich and creamy.
My favorite brand by far is Sterzing – Vipiteno, especially the ones made with latte fieno.
Good To Know: Although not my favorite, Muller, is one of the most popular Italian yogurt brands. It's just too sweet for me.
Freshly Baked Goods
Pizzette
Pizzette are small, bite size pizzas usually topped with sauce and cheese. Buy a bag of them at the baked goods counter and snack on them all day. You can just pop them into your mouth and make for one of the best "sneeky" Italian snacks for when you really shouldn't be eating (i.e. in a museum – I am not condoning this though!).
Schiacciata
Schiacciata is Tuscany's variety of focaccia and makes for one of the best Italian snacks to try out at supermarkets. You can either order it from the bakery in specific quantities or pick out pre-packaged squares that have been recently baked.
Try it with toppings such as olives, tomatoes, zucchini and onion.
Focaccia
Similar to schiacciata, focaccia can be found in almost any Italian grocery store and makes for a healthy savory Italian snack to pop into your bag for long travel days. This soft, pillowy bread is also ideal for making sandwiches with.
Pizza
The bakery section of Italian grocery stores sells all kinds of pizza by the slice (actually by weight), which makes for an easy, on-the-go snack or quick lunch.
Unlike in bars, they won't warm it up for you but it's delicious at room temperature.
Sandwiches From Deli
Many small supermarkets will make you a sandwich to order with a roll and the sliced deli meat of your choice. Ask at the bakery or deli meat counter if it's an option at that particular grocery store.
Good To Know: Alimentari stores will always do this for you!
Tramezzino
A pre-packaged supermarket tramezzino is surprisingly good. Look for them next to the refrigerated pasta sauces, fresh pastas and pie crusts.
A supermarket tramezzino is not as good as one that you will get at a bar but I love to pick one up when I am in a rush. Sometimes I just don't have time to wait at the deli counter for a sandwich and this does the trick.
I can also buy them, keep them for another time in the refrigerator and they won't go bad for several days, making them one of the best Italian snacks to buy at supermarkets.
Cheese
I probably don't need to explain why Italian cheese makes the top of the list when it comes to the best Italian snacks at supermarkets. Although cheese is a bit annoying to eat "on the go", it's great if you can sit down and cut it with a knife into large wedges.
My family tries to give our kids a lot of cheese as snacks compared to sugar alternatives, especially when we are traveling. It fills them up and they won't ask me for another snack after half an hour.
Tip: Look for a section with regional cheeses or ask a grocery store employee for a regional specialty. These are going to be the best and most local options available at the store.
Parmigiano Snacks
Parmigiano has a small snack package that is similar to the concept of lunchables. It's not a lunch, but rather, small, with a whole snack kit ready to eat. There is usually a small juice box, a square of parmesan cheese and a package of crackers.
Look for these parmigiano Italian snack kids in the refrigerator section next to the parmesan and the pre-packaged cold cuts.
My kids LOVED this when they were little because they each got their own little box.
Good To Know: You can also find sweet snack kits as well including a crostata and a chocolate milk or a small cake and a juice. These are not always will the savory Italian snack kits but sometimes in a different section of the store
You can also look for individually wrapped parmigiano cubes, which is now my preference. They cost a lot less than the snack boxes. I usually pick up a bag of apples and I have one of the absolute best Italian snacks ready to go in my bag!
These were a staple for me when I was pregnant in Italy and the habit stuck.
Good To Know: Individually wrapped parmesan cubes stay fresh a lot longer than other cheeses. You can keep a bag handy and not worry about getting grease everywhere or the cheese melting.
Sausage Bites
Look for small, pre-packed containers of mini-sausages to snack on. They are the best Italian snack to pick up at supermarkets if you love savory bites, like me.
There are two individually wrapped 85 gram portions (about 8-9 mini sausages) per package.
Mono Portion Cured Meats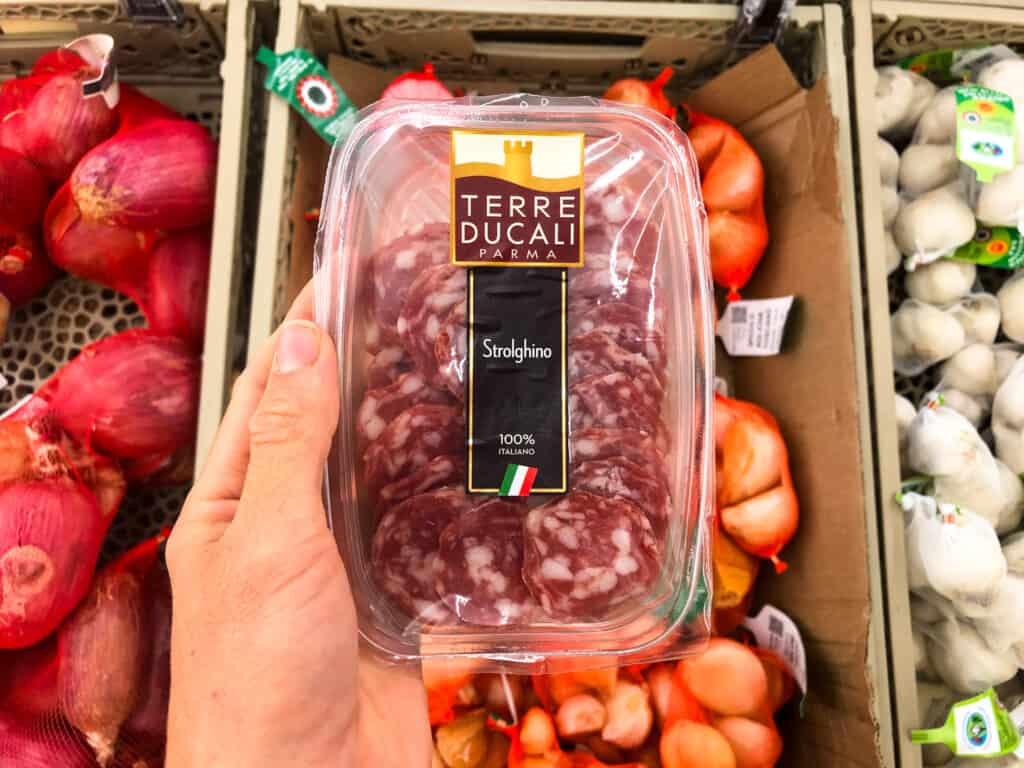 Look for pre-packaged mono portions of cured meats in the refrigerator section next to the prepackaged cheese in Italian supermarkets. You can find prosciutto cotto, prosciutto crudo, mortadella and salami all sliced up and ready for a sandwich.
Pick up some of these and you are one step away from a delicious panino, a filly and hearty Italian snack to keep you going.
Chocolate
Although not the healthiest Italian snack on the market, Italian chocolate is so good. I always keep bars hidden around for emergency snacking (unless my kids find them before me!).
Kinder is a popular option among children. My family also likes:
Novi dark chocolate
Ferrero Rocher
Perugina Baci
Italian Candy
Italian candy is a must try while traveling throughout Italy, making it one of the best Italian snacks at supermarkets (and souvenirs or gifts!). Italian grocery stores sell a wide array of candy. You will find anything from standard, run of the mill brands such as Haribo and Nestlé to Italian brands that you will only find here.
We don't eat a lot of candy but when we do, we prefer:
Fallani
Pastiglie Leone (harder to find in all supermarkets)
Nutella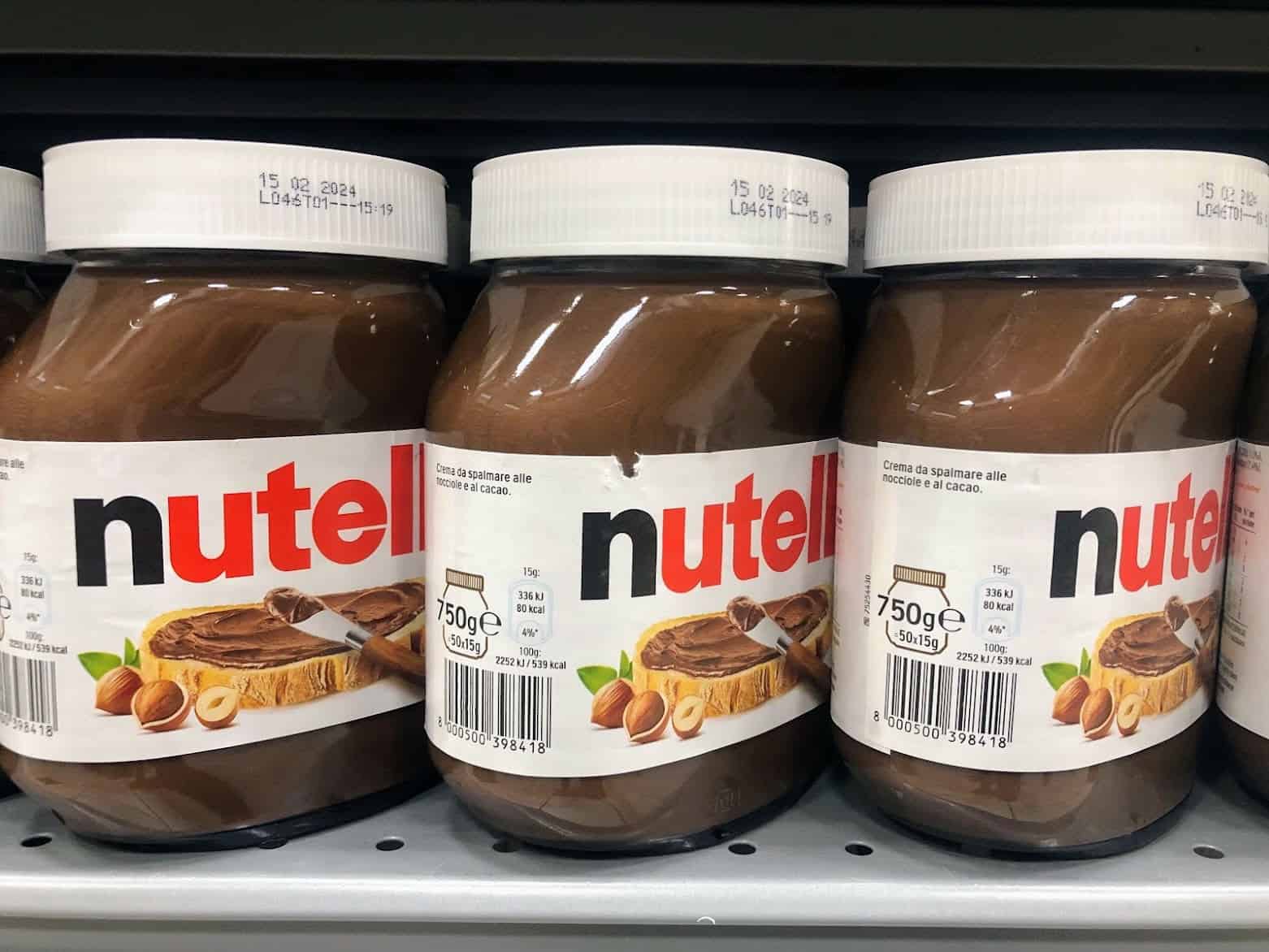 What says Italian snacks more than Nutella? Nutella is perhaps Italy's favorite snack item spread on a slice of bread. I have to admit, even as an adult, I still love this.
Nutella made in Italy is different from what you will find outside of Europe. Like Coca Cola, Nutella has a secret recipe but different production facilities in different countries vary the recipe depending on what is cheap and available.
My mother-in-law used to keep a mini jar in her purse with a small bag of white bread for my husband when he was little and they were on the road. Today, he still eats it every day for merenda!
Nutella Alternatives: There are a ton of alternatives to Nutella on the market these days. Novi is my favorite. Recently, I have noticed many Italians opting for organic varieties as well.
Mini Panettone
Panettone (originally from Lombardy) is a sweet cake you will find during the Christmas holiday season throughout Italian markets in Italy. Usually they are quite large, making them difficult to eat for snacks.
You can find, however, mini panettone in many Italian supermarkets. Sometimes they will be next to the large ones, other times next to the registers and even in small baskets or endcaps scattered throughout Italian grocery stores.
You can buy the classic flavor, made with candied fruit and raisins but we prefer the mini panettone made with chocolate chips and/or orange rind.
Mini Pandoro
Just like mini panettone, look for mini pandoro. Pandoro is a lighter sweet cake, enriched with eggs and flavored with vanilla (no candied fried or raisins). The most popular pandoro flavor is the classic one but we prefer it with chocolate.
Read More: Pandoro vs Panettone – An Italian Christmas Cake Showdown.
Grissini
Grissini are long, hard breadsticks, similar in taste to a packaged cracker, available at any Italian grocery store. We love to grab these and pair them with cubes of parmesan cheese.
Look for artisan varieties in the fresh bakery section of the supermarket. Commercial brands are stocked with the rest of the crackers.
Taralli
Taralli are small ring shaped crackers from Puglia flavored with olive oil, water and flour, and other flavoring. Look for them next to the crackers or other artisan varieties in the baked good section of Italian grocery stores.
These are most popular in Italy as an aperitivo snack but you can really eat them whenever.
Kinder Snacks
There are so many Kinder snacks to choose from! You can find 'fresh' cold ones next to the yogurt, which have a dairy base or individually pre-packaged alternatives next to the other breakfast brioches.
Kinder snacks are becoming more and more popular among Italian children. They are certainly not a testament to haute Italian cuisine, but they are the best example of Italian junk food at its finest.
Baby Snacks
If you are in Italy and looking for baby friendly snacks, eveything you need will be with the baby food and other infant items (usually all grouped together in one aisle). Baby snacks include fruit sauce pouches, choke-free teethers and various rice or whole grain puffs.
Other Italian Snacks
The snacks listed below aren't specifically Italian but they have become very popular in the last couple of years as Italy has become more health conscious.
Granola Bars
When I first came to Italy over a decade ago, it was extremely hard to even find one variety. Now there are several shelves!
Nuts
Look for nuts next to the dried beans and other legumes. There is usually a section after you go through the fruits and vegetables at the beginning of any Italian grocery store.
Dried Fruit
Dried fruit is another item that has become extremely popular in Italy. Find it next to the nuts. We like to buy several packages of dried nuts and fruit and make our own trail mix for long travel days or when we know we have a train ride coming up.
Helpful Tip: Keep your eye out for small packages or containers with nut, seed and dried fruit mixtures, ready for easy snacking.
Italian Snacks To Avoid At Supermarkets
Below I have compiled a list of the worst Italian snacks sold at Italian supermarkets. This is not to say they are going to be terrible BUT they are just so much better if you can purchase them at a specialty store.
For example, if you want a morning pastry or afternoon donut, go to the bar or bakery. They are going to be freshly made and with good quality ingredients. As a general rule of thumb, don't buy fresh pastries at Italian supermarkets.
Fresh pasta/brioche – fresh pastries
Bomboloni – donuts
Il fritto – fried food
Arancini – fried rice balls
Bignole – bite sized pastries
Cannoli
Farinata – chickpea flatbread
Panzerotti – fried filled bread pockets
Babà Napoletano – rum soaked Italian pastry
Sfogliatella – crispy, flaky Italian pastry filled with cream
Best Italian Supermarket Snacks FAQ
What snacks are popular in Italy?
There are so many popular Italian snacks to choose from, especially if you are at a supermarket. Look for cookies such as Pan di Stelle, Gioccole and Loaker. Mulino Bianco are the best simple cookies and all the focaccia, schiacciata and pizza are delicious. Other popular Italian snacks to purchase at supermarkets are deli meats, cheese, grissini, crackers, candy, chocolate and of course, Nutella!
What to buy from an Italian supermarket?
Luckily for Italians, even the largest Italian supermarkets are well stocked with both commercial goods and regional specialties. Favorite items to choose from and taste while in Italy, especially good for Italian snacks, are cured meats, cheese, chocolate, taralli, pizza, focaccia, schiacciata, yogurt, cookies and Kinder snacks.