Last updated on November 23rd, 2023
Where to Find the Best Pasta Dishes in Italy
There is no one place to find the best pasta in Italy because every Italian region has its own prized pasta dish.
But, we can easily highlight which pastas within each of Italy's regions stand out and are worth stopping for.
Pasta in Italy is so much more than just a culinary staple – it also holds historical and cultural value. Let's take a closer look at each region and discover Italy's most famous pasta dishes!
Types of Pasta Dishes in Italy
No other country in the world embraces pasta like Italians do, which is why you will see aisles of pasta at Italian supermarkets.
With modernization and mass food-production, it is common to find all types of pasta throughout Italy.
But how could there possibly be so many different kinds? In Italy we have many types of pasta, including:
pasta alll'uovo (egg pasta)
pasta secca (dried pasta)
pasta fresca (fresh pasta)
stuffed and baked pasta
pasta lunga (long pasta)
pasta corta (short pasta)
locally-milled pasta
mass-produced pasta
alternative-flour pasta
gluten-free pasta
When Italians talk about pasta secca (dried pasta) they are referring to pasta that is made with flour, water and salt, and then dried and packaged (shelf life about 1 year). Meanwhile, pasta all'uovo (egg pasta) is still dried pasta but it's made with flour, water, eggs and salt. Pasta all'uovo tends to cook faster than other dried pasta. Both are sold in the dried pasta aisle at the supermarket.
Read More: Be sure to read Italian Pasta Brands – That We Actually Use in Italy for detailed information categorized by pasta type!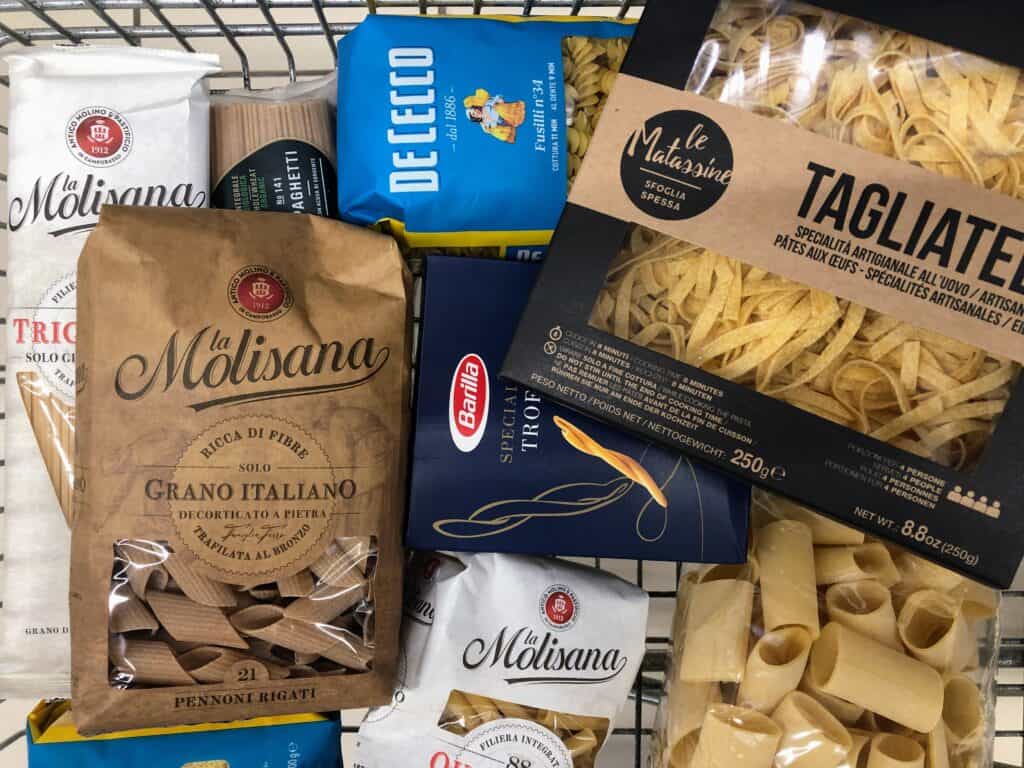 Next, we have pasta fresca (fresh pasta), which is either handmade and sold locally or mass-produced and sold in the refrigerated section of supermarkets. Each region in Italy sells its traditional pasta shape fresh (if easily made). For example, it is easy to find fresh pappardelle in Tuscany but not in Puglia, where you will find fresh orecchiette.  
Some regions in Italy have become well-known for their fresh stuffed pasta or baked pastas. Both of these start with fresh pasta dough sheets that are stuffed with cheese, meat or vegetables and folded up again or layered with meat and cheese and baked until bubbling and golden.
When Italians talk about the shape of their pasta, they are referring to either pasta corta (short pasta varieties) or pasta lunga (long pasta, referring to all pastas that are long and skinny like spaghetti, tagliatelle or bucatini). Pasta shape is probably the main indicator of where you are in Italy. For example:
Rome (Lazio) – spaghetti and bucatini
Genoa (Liguria) – trofie
Campania – paccheri with fish
Molise – cavatelli
Fact: The shapes in Italy are truly endless, with over 350 different kinds.
The other main factor that distinguishes one pasta from another is its sauce which differs from region to region just as much as the shape itself.
In northern Italy you will find heavier sauces made from stewed meats and tomatoes. As you move down the coast towards the south, fish-based sauces dominate. Creamier sauces (meat and vegetarian options) are more common with fresh and stuffed pastas in Emilia-Romagna and the ever-more elaborate versions of pesto made from kale, zucchini and asparagus, is celebrated in Liguria.
Read about the most Popular Pasta Sauces in Italy.
Even though this is about pasta, it would be unfair to leave out the importance of polenta and rice in Italian cuisine. Many northern regional primi (first courses) are rice and corn-based (in Piedmont, the Veneto and Lombardy). This doesn't mean they don't eat pasta in these parts of Italy, but risotto and polenta are more common.
Eat Like An Italian: Learn to eat pasta like a true Italian with our in-depth guide Is it Illegal to Break Pasta in Italy? + Quick Guide to Italian Pasta Etiquette. Plus, make sure you know How to Cook Pasta Like an Italian!
Famous Italian Pasta Dishes
Abruzzo
Spaghetti alla chitarra
Spaghetti alla chitarra (pronounced: spuh-gheh-tee a-la -kee-tar-ruh in Italian) con pallottine (also known as chitarra alla teramana) is a typical pasta dish found only in Abruzzo. Although you will never catch an Italian eating what Americans know as 'spaghetti and meatballs,' this is the one exception.
Spaghetti alla chitarra is a handmade, thin, and long square-shaped pasta made from durum wheat and eggs. Its name comes from the 'chitarra' tool (literally meaning guitar), a wooden frame with parallel wires running from top to bottom, that is used to shape this pasta. It is then dressed in a tomato-based sauce packed full of tiny beef meatballs about the size of a small olive.
Honorable Mention: Sagna e Fagioli – Pasta and beans
Learn More: Read our comprehensive guide to Traditional Food from Abruzzo – The Scoop on the region's Cuisine for even more dishes to try!
Aosta Valley (Valle d'Aosta)
Penne pasta alla valdostana
Essentially any recipe 'alla Valdostana' means it will be made with fontina cheese, a high-fat cow's milk cheese produced in this region since the 12th-century. This recipe is no exception.
Penne is a very common pasta corta in the shape of a short tub with small ridges which makes it ideal for this recipe. Those little ridges are good for holding all that cheese! A creamy, velvety sauce is made from butter, cream, fontina and ham and then tossed with the cooked penne directly in the skillet over low heat, allowing the pasta to finish cooking in the sauce before hitting the table.
It is not uncommon, like in many northern Italian pasta recipes, to add a hint of sweetness to the pasta with a fresh grating of nutmeg right before serving.
Don't Miss: Our full guide to eating in the Aosta Valley here!
Apulia (Puglia)
Orecchiette con cime di rape
Orecchiette con cime di rape is one of the most famous pastas found in Pulia made with small durum wheat pasta shaped like little ears (from where it gets its name in Italian) served with a simple sauce made with oil, garlic, anchovies, red pepper flakes and rapini (turnip greens -like a small broccoli but more leafy green). Typically served with pecorino-romano, a hard sheep' milk cheese, these little ears make for a healthy and hearty Italian lunch down south! You may also see this pasta made with broccoli instead of turnip green heads.
Honorable Mention: Ciceri e tria – Pasta with chickpeas
Puglia Travelers: Get the inside scoop to all of Puglia's classic in Traditional Food of Puglia – A Local's Tips on Foods You Must Try During Your Visit.
Basilicata
Strascinati con mollica e peperoni cruschi
Many of Italy's most popular dishes are from la cucina povera, meaning the poor kitchen, referring to the tradition of using inexpensive, local ingredients to create filling, regional dishes rich in flavor. And strascinati con mollica e peperoni cruschi is one of them!
Similar to orecchiette, strascinati is a pasta made from pressing small pieces of semolina dough over wooden boards, giving it its olive leaf shape. It is then served with a sauce made from garlic, breadcrumbs, anchovies and peperoni cruschi (locally grown spicy peppers), iconic of the Basilicata open-air markets.
More Info: If you want to know more about Basilicata's regional specialties, read Traditional Food of Basilicata – Dishes You Must Try During Your Visit.
Calabria
Fileja alla silana
You won't find a pasta dish more regional than this one as it is really only found in Calabria – originally from the iconic Sila, the mountain plateau known for having the purest air in Europe.
Fileja (pronounced fee-lay-yuh in Italian) also known as Maccarruna, Maccarruni or Filedda in the local dialect, is a fresh pasta made with just wheat flour and water. Rolled just shy of ¼ cm thick (3-4 mm), it's formed into an elongated screw shape. The pasta is then dressed with a sauce made from tomatoes, sausage, guanciale, porcini mushrooms, caciocavallo cheese, peperoncino and pecorino.
This recipe speaks to the foraging and preserving traditions of locally-sourced food. Historically, the locals had to invent ways to keep food year-round, surviving only on what they found in the mountains.
Learn More: Read our comprehensive guide to Traditional Calabrian Food – A Guide to Foods You Must Try During Your Visit for even more dishes to try!
Campania
Spaghetti alla puttanesca
This dish is beloved in Italy it grew in popularity in America as southern Italians immigrated to the USA. Spaghetti alla puttanesca (pronounced spa-geh-tee ahl-la poot-tah-neh-skuh in Italian), originating from Naples, is a spaghetti dish served with a sauced stewed from tomatoes, olive oil, olives, anchovies, chili peppers, capers and garlic.
There are two main theories from where this pasta gets its name. Legend has it that this is a pasta made by puttane (Italian word for whore) who would leave this sauce on the stove simmering so that when she got back from her late night shift it would be ready to eat. Others say that the name stems from the colloquial use of the word puttana, a not very nice word Italians use often in vain, often as Americans use 'shit' and thus, indicating the sauce is made from a lot of stuff, or whatever "shit you have lying around." Both pretty good stories but I think it's going to be hard to give any real historical weight to either!
Good to Know: If you are headed to Naples, be sure to check out Traditional Food of Campania – Foods You Won't Want To Miss While Visiting.
Emilia-Romagna
Although it's hard to choose which pasta takes the crown in Emilia-Romagna, we're going with tortellini in brodo (pronounced tor-tell-ee-nee in broh-doh in Italian), which are small stuffed pasta dumplings served in homemade broth. Typically a winter dish, tortellini are made from egg-based pasta sheets, filled with prosciutto, mortadella, pork loin, parmesan and just a hint of nutmeg. They are then sealed and simmered in either beef or chicken broth. They cook only for a couple of minutes and should be served immediately with a sprinkling of parmesan cheese.
Tagliatelle alla bolognese & lasagne bolognese
We can't move on to the next region until we talk about bolognese (pronounced boh-lon-nes-eh in Italian) sauce. Both tagliatelle and lasagne alla bolognese are world-famous Italian pastas. They both use a rich meat-based sauce – ragù. Ragù often contains both pork and beef, stewed for hours on end with tomatoes, wine, onions, carrots and celery.
Tagliatelle, an egg-based ribbon pasta, is served in mounds swimming in this silky sauce. Lasagne bolognese, while a little more labor intensive, is made by layering sheets of egg pasta with bolognese sauce, parmesan cheese and bechamel which is then cooked in the oven until bubbling and piping hot.
Food Lovers: Read even more about Traditional Food of Emilia-Romagna – A Local's Tips on Foods You Must Try + Restaurant Guide for our detailed guide!
Make It: Try making fresh pasta to pair with bolognese sauce using my recipe for homemade tagliatelle.
Friuli-Venezia Giulia
Cjarsons
Cjarsons (pronounced chi-ar-sons in Italian), also called calzone or cjalsonos is a filled pasta from the alpine region of Carnia in Friuli. These little pasta pockets are made with a simple water and flour dough and stuffed with various flavors, all of which have that irresistible combination of sweet and salty.
Popular filling combinations are potatoes, cinnamon and raisins, spinach and smoked ricotta and many others including chocolate, figs, prunes, pine nuts, cookies, rum, rappa, various herbs and greens. This is certainly one of the most memorable pasta dishes from the north!
Don't Miss: Traditional Food of Friuli-Venezia Giulia – Foods You Must Try During Your Visit for even more regional specialties!
Lazio
Carbonara
Arguably one of the most iconic Italian pasta dishes, carbonara (pronounced car-bon-ar-uh in Italian) is a classic Roman dish made with eggs, guanciale or pancetta, parmesan and black pepper. Typically served with spaghetti or bucatini, you will often find this popular dish served with other pasta corta, or short pasta shapes like mezze-maniche meaning "half-sleeves".
Cacio e Pepe
Another famous first course in Rome is cacio e pepe (pronounced ca-choh-eh-peh-peh in Italian), a pasta made from the sheep's milk cheese pecorino Romano and freshly ground course black pepper and served with spaghetti or other long pastas.
There are two different theories when it comes to making this pasta because some add butter to the cheese meanwhile others sustain all you need is a bit of cooking liquid from the pasta to help the sauce come together. I personally like to add a dab of butter but I cannot promise that is the true Roman way!
Honorable Mentions:
Amatriciana – with tomato and guanciale
Spaghetti aglio e olio – with garlic and oil
Penne all'arrabbiata – with tomato and red pepper flakes
Pasta alla Gricia – with cheese and guanciale and black pepper
For Roman Travelers: Get the scoop on all of the must-try Roman specialties detailed here.
Liguria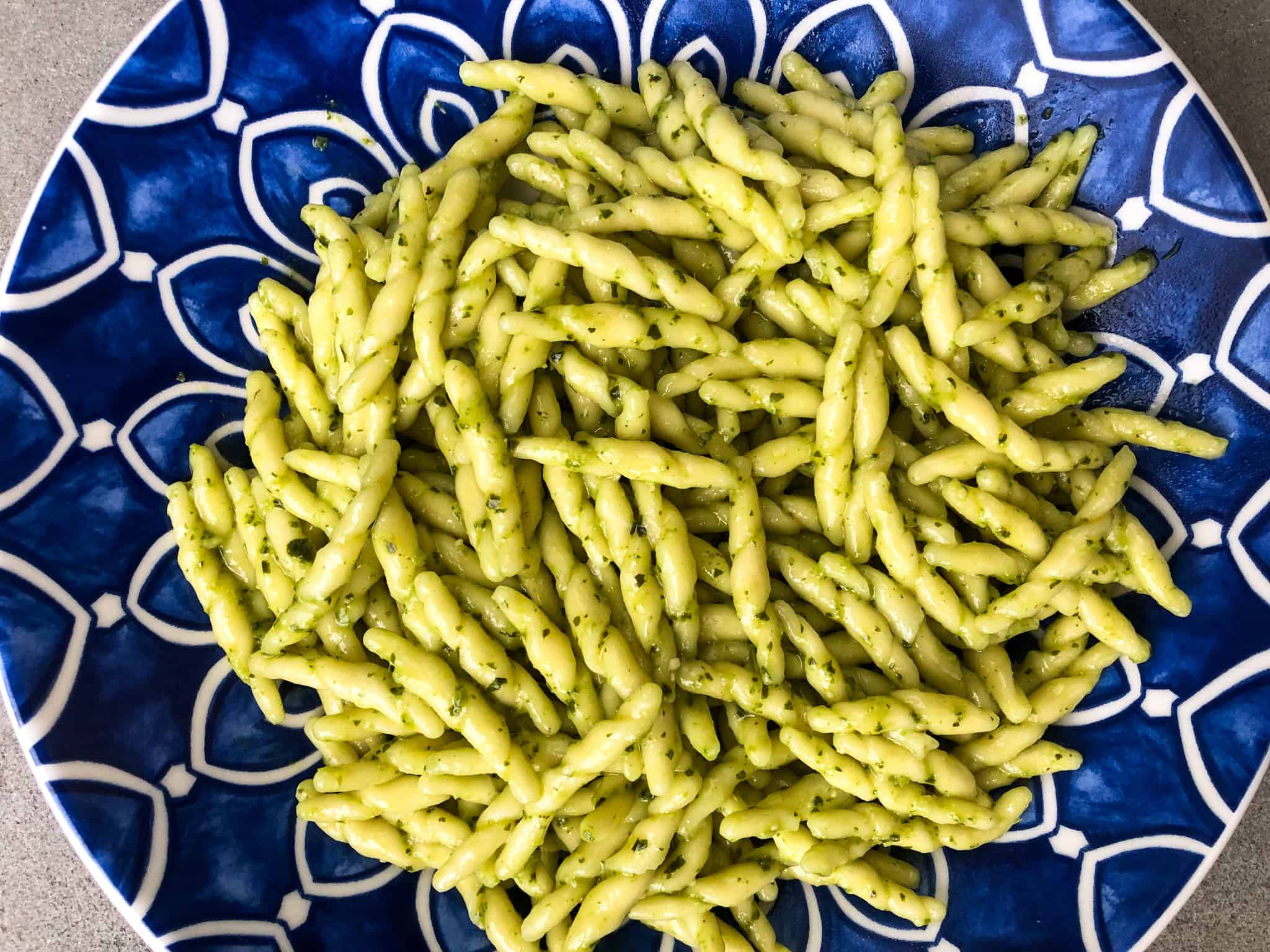 We couldn't talk about famous Italian pastas without mentioning pesto (pronounced peh-stoh in Italian), also known in Italian as pesto genovese (pesto of Genoa).
The word pesto comes from the italian word pestare meaning "to pound" or "to crush" which is exactly how this sauce was traditionally made. Although this technique of crushing ingredients together into a smooth sauce has been documented by the Romans, it wasn't until the mid 19th-century that we see basil being used in what we now know and love as pesto.
Garlic, pine nuts, salt, basil and parmesan are all ground together until smooth. Nowadays you find pesto served on nearly any shape of pasta but most famously you will eat it with trofie, a short twisted pasta shape from Liguria.
More Info: Read even more about food from Liguria in Traditional Food of Liguria– Insider Tips on Foods You Must Try During Your Visit.
Lombardy (Lombardia)
Tortelli di zucca
Northern regions tend to eat more rice than pasta, but when they do eat pasta they do it right! Lombardy is home to one of the most loved stuffed pastas in all of Italy – the tortelli di zucca (pronounced tor-tell-ee dee zoo-kuh in Italian), or pumpkin ravioli in English. Tortelli refers to stuffed pasta, shaped either square, semicircular or round.
The egg sheets are traditionally cut square and filled with pumpkin, a dab of mustard, amaretti cookies and a dash of nutmeg. Sounds strange, right? It does but the taste is out of this world. Slightly sweet from the cookies but earthy from the hint of nutmeg, the rich pumpkin fills out these little tortelli. The dish is perfectly balanced out with a very savory sage and butter sauce.
Northern Italian Travelers: Heading to Milan or anywhere in Lombardy? Be sure to check out Traditional Food of Lombardy – Foods You Shouldn't Miss on Your visit!
(Le) Marche
Vincisgrassi
When Italians think of Marche, only one dish comes to mind – vincisgrassi (Pronounced vin-chees-grass-see in Italian), a luxurious baked lasagna made with egg pasta and filled with rich ragù and bechamel.
You have to really take your time to find the difference between this lasagna and a typical bolognese but if you eat it enough times (like I have!) you might notice it's all about the meat sauce. Unlike typical bolognese, this ragù is stewed with chicken giblets, cloves and a variety of meats depending on the season (for example, duck and hare), all of which make for a deeper and richer ragù. The added dash of fresh nutmeg gives an earthy depth that cannot be beat.
Fact or Fiction?: History teaches us that vincisgrassi comes from the Italianization of the name of the general Alfred von Windisch-Grätz who helped defeat Napoleon in 1977 in Ancona. Rumor has it that this dish was made for the general from a local woman in debt to him for his honor and bravery.
Learn More: about regional specialties from Le Marche here.
Molise
Cavatelli al sugo di maiale
Although cavatelli (pronounced cah-vah-tell-ee in Italian) dishes are common in many southern regions of Italy like Apulia (aka Puglia) and Basilicata, it is the sauce that makes this pasta dish regional to Molise.
Cavatelli, meaning "to hollow" in Italian, is a handmade pasta (although it's available dried), made from semolina flour and water. Shaped like small little hot dog buns, this pasta is a perfect match for the sugo di maiale (stewed pork sauce, made from several cuts of pork, wine, tomato, garlic and onion and cooked until the meat is fall-off-the-bone tender).
They say that this dish has been grown in popularity because of the ease at which housewives would double, triple or quadruple the recipe on a Sunday for guests that would drop in unannounced over lunch time.
This sauce is so filling that it also doubles a hearty second course in Molise – so make a double-batch, freeze it, and always have something on hand for those unannounced lunch guests!
Don't Miss: Traditional Food of Molise – Dishes You Must Try During Your Visit for food you won't want to miss on your next trip to Molise.
Piedmont (Piemonte)
Agnolotti
Agnolotti (pronounced an-yo-low-tee in Italian) is a fresh pasta stuffed with roasted meat or vegetables, cut into a small square (or sometimes a half-moon shape) and cooked for 4-7 minutes. Because the filling is so rich and flavorful, it is served with a simple sauce of beef broth and melted butter or sage and melted butter.
Be sure to get your hands on this stuffed pasta if you travel up north. You can choose your style of agnologgi – di magro, with a vegetable filling or di grasso, with a meat filling.
Bit of History: Although the origins of the name agnolotti cannot be traced with any historical documentation they say that this pasta was named after a cook called Angiolino who invented the recipe.
Honorable Mention: Tajarin al tartufo – thin ribbon pasta with truffles
Piedmont Travelers: Keep handy our guide to eating and drinking in Piedmont here.
Sardinia (Sardegna)
Fregola ai frutti di mare
Fregola ai frutti di mare (pronounced freh-go-lah aiy froo-tee dee mah-rey in Italian) is a delicious and hearty fish-based dish of Sardinia. Packed full of mussels, clams, shrimp and small squid and stewed in tomatoes this dish is sure to be a hit. The small fregola, made from semolina flour, is a small round pasta shape toasted in the oven similar to Israeli cous-cous making it ideal for hiding in all the little nooks and crannies of the fish and seafood shells. If you are someone, like myself, who loves all that extra juice or sauce at the bottom of your plate, be sure to order this while in Sardinia!
Honorable Mention: Spaghetti con la bottarga – with fish eggs
Island Hopping: Heading to Italy's beloved Sardinia? Check out our comprehensive guide to eating there Traditional Food of Sardinia – Dishes to Try on your visit.
Sicily (Sicilia)
Pasta alla norma
Pasta alla norma (pronounced paw-stuh ahl-la nohr-mah in Italian) is considered the most iconic dish in Sicily. This pasta, served with both long pastas such as spaghetti or short pastas such as penne, is made with a tomato and fried eggplant sauce and topped with a grating of ricotta salata and chopped basil.
Pasta alla norma is kind of like pasta al ragù in the sense that it is prepared countless ways and each family has its recipe. Sometimes the eggplant is fried and then stewed in small pieces with the tomato. Other times, it is sliced and served on top of the tomato sauce, or even as an almost-smooth sauce that has been stewed to such lengths that the eggplant and tomatoes have melted into one another.
No matter how you slice it, or fry it, in this case, this pasta is a luxurious vegetarian option for anyone!
Honorable Mentions:
Spaghetti ai ricci di mare – with sea urchins
Spaghetti al nero di seppie – with squid ink
Sicilian Travelers: Some of Italy's best food comes from Sicily. Learn all about it Traditional Sicilian Food – Authentic Dishes & the Top 10 Street Foods You Must Try
Trentino-South Tyrol (Trentino-Alto Adige)
Canederli
German influence has been extremely important in the development of the northern Italian culture, language and of course, the cuisine, as is true with these canederli (pronounced ca-neh-der-lee in Italian), a recipe descending directly from the germanic influence.
Canederli are dumplings made from stale bread that has been soaked in eggs and milk. This mixture is either made smooth and formed into gnocchi-shaped dumplings or served as large 'meatballs.' Along with the base ingredients, additions such as onions, herbs, cheese, locally-cured speck, and sage add to the heartiness and personality of the dish. Canederli are often served in a brown butter sage sauce or in a rich broth.
Honorable Mentions:
Fettuccine di castagne con verze e costine – chestnut pasta with cabbage and pork ribs
Spatzle tirolese – spinach-based pasta
Good To Know: Our comprehensive guide to Traditional Food of Trentino-Alto Adige – Tips on Dishes You Must Try During Your Visit is a must read for upcoming travelers!
Tuscany
Pappardelle al ragù di cinghiale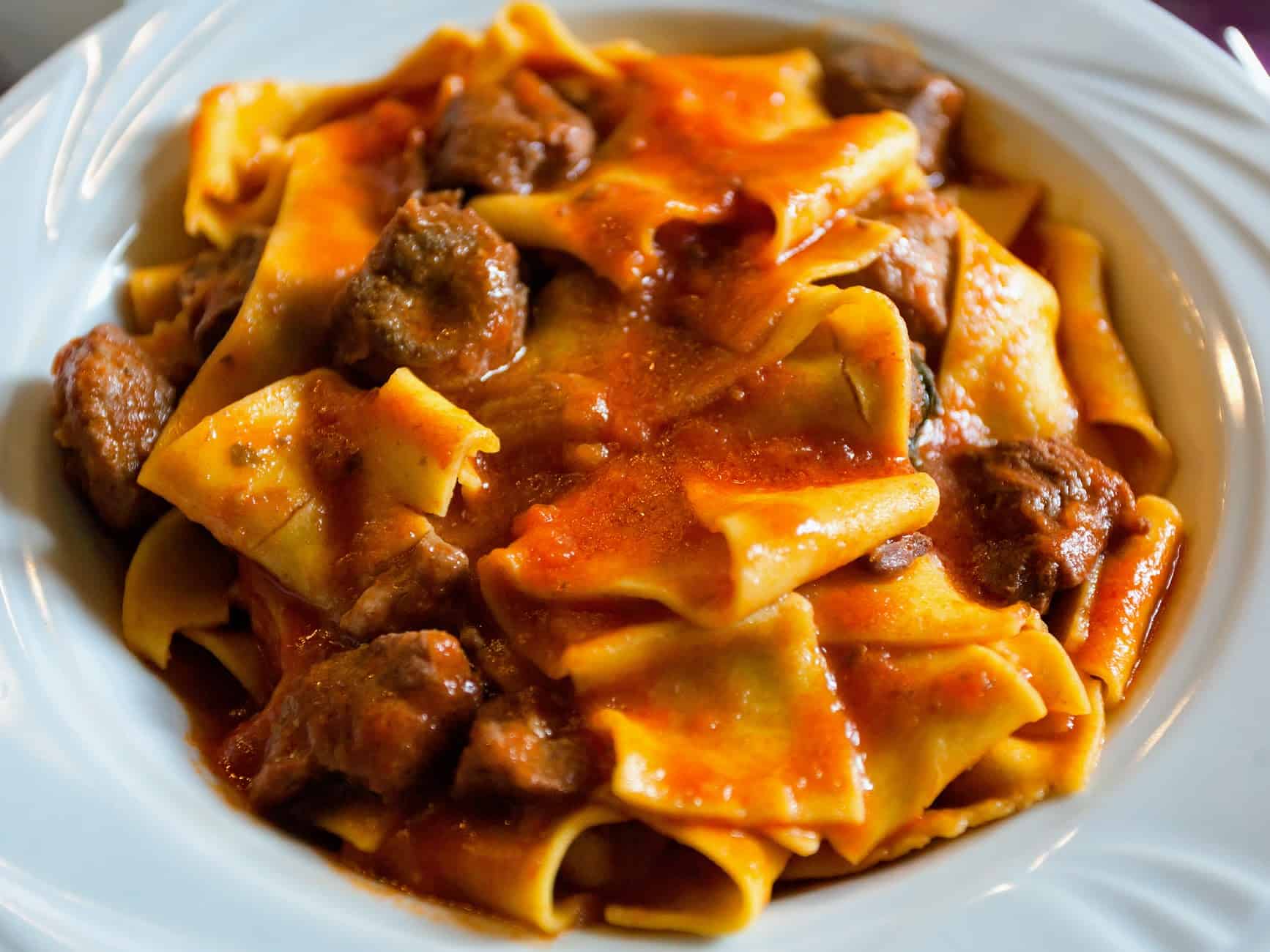 Pappardelle (pronounced pa-par-dell-leh in Italian) is a wide egg noodle with a slightly rough surface. Typically made fresh (but also available dried in supermarkets in the pasta all'uovo section), pappardelle is ideal for holding the rich meatiness of cinghiale (wild boar).
This dish, like many Tuscan dishes, stems from poor communities who had to hunt and forage for their own food. Wild boar roam very freely in Tuscany and hunting is common throughout the fall and winter, giving this pasta a center seat in many Tuscan homes during the winter months.
Helpful Tip: Don't waste the delicious sauce left on your plate! Learn how and when to fare la scarpetta!
Pici all'aglione
Pici (pronounced pee-chee in Italian) is a thick, hand-rolled spaghetti eaten throughout Tuscany (and also Umbria). This ancient dish was originally made with just flour and water but many Tuscans make it with egg today and serve it with a rich garlic tomato sauce.
The original recipe calls for elephant garlic but many people have adapted the recipe to be made with red garlic, which they claim is even more flavorful. The trick to any good aglione is to make it so that whoever eats it digests the garlic well – no one likes to smell garlic for days on end. You know you have eaten a well-made aglione if the garlic taste dissipates quickly in your mouth and you don't smell the next day!
Tuscan Bound: Get the low-down on Traditional Tuscan Foods – A Local's Tips on Foods You Must Try During Your Visit and don't miss a thing on your next trip!
Umbria
Pasta alla norcina
Pasta alla norcina (pronounced paw-staw a-la nore-chee-nuh in Italian) is a perfect pasta dish to cozy up to on a foggy Umbrian evening. This dish is typically made with short pasta such as penne or rigatoni and mixed with a creamy sauce of sausage, locally produced pecorino ricotta and onions.
Although not always served this way, sometimes you will see this dish finished with a fine shaving of truffle. I live on the Umbrian border and although there are many good excuses to venture over to the other side, this one is top of the list!
Tip: Check out our detailed Guide to Eating in Umbria.
Veneto
Bigoli in salsa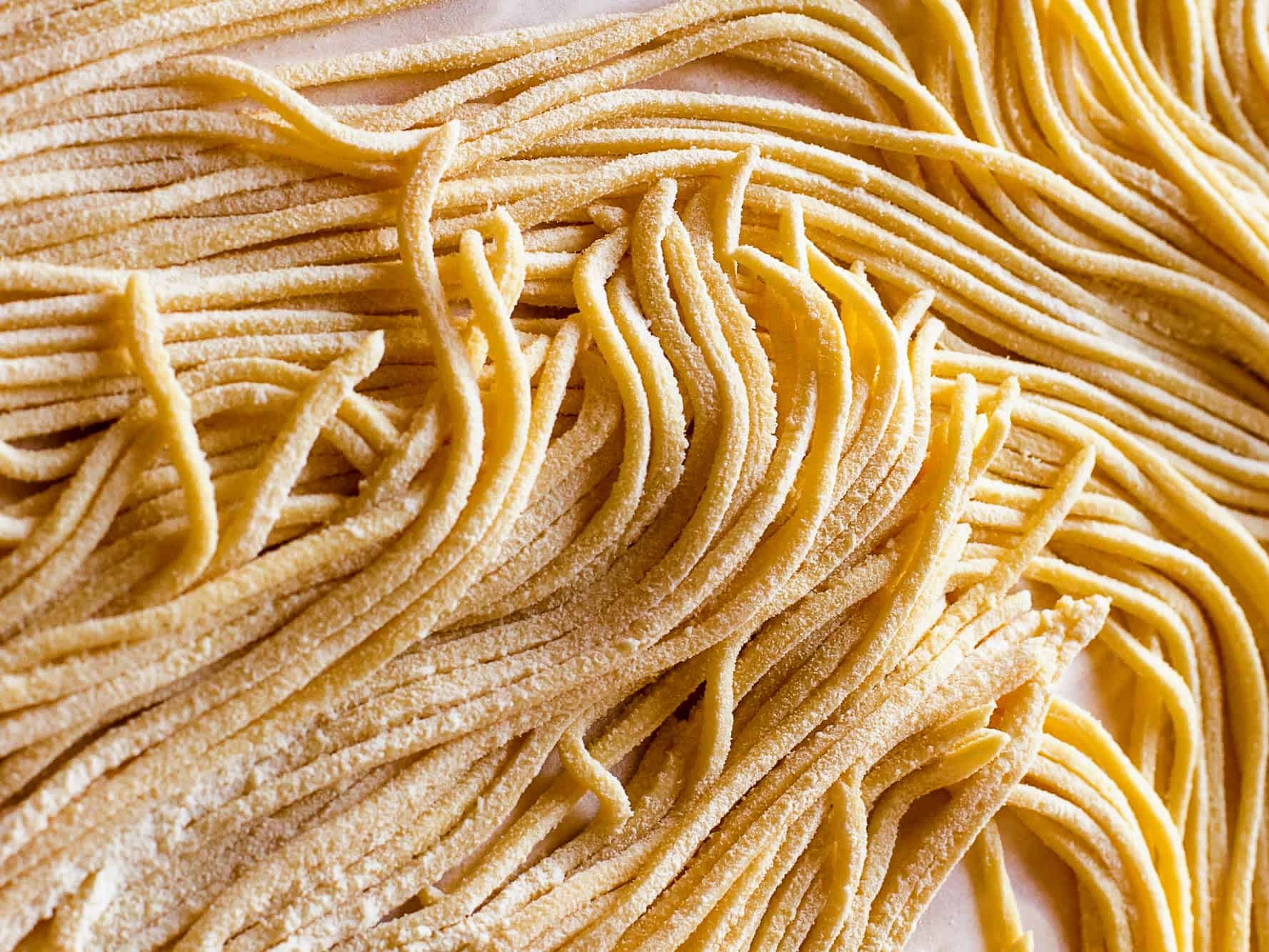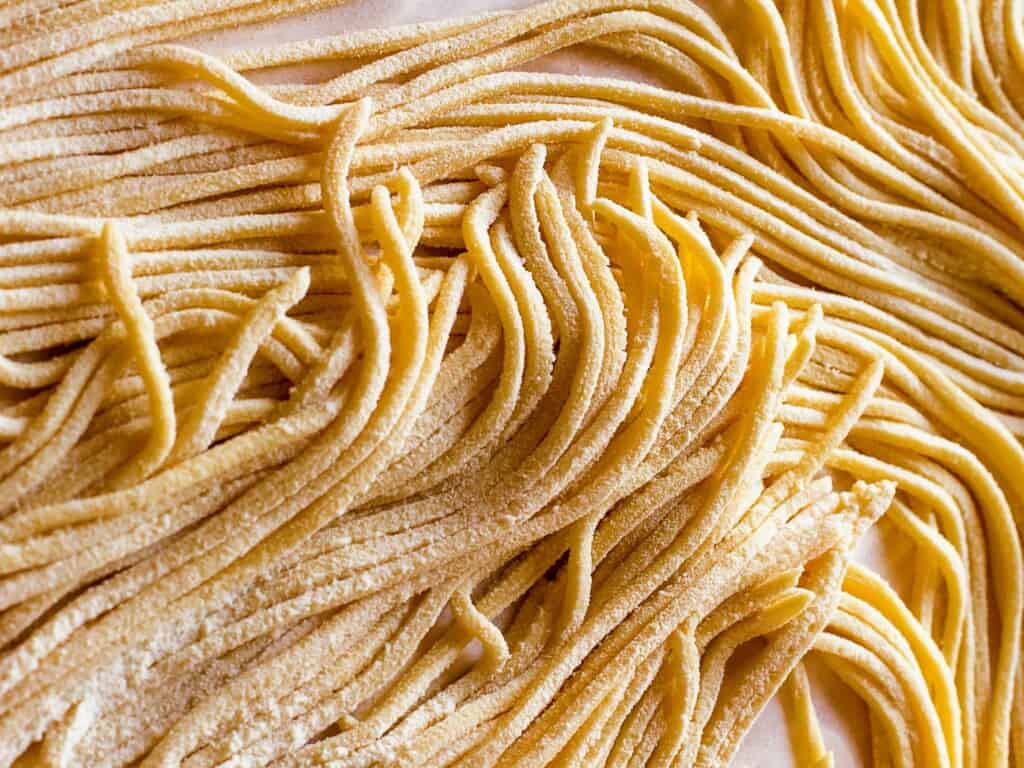 Bigoli in salsa (pronounced big-oh-lee in sahl-suh in Italian) is a simple Venetian dish made with whole-wheat, thick spaghetti, lots of onions and anchovies. Traditionally, bigoli were made from buckwheat, but today they are mostly made by machine with whole-wheat flour. The sauce is made by cooking a lot of white onion down into a paste – it should melt in your mouth. Anchovies are added and è pronto! – it's ready!
Insider Info: Before going to Venice or Veneto, read Traditional Food of Veneto – An Insider's Guide to Foods You Must Try for a detailed summary of all the best foods around!
Pasta Dishes You Won't Find in Italy
Spaghetti and Meatballs
Spaghetti and Meatballs is an Italo-American recipe developed with southern Italian immigrants who wanted to develop new recipes for the American palate without straying too far from their roots.
It didn't take long for Italians to notice that Americans like to eat one larger course, full of both carbohydrates and protein so they combined two of their most iconic dishes, spaghetti al pomodoro and polpette al sugo, for an American match made in heaven. The one and only exception to this is spaghetti alla chitarra con pallottine, a popular dish from Abruzzo, that uses meatballs with a pasta but the meatballs are tiny, about the size of small olives so we can hardly compare that to the ever-so-loved American version.
Pasta Alfredo
While you will never find the name pasta alfredo as Americans know it (sometimes served with chicken) on an Italian menu, you will notice a dish called fettuccine alfredo in Rome. Fettuccine alfredo is a simple egg pasta served with butter and parmesan cheese, unlike the American version which tends to be weighed down with butter, cheese and cream.
The Roman dish is actually quite light and eaten year-round, while the American recipe is more of a winter dish because of its rich, cheese-packed sauce.
Learn More: Discover 30 Most Popular Italian Pasta Sauces (That We Actually Eat Here in Italy)
Which famous Italian pasta will you try next? Buon appetito!
Famous Italian Pasta Dishes FAQ
Which Italian pasta dishes are popular nationwide? 
Pasta al pomodoro – with tomato sauce
Pasta pesto – with pesto
Pasta al burro – with butter  (Fun fact: Much like Americans who aren't feeling well and eat plain toast with butter, Italians will eat plain pasta al burro – with butter to settle an upset stomach. 
Pasta al ragù – with meat sauce 
Ravioli – filled either with meat, vegetables and cheese served in butter, tomato sauce or as a soup in broth. 
Which pasta dishes do Italian children prefer?
Children in Italy typically go for simpler pasta dishes that aren't overly complicated with a long list of ingredients such as pasta al pomodoro, pasta pesto, pasta al burro, pasta al ragù (called sugo di carne in some regions). These pasta dishes are often always 'on the menu' at restaurants even if they aren't listed because they really are crowd pleasers. If you have a picky eater ask if you can order a small portion of one of the above and they certainly will be accommodating.